Welcome to the greatest Season of the year: Christmas! You are in the right place to find just the right Christmas Paper Craft for yourself! Happy exploring! And welcome to Hattifant's Christmas!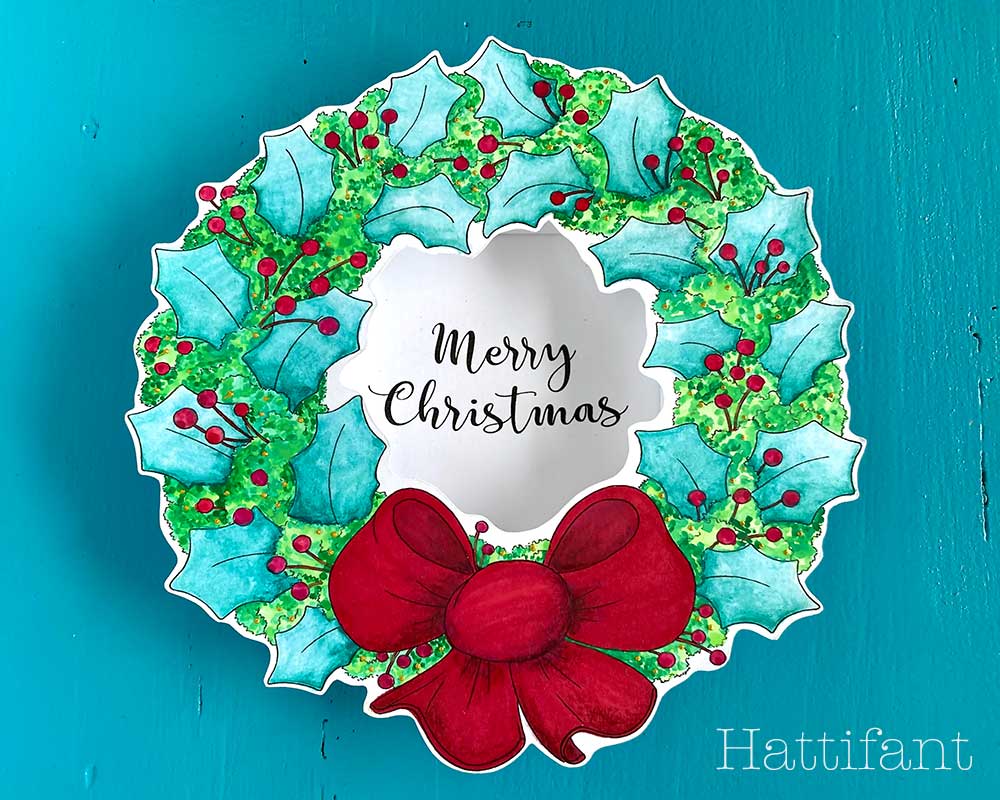 BLACK FRIDAY Deal:
Available until Sunday, 26 November, 11:59pm PST.
NEW this year:
Here are my latest creations for you! Click on the caption towards the bottom of each image to find out more about each craft.
Last year (2022):
BEST CHRISTMAS CRAFT DEAL in Town
Here is a special deal for you in case you are interested in several of my Paper Crafts! You can save 55%! That is a bargain! 🙂 Click on the picture below to find out which crafts are included!
GIANT CHRISTMAS TREE POSTERS TO COLOR
There are now 6 Giant Christmas Tree Posters for you to choose from: this year (2023) a NEW Mandala Giant Christmas Tree Poster. Or enjoy coloring a Giant Christmas Tree Nativity added last year or the very first Giant Christmas Tree Poster from 2018 a Mandala Giant Christmas Tree Poster, an Animal Cutie Giant Christmas Tree Poster, a Giant Christmas Tree Elf Factory, or the 'Winterwonderland' Giant Christmas Tree Poster.
The posters measure approx. 78x108cm (30x42in). The posters come to you in 16-18 home printer friendly pages for you to assemble in the comfort of your home.
ADVENT CALENDARS
Many of us love counting down the days to Christmas! I grew up with Advent Calendars / Christmas Countdowns! Here is Hattifant's choice of Paper Craft Advent Calendars for you:
CHRISTMAS GREETING CARDS
I must admit our family is terrible when it comes to sending out Christmas Cards. And maybe you recognize yourself in this, too. How about these Christmas Card ideas below to get you excited about sending some love to friends and family? In the end it is like exercising, right? When you have made it to the gym you have done the most difficult part and then it is actually fun. Or not?! :))) Maybe this wasn't a good comparison at all… LOL
CHRISTMAS DECORATION
Happiness is… putting up the Christmas Tree! Yes! I love this time when I turn up the Christmas music and we start decorating the house and tree all christmassy!
CHRISTMAS TREE & WINDOW ORNAMENTS
MANTLE PIECE & TABLE DECORATION
And here is a selection of Hattifant Christmas crafts for table and fire place…
CHRISTMAS LUMINARIES
Luminaries most often come in the shape of small paper lanterns and are tradition in many cultures. Here are some Hattifant luminaries that will look gorgeous together with your Christmas decoration.
CHRISTMAS & WINTER themed PAPER CUTS
Paper Cuts – I truly love Paper Cuts. Here are Hattifant's Christmas Paper Cut options:
CHRISTMAS FUN | PAPER TOYS, CRAFTS & ACTIVITIES
Finally, what our little ones might like to have a closer look at.
PAPER TOYS & CRAFTS
WINTER & CHRISTMAS BOOKMARKS
Would you agree that people read more during Winter & Christmas?! I think so! And with it we obviously need BOOKMARKS! 🙂
I wish you that you will have the Christmas you dream of! Merry Christmas and Happy New Year!
You like Hattifant's designs, toys & décor? Why not FOLLOW Hattifant on Facebook or Instagram and always be up-to-date with Hattifant's latest adventures…