GIANT POSTER | Christmas Tree – Elf Factory
Oooh… I am so excited to write this post today as it means that the oh so 50 hours or more I spent on it have been a success and I can present to you Hattifant's newest addition to our Giant Christmas Tree Posters: Hattifant's GIANT Christmas Tree Poster – an ELF FACTORY.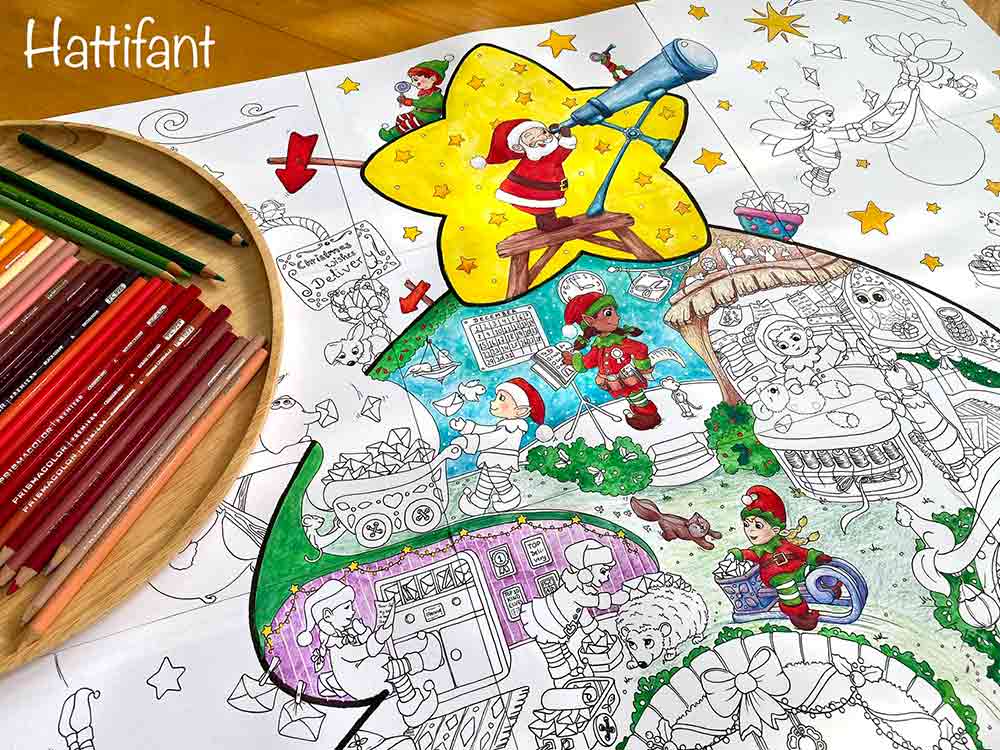 Yes! You read this correctly! An Elf Factory – a little town inside (and outside) a Christmas Tree buzzing with little elves and friends all preparing for our favorite holiday of the year: Christmas!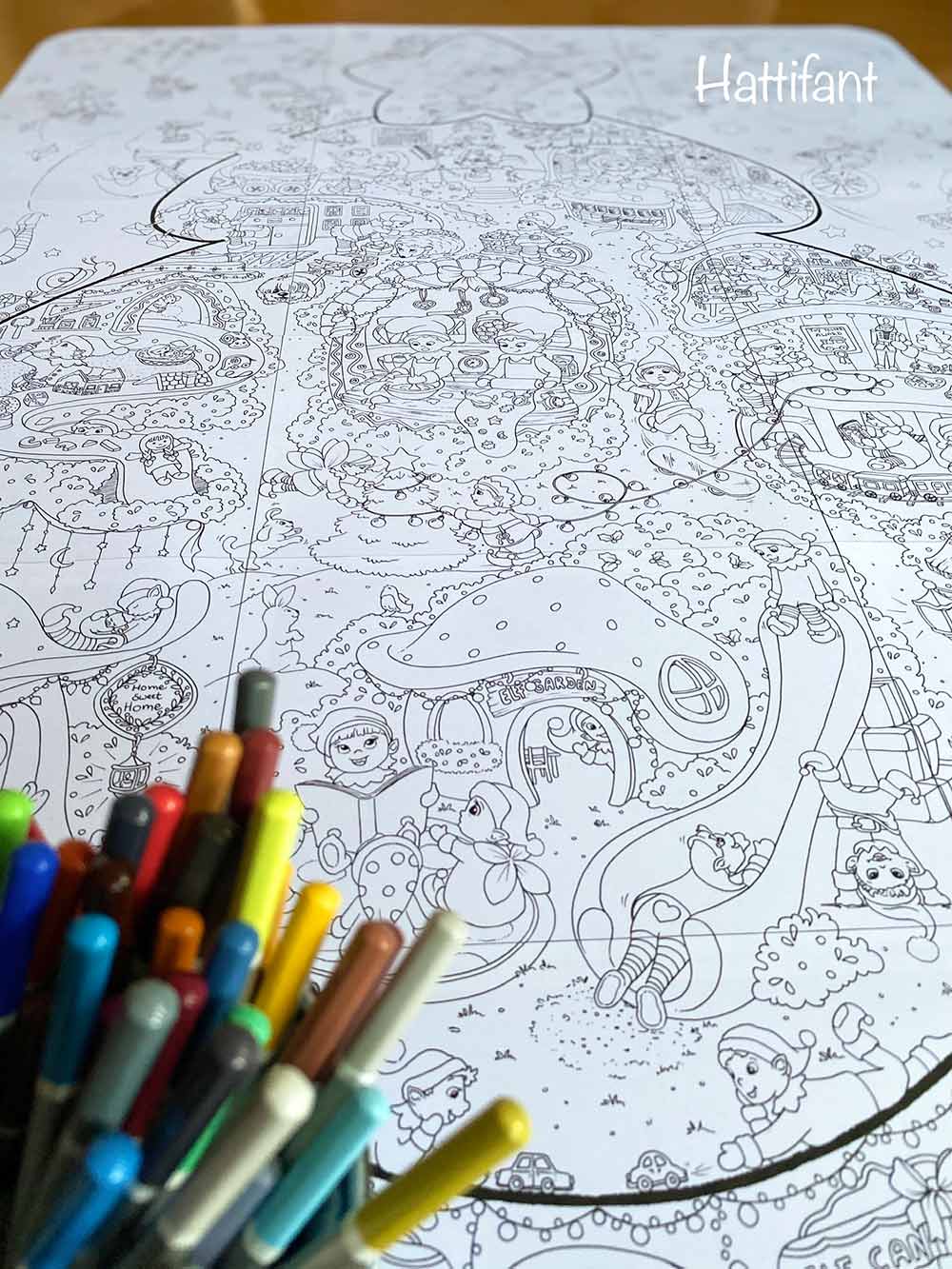 This Giant Christmas Tree Poster – an Elf Factory is the third in line of what is (I hope) becoming a Hattifant tradition. Do have a look at the other two! There is a Mandala Giant Christmas Tree Poster and also an Animal Cutie Giant Christmas Tree Poster.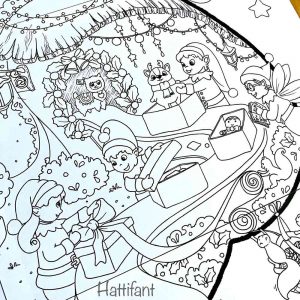 There is so much going on: a little elf cat delivering letters, a cheeky mouse playing football in the work station, and what is the squirrel painting on if not on a canvas?! There are little bug helpers cutting out Christmas cookies, and pssst not so loud… baby elf and a very tired elf are sleeping in the elf quarters.
How to make: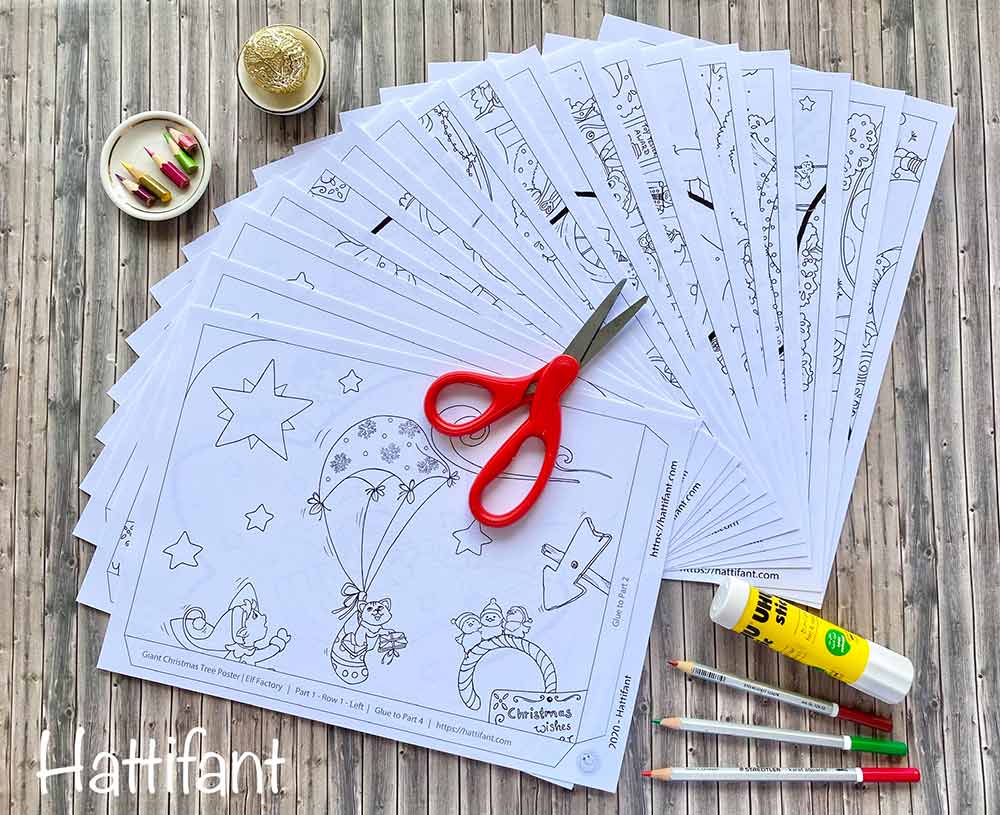 It is actually hard to get one proper picture of it as it is sooo big! 🙂 It will measure appr. 108x78cm (42x30in). The GIANT Christmas Tree Poster – an Elf Factory is 18 pages big! 18 pages that are just begging you to be colored in! And it is so easy. Simply download the PDF files, print them off with your printer at home, cut and glue the pages together.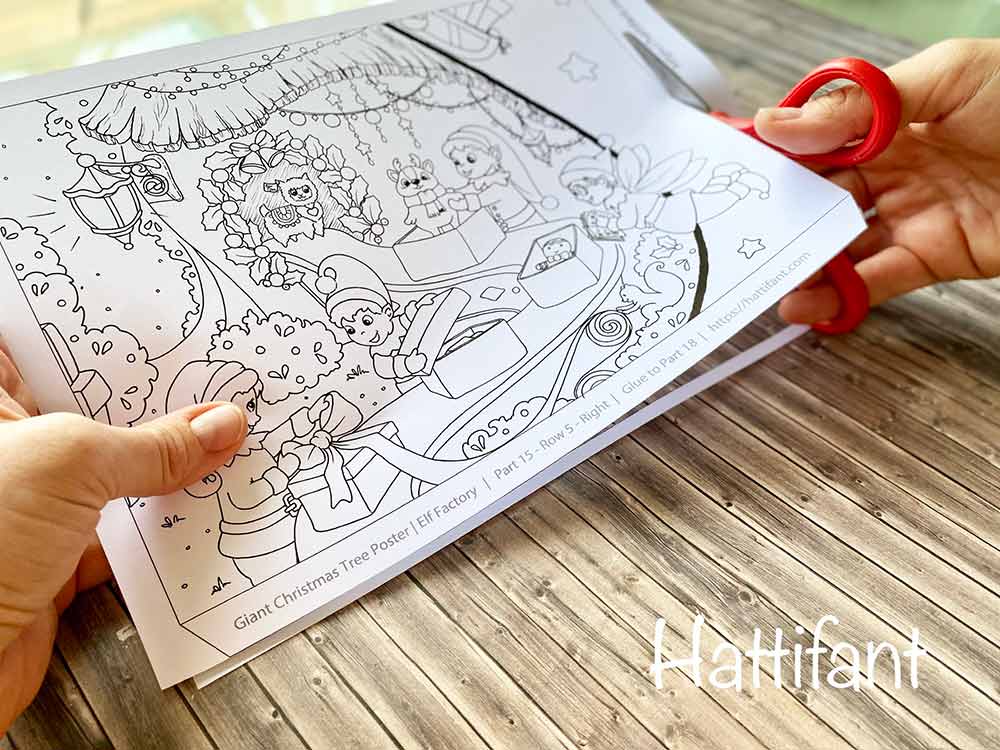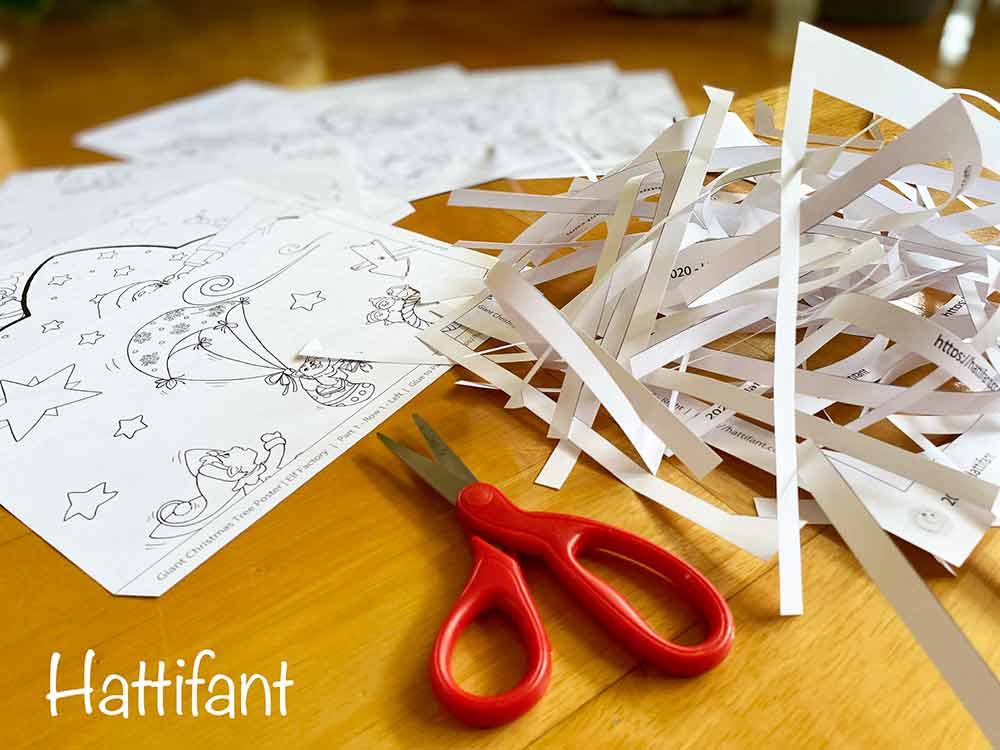 Every single page will have information on it letting you know where it belongs. It really is super easy and no 1000 piece puzzle kind of experience. (Although, I do love a good puzzle!) I always lay out the pages after I finished cutting them. Then I know for sure that everything is in its right place.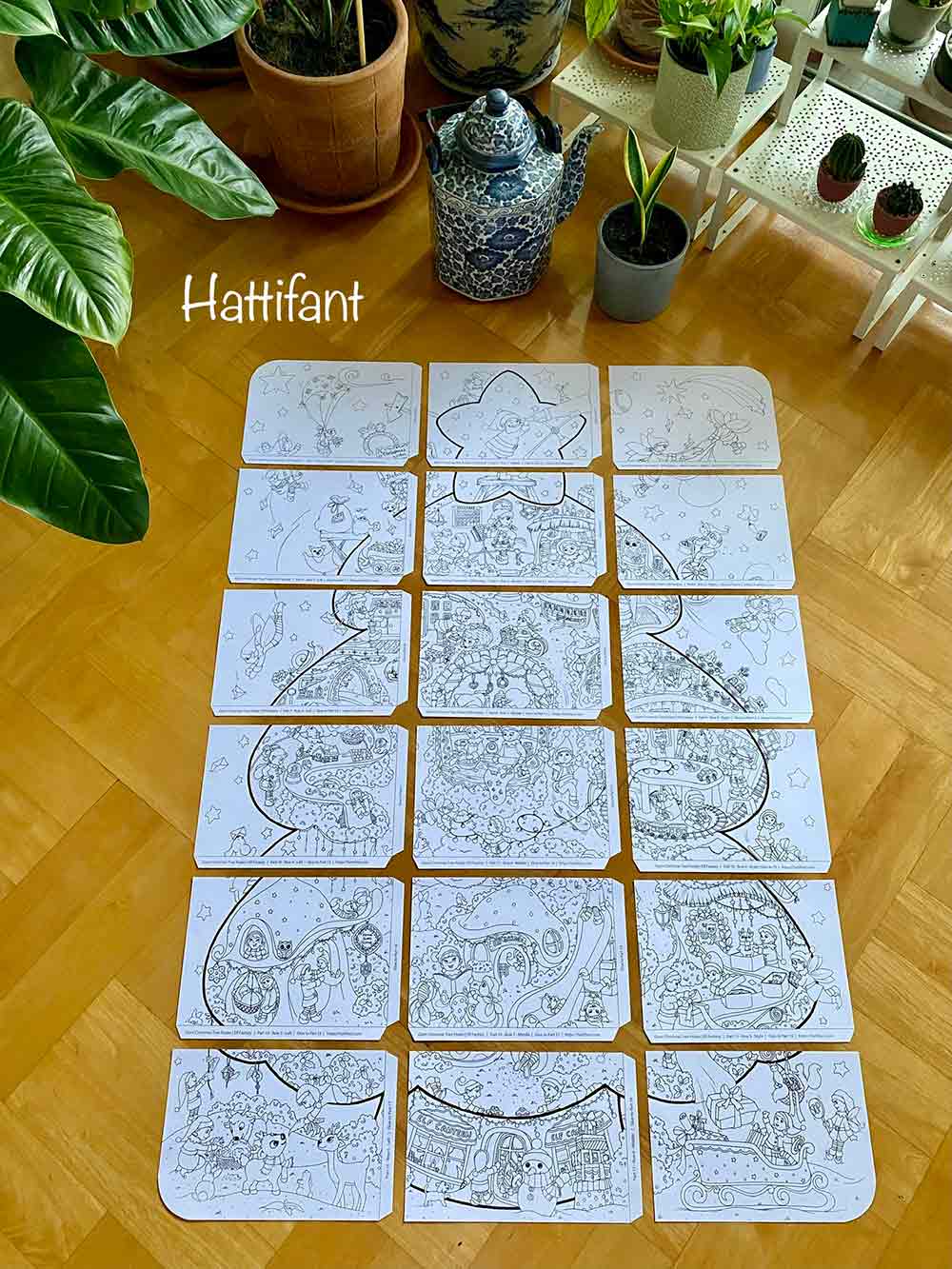 All that is left to do now is glueing the pages together!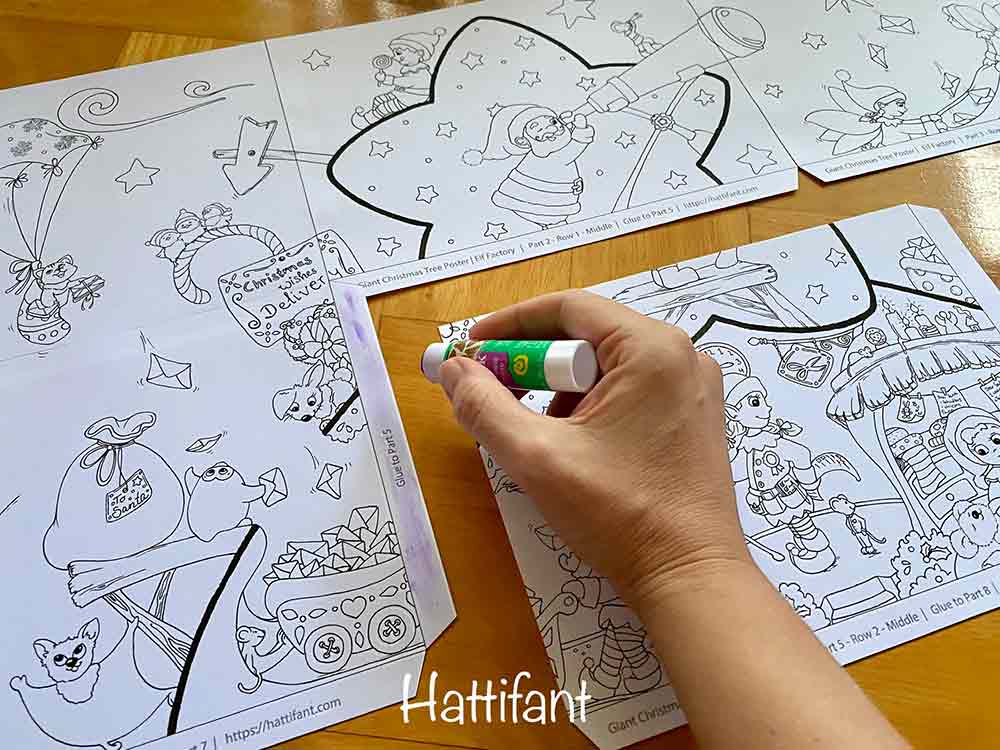 And… it's time to COLOR!!! Have the most of fun and please send me your pictures. I always love seeing how you color everything. It will look amazing!!!
HOW TO in short:
download the Giant Christmas Tree Poster – an Elf Factory,
print out PDF files on 120-180 gsm paper,
cut out individual pages,
glue pages together to one big GIANT Poster,
COLOR!
Now off you go and get your templates and join all of us coloring this poster this year!
or choose to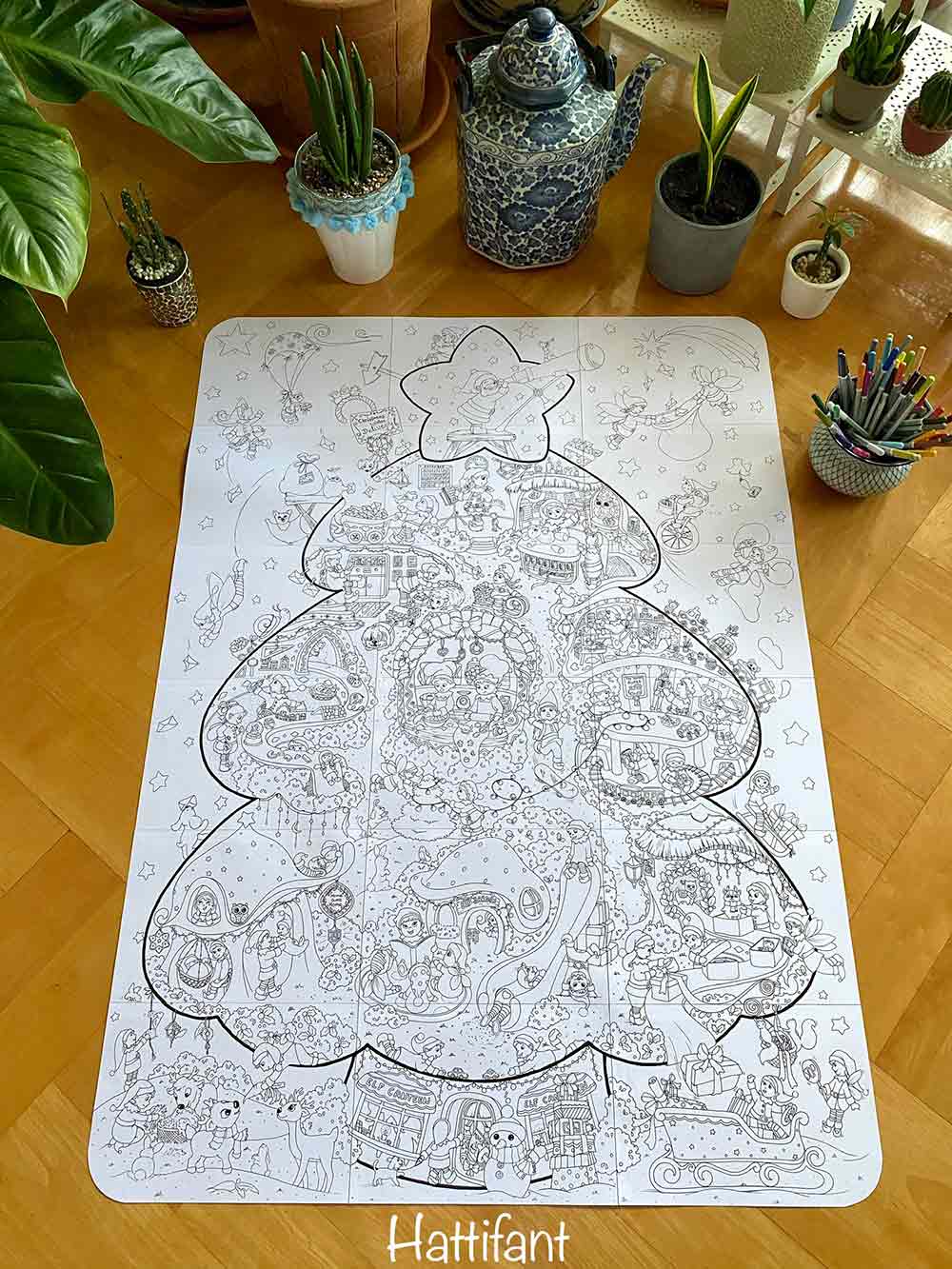 Wishing you all a merry Christmas!
More Christmas Crafts: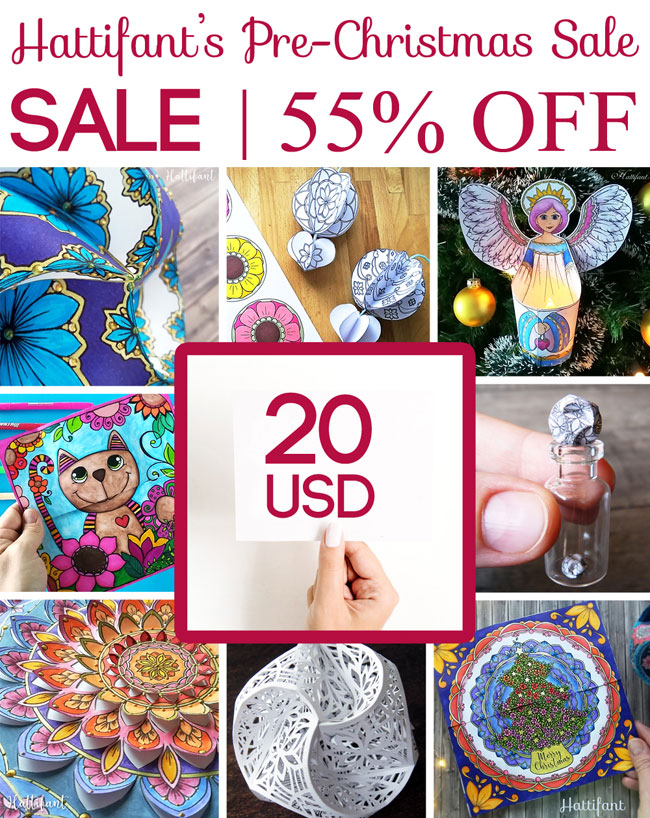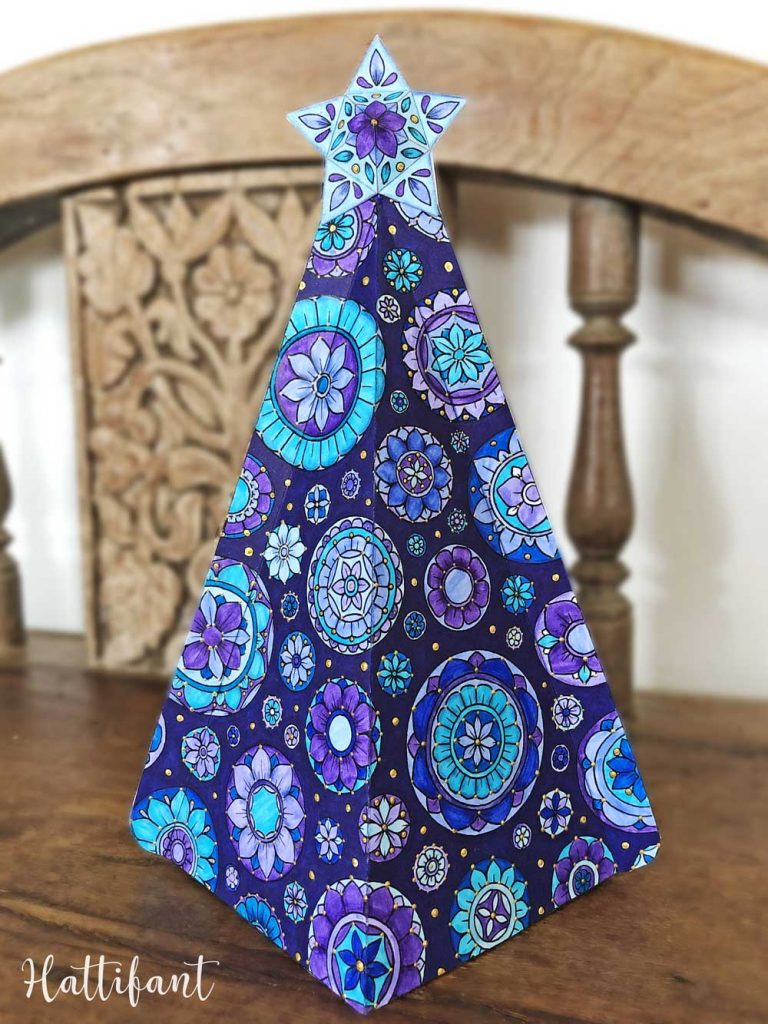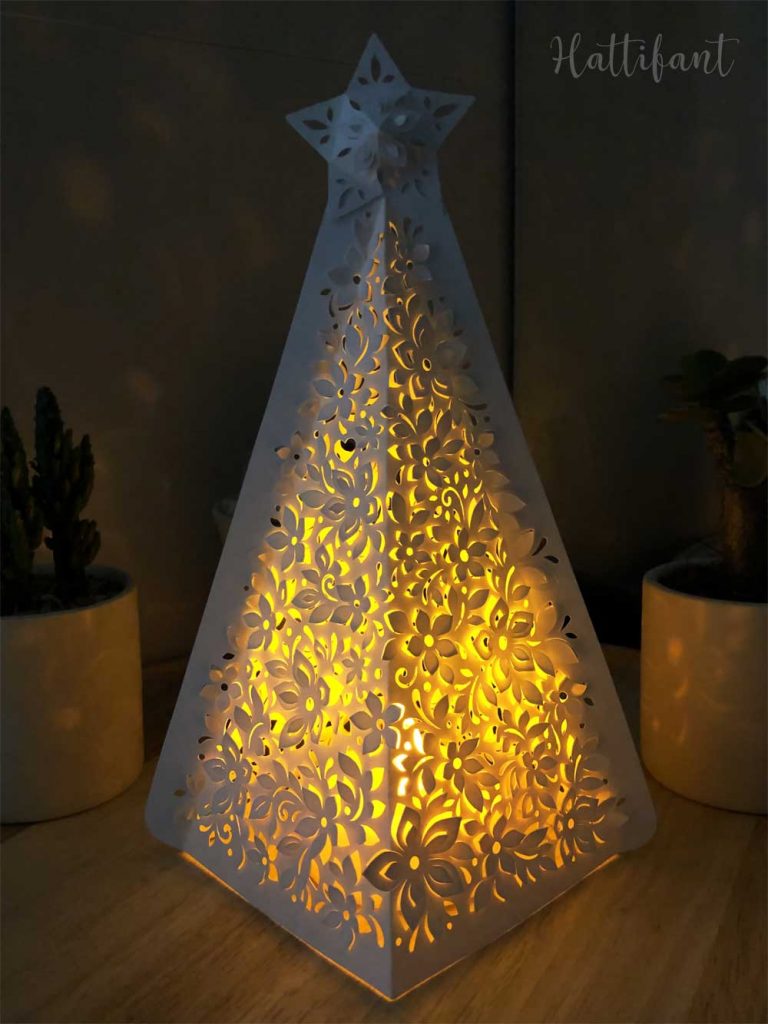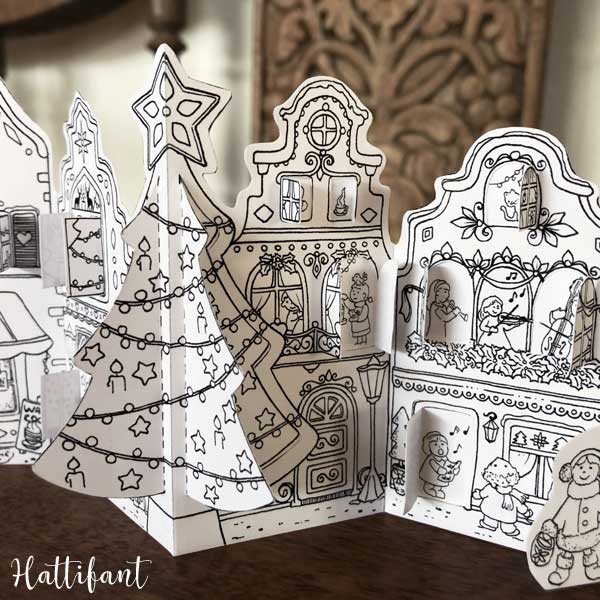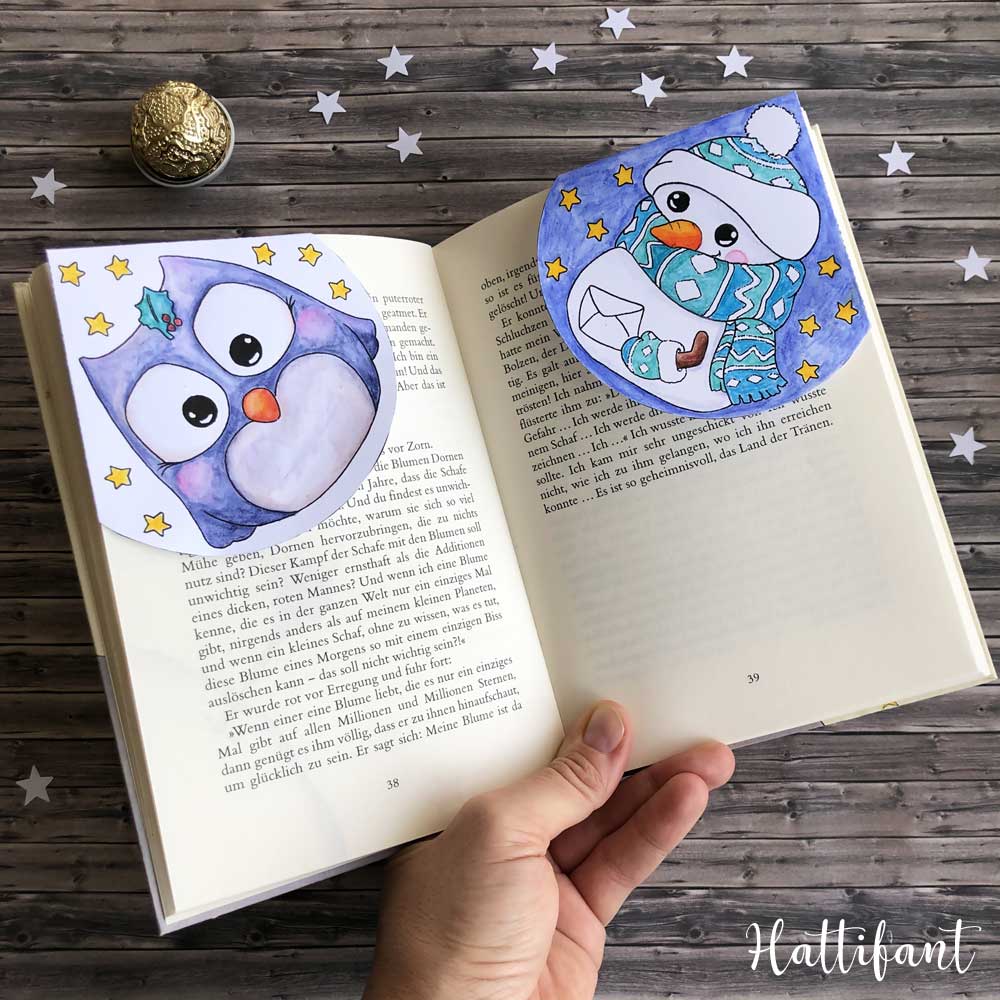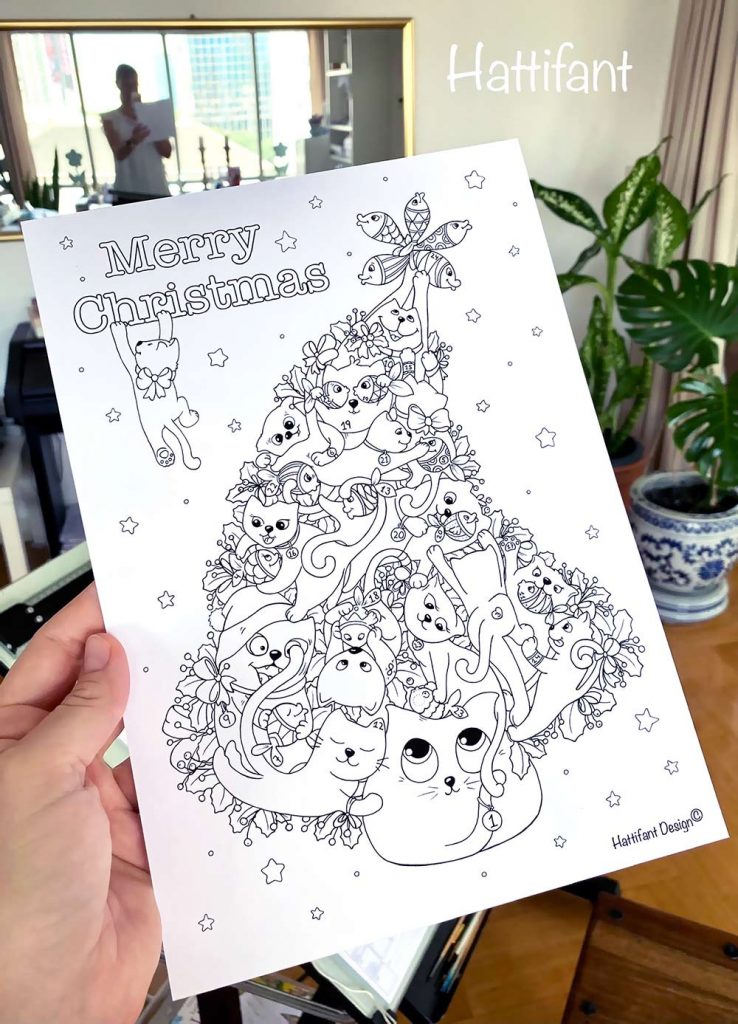 You like Hattifant's designs, toys & décor? Why not LIKE Hattifant on Facebook and always be up-to-date with Hattifant's latest adventures…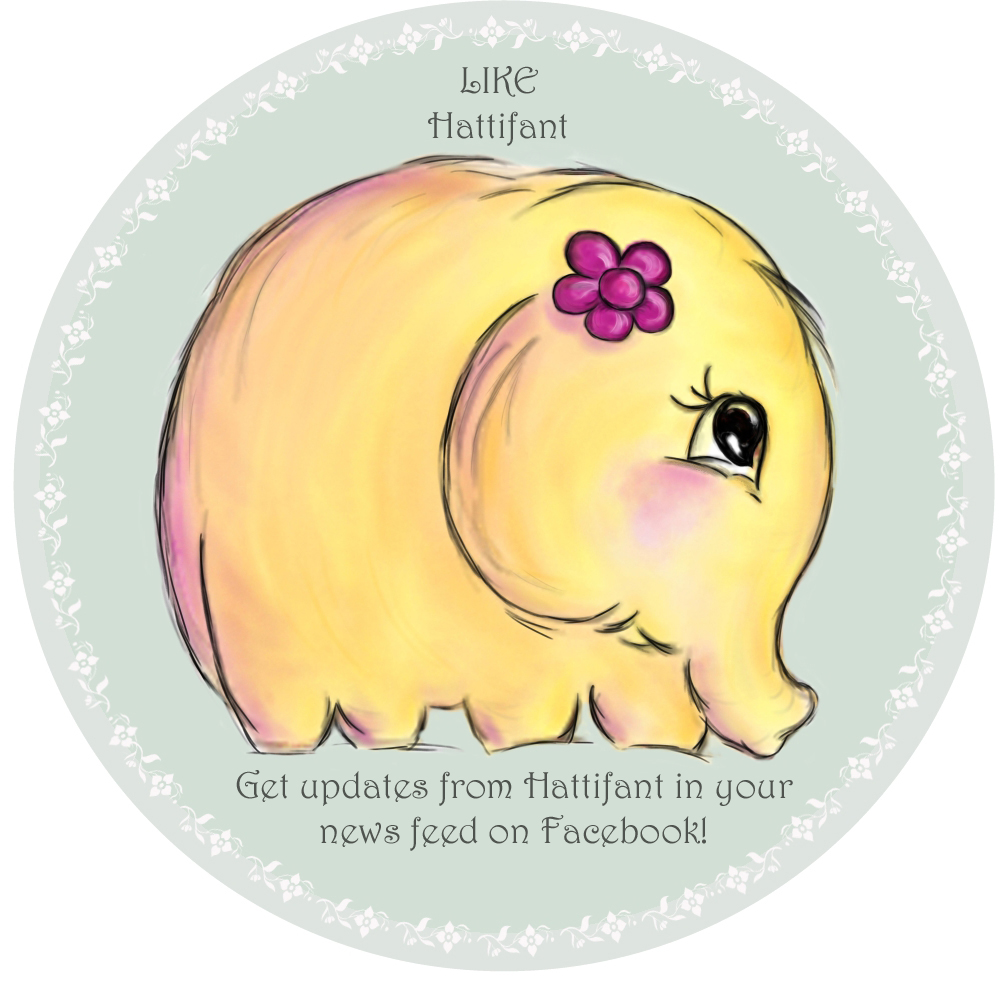 PERSONAL AND NON-COMMERCIAL USE LIMITATION
Please kindly note that the use of the Hattifant Site and its services (e.g. downloads) offered, are for your personal and non-commercial use only. You may not publish, license or create derivative works (for commercial use) from, transfer, or sell any information, products, downloads or services obtained from the Services. Hattifant is the sole owner of all content on the Hattifant Site, unless stated otherwise. You may borrow pictures but always name the source and link to the Hattifant Site, please. It would be lovely if you sent an email to manja(at)hattifant(dot)com in this case. Thank you!