The THREE Nutcrackers Posters to Color In
Nutcrackers are invading our home!!! Help! Take some off me! Teehee… You might recognize these three fellows from the Nutcracker Coloring Page Bundle I just recently put up. Tim, Philip & Friedrich, our Nutcrackers here, demanded to be bigger ALMOST as GIANT as our Nutcracker Hans who measures almost 1,78m/5'8! So now Tim & Friedrich can be as tall as 1,25m/49in and Philip 1,08m/42in.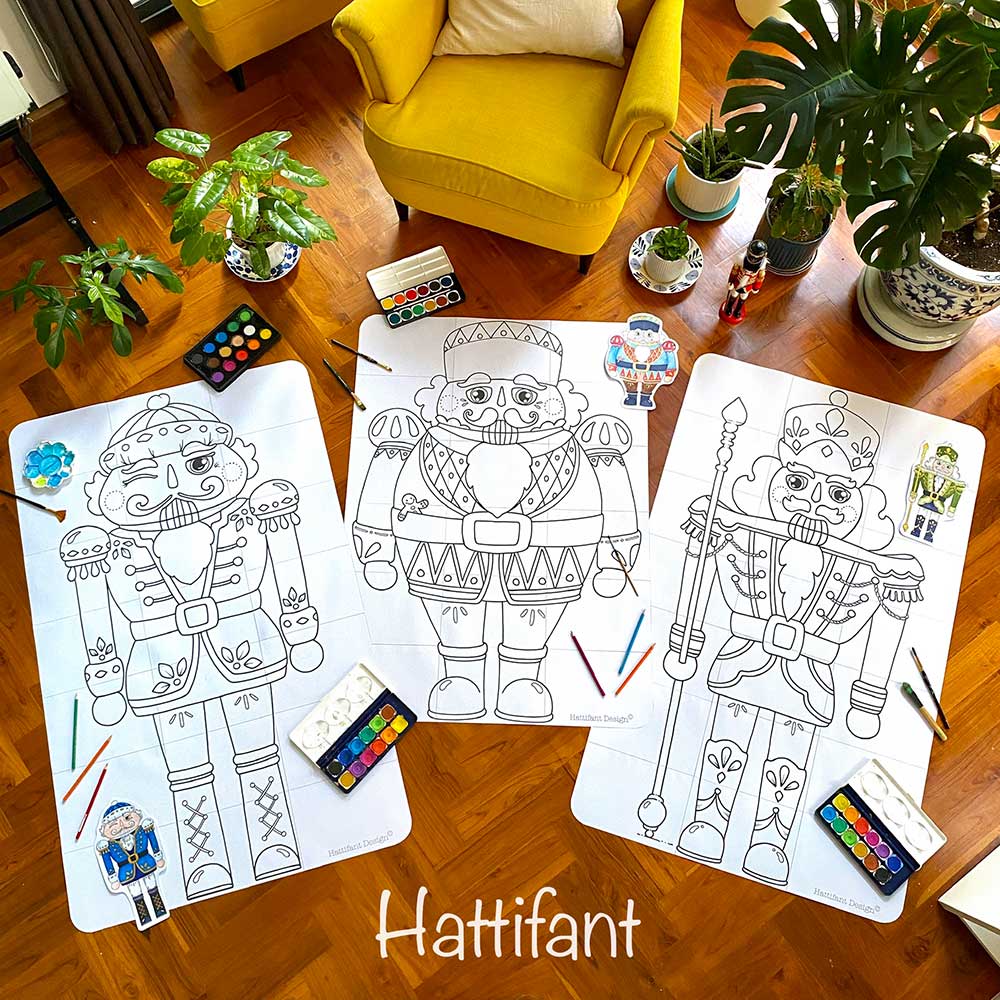 For Tim (on the left) and Friedrich (on the right) you will need 21 pieces of paper. Philip fits on 18 pages! He is quite proud of that.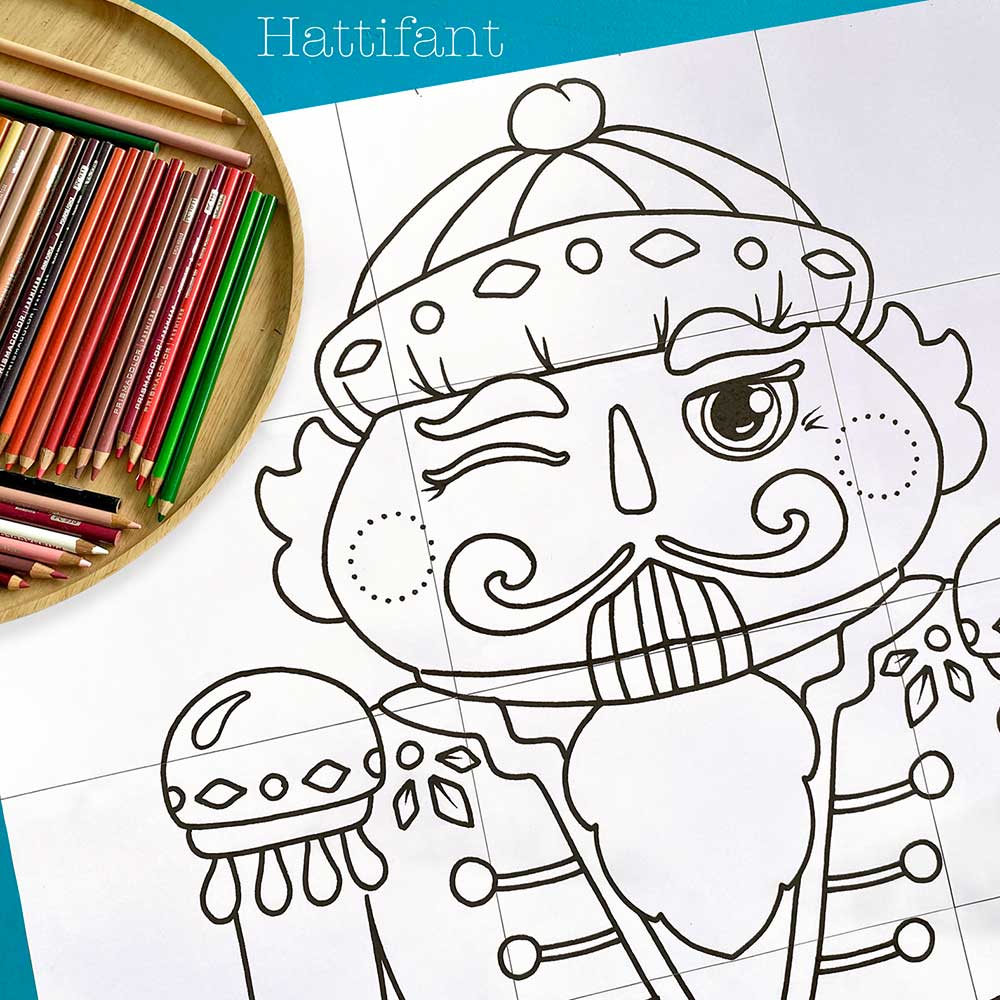 But before I go further… YES, there are more Giant Christmas Posters that I have created over the years: Giant Christmas TREE Posters! You can also enjoy coloring, a Winter Wonderland Christmas Tree Poster, a Mandala Giant Christmas Tree Poster, an Animal Cutie Giant Christmas Tree Poster and a Giant Christmas Tree Elf Factory! How fun! And while you are at it, do check out all of Hattifant's Christmas Crafts & Coloring Pages here!
HOW TO MAKE
Hattifant's Posters are very easy to make! You can print them with your home printer or at school. You will download the templates as PDF files, print them, cut out the templates and then glue them together. It is really all very easy and no puzzle exercise. Every single page will tell you exactly who it wants to be neighbor with.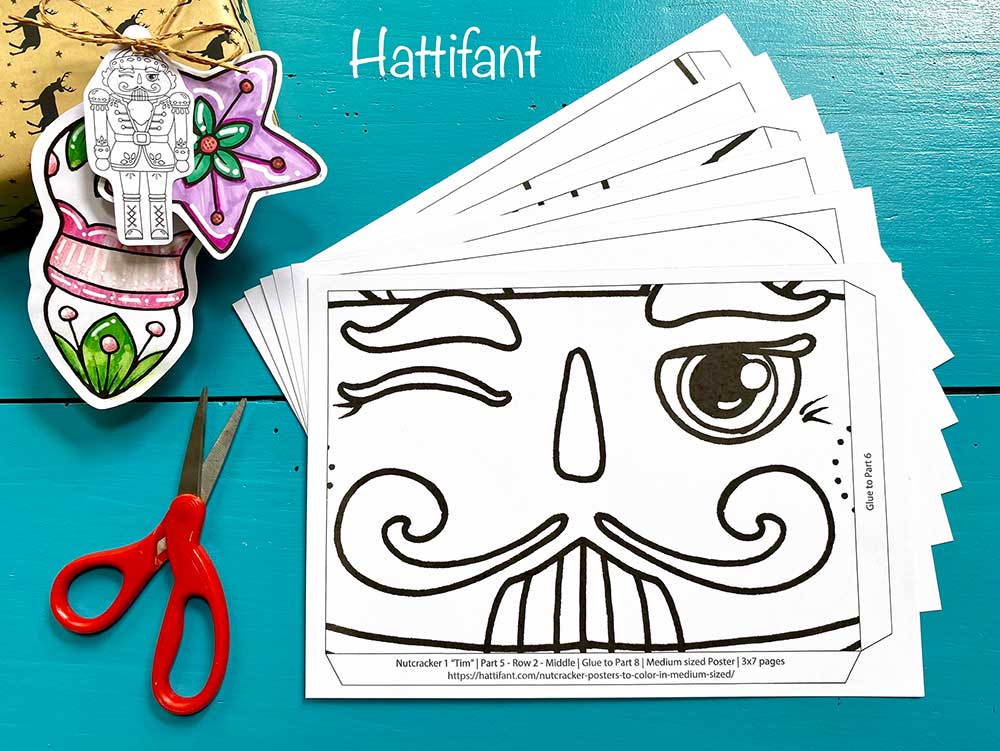 Oh my goodness… Nutcracker Tim really is cheeky! Look at him! Very distracting… 🙂 So where was I?! Download your PDF files and read the READ_ME_FIRST file first!!! There is usually a little something special else in there. Nope… not telling what… Ok, when you have done all that lay out your pages just to make sure your printer hasn't eaten part of your chosen Nutcracker. And then cut out the templates.
Then find yourself some space again. I tend to glue it all on the floor. And then happy glueing! 🙂 Start off in the left hand upper corner (page 1) and work your way down to the bottom left hand corner (page 18 or 21 – depending on which Nutcracker).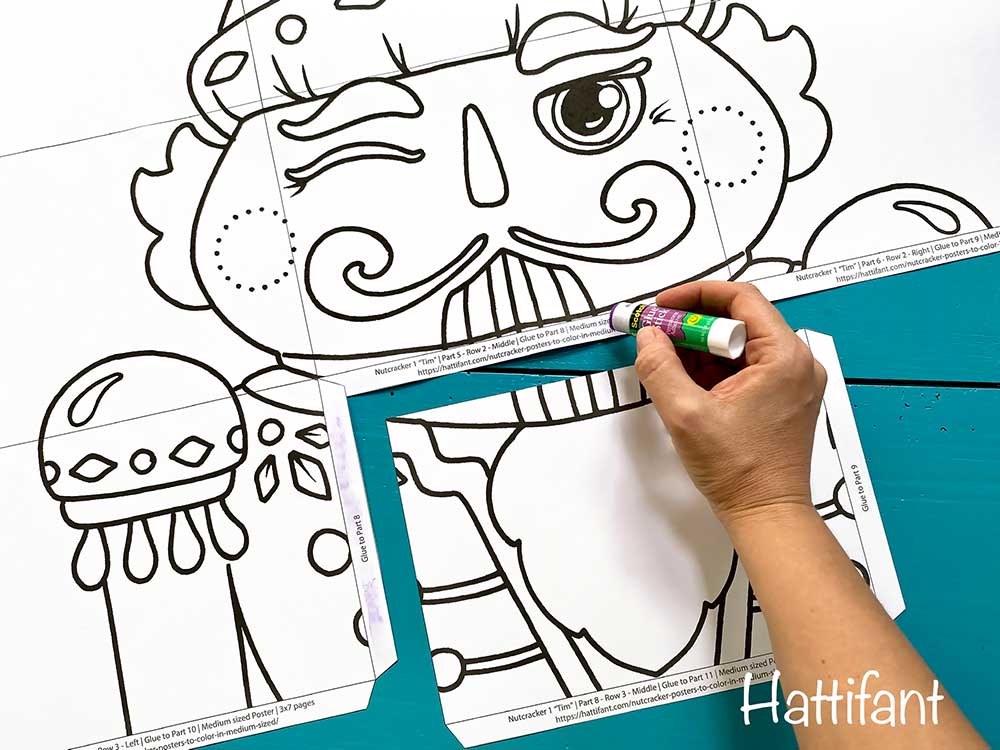 The process should look somewhat like this… It is really really easy. Promise!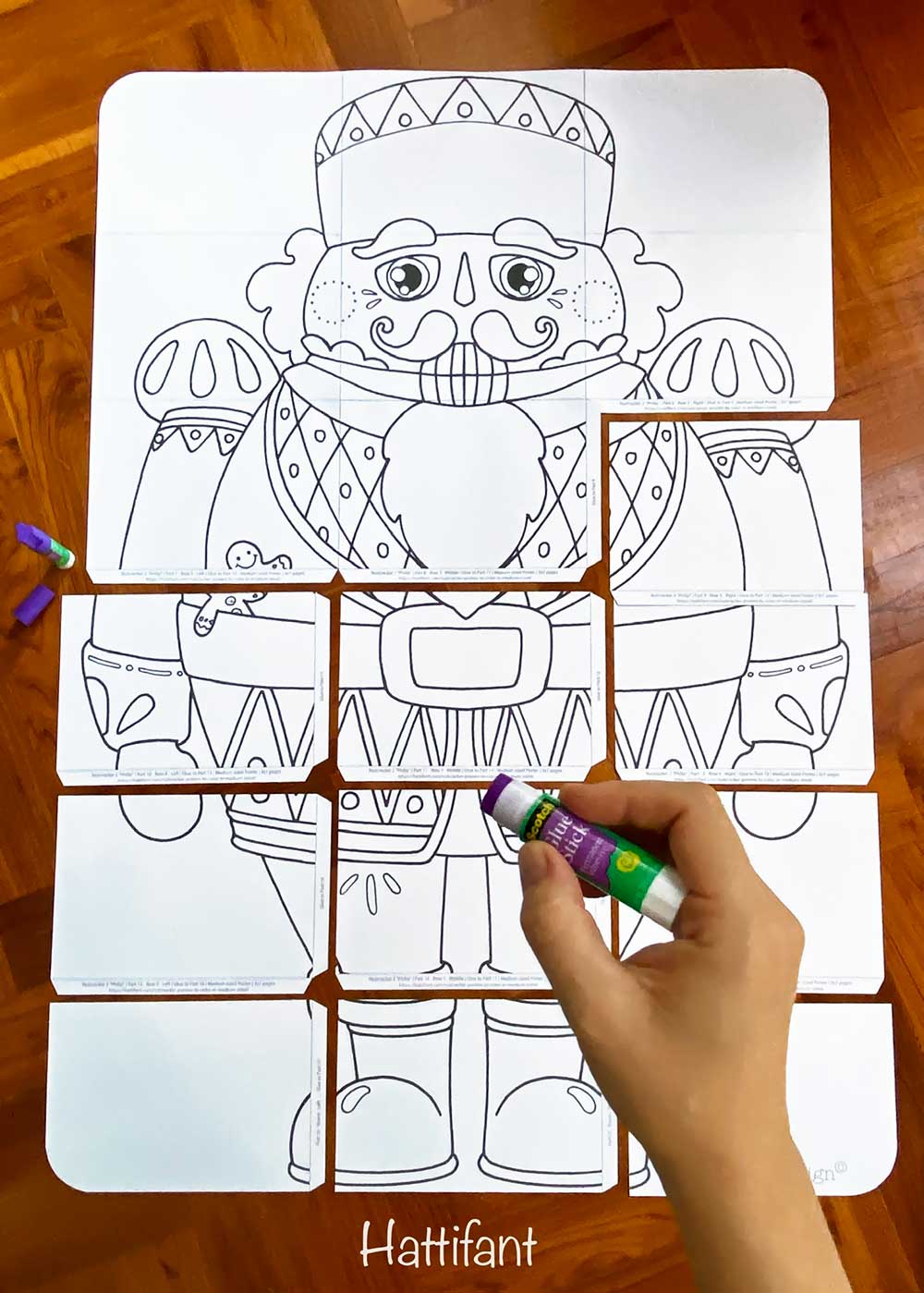 And that's it already! You have made yourself in no time an amazing Nutcracker poster that you now get to color in!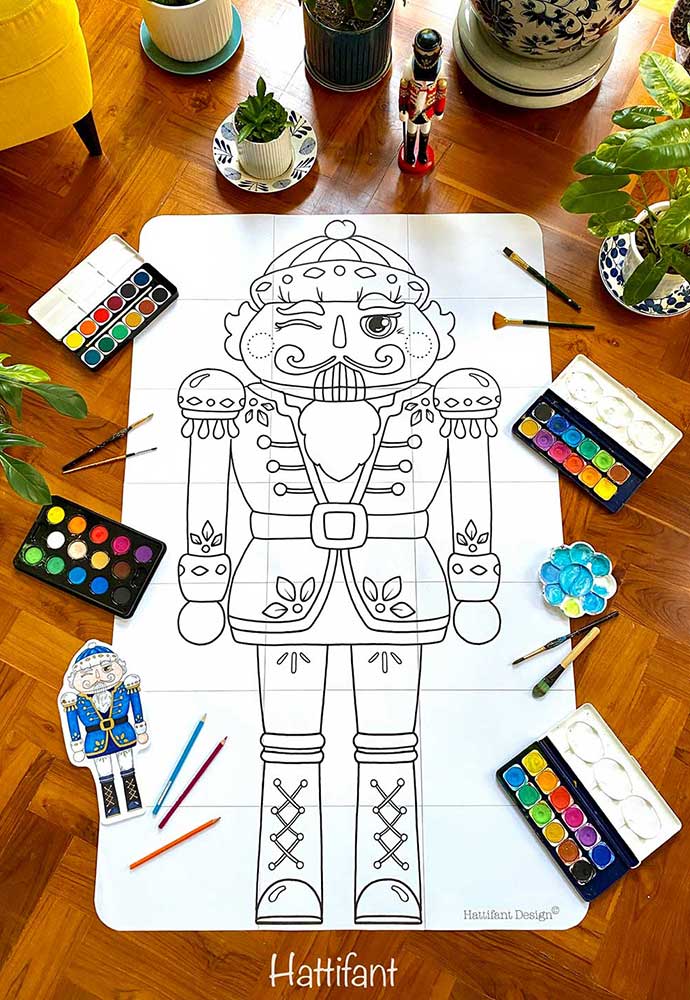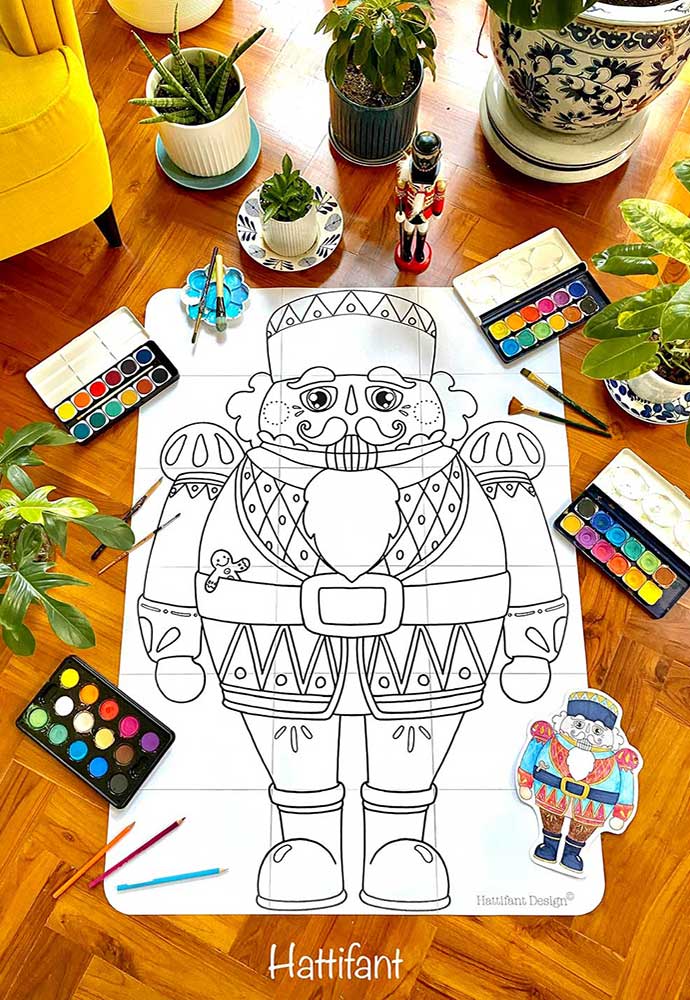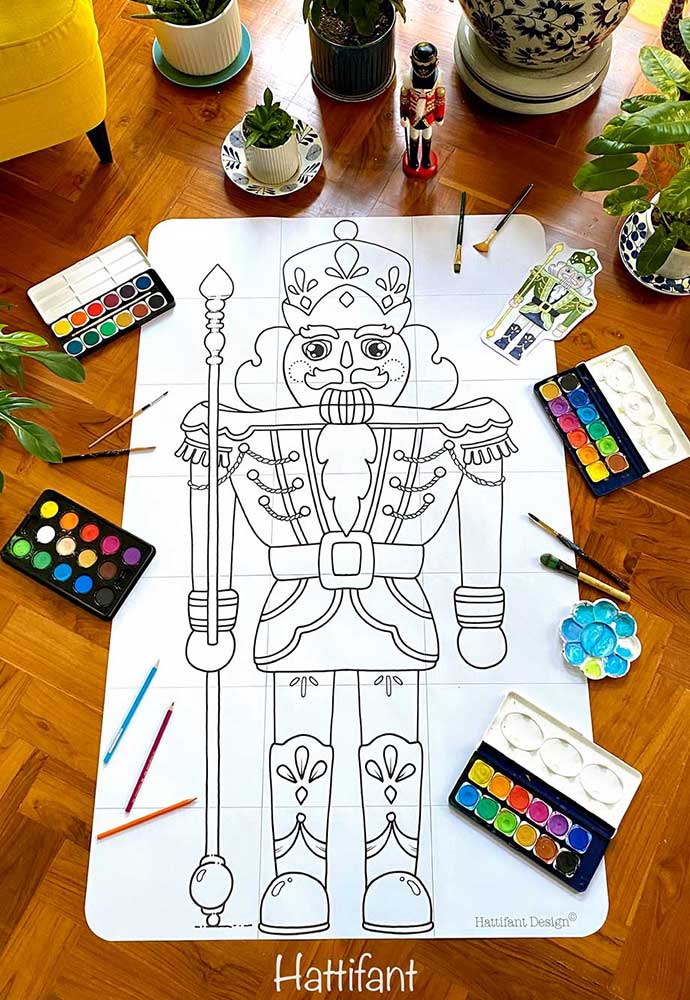 Get all your paints, coloring pens & pencils and possibly acrylic paint markers out! I wish you the most of fun! Your home, classroom or office will look amazing! I cannot wait to see the first pictures coming in and see how you painted these Nutcrackers!!!
HOW TO in short:
download the Nutcracker Poster PDF files,
print out PDF files on 120-180 gsm paper,
cut out individual pages,
glue pages together to one big Poster,
COLOR!
PRINTABLES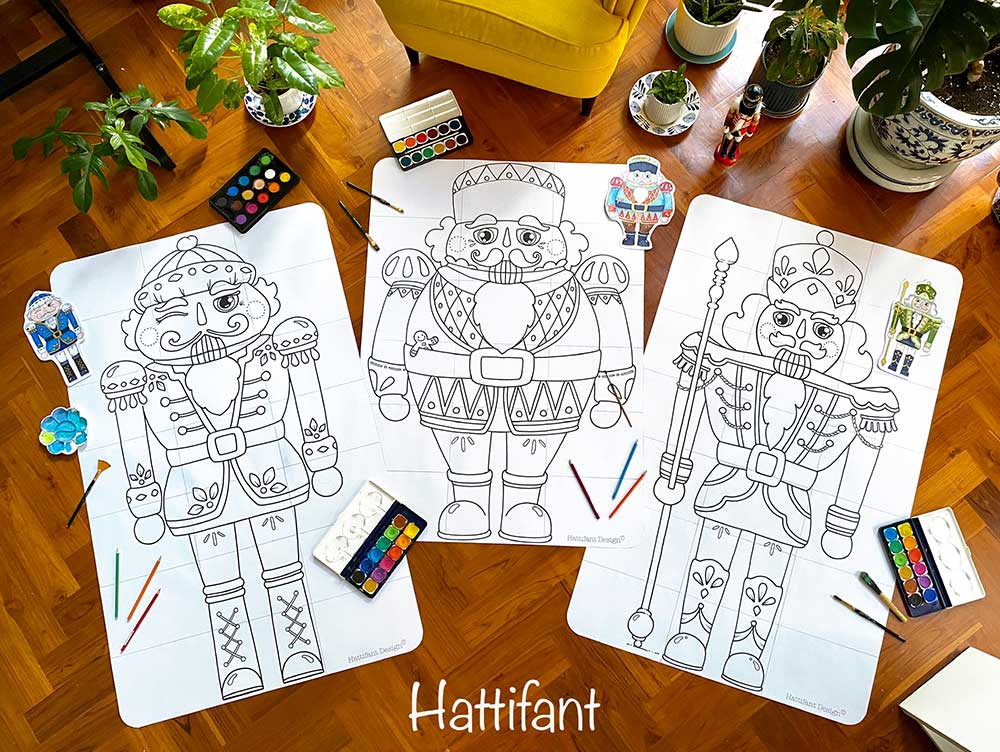 You will receive in PDF format:
A Welcome Note & Thank You including Instructions & an Extra ?
PDF file for Nutcracker Tim: 21 pages in one PDF file
PDF file for Nutcracker Philip: 18 pages in one PDF file
PDF file for Nutcracker Friedrich: 21 pages in one PDF file
(Please scroll through the PDF files to find all pages. If you print on US Letter size paper then please adjust your printer settings to "Fit to page" before hitting the "Print" button.)
Here are some nitty gritty details that might be of importance for you to know if the nutcracker will fit on your wall!
Tim, the Nutcracker
Nutcracker: appr. 125cm/49in tall & 60cm/23.6in wide
Poster: appr. 127cm/50in x 78cm/30.8in
Philip, the Nutcracker
Nutcracker: appr. 107cm/42in tall & 74cm/29in wide
Poster: appr. 108.5cm/42.7in x 78cm/30.7in
Friedrich, the Nutcracker
Nutcracker: appr. 107cm/42in tall & 74cm/29in wide
Poster: appr. 128cm/50.4in x 78cm/30.7in
More Christmas Crafts: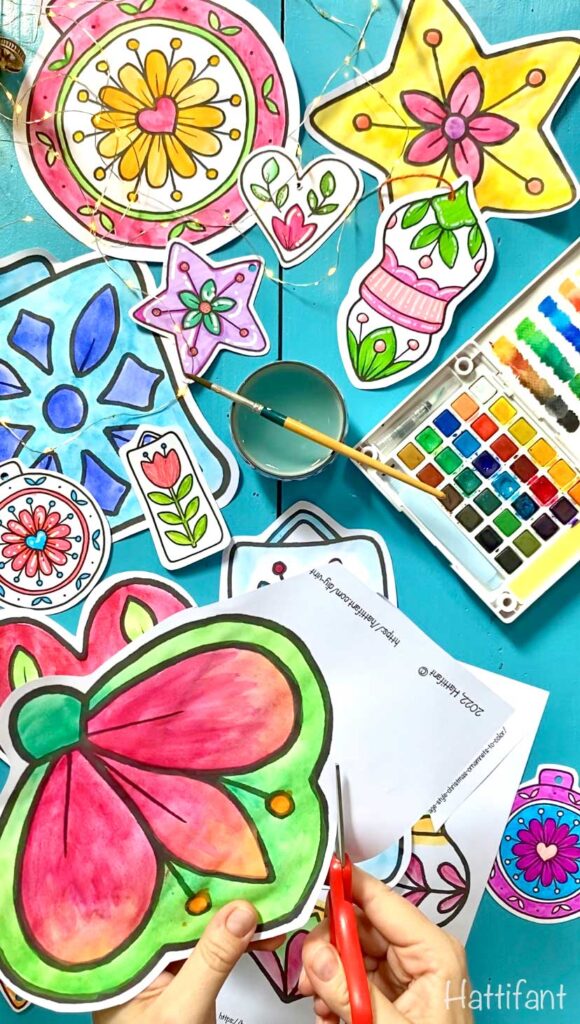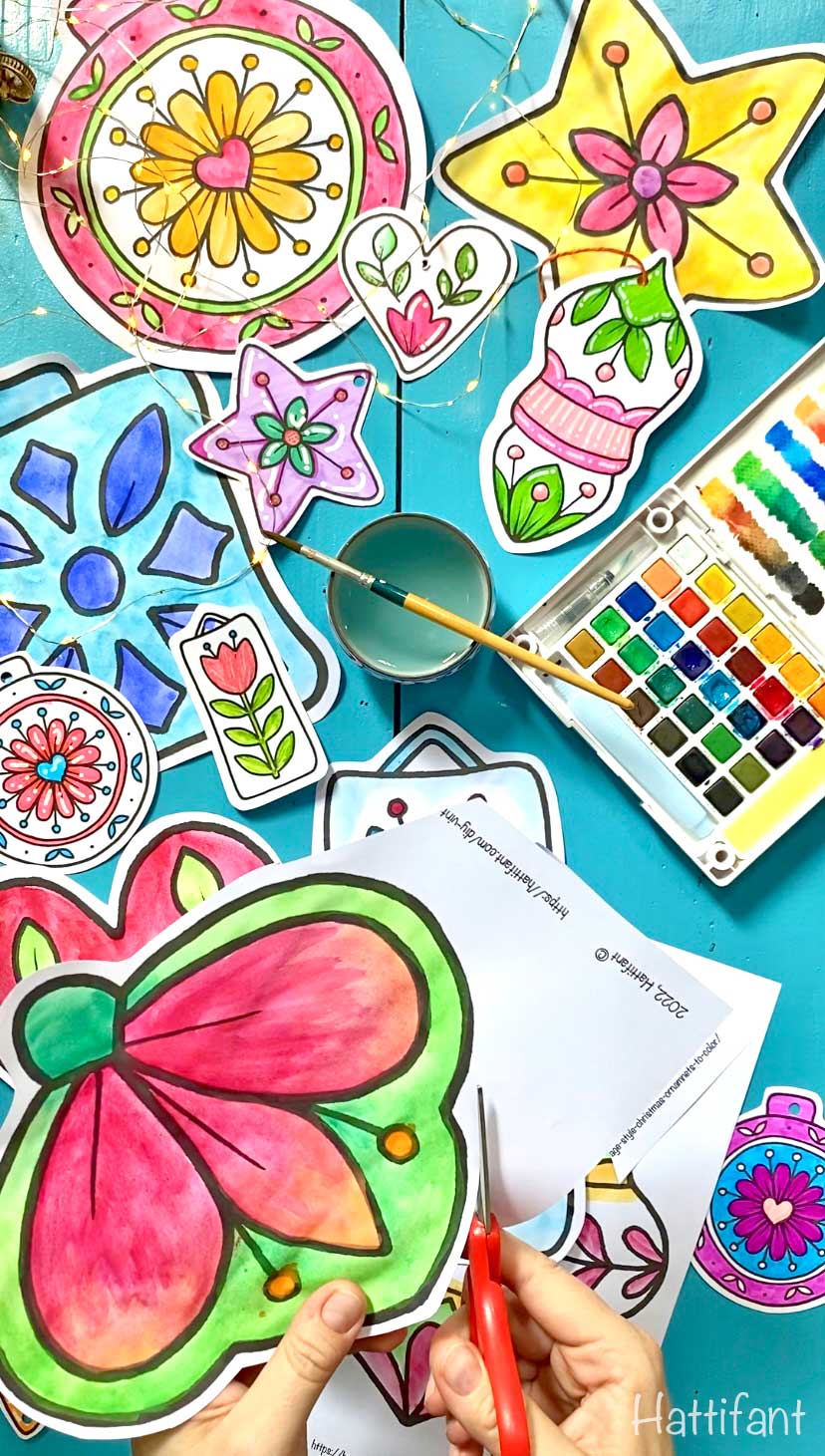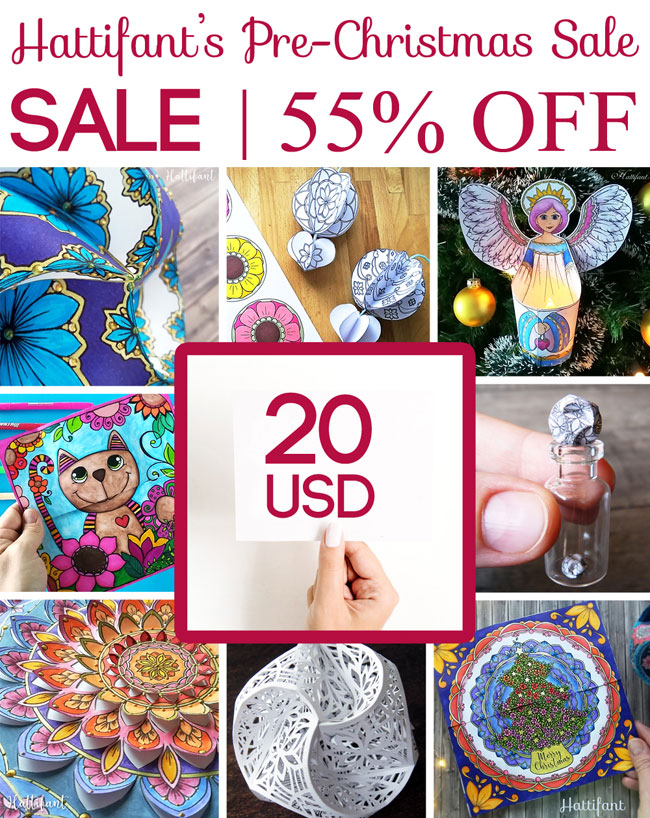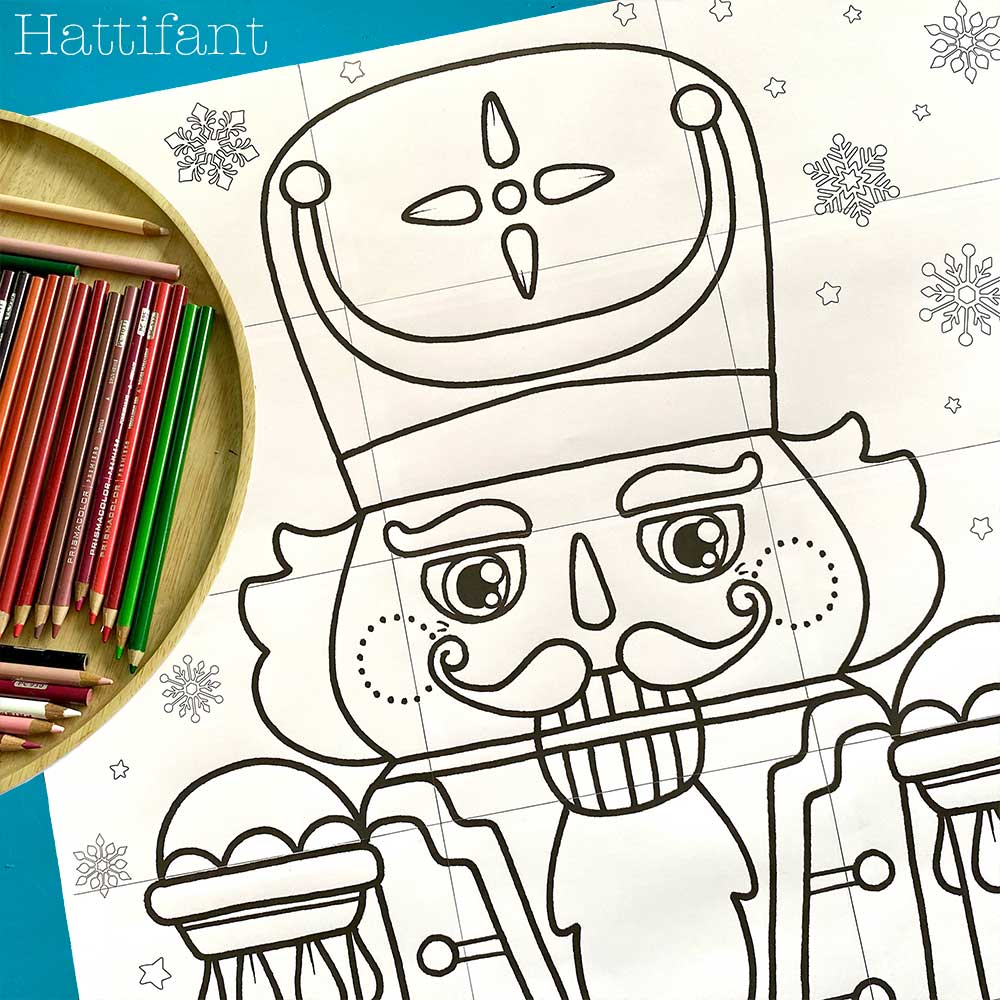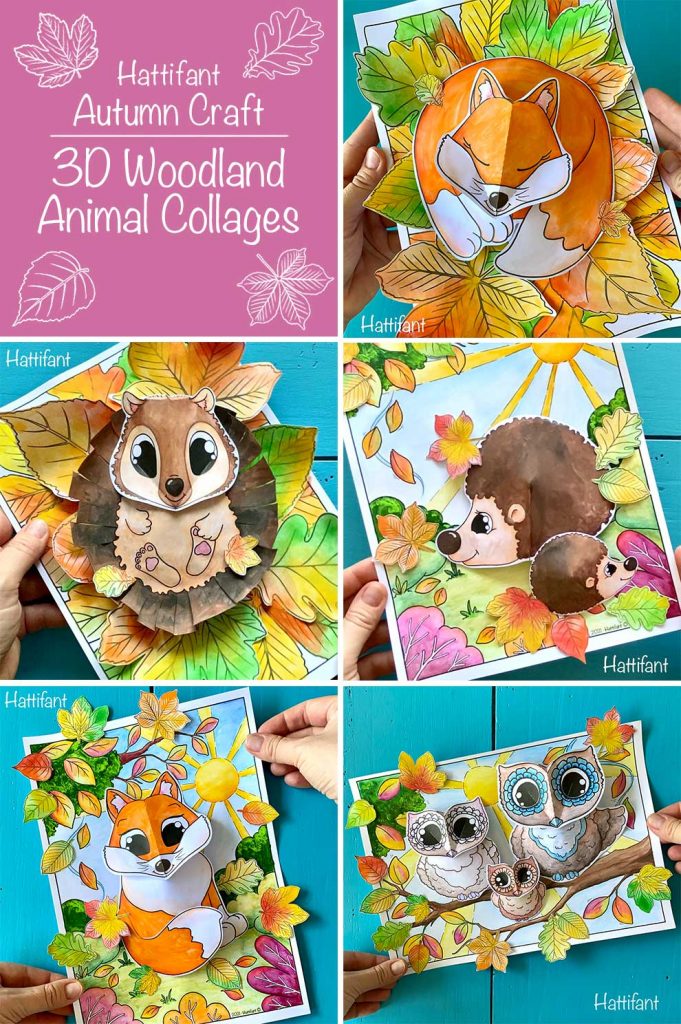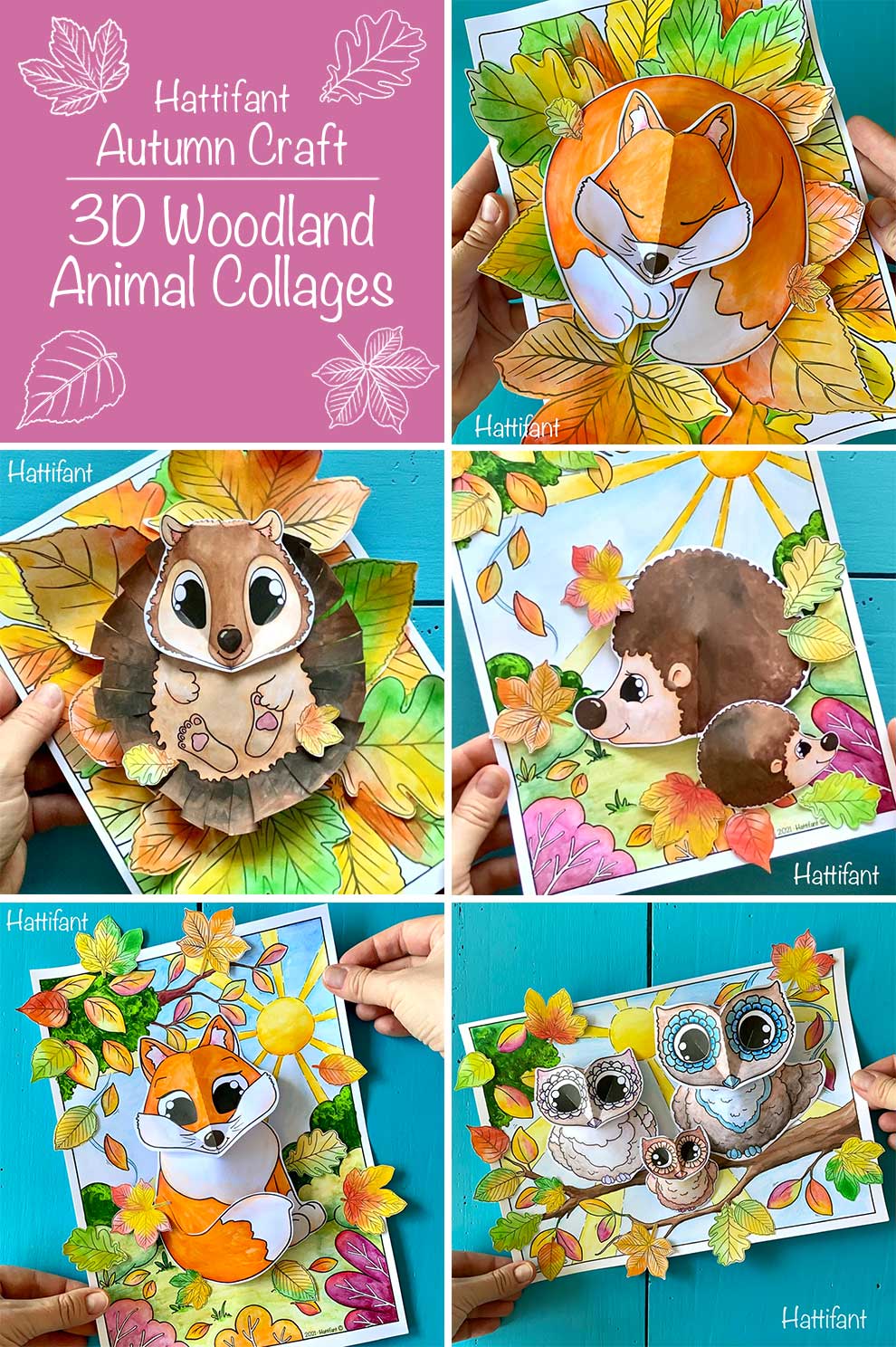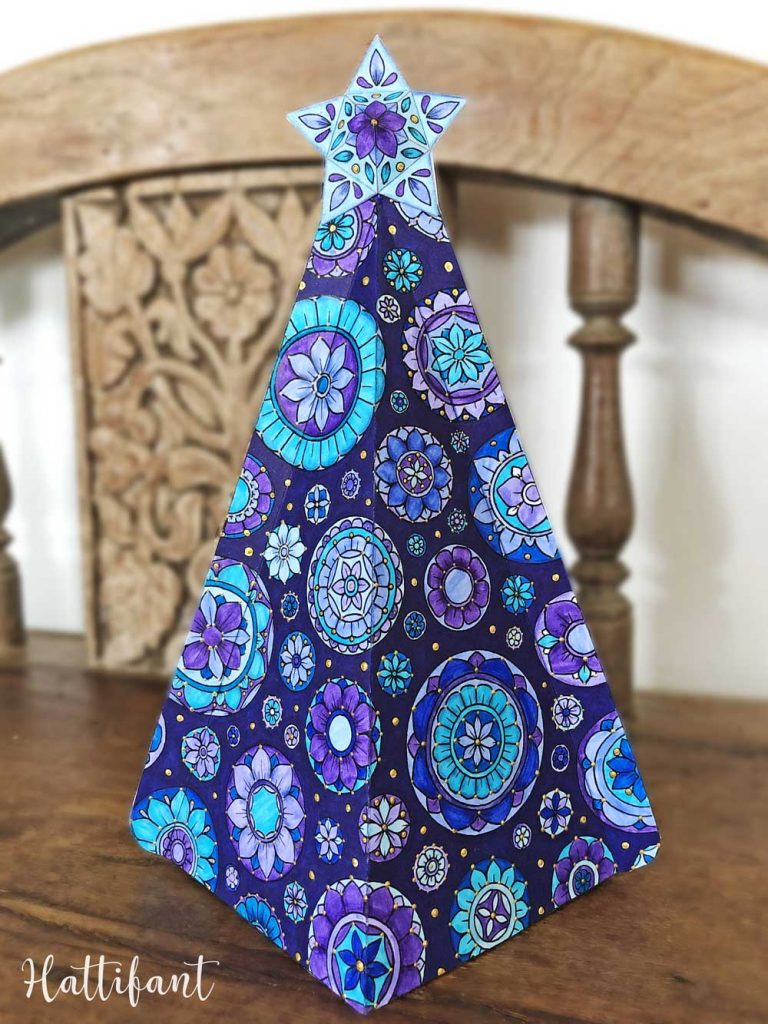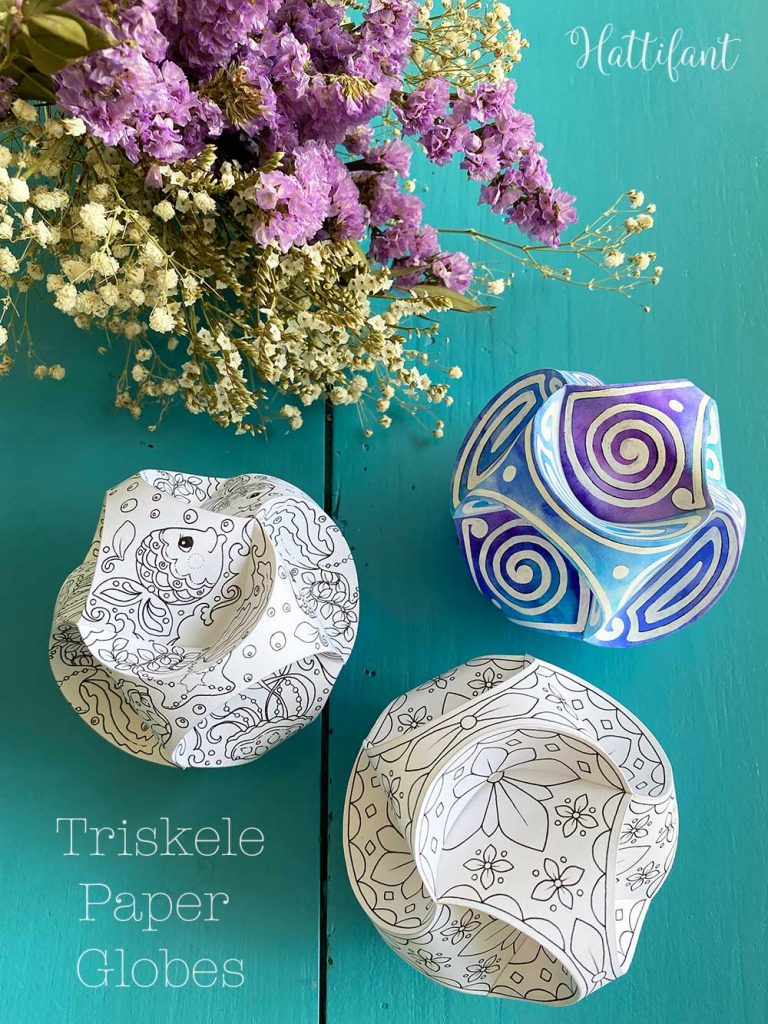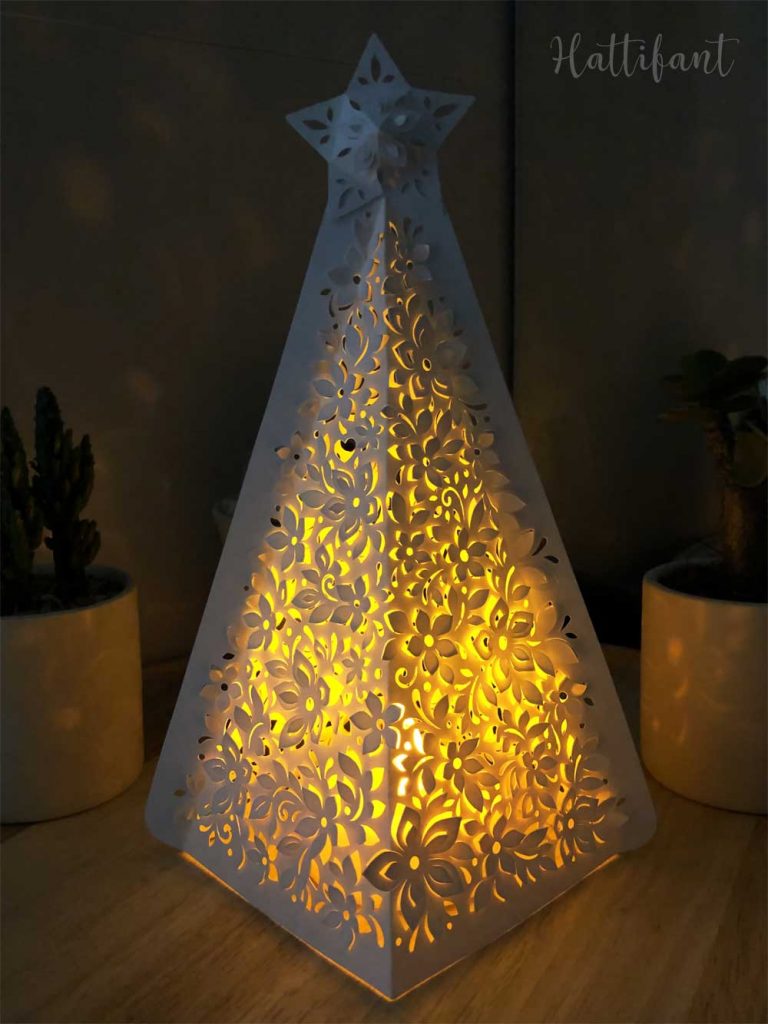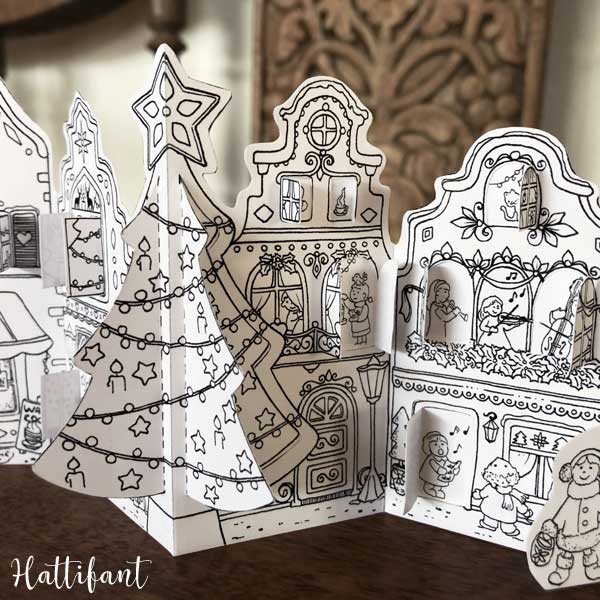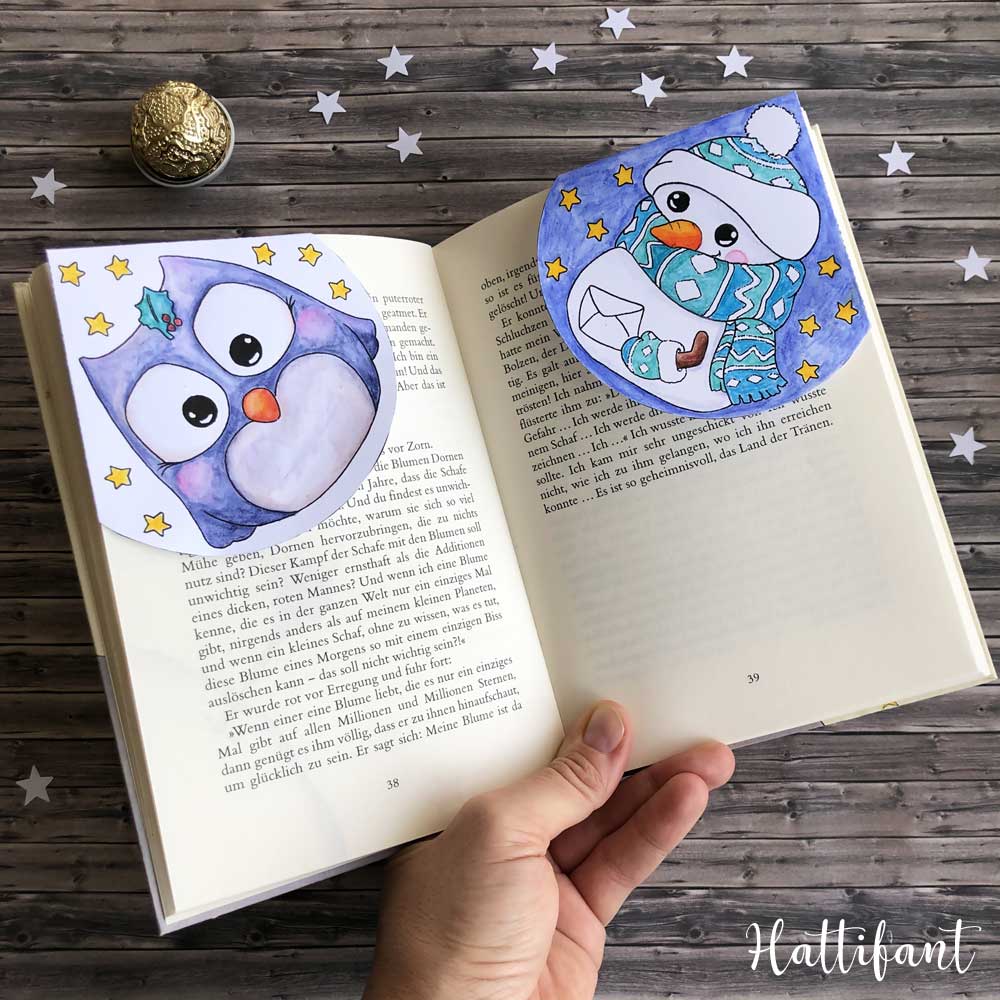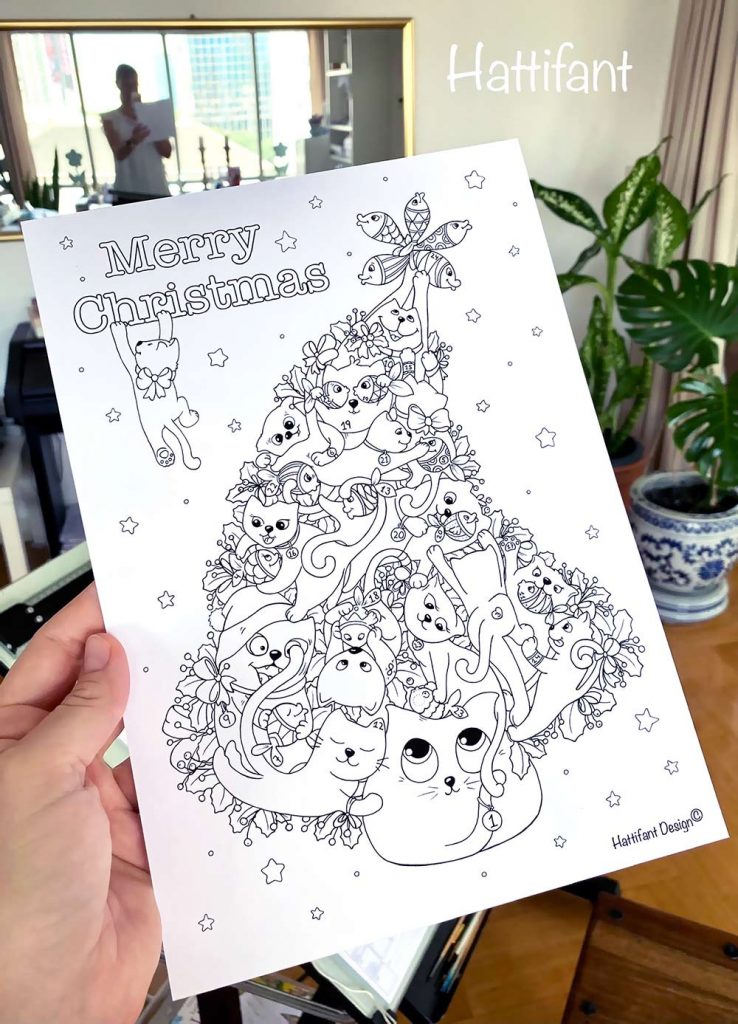 You like Hattifant's designs, toys & décor? Why not FOLLOW Hattifant on Facebook or Instagram and always be up-to-date with Hattifant's latest adventures…
PERSONAL AND NON-COMMERCIAL USE LIMITATION
NO DIRECT LINKS TO PRINTABLES ALLOWED! Please kindly note that the use of the Hattifant Site and its services (e.g. downloads) offered, are for your personal and non-commercial use only. You may not publish, license or create derivative works (for commercial use) from, transfer, or sell any information, products, downloads or services obtained from the Services. Hattifant is the sole owner of all content on the Hattifant Site, unless stated otherwise. You may borrow pictures but always name the source and link to the Hattifant Site, please. It would be lovely if you sent an email to manja(at)hattifant(dot)com in this case. Thank you!