St.Andrews International School Bangkok – Term III 2014
Dear all! Welcome back to our last term! I am so excited to have you all with me for 6 exciting crafty afternoons. Lets CRAFT!
Friday, 13 June 2014
We have already come to the end of this term. Today was our last crafty afternoon of this school year! So…we made the most of it! We had a party! Not just any party…a FROZEN party. Doesn't everybody love that cartoon? Well, we all do and it showed. All students were really excited about the craft. In fact, they'd been waiting for this one all term. We made Glitter globes!
Of course with the Frozen theme.
I found these really cute water bottles in central Bangkok. Perfect for this craft, really.
As stand, we used the end of milk bottles. I got the Frozen images ready – transferred them into the right size and laminated them. We then used waterproof double sided tape to attach the images to the inside of the lid.
We filled the globes with fabric starch. You might laugh here but I got into real trouble trying to find glycerine as described in so many of the tutorials available online. I didn't find any and I asked around, believe me. Then, I was thinking about baby oil. Hmmm, nice but here extremely expensive and it would have busted the workshop finances. By chance I came across the fabric starch (why, still trying to find the right slime recipe!!! 🙂 ) and tried that. And hey, yeah, it did work. And it was clear. It looked nice. The glitter didn't just straight away went down to the bottom as it would do simply with water. Glittery stary fabric starch it was!
We then added glitter and stars and stuck the laminated image into the bottle and closed the bottle with the lid. La voilá!
We decorated our stands with a Frozen banner and made it slightly more lasting by taping see through sticker paper over it.
Then we went on to make our own Anna and Elsa crowns and the boys made Olaf masks or turned into a Sven. We used for this printables that Erin from Strawberrymommycakes so kindly offers for free to download! Thank you, Erin! Do have a look, they are too cute!!!
Unfortunate for you, we have been so busy today that there was no time to take any pictures at all. I was lucky enough to have had a Hattifant family member in class today. So she kindly showed off her globe exhausted and in total bliss afterwards at home. See the Anna crown she is wearing! Too cute.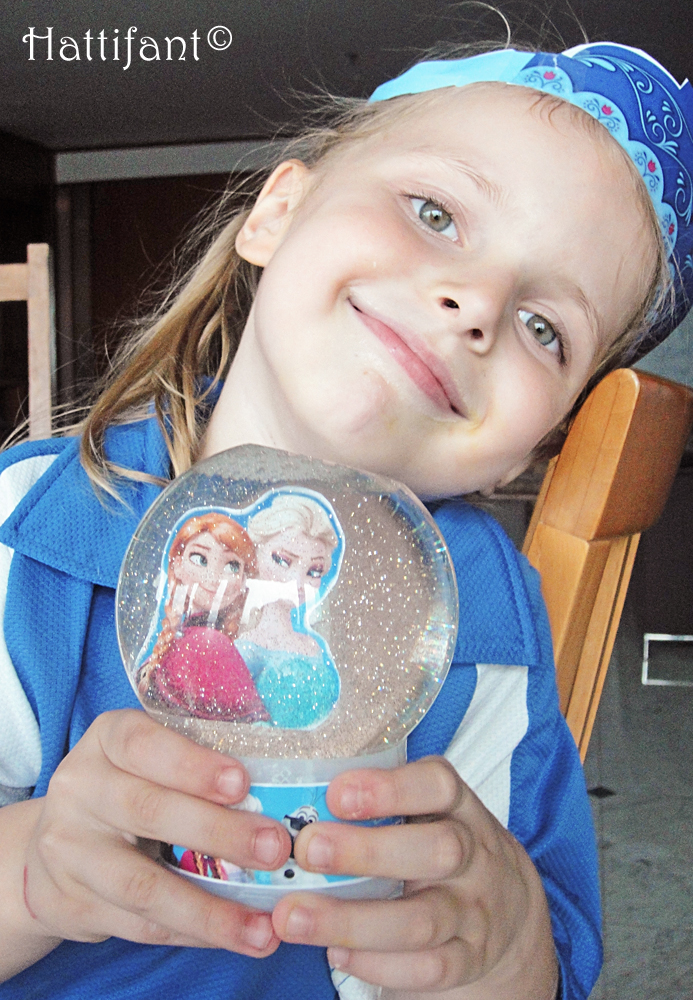 So dear students! Thank you so much for such a wonderful year. And I do hope to see many of you back again next year! Have some amazing summer holidays! Enjoy!
Friday, 6 June 2014
Do you like reading? Venturing through the woods as one of your heros or heroines in your favorite book? And then…"Dinner is ready!" mom calls and you have to put down the book unfinished?
Well, lets show you some fantastic bookmarks that we made in today's workshop! So, that when you get the chance to read again, you don't need to look for the right page too long but can dive right back in to your story.
This weeks workshop is featuring Krokotak's very cute animal bookmarks – frogs, cat and bear – all there.
And here are our little frogs, cats and bears ready to go home. It got quite noisy with animal sounds during the workshop, it was fantastic. Did you know that an English speaking frog sounds different to a German speaking one??? 🙂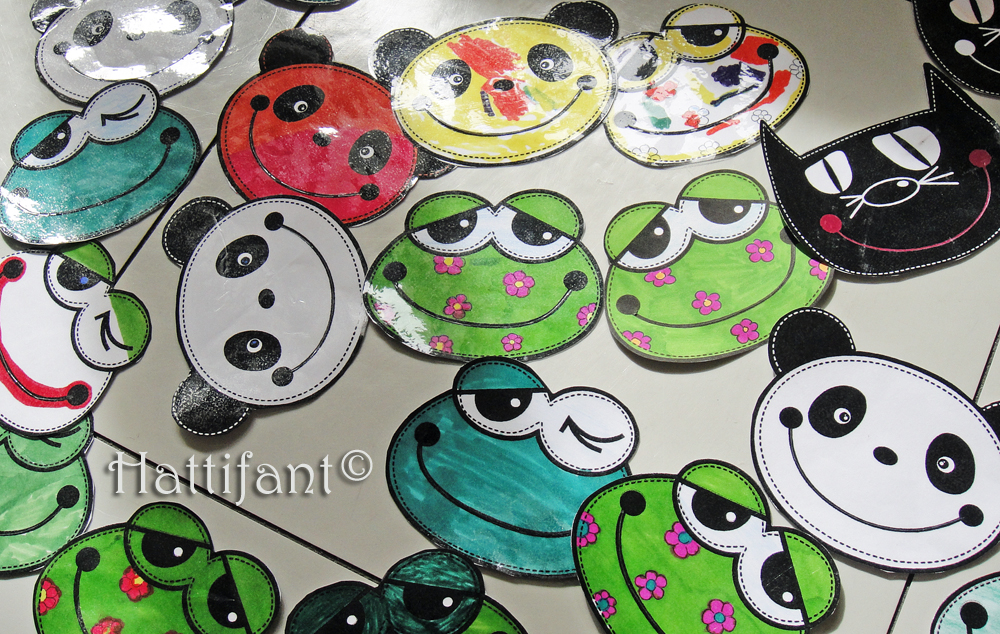 Of course, you can make thes cure bookmarks yourself! Here is the link to Krokotak's craft page and the printable for the bookmarks.
Friday, 30 May 2014
Magnets, magnets, magnets…and lots of exciting squeaking when the students realized what we were doing today! Does that make my day??? Of course!!!
The poor little ladybirds, teddies and flowers that had to stay home last week, could finally come to school with me and go to their new home.
We made two different kind of magnets: First, the students decorated clay magnets already prepared by me. Everyone was able to bring a ladybird, teddy and flower to life.
Then, the students could explore the clay a little by themselves and make their very own designs.
And secondly, the students could draw their own designs simply on paper or colour in some prepared colouring in pages and stick it on magnet sheets.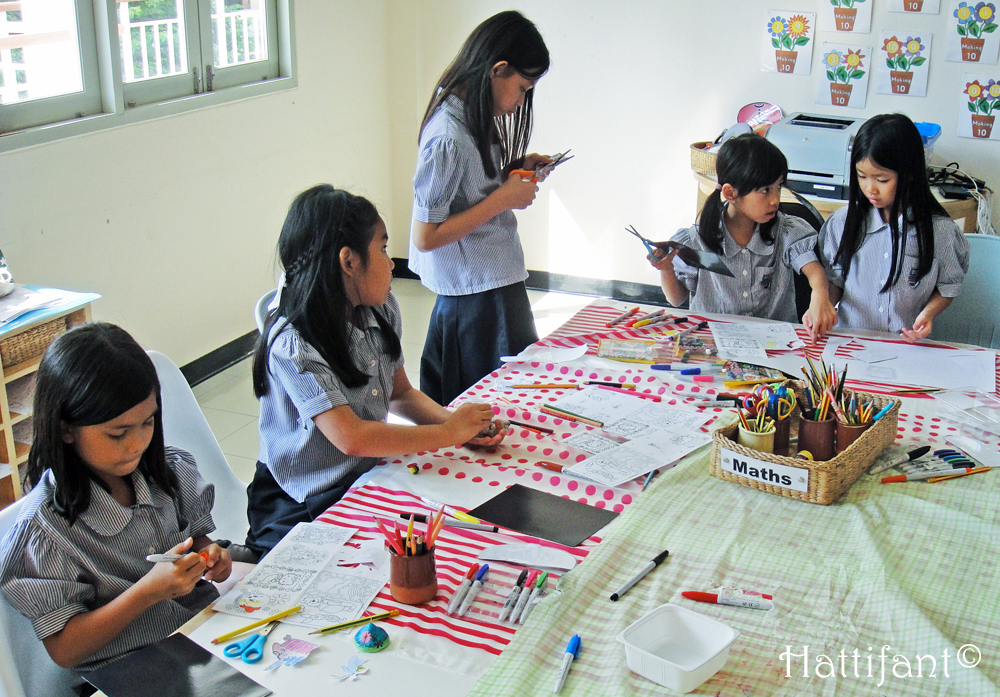 And aren't the magnets absolutely amazing?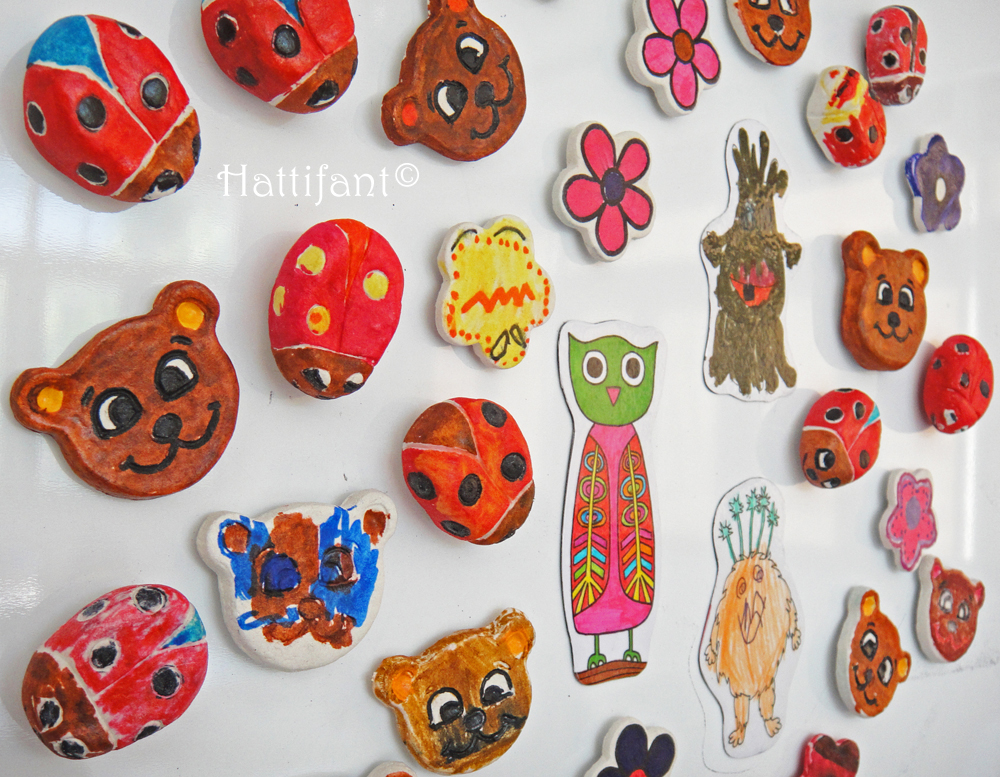 I would like to point out two things…
You see the little owl in the middle of the picture? This cuty was designed by one of my favorite artists Joel from Made by Joel. Thank you so much joel, for letting me use your beautiful owls in my workshop. The kids abolsutely loved them. And I believe there are quite a few owls now stuck to fridges in Bangkok! 🙂
And the second contributor to this weeks workshop is Jamey from Dabbles & Babbles and her little monsters. Can you see them? So so cute! Thank you Jamey! My daughter even made some for her teacher as a present!!!
Concluding…another AMAZING crafty afternoon with the best students ever! Thanks everyone! And yes,…, we'll make more magnets next week! But not only!!! So come back and find out what we will be making on 6 June 2014!
Friday, 23 May 2014
Due to the political situation in Thailand, the workshop unfortunately had to be postponed!
Friday, 15 May 2014
We are back for another crazy crafty hour. Today it was all about Kaleidocycles.
 And here is a visual impression of the fun we had! Thank you to all my students to make this afternoon once again a very special one!
And a final video from Scib for the day! Thank you Scib!
To make your own go to the following link to find instructions and free printables!
Friday, 9 May 2014
I was so excited to welcome back many of my "old" crafters and say hello to quite a few new faces! So happy to have you in my class!
Today was the day where the students where shown loads of possible crafts we could do and anonymously all students voted for their 5 favorite crafts.
And here are your TOP 5 CRAFTS, dear students:
1. Making magnets out of air-drying clay & decorating them.
2. Making our own crazy, cute, of course most amazing bookmarks
3. Making a glitter snow globe out of recycled items.
4. Painting & decorating mugs & plates
5. Making our very own Kaleidocycles
Our today's craft was obviously related to a very important day in the year:
Mother's Day
So we made some exciting "Wow-Mom" cards and decorated a hand-made clay stand for our most favorite person in the whole wide world. 😉
Credit for the idea of the Wow-Mom card goes with many thanks to Loreen Leedy.
The kids absolutely loved the idea and gave huge applause when I first showed them the "WOW" and then opened it up to a "Wow Mom". Thank you so much Loreen for sharing the idea!
Last but not least I want to take the opportunity to wish all the moms out there a very happy Mothers Day and hope that your little ones have spoiled you with lots of love and attention on this day. (Well, hopefully not only on this day. 🙂 )