GIANT POSTER | Christmas Tree – Winterwonderland
It is time for Christmas and this means also time for a new GIANT Christmas Tree Poster! Yes, it took weeks to design and I put every bit of my heart into it. So with much fanfare I present to you this year's Hattifant's Giant Christmas Tree Poster – a Winterwonderland! Also, don't forget to check out more of Hattifant's Christmas Crafts here!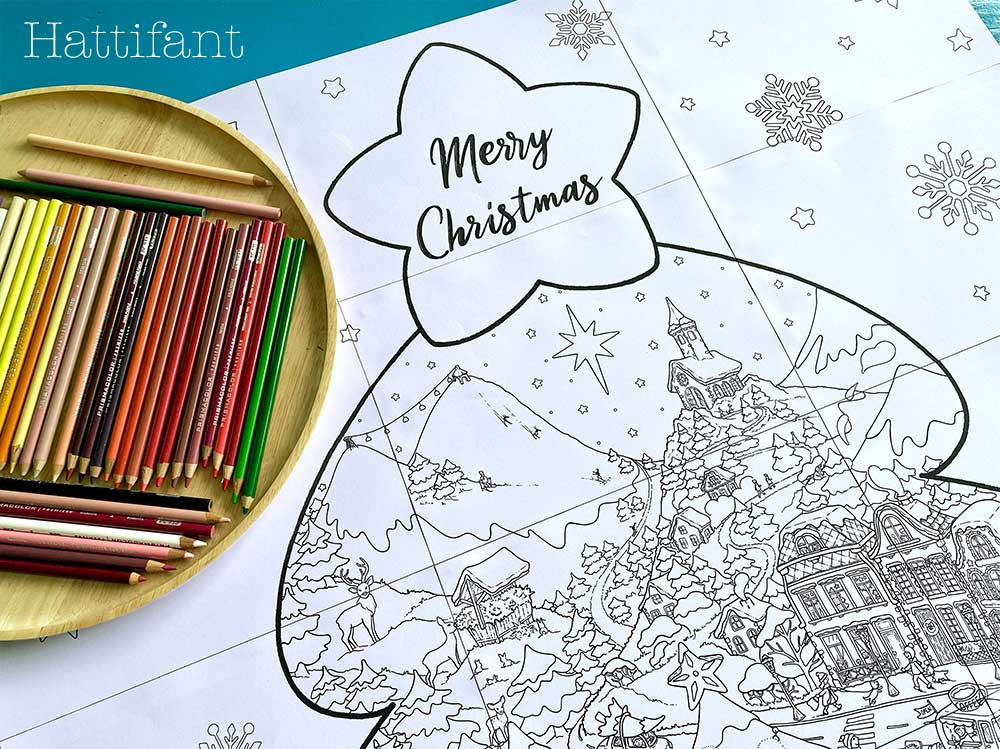 You will get to enjoy a beautiful Christmas scenery with mountains in the far distance and crazy kiddos tobogganing on a hill in closer proximity. But before I go further… YES, there are more Giant Christmas Tree Posters that I have created over the years! You can also enjoy coloring a Mandala Giant Christmas Tree Poster, an Animal Cutie Giant Christmas Tree Poster and a Giant Christmas Tree Elf Factory! How fun!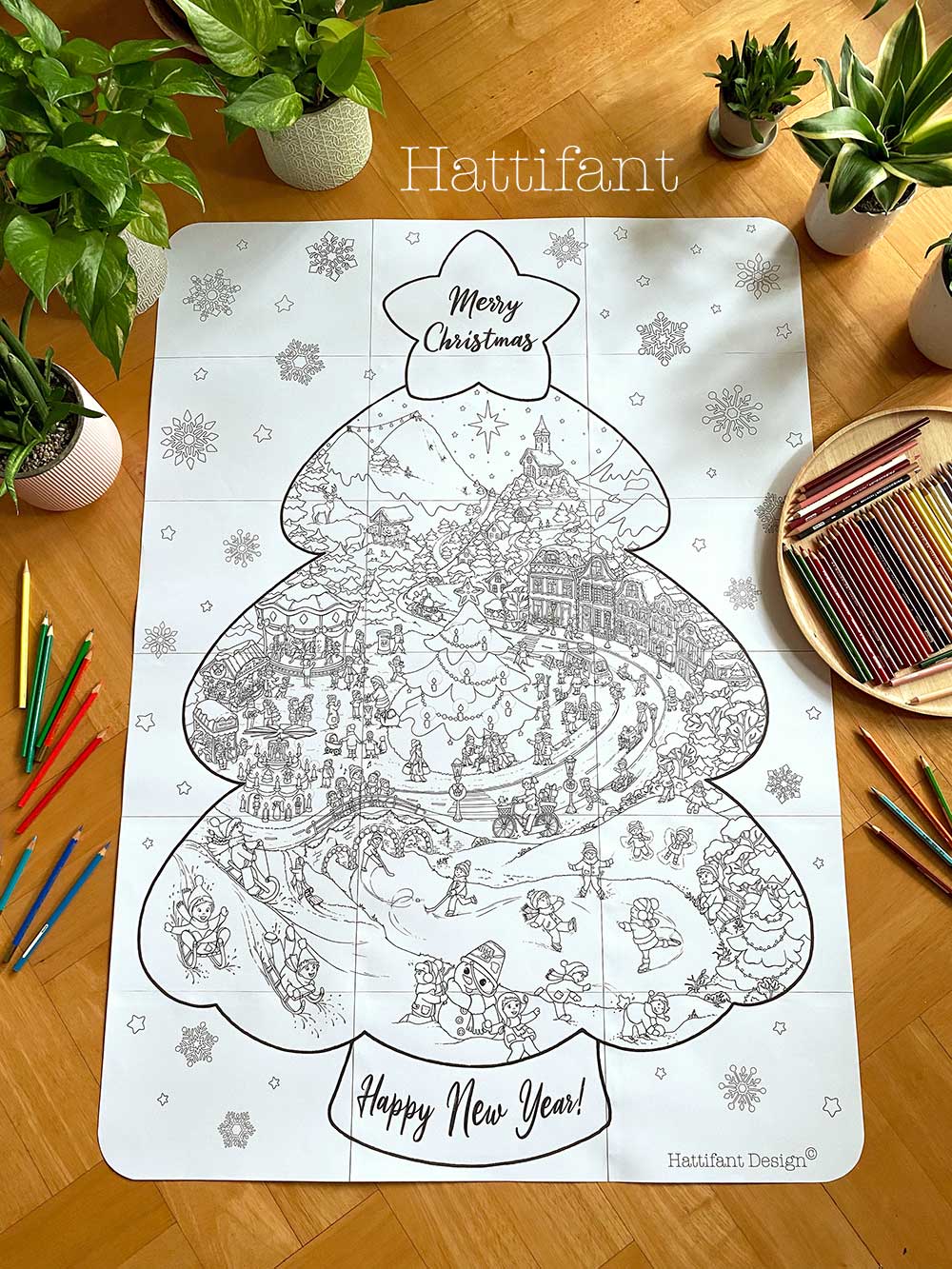 Enjoy exploring this new Giant Christmas Tree Poster and bring it to life with your favorite colors. Invite your friends and family because there is loads to color. You have kids playing in the snow, skating, others making snow angels. There is a little choir for some 'ambiente', too. Behind is the very important Christmas Market. Hattifant has got a stall there, too this year! Can you spot it?
For the love of coffee or a hot chocolate head over to the other side of the town's famous Christmas Tree and chat with some neighbours! Always good to hold a hot cuppa in your hands while finding out the latest gossip. 🙂 Further in the back are some deer exploring the forest and enjoying some hay from the feeder the local community put there and regularly fills up again. And for those wanting to enjoy the Christmas service you can walk up to the little church on top of the hill! I am sure you will see lots more fun things and situations. Enjoy!
HOW TO MAKE
Always a good question! 🙂 I created templates for you to download and print easily at home with your printer!
The Giant Christmas Tree Poster will measure appr. 78x108cm (30x42in). And it is 18 pages big! So first of all: head over to Gumroad or Etsy and get your own Giant Christmas Tree Winterwonderland Poster Bundle!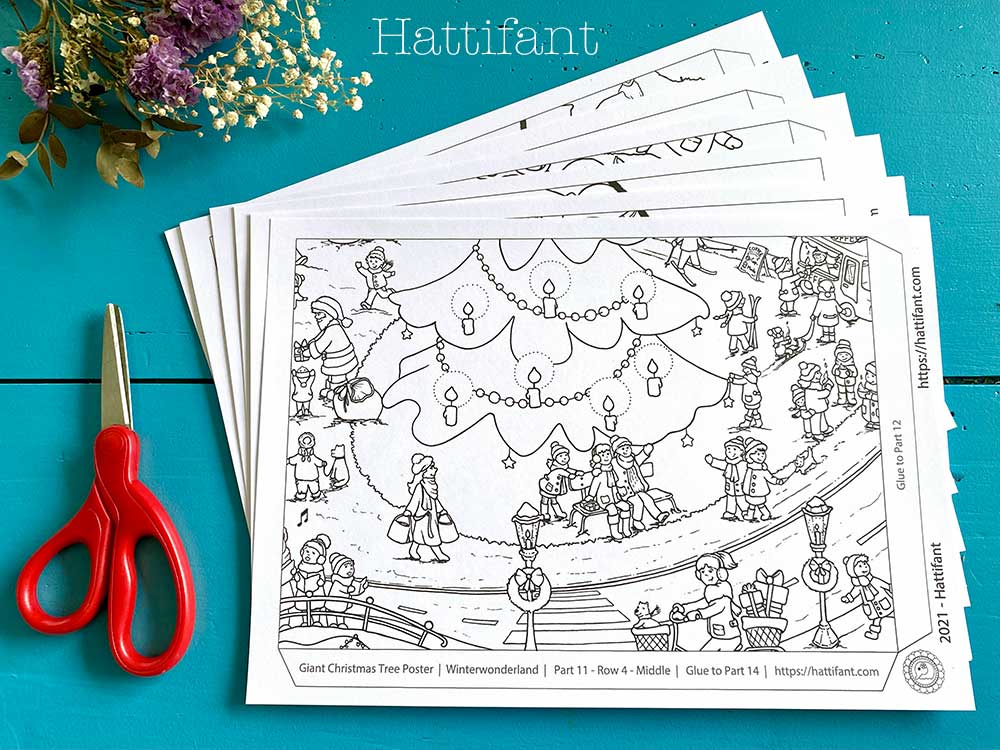 When you have it all printed you can start cutting out the individual poster pages.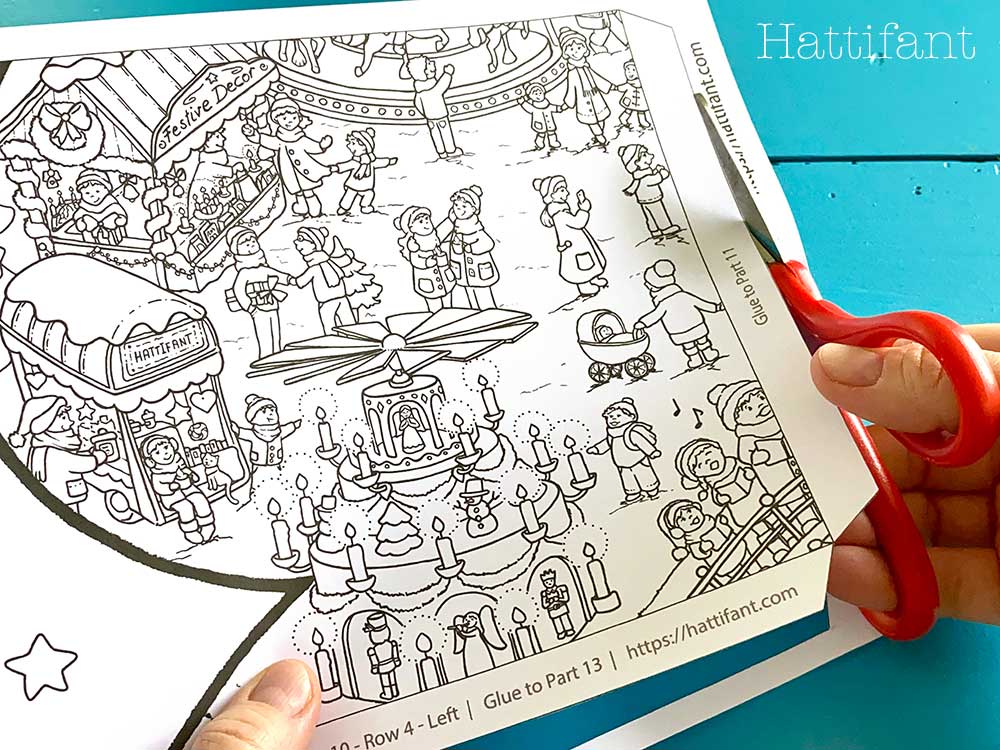 Then I tend to always lay out the pages so I can see where every page goes. And don't worry. It is really easy. Every page tells you where it wants to be and with which other page it wants to be neighbours with. 🙂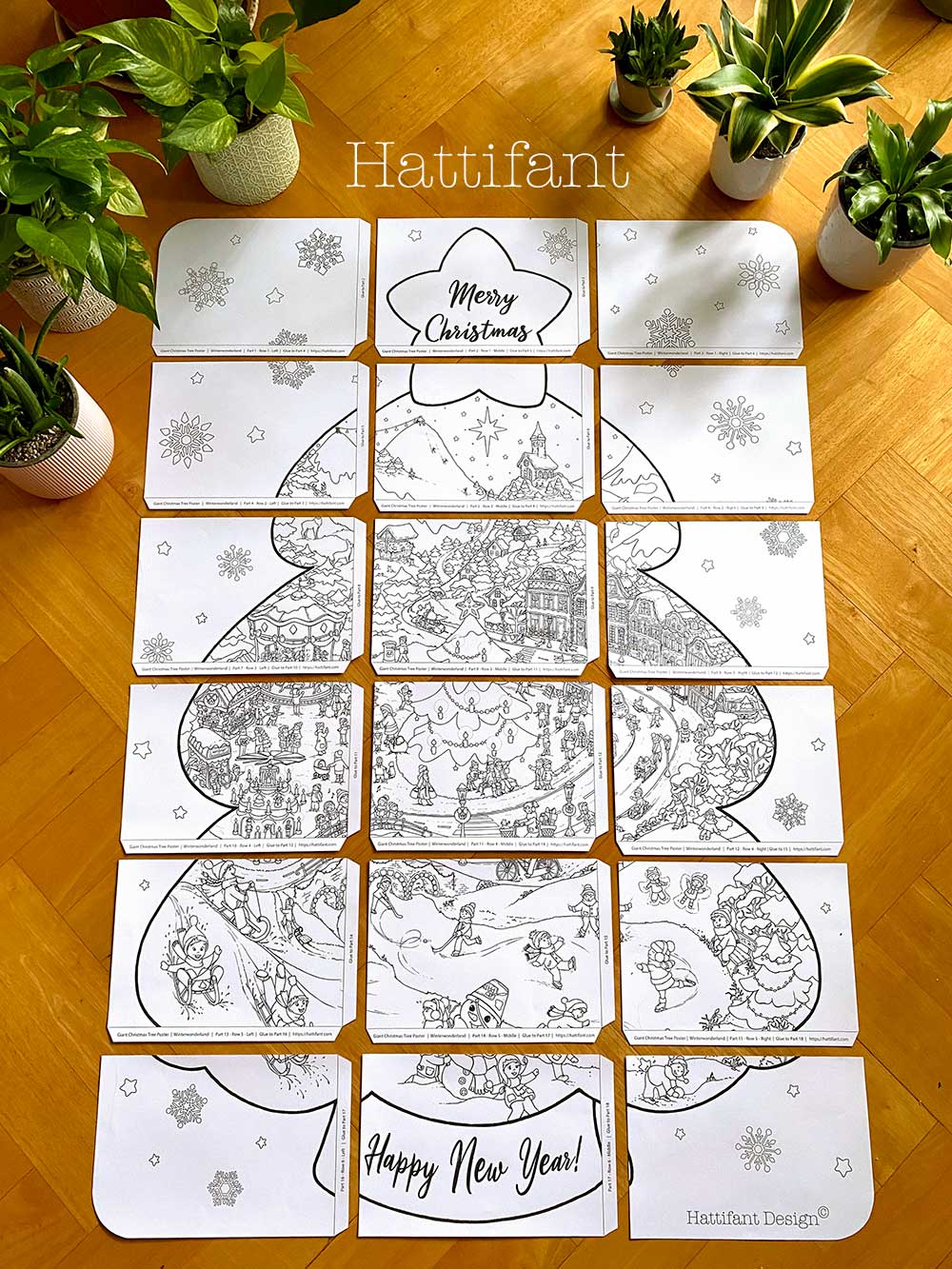 Then all that is left is to glue the pages together. Start off in the upper left hand corner and work your way down from page 1 to page 18.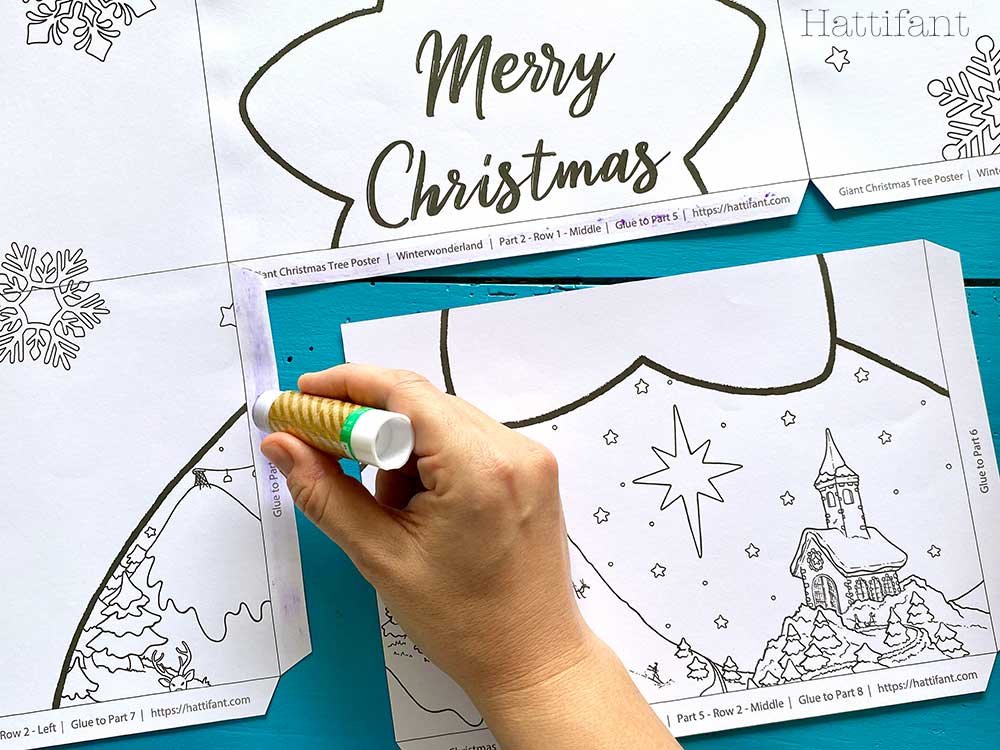 And that's it! You made your own GIANT Christmas Tree Poster which displays this year a gorgeous Winterwonderland ready for you to color.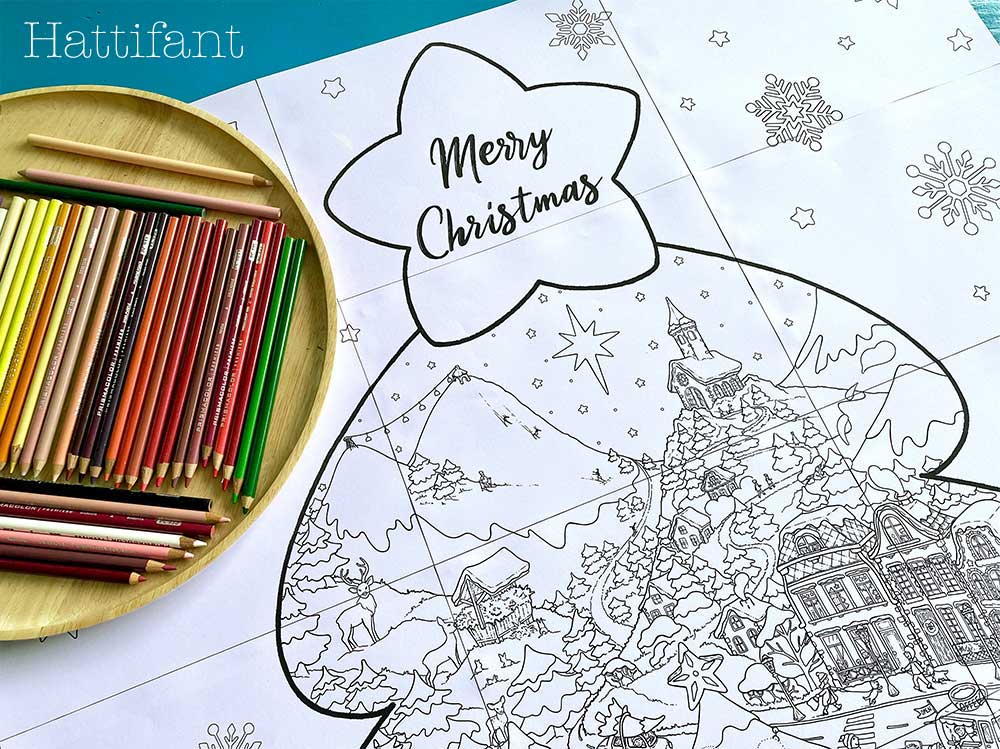 So I hope you have your pencils sharpened! I wish you a fabulous time coloring the poster! You can download the poster here:
HOW TO in short:
download the Giant Christmas Tree Poster – an Elf Factory,
print out PDF files on 120-180 gsm paper,
cut out individual pages,
glue pages together to one big GIANT Poster,
COLOR!
PRINTABLES
You will receive in PDF format:
18 A4 pages in 2 PDF files (please scroll through the PDF to find all. If you print on US Letter size paper then please adjust your printer settings to "Fit to page")
Instructions
Ps.: I have added templates without wording, too in case you are not interested in having any "Merry Christmas" and/or "Happy New Year' on your Christmas Tree Poster!
Merry Christmas and a very Happy New Year to you all!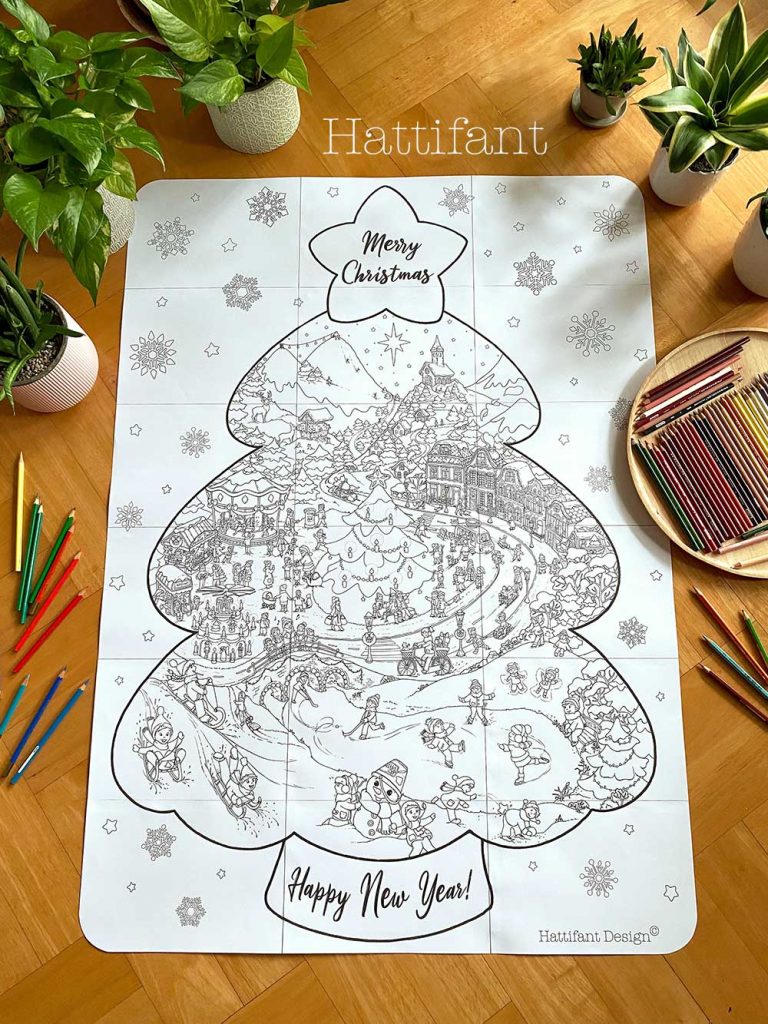 More Christmas Crafts: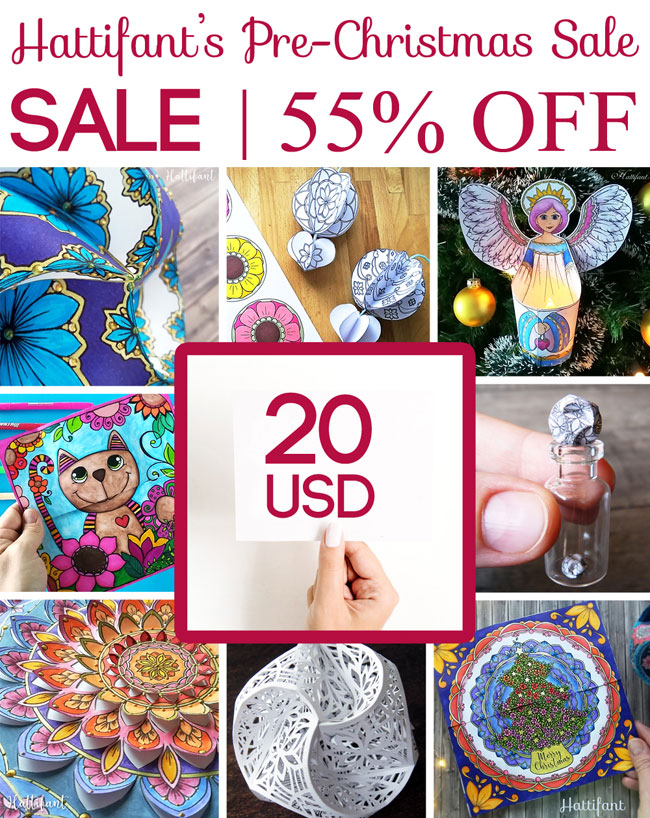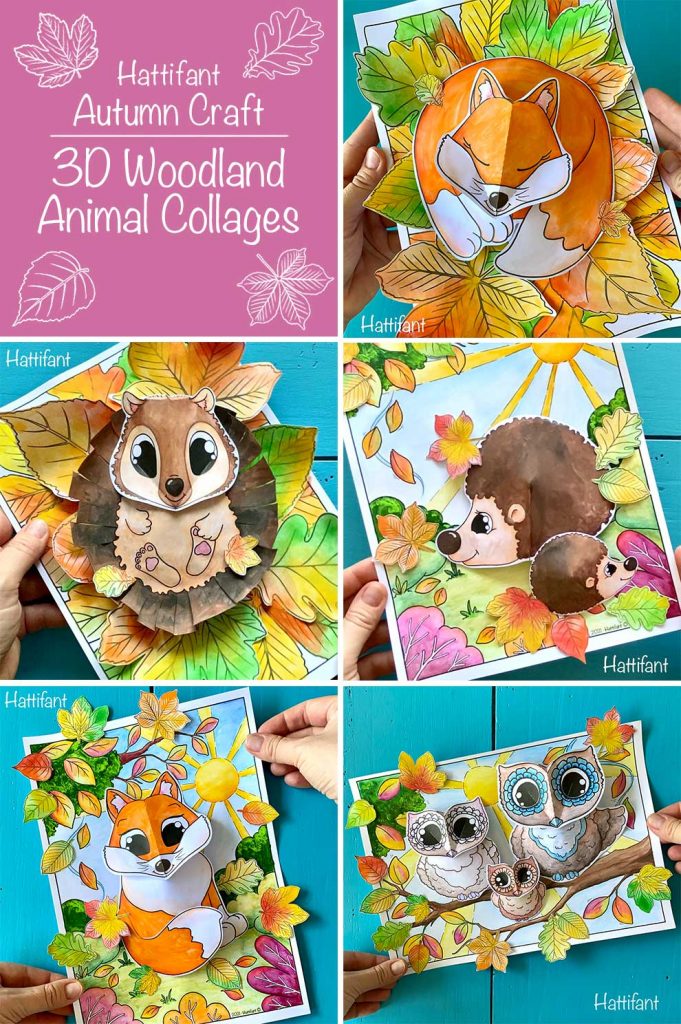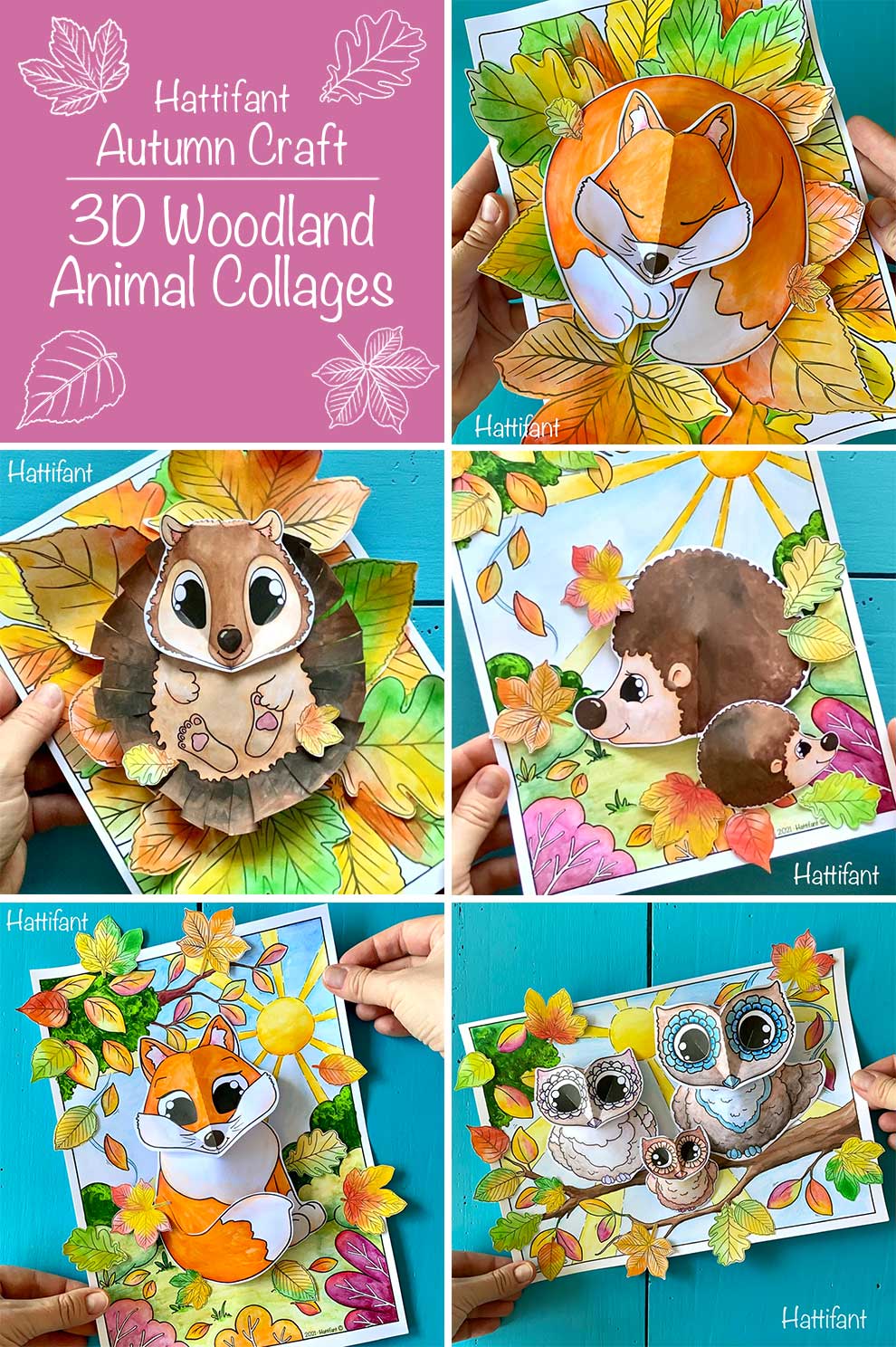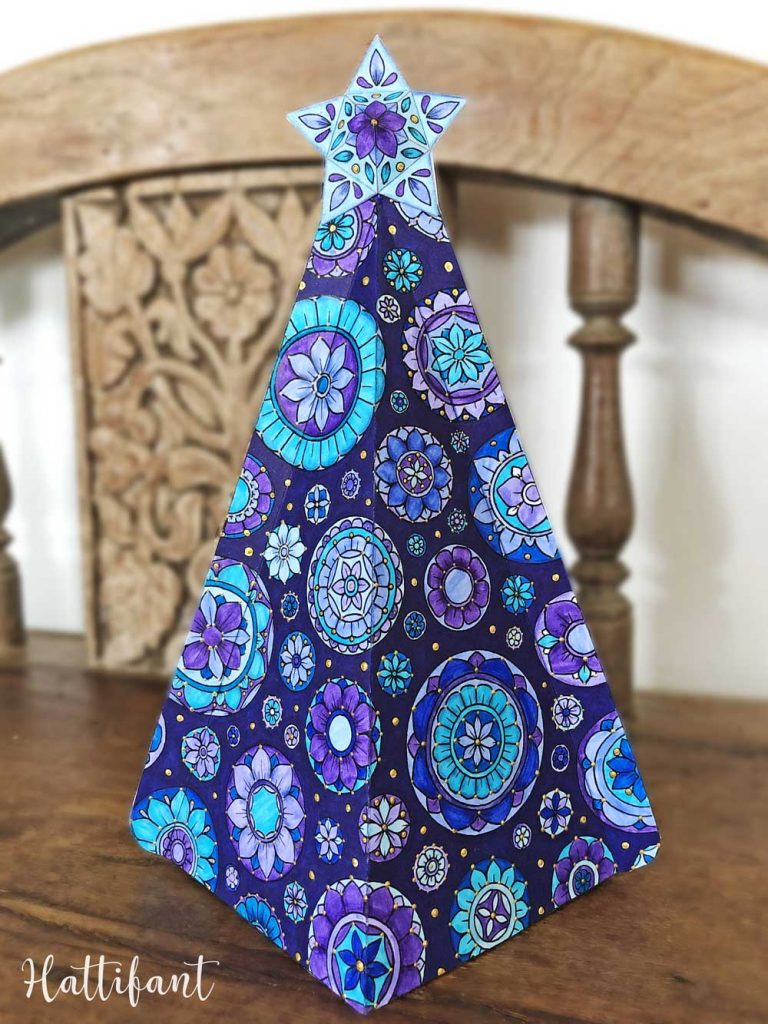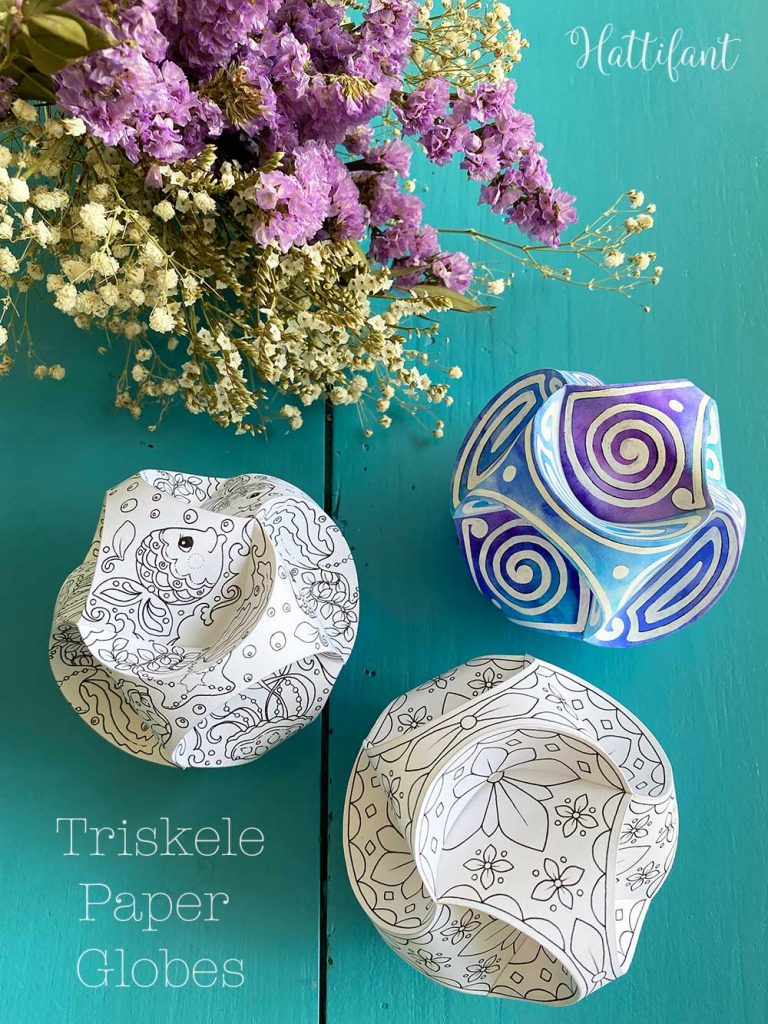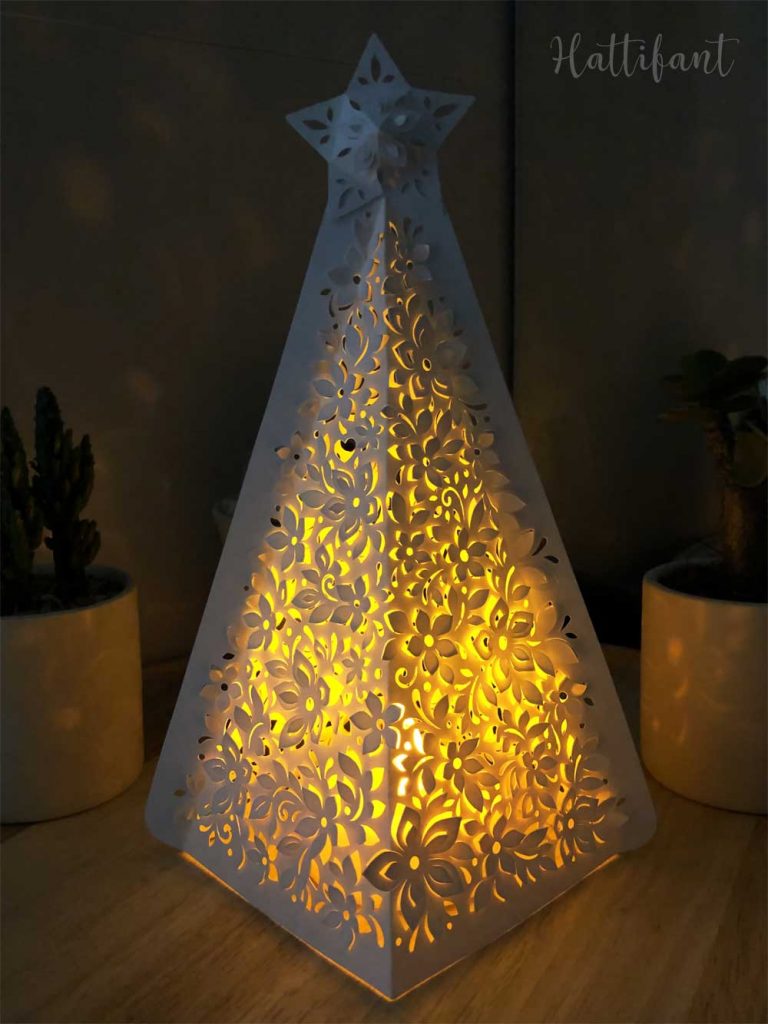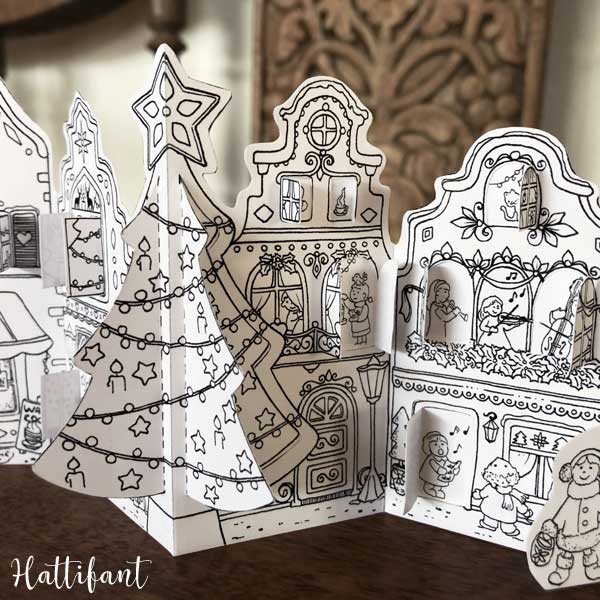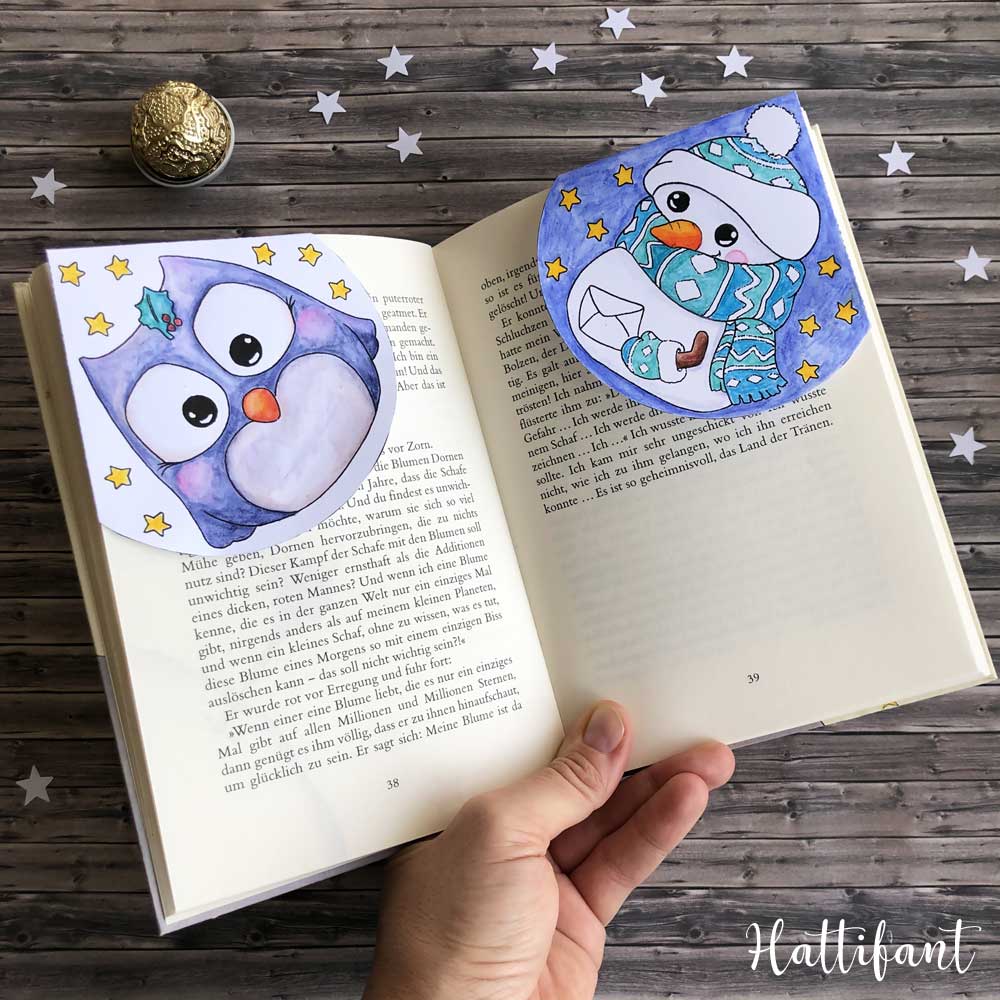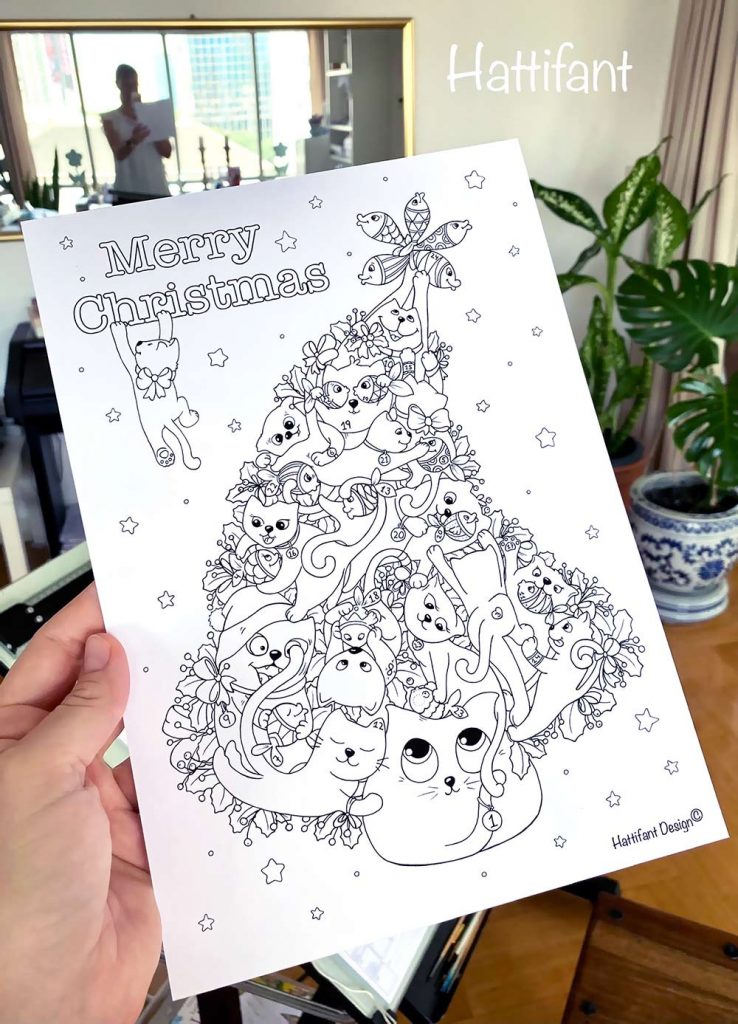 You like Hattifant's designs, toys & décor? Why not FOLLOW Hattifant on Facebook or Instagram and always be up-to-date with Hattifant's latest adventures…
PERSONAL AND NON-COMMERCIAL USE LIMITATION
NO DIRECT LINKS TO PRINTABLES ALLOWED! Please kindly note that the use of the Hattifant Site and its services (e.g. downloads) offered, are for your personal and non-commercial use only. You may not publish, license or create derivative works (for commercial use) from, transfer, or sell any information, products, downloads or services obtained from the Services. Hattifant is the sole owner of all content on the Hattifant Site, unless stated otherwise. You may borrow pictures but always name the source and link to the Hattifant Site, please. It would be lovely if you sent an email to manja(at)hattifant(dot)com in this case. Thank you!