Mermaid tails out of a sock
Oh my, what an afternoon we had today. And I cannot rest until I have shared this one with you!!!
See our little mermaid princess???
When I picked up my son from kindergarten, he was chatting away about socks and mermaids, socks and mermaids and I just couldn't really make any sense of it. So I let it go until a bit later that afternoon I see him robbing around on the floor wearing ONE of his socks on BOTH feet pretending to be a merman (yes, indeed there is a male version of mermaid – I googled it and google is ALWAYS right lol). Although I could hardly stop laughing I quickly saved the poor sock from being turned into elephant foot wear and got out some of daddies' socks.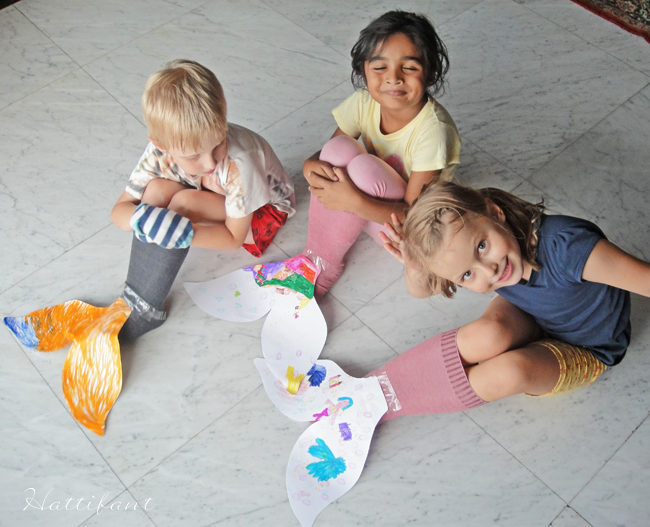 The girls joined in as well and soon we had a jolly merfolk floating around our place. They got so excited when I mentioned that we could go a little further and actually attach some "real" mermaid/-man tails. And when they learned that they could even decorate them at their pleasure I had hardly time to draw up the tails for them to get started.
And hence,…a new craft project came into existence. Thank you, my son! 🙂
Pssss…UPDATE – we have now opened up the Hattifant Mermaid Design Studio with colouring in tail printouts for all fashionable little mermaids who do not want to wear the same tail every day! Check for the link at the end of the page!!!
Hattifant's Mermaid Tails out of a Sock
What you will need?
It is pretty simple:
a big sock
A3 sized paper (or tape 2 "normal" pages together)
colouring pens to decorate
and some tape to attach it to the sock later
First…find the right sock for you, I mean for the LO! 🙂
Second…draw up a tail and cut it out (a real easy shape will do, don't worry too much. It's the decoration that makes it most beautiful and unique!!!)!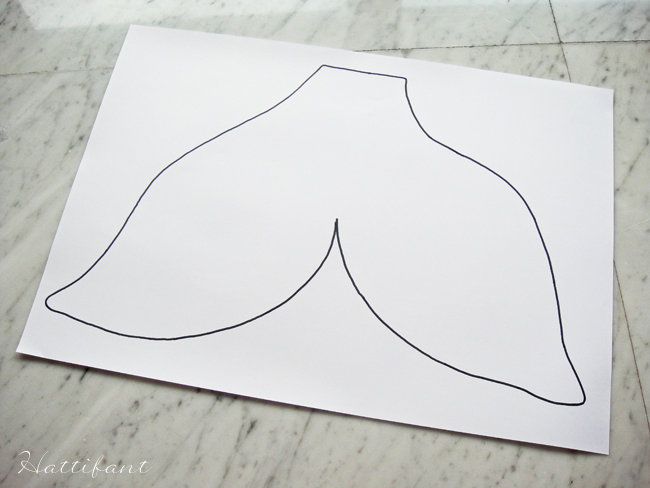 Third…let the LO's decorate to their heart's desire (this could be a nice quiet moment for you to grap a cup of tea or coffee!!! Hint Hint)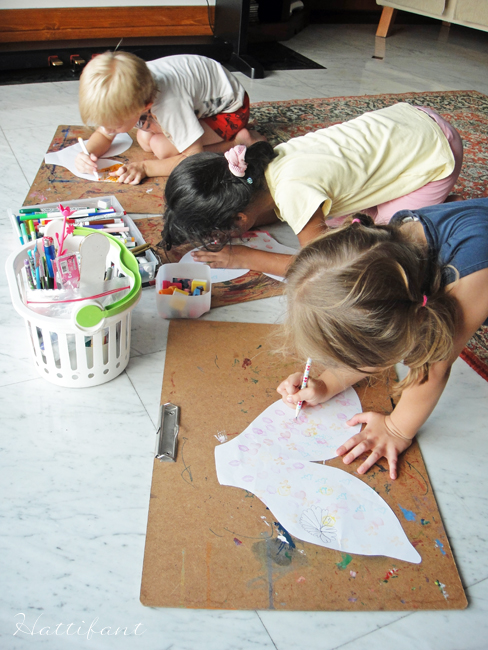 Forth…let them wait for eachother to start playing…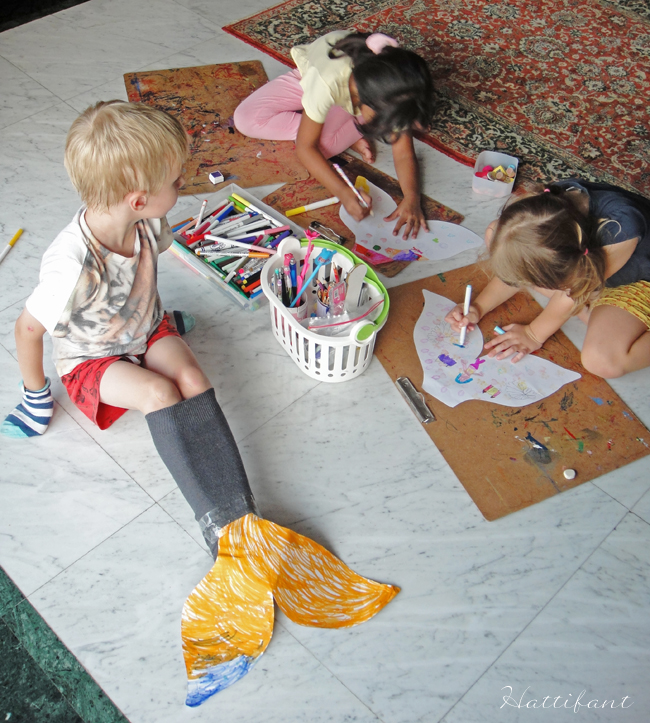 And Fifth…don't forget to take a picture of your merfolk!!! 🙂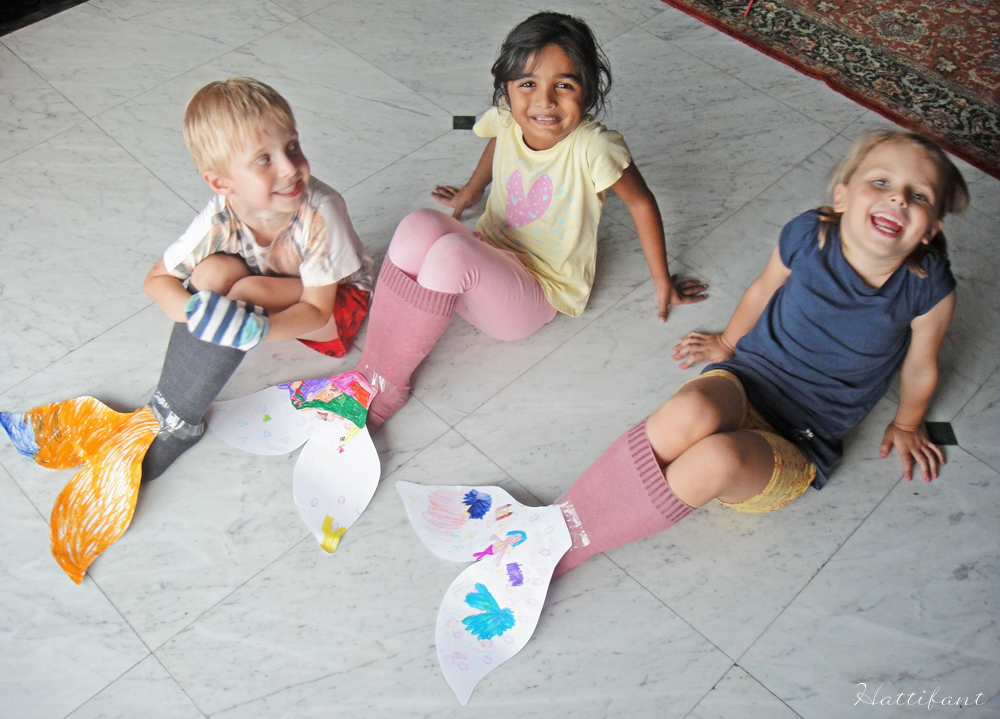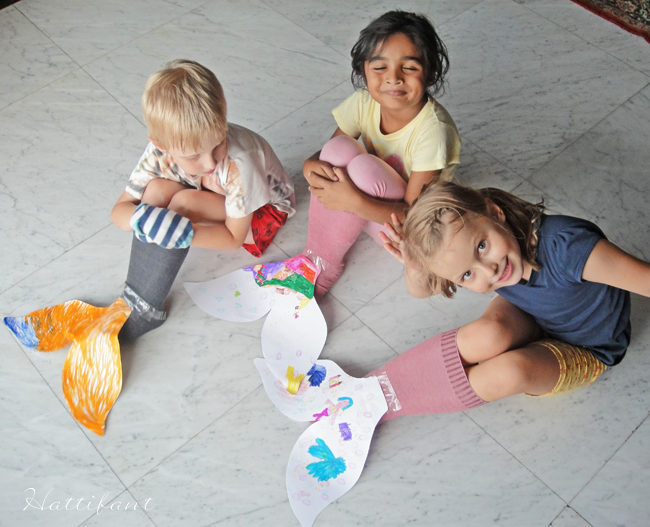 And here is a little flap for you…
Yeap, the mermaid tail won't last forever but it will serve for a fun filled afternoon with a bit of crafting and colouring and a lot more play!
Enjoy and let me know how it went for you!!!
Hattifant's Mermaid Design Studio
Click on here or on the image below to get to our fancy flipper section for you to print out and colour in! Enjoy!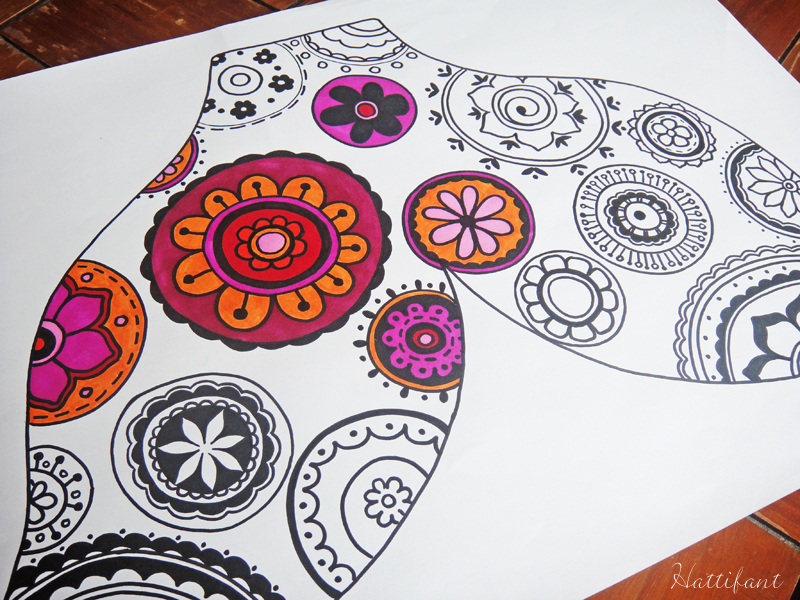 ---
Interested in My Little Pony crafts???
 My Little Pony Rainbow World Shoe Box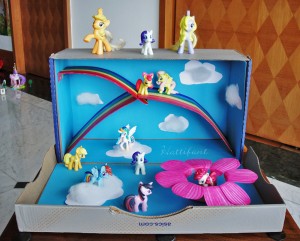 ---
You want to craft even more???
Then hop on over and take a look at these:
---
You like Hattifant's designs, toys & décor? Why not LIKE Hattifant on Facebook and always be up-to-date with Hattifant's latest adventures…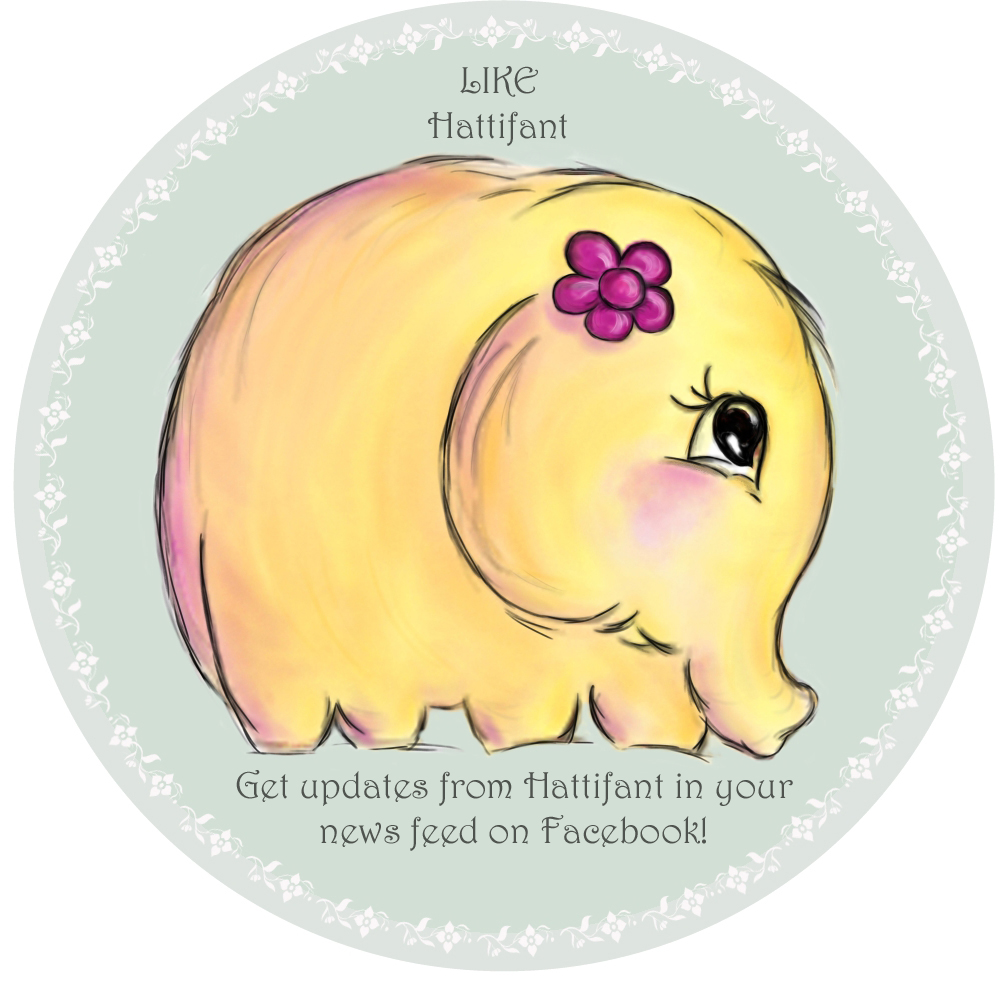 PERSONAL AND NON-COMMERCIAL USE LIMITATION
Please kindly note that the use of the Hattifant Site and its services (e.g. downloads) offered, are for your personal and non-commercial use only. You may not publish, license or create derivative works (for commercial use) from, transfer, or sell any information, products, downloads or services obtained from the Services. Hattifant is the sole owner of all content on the Hattifant Site, unless stated otherwise. You may borrow pictures but always name the source and link to the Hattifant Site, please. It would be lovely if you sent an email to manja(at)hattifant(dot)com in this case.
Thank you!