Hattifant's Endless Princesses Card
Are you ready for another fun paper toy? Great, me too!
There are two Hattifant family members who absolutely love princesses and so it doesn't come as a surprise that an order (very politely put it must be said) came in to make something with princesses, loads of princesses. In fact,…, princesses "everywhere" if I recall correctly was the chosen term.
So we started thinking and drew a few princesses here and a few princesses there…and then yes, then the idea came… endless cards… endless princesses!
THESE BOOKS ARE AVAILABLE FOR PRE-SALE NOW!
Find out more here!
And our Endless Princesses Card concept was born.
Enjoy a short video with our first endless princess card – the prototype so to speak!
And here is the version for you to make yourself, colour in and play with:
Hattifant's Endless Princesses Card
You want to make your own? Learn how to here:
You will need:
printable
scissors
folding bone/scoring knife to help fold paper more easily
glue or double sided tape
And here is what you do:
Download the printable by clicking on links in the required size.
These are high quality printouts which means they are also quite big in size. It could take a moment to download! 😉
(The printable is prepared so that you should be able to print on one A4 or US Letter page only – front and back. As all printers and programs you use work differently you might experience problems having images on front and back aligned perfectly. For instance when I print with my normal windows viewer it turns out fine. When using Photoshop printing the lines are off and hence the card of no use. Please try and if it doesn't work for you then print off on two pages and glue them together.)
NEW – VIDEO TUTORIAL for Neverending Princess Card
I hope you have enjoyed the video! You can also follow this step-by-step photo tutorial below!
Photo tutorial for Neverending Princess Card
Then you simply start cutting out the card. First cut out both squares. Then, you cut both squares in halfs along the marked lines so that you'll end up with 4 equally sized rectangles.

Front of Card

Back side of card

Now you score the lines so that folding becomes easier and more precise afterwards.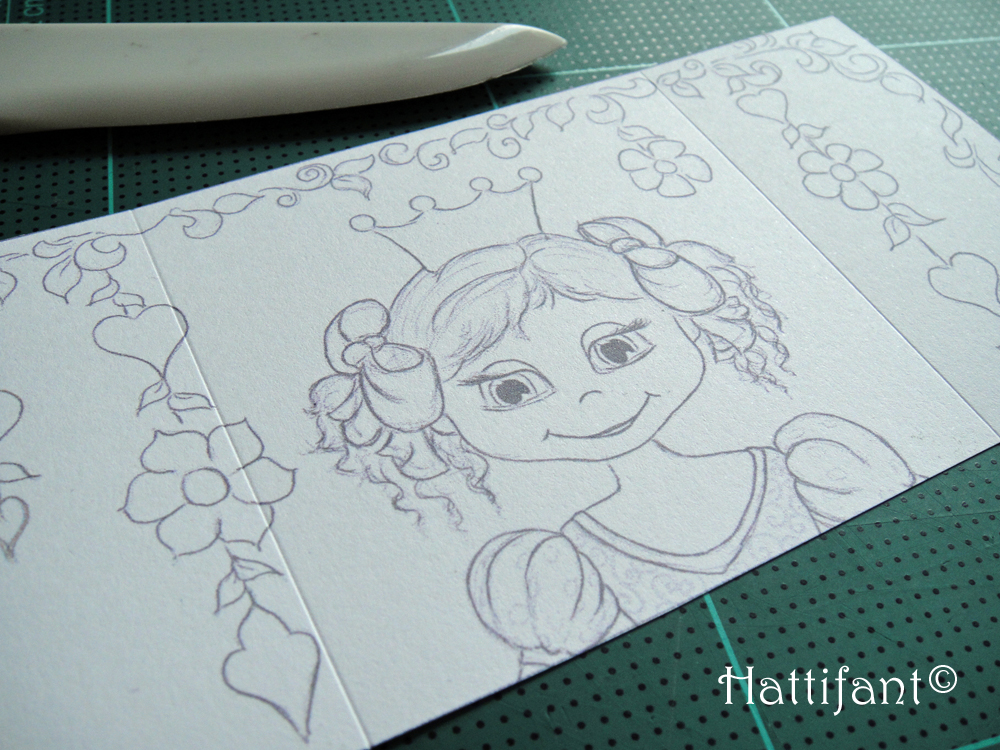 Now all that is left is to tape the pieces together the right way:
And now the 4th rectangle only left to tape on and done!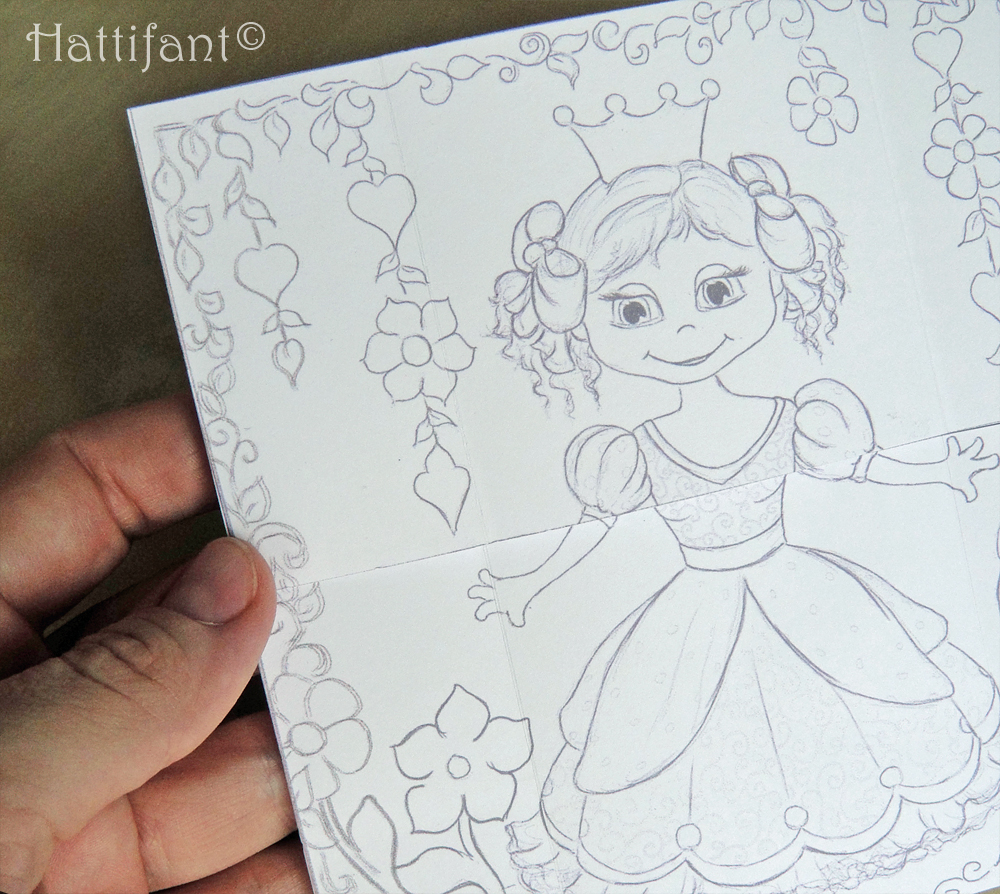 Tip: Make your own blank version! So easy …
As it has been done before, no need to invent the wheel once again! Thanks to Cardmaking Downloads you can find a great tutorial here on how to make your own blank neverending card.
Enjoy!
New customized Endless Card with 6 possible Illustrations
We had so much fun with the Endless Princess Card, so we looked for something similar. I surprised our girl with this card that features all her latest pieces of art. She was over the moon! 🙂
If you are interested in how to make such an endless card yourself then click here, Hattifant will show you in a video tutorial!!! 🙂
---
Hattifant is celebrating 900+ lovely fans on Facebook! So here is a special thanks for you!
For this SPECIAL occasion I am offering Hattifant's beautiful 32×24 inches Fairy NAME Décor for 65% OFF. No joke! A special something with the choice of YOUR name in your child's room! There are 10 available! So hurry! And THANK YOU for being part of the Hattifant community!!!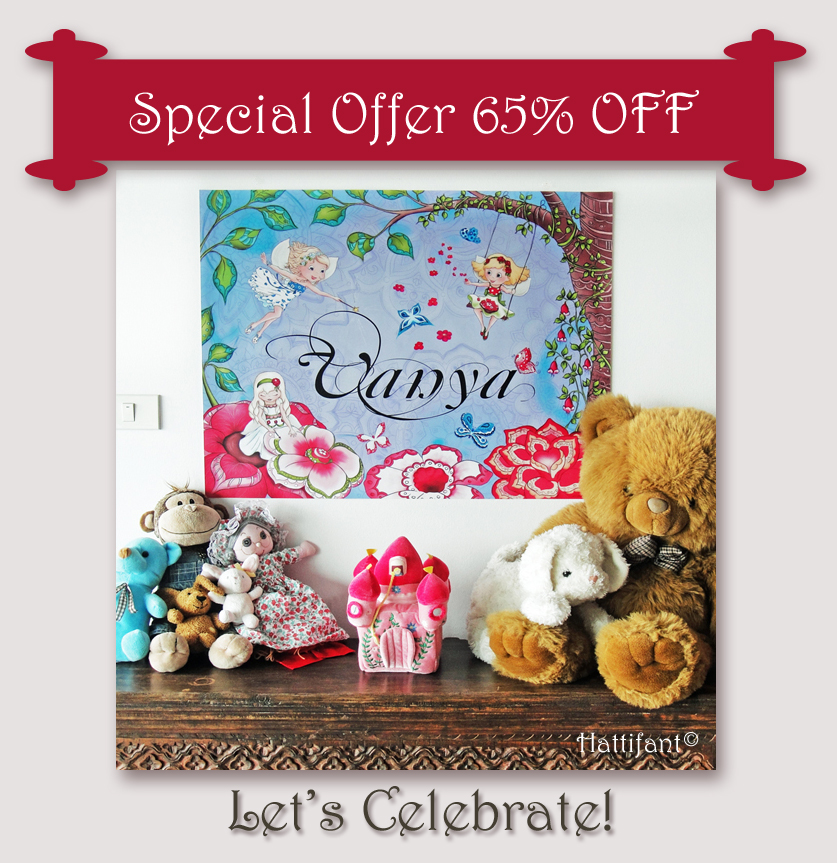 ---
You like Hattifant's designs, toys & décor? Why not LIKE Hattifant on Facebook and always be up-to-date with Hattifant's latest adventures…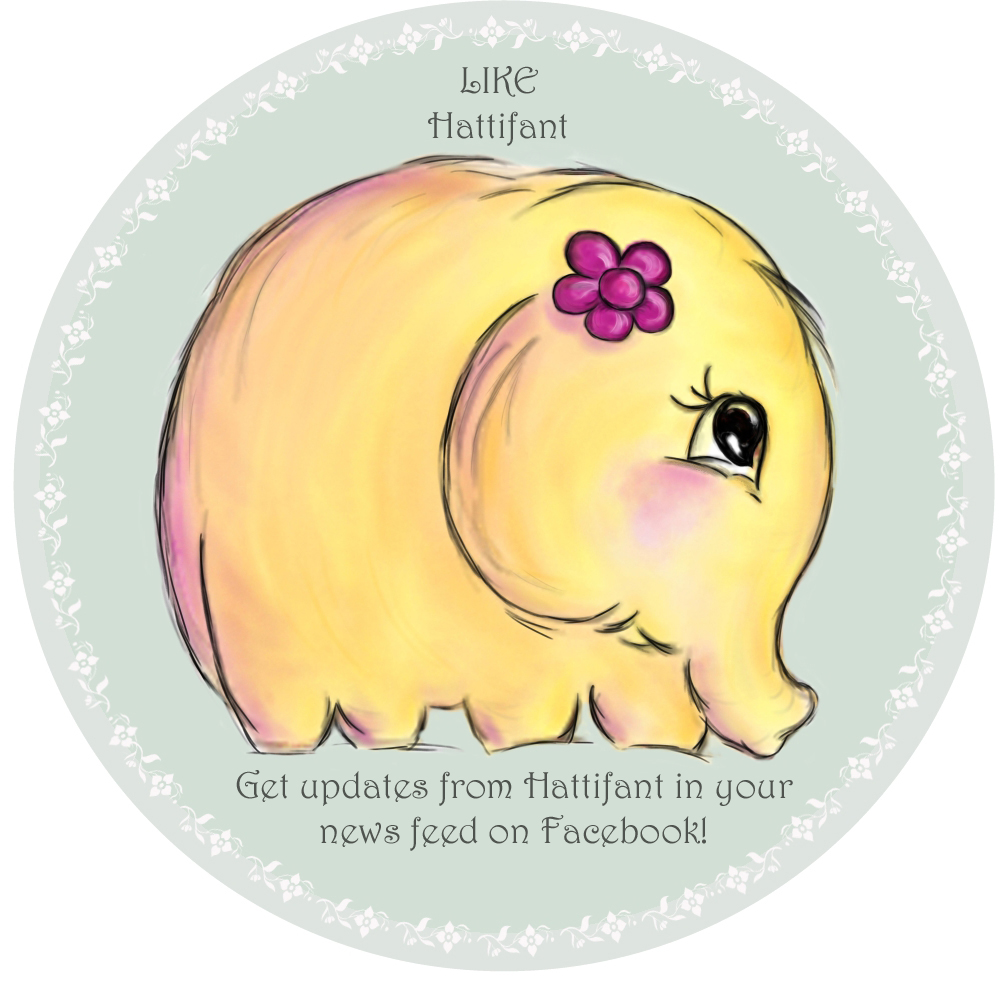 PERSONAL AND NON-COMMERCIAL USE LIMITATION
Please kindly note that the use of the Hattifant Site and its services (e.g. downloads) offered, are for your personal and non-commercial use only. You may not publish, license or create derivative works (for commercial use) from, transfer, or sell any information, products, downloads or services obtained from the Services. Hattifant is the sole owner of all content on the Hattifant Site, unless stated otherwise. You may borrow pictures but always name the source and link to the Hattifant Site, please. It would be lovely if you sent an email to manja(at)hattifant(dot)com in this case.
Thank you!