Hattifant visits…Caturday Cat Cafe in Bangkok
Hattifant visits Caturday Cat Cafe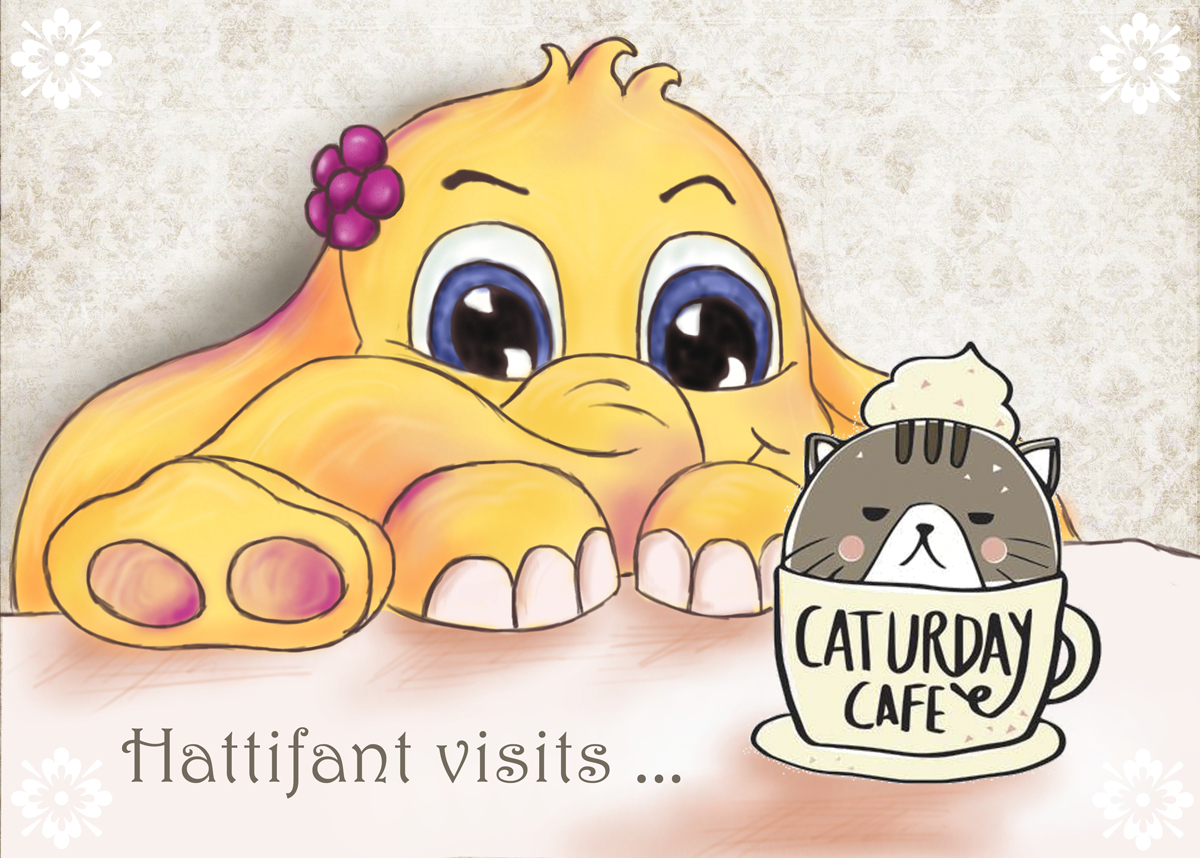 Location
4.5 Cocowalk Avenue
via BTS Rachathewi Station (Exit 2)

Opening Times
Tue – Fri 12 – 21.30
Sat – Sun 11 – 21.30
Phone
026565247
Links
https://www.facebook.com/Caturdaycatcafe
http://instagram.com/caturdaycatcafe/#
Suitable for
ALL small & TALL Cat Lovers
The Story
Last Saturday, we visited Caturday Cat Café on Cocowalk Avenue. It was a special treat for two members of the Hattifant family as we were celebrating their birthdays.
I found out about the Café by coincidence online. So, here I was looking at cute cat pictures and superb recommendations and knew it was the place to take our Hattifant family.
We got their early as I read that it would get busy quickly. Bangkok seems to have a secret love for cuties walking on four paws. Believe me, you are not alone. We had no trouble finding it although we asked a street vendor once. The poor lady gave us an enormous smile when after asking for the Café in English (unfortunately our Thai is pretty poor) we started meowing. She pointed us in the right direction and we could make out the sign for the café only a few seconds later.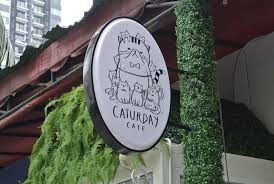 When you enter the café you first take of shoes and wash hands. Only then are you admitted into the main part of the restaurant. There were already a few guests enjoying cat food, just kidding – cats & food… but we had no problem finding a table for ourselves. The café has a very cosy feel to it. It is beautifully bright and held in light colours. It offers lower tables to sit with cushions on the ground, a couch and a row of "proper" dining tables on the other side. You can also sit directly at the window although it is far more interesting in what is going on inside than outside, really.
Take a look at Supakrit Thakang's beautiful video of the café:
 On the far end of the café you find old television fronts built into the wall. Behind these, cats can find some peace and quiet, relax and have a nap. Only cats can enter here.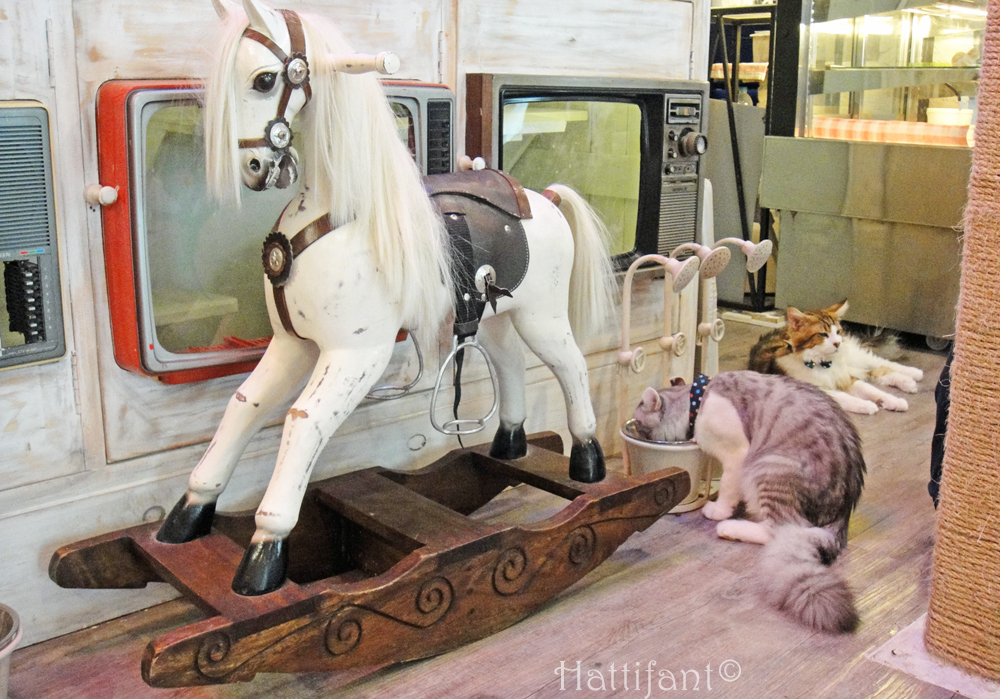 Otherwise, the café offers a cat scratch tree & playground, there are scratch pillars and wooden boxes with walkways along one wall just for the cats. Can I be a cat here, please???
As a guest you are also presented with some cat rules (e.g. do not pick up the cats)…so that everyone and  every cat can enjoy the party.
And if you are an art lover, you can also find framed portraits of some cat royalty! 🙂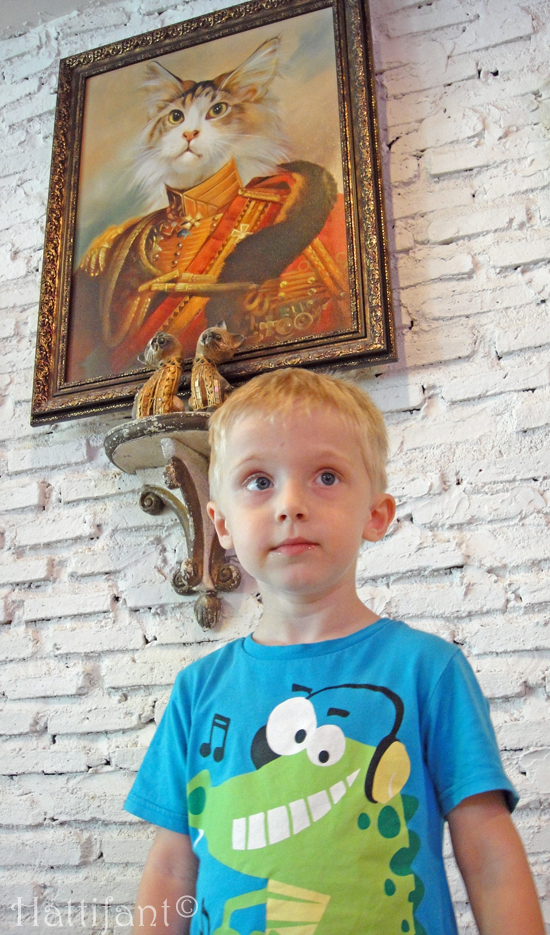 Other than that… what makes this place a purrrely wonderful experience???
Hmmm,…, the cats of course!!!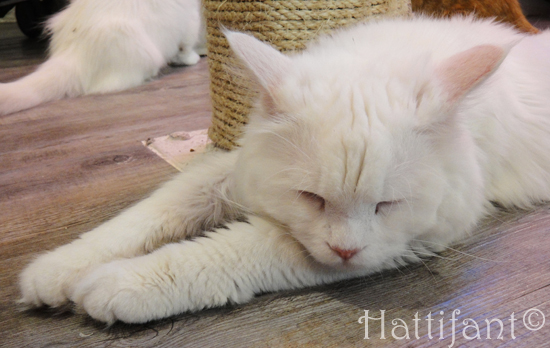 There were many of them and all beautifully groomed with shiny and fluffy fur. Do not ask me what cat breeds they were,…, I can only say I pet tiny cats, short legged cats, long haired cats, speckled cats, cats that seemed very looong, wide headed cats and others that had the most amazing soft fur.
We met cats that were sleepy, others playful, hungry, curious ones and others that didn't bother too much to get to know you. Fair enough! That's cats for you.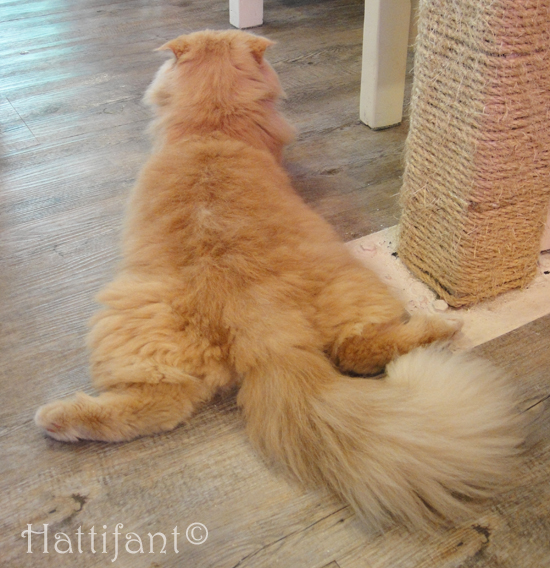 I also found the staff and guests very friendly, I guess we all had something in common…the love for cats. There were many smiles exchanged and simply the joy of being with these furry friends shared.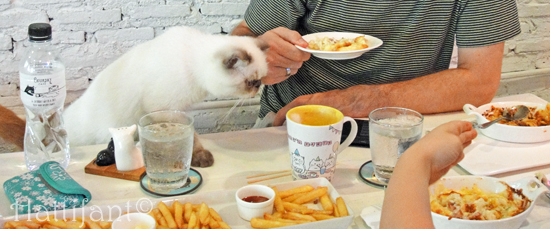 Food,…yes,…the food! Not to forget…I must admit the food seemed to be a nice addition to being able to pet cats in a friendly environment when planning to come out here. But the snacks we chose (e.g. Lasagne and Chips) were delicious. The coffee was good and the rainbow cake for desert was most beautiful to look at and demolished by our little ones to the very last crumb.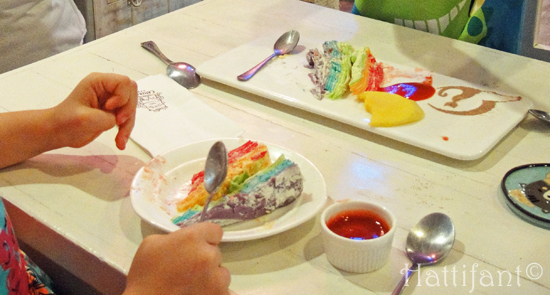 The prices are acceptable, they are not on the cheap end but then you wouldn't expect that. Surely the average costs to take care of the café as well as the cats (most importantly the cats!) are a little higher than your normal café just around the corner.
The café is really clean, we couldn't detect any cat odour. Everyone (homo sapiens as cattus) was walking around, sitting on the floor, benches or cushions, playing, eating…
Although full, the café never seemed crowded. The staff was very obliging. They wear cute uniforms with a cat tail drawn on to the back of their shirt!!! 🙂
We really enjoyed our stay here and are already planning our next visit!
Thank you, Caturday Cat Café & staff for a lovely and wonderful time!

---
Are you not only a cat lover but also a crafty person? Then hop on over and take a look at these:
---
You like Hattifant's designs, toys & décor? Why not LIKE Hattifant on Facebook and always be up-to-date with Hattifant's latest adventures…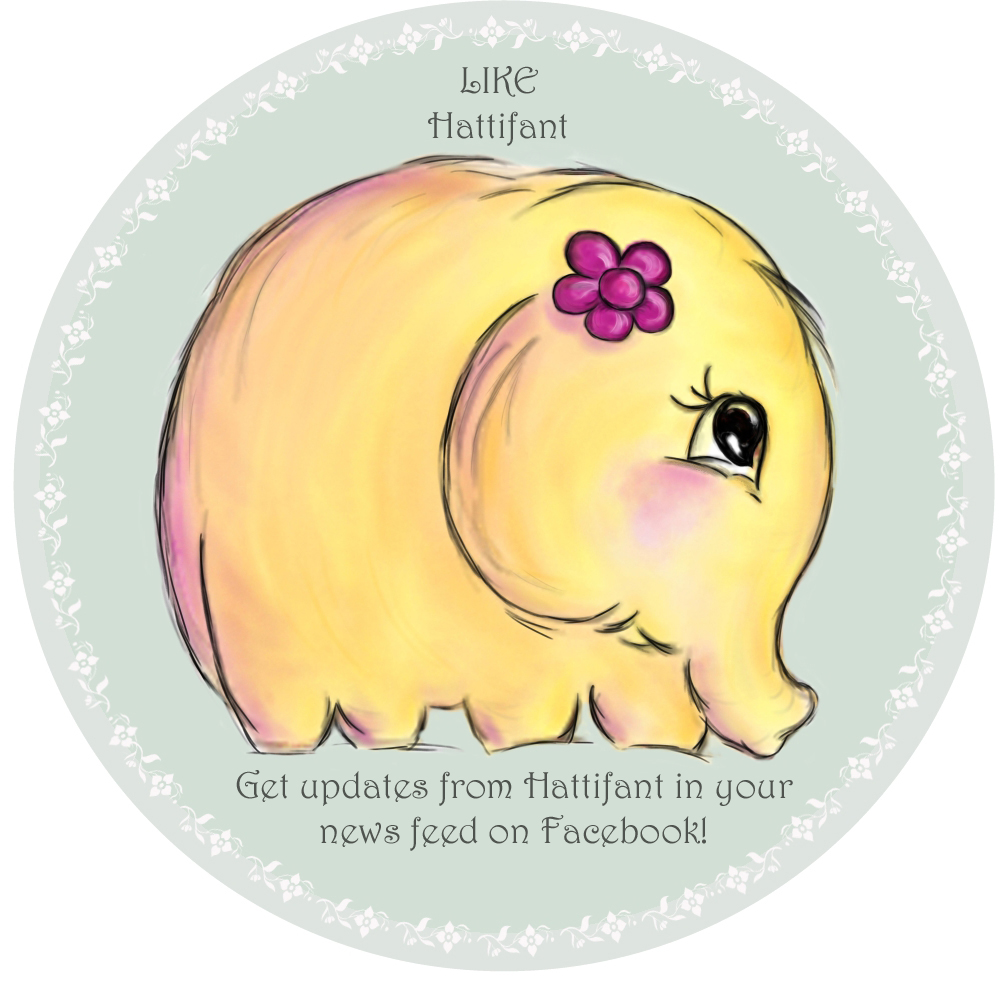 PERSONAL AND NON-COMMERCIAL USE LIMITATION
Please kindly note that the use of the Hattifant Site and its services (e.g. downloads) offered, are for your personal and non-commercial use only. You may not publish, license or create derivative works (for commercial use) from, transfer, or sell any information, products, downloads or services obtained from the Services. Hattifant is the sole owner of all content on the Hattifant Site, unless stated otherwise. You may borrow pictures but always name the source and link to the Hattifant Site, please. It would be lovely if you sent an email to manja(at)hattifant(dot)com in this case.
Thank you!
---