Woodland Cuties Coloring Page and Stationary
Hello and welcome to this cute Woodland Cuties Coloring Page and Stationary post of mine. How much I look forward to to seeing the colors of Autumn this year! You, too?!
Living in a warm climate where "natives" start wearing winter boots when the temperature drops to freezing 19°C (no offense! :-)) one starts to miss the change of seasons from Spring to Summer, Summer to Autumn and to Winter.
With this in mind I got a cute Woodland Cuties Coloring Page with Mrs Deer, Mr. Foxy and Mr. Rabbit ready for all of us to enjoy! I was "lucky" as the sun was for once hiding in Bangkok. With the grey clouds outside my window I could almost imagine the season of Autumn.
So I really hope you like the coloring page as much as I do. Maybe it will help you getting through a cold autumn or winter or it helps you dreaming about it?!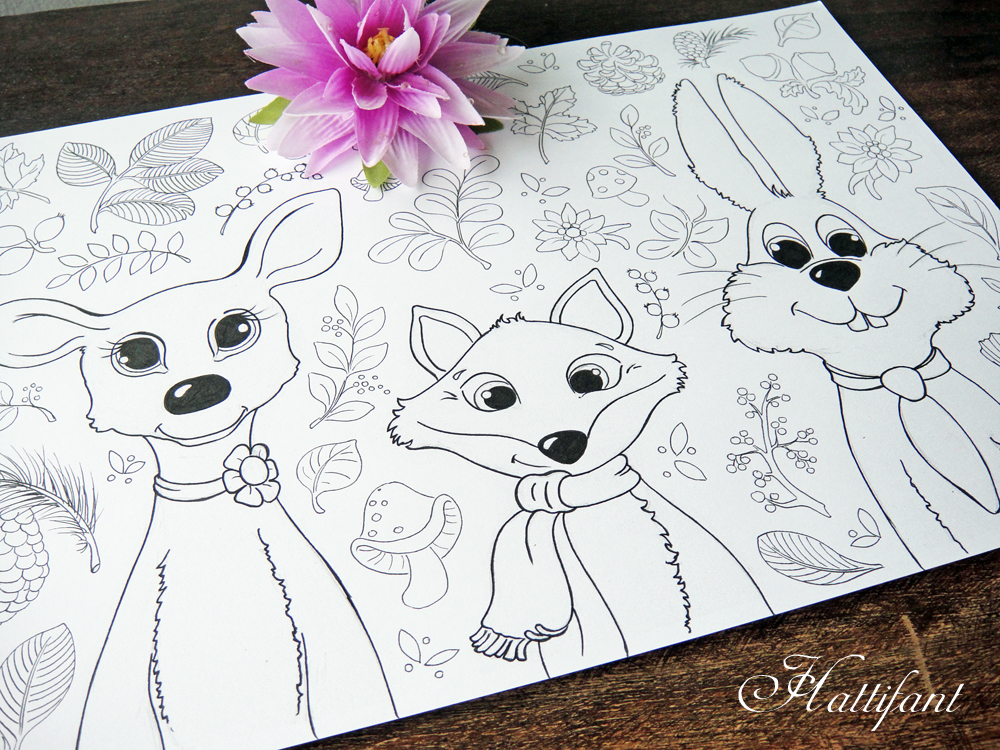 The lovely Maggy from RedTedArt is giving our Woodland Cuties a permanent home for you to download from. Simply click on the image above or here! Enjoy!
I  played with some cozy autumn colors and the Woodland Cuties Coloring Page turned into some lovely stationary. I am set for this years' season for sure. I hope my family and friends like foxes as well.
Black & White Folding Cards to Color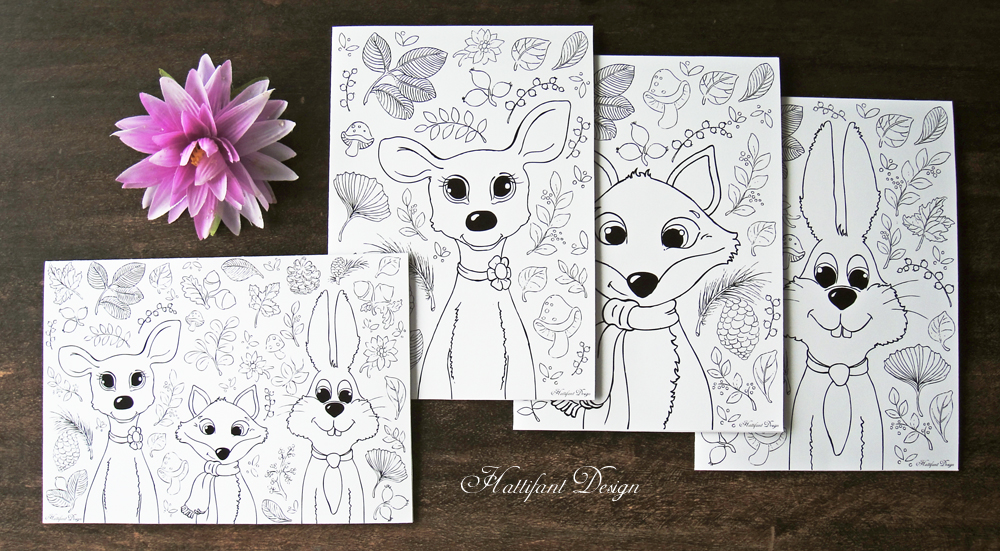 Aren't they adorable. They just wait to be printed and colored in. Make them your art, your special gift with your choice of colors and media. They will be available in two sizes – 7×5 inches and 3.5×2.5 inches.
Woodland Folding Cards in beautiful Autumn Colors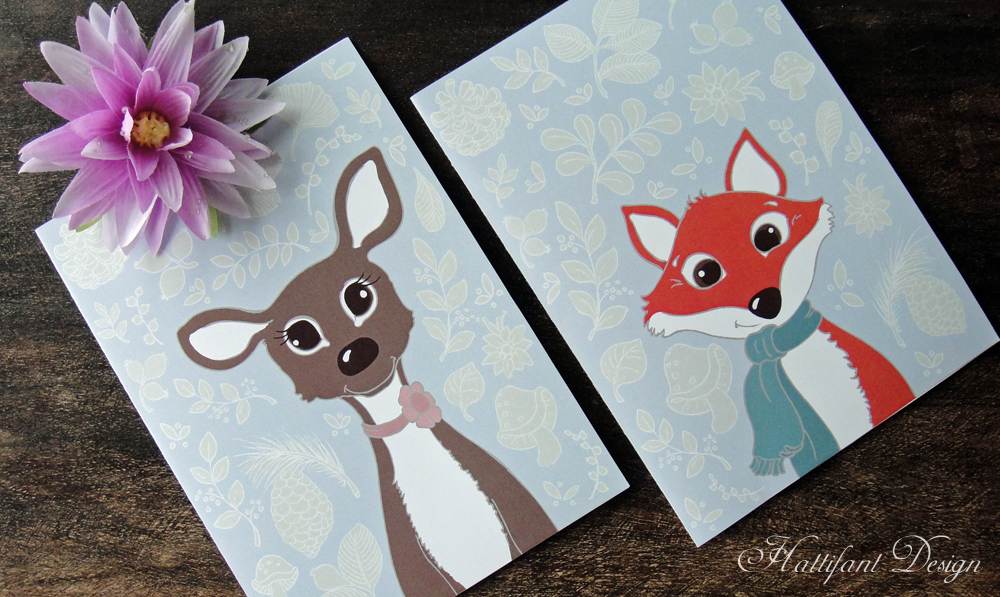 And here they are in color. Very happy how they turned out!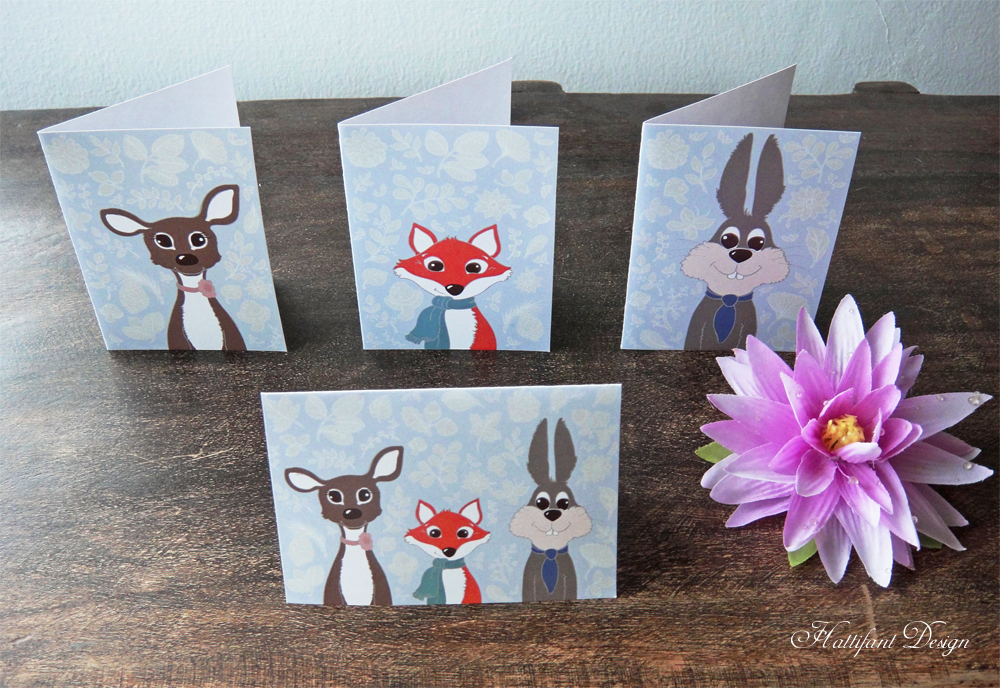 These will also be available in the two sizes mentioned above. So you can use them for Seasons Greetings as well as little cards accompanying a present – gift cards.
Woodland Cuties Pop Up Cards
Hattifant wouldn't be Hattifant if there were not a pop up version! 🙂 I just love pop up cards. And therefore had to turn these cuties into pop up cards as well. What do you think?!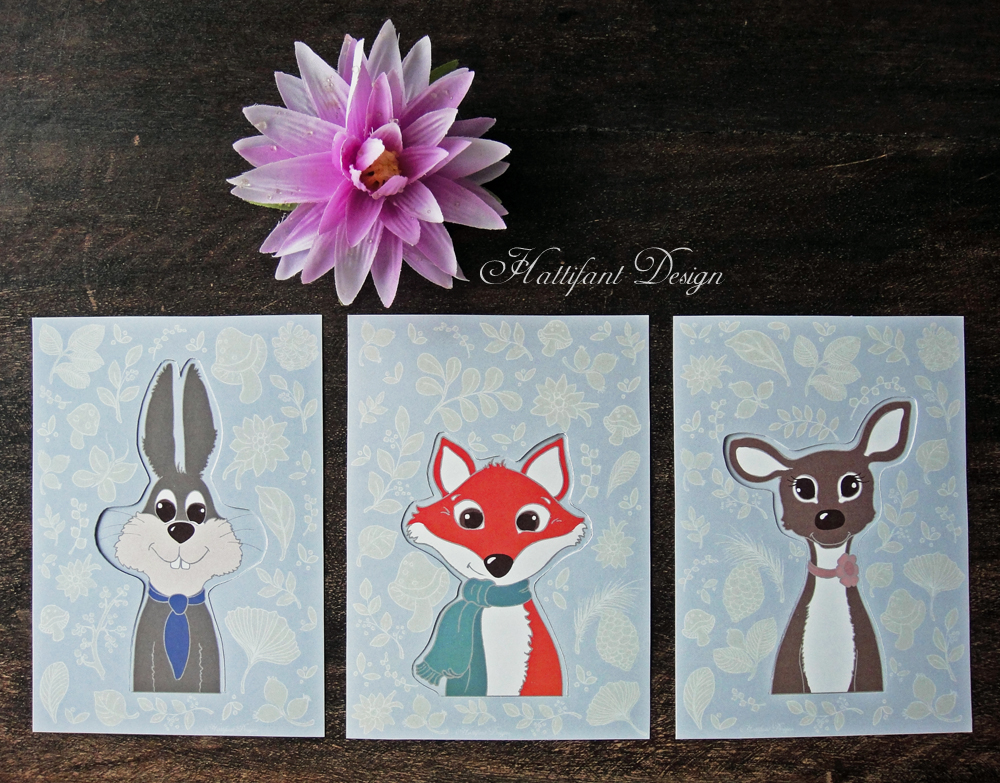 Here they are still flat as a pancake… but down below they come to life…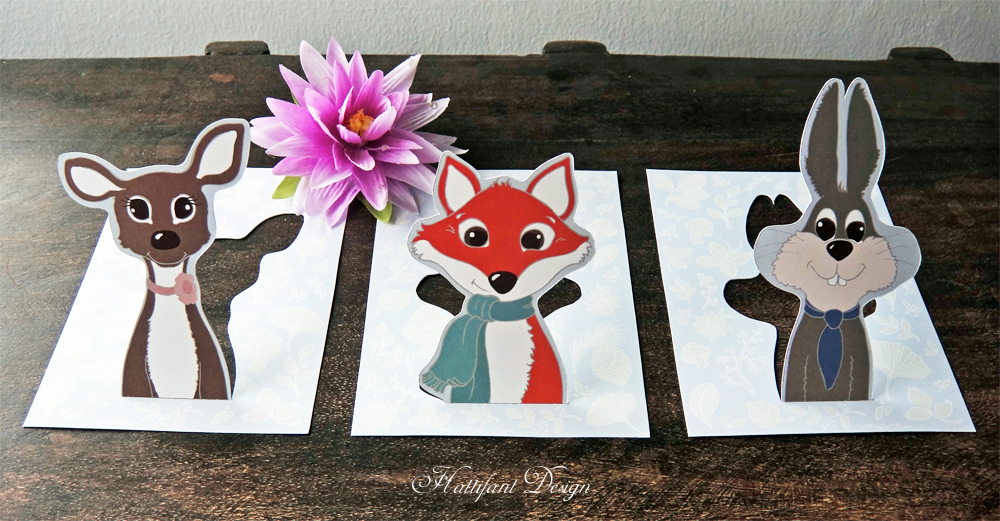 Interested in sending these out to your friends and family?
PRINTABLES
I have created a digital bundle for you that will include:
Woodland Cuties Coloring Page in A4 format – PDF file
2 Sets of 4 – Black & White FOLDING CARDS to color yourself in 2 sizes (1st set of 4 with 7×5 inches and 2nd set with 3.5×2.5 inches)
2 Sets of 4 – Colored version FOLDING CARDS in 2 sizes (as in Black & White)
2 Sets of 4 – Colored version POP UP CARDS (1st set with 7×5 inches and 2nd set with 5 1/4×3 3/4 inches) (You can also leave the cards flat. Your choice to cut out the animals to flip them up or not!)
In each set you will find 1 card with all three animals, and the 3 other cards with each individual animal.
Bonus
A3 sized Woodland Cuties Coloring Page (for even more coloring fun!)
The beauty about this digital set? You can print off as many as you like for yourself, family and friends. Please do not distribute or sell further. I think you'll understand. Many thanks.
---
MATERIALS REQUIRED
Card stock (a bit heavier for the popup versions recommended)
Scoring Tool (to score the line before folding the card)
Scissors (to cut the card to the size of your desire)
Craft/Cutting knife (for Pop Up Card to cut out partly the animals so that one can fold them up)
Coloring pens
I am wishing you a wonderful time coloring and preparing these cards and coloring page.
MORE HATTIFANT CRAFTS: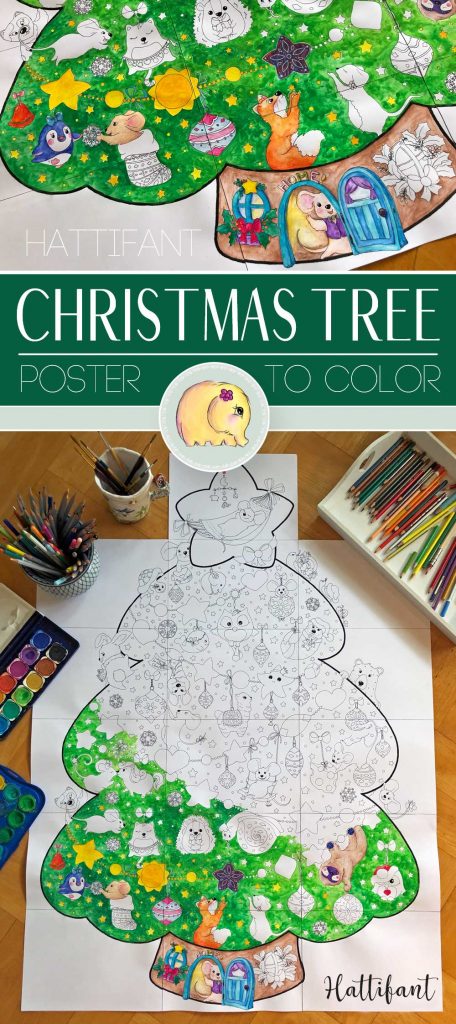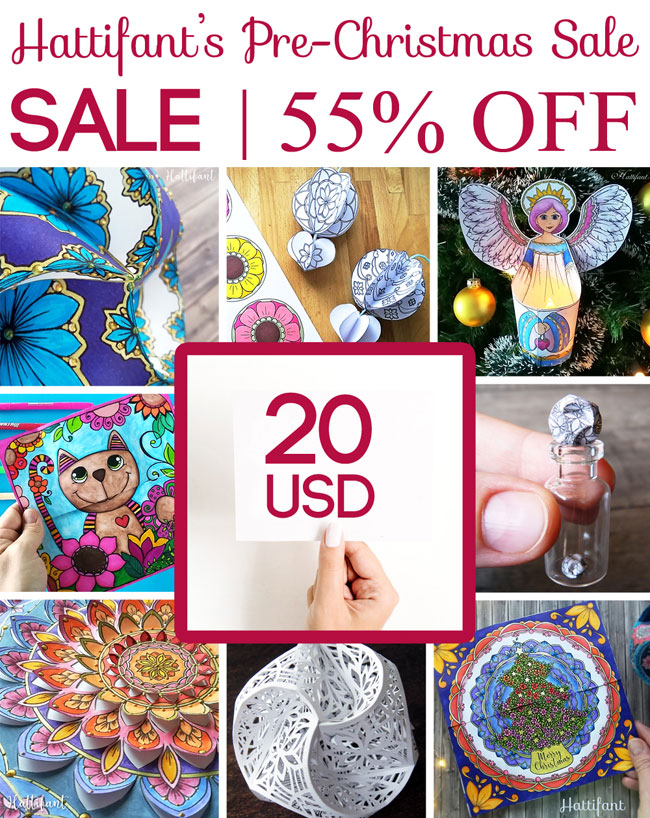 You like Hattifant's designs, toys & décor? Why not LIKE Hattifant on Facebook and always be up-to-date with Hattifant's latest adventures…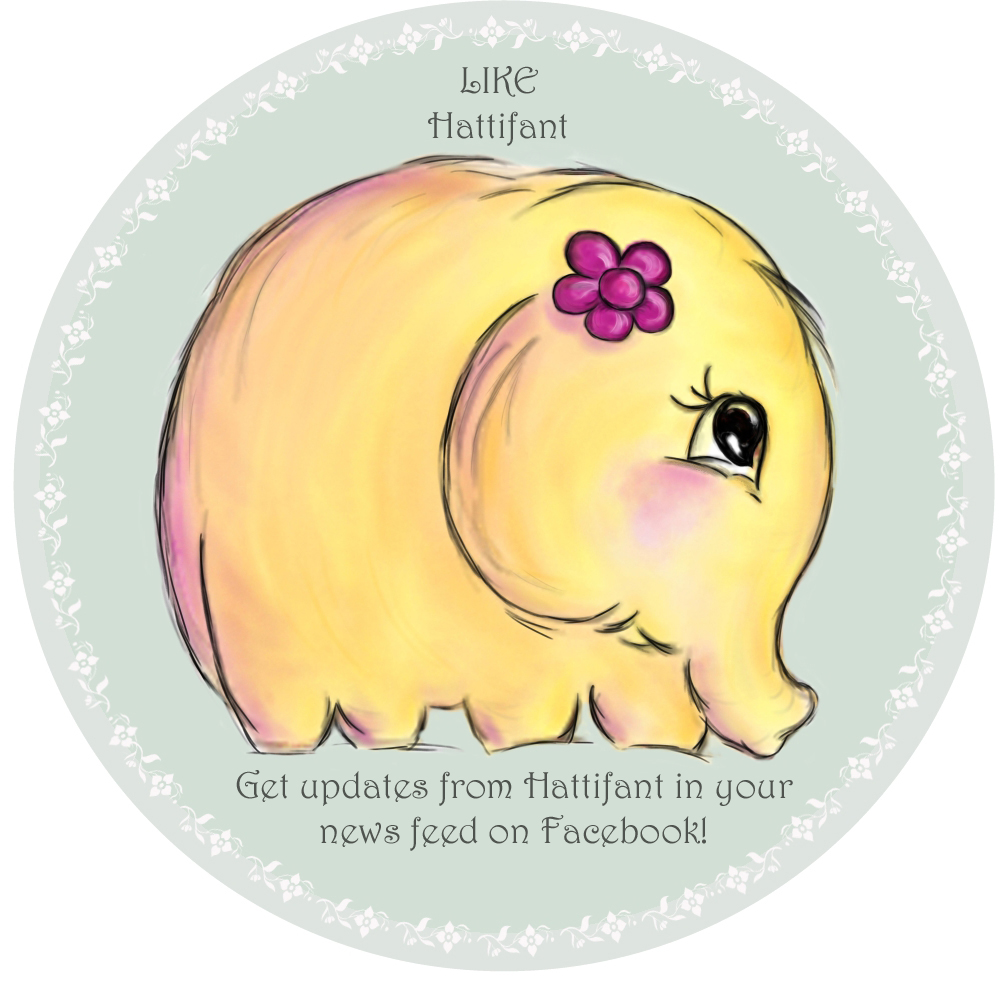 PERSONAL AND NON-COMMERCIAL USE LIMITATION
Please kindly note that the use of the Hattifant Site and its services (e.g. downloads) offered, are for your personal and non-commercial use only. You may not publish, license or create derivative works (for commercial use) from, transfer, or sell any information, products, downloads or services obtained from the Services. Hattifant is the sole owner of all content on the Hattifant Site, unless stated otherwise. You may borrow pictures but always name the source and link to the Hattifant Site, please. It would be lovely if you sent an email to manja(at)hattifant(dot)com in this case. Thank you!