Vintage Style Christmas Ornaments to Color
It is time for some new Christmas Home Decor, don't you think?! The Hattifant family loves Christmas and also crafting. Who would have guessed, right?! 🙂 So a lot of our decoration is handmade which I believe always gives home a special flair. For this year, I created some more Vintage style inspired Christmas Ornaments that will look fabulous on everyone's Christmas Tree.
But not just on your Christmas Tree! There is so much more to this bundle and how you can use the templates! You will love it! I have created 3 different sizes of the 25 individual ornament designs!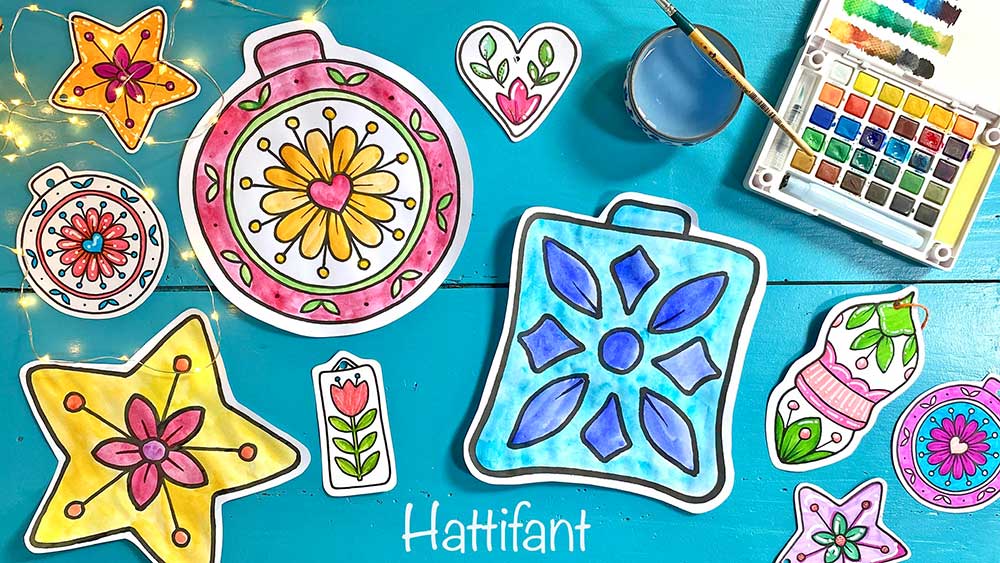 You can use them as:
Christmas Tree Ornaments
Gift Tags
Christmas Cards
Sun Catchers
Garlands
Christmas wrapping – little pouches (as a little thank you or give away)
Advent Calendar!!!
Did I forget anything?! Let me know! 🙂
Christmas Ornaments sized templates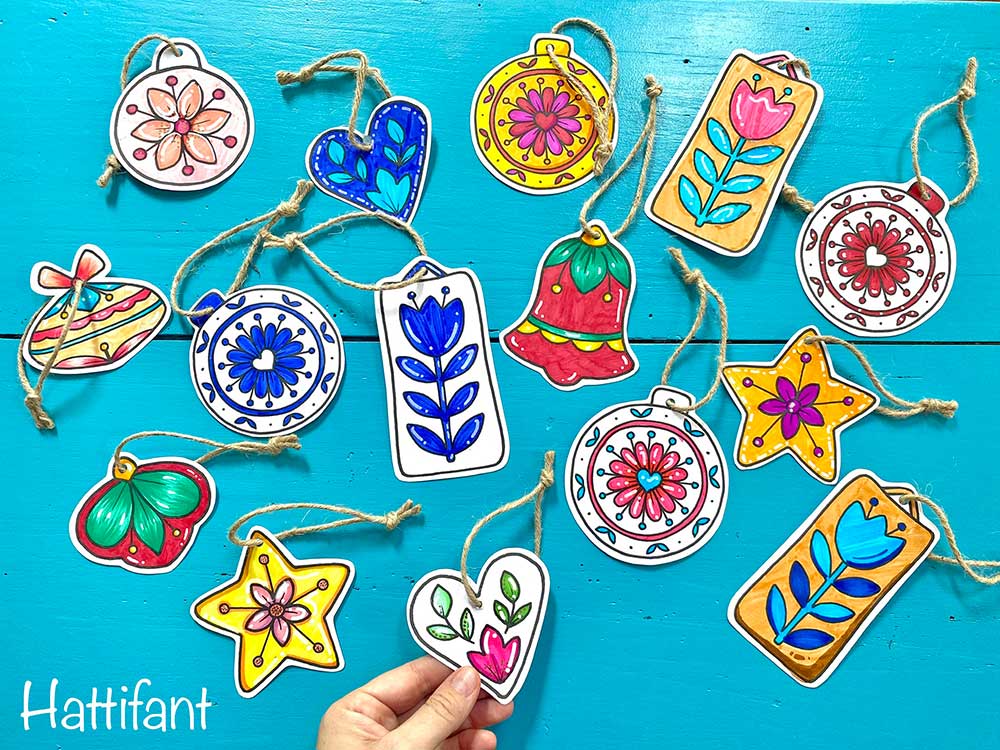 This part of the bundle contains the smallest sized templates. Here you will find the designs at approximately 9x9cm (size varies a little due to shape, some are longer up to 16cm). The templates come double sided. So you can hang them up anywhere and know the ornament will show all its glory full circle.
Enjoy this little video here that will show you all available templates and more in more detail…
How To Make your own:
Christmas Ornament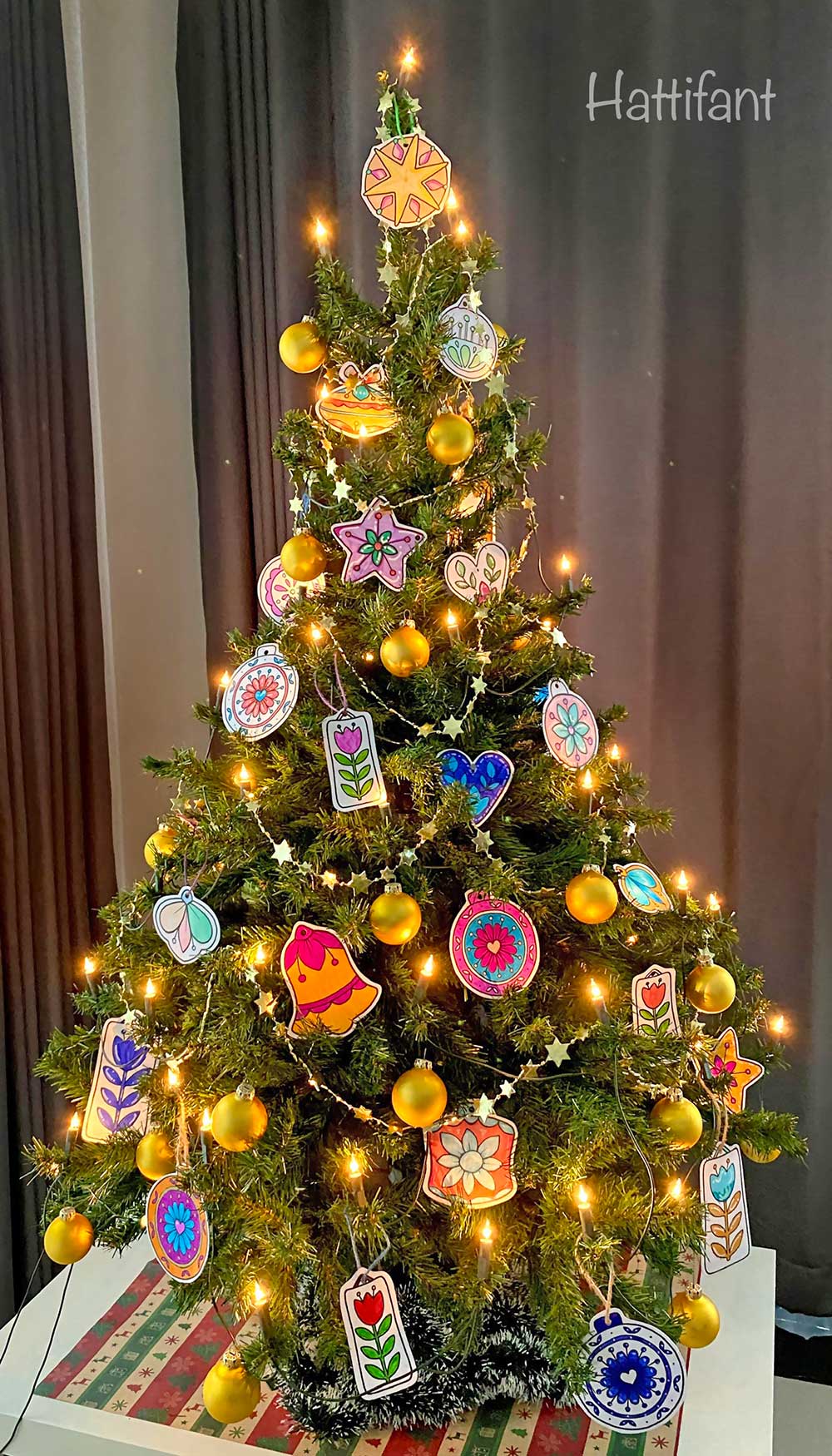 You will need:
Templates
coloring pens and/or pencils
Glue
Scissors
Hole punch
Thread
Get your downloads by clicking on the button above. Print off your templates and choose your faves from the 25 available ornament designs to start off with.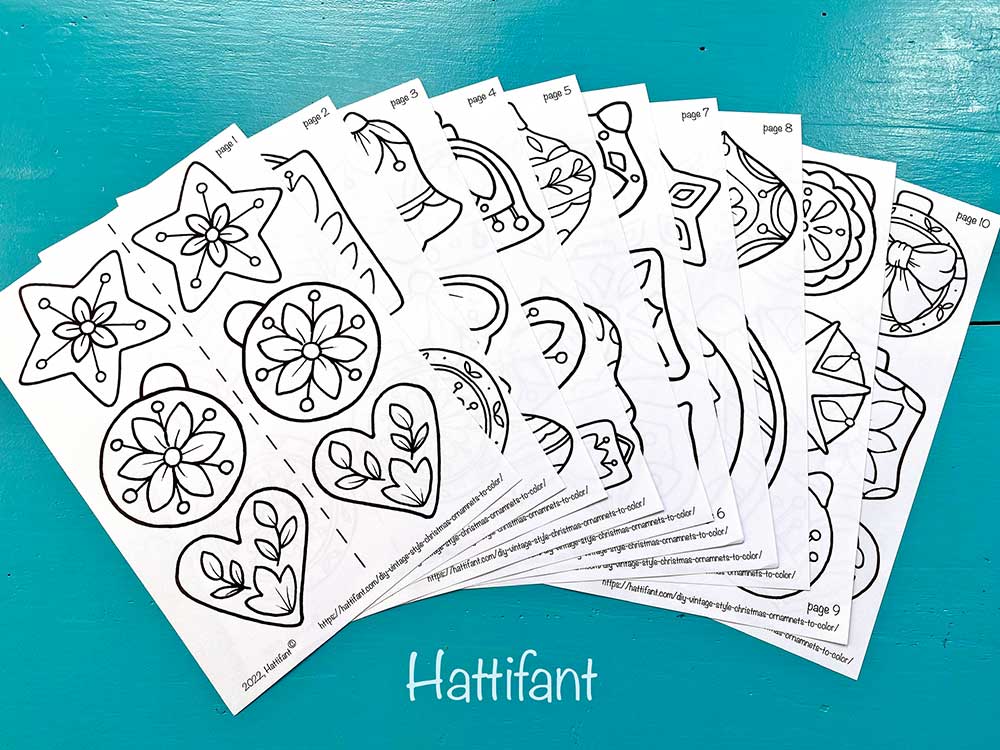 Time to color! 🙂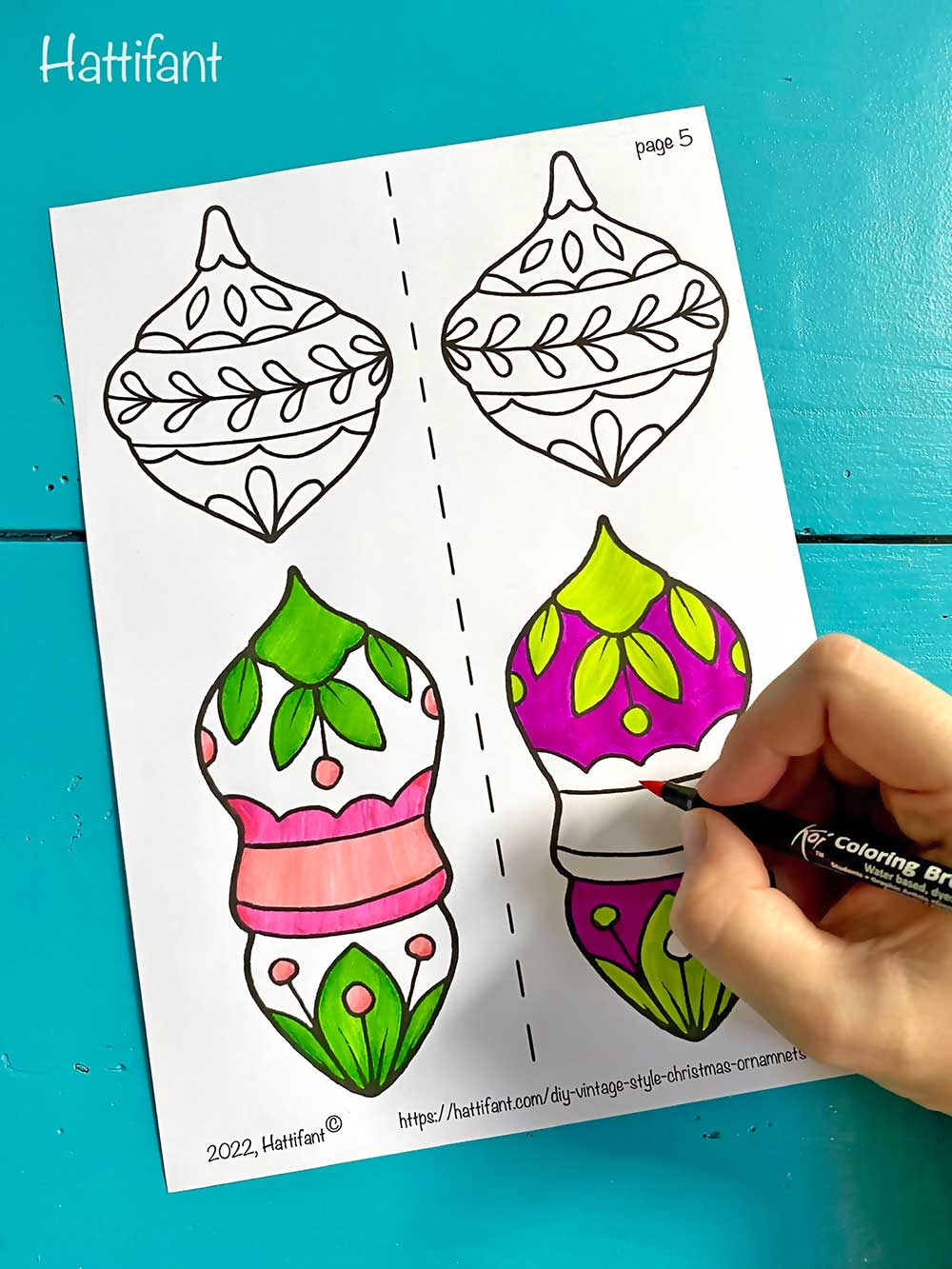 All then is left to do is folding the paper in half, adding glue to the inside of the paper to glue it shut. Cut out the individual ornament, punch a hole at the top and add some thread to hang it up on the tree!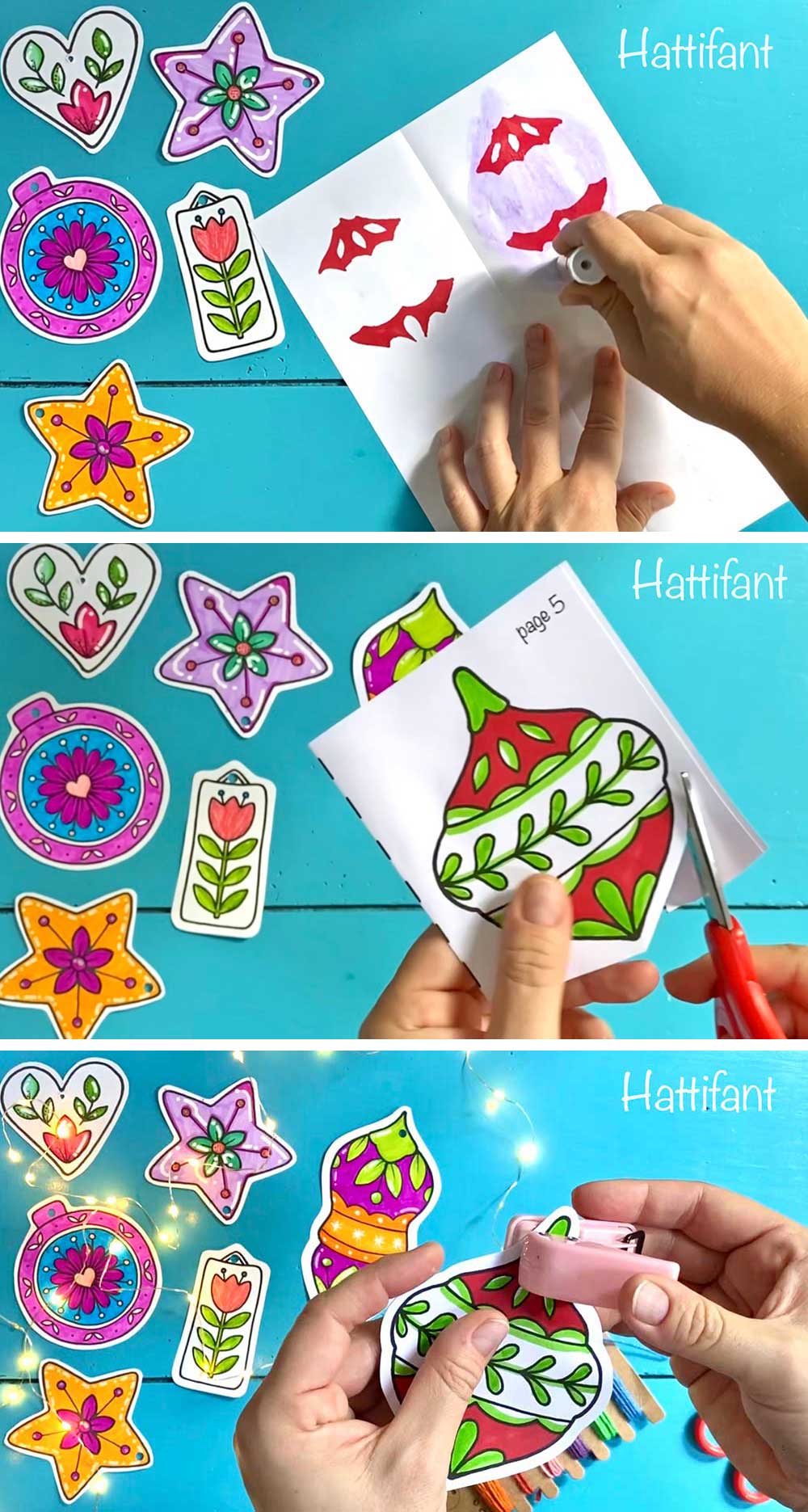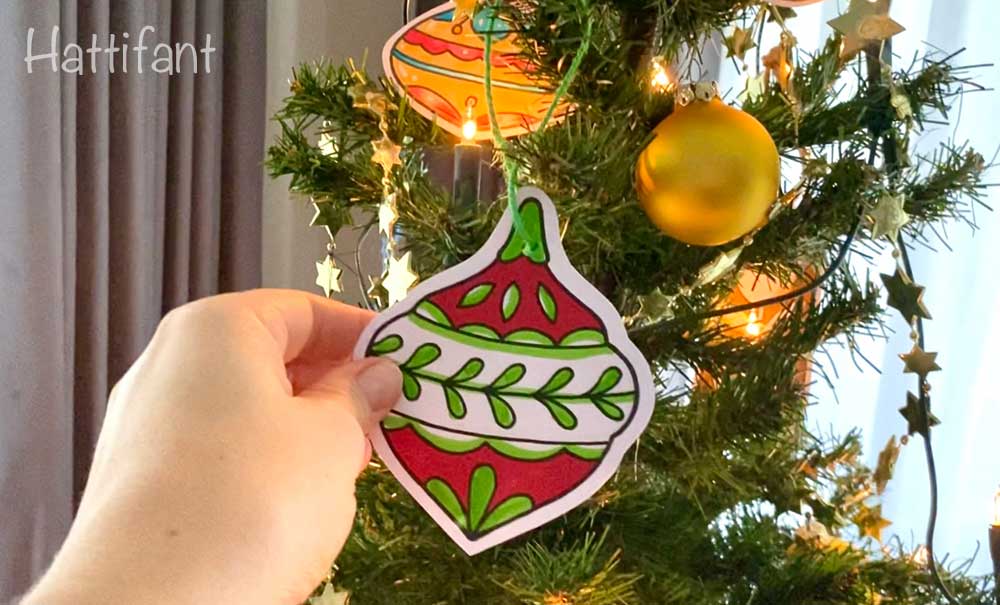 Christmas Ornament as Gift Tag or Greetings Card
Of course, you can also use them as gift tags for your presents or as a Christmas Card to send to loved ones!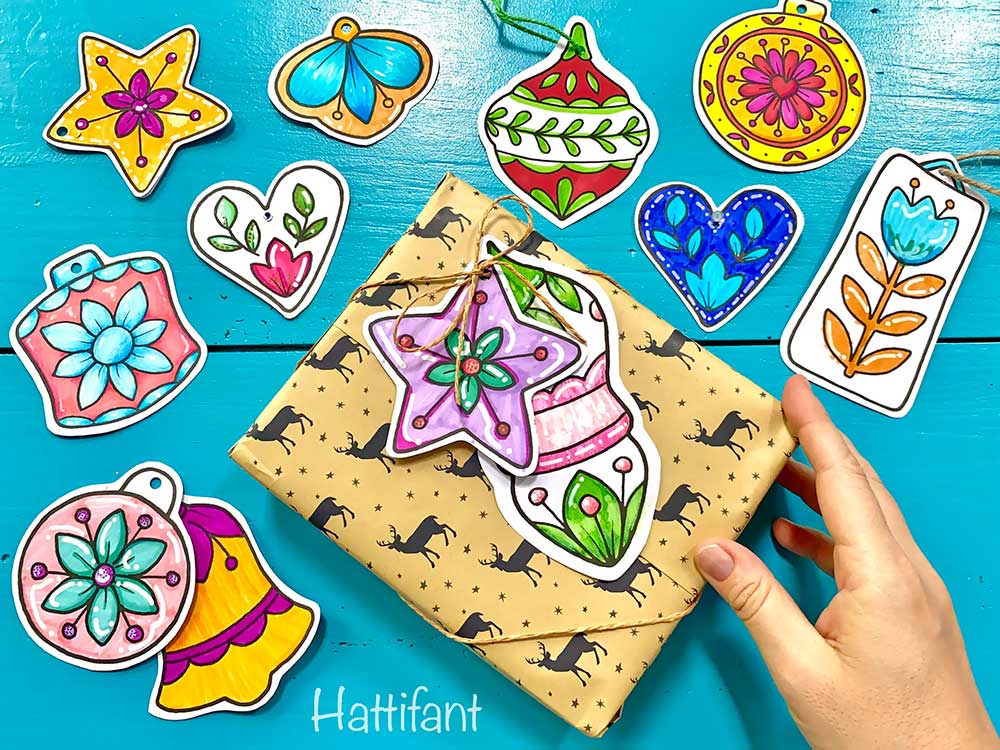 Get some smaller envelopes and these Christmas Ornaments look fab as cards, too!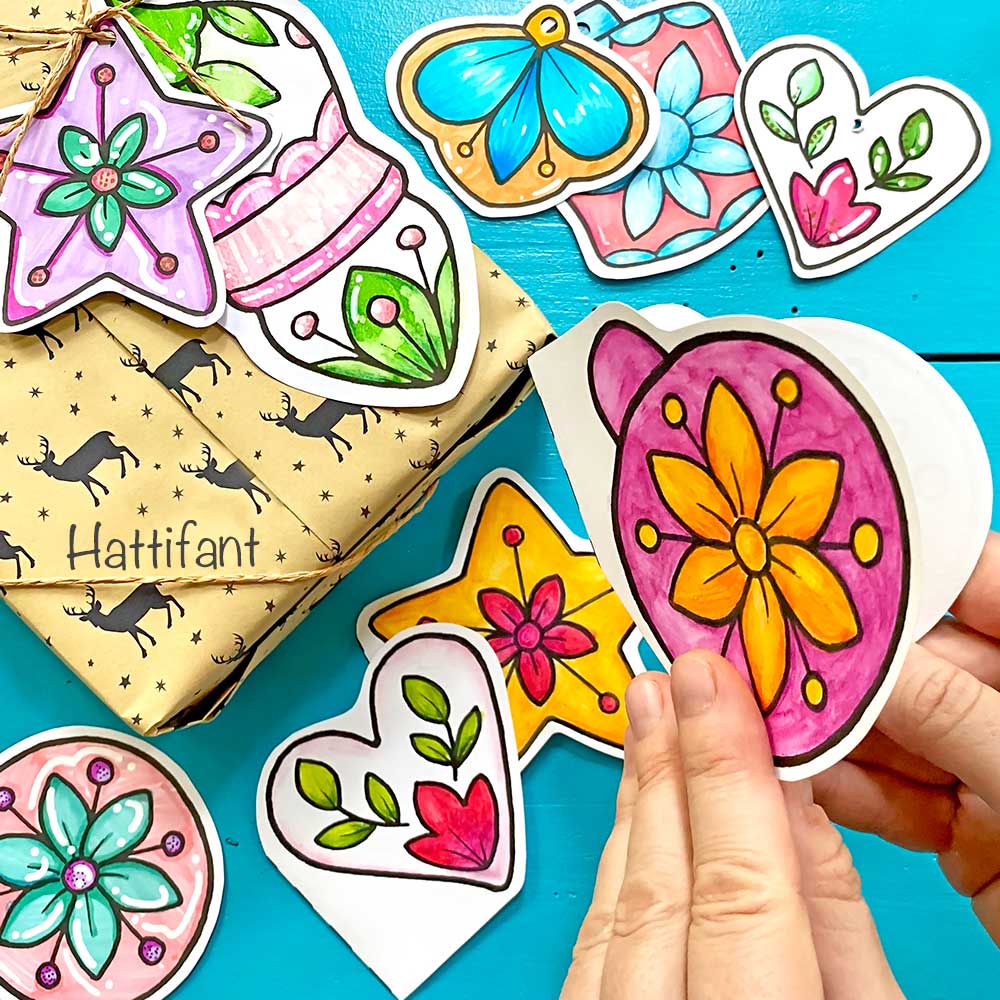 BIG – BIGGER – GIANT Christmas Ornaments
I know, many of you are teachers or love to decorate your offices, too! So here are the Christmas Ornaments in BIG so you can use them for Garlands as as Sun Catchers for your windows!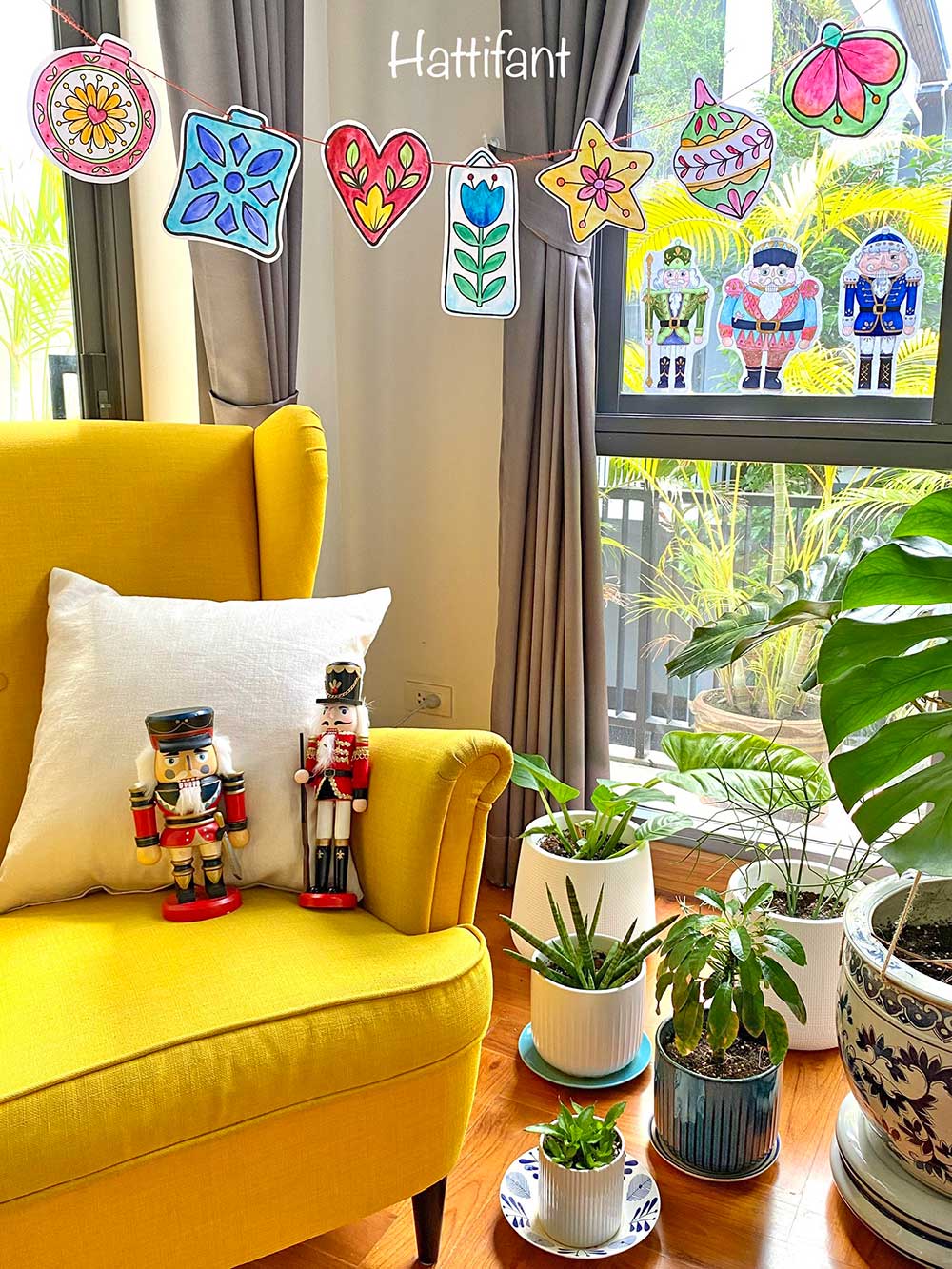 And as Sun Catchers! Beautiful! (Interested in the Nut Crackers Sun Catchers, too? Find them here! (soon))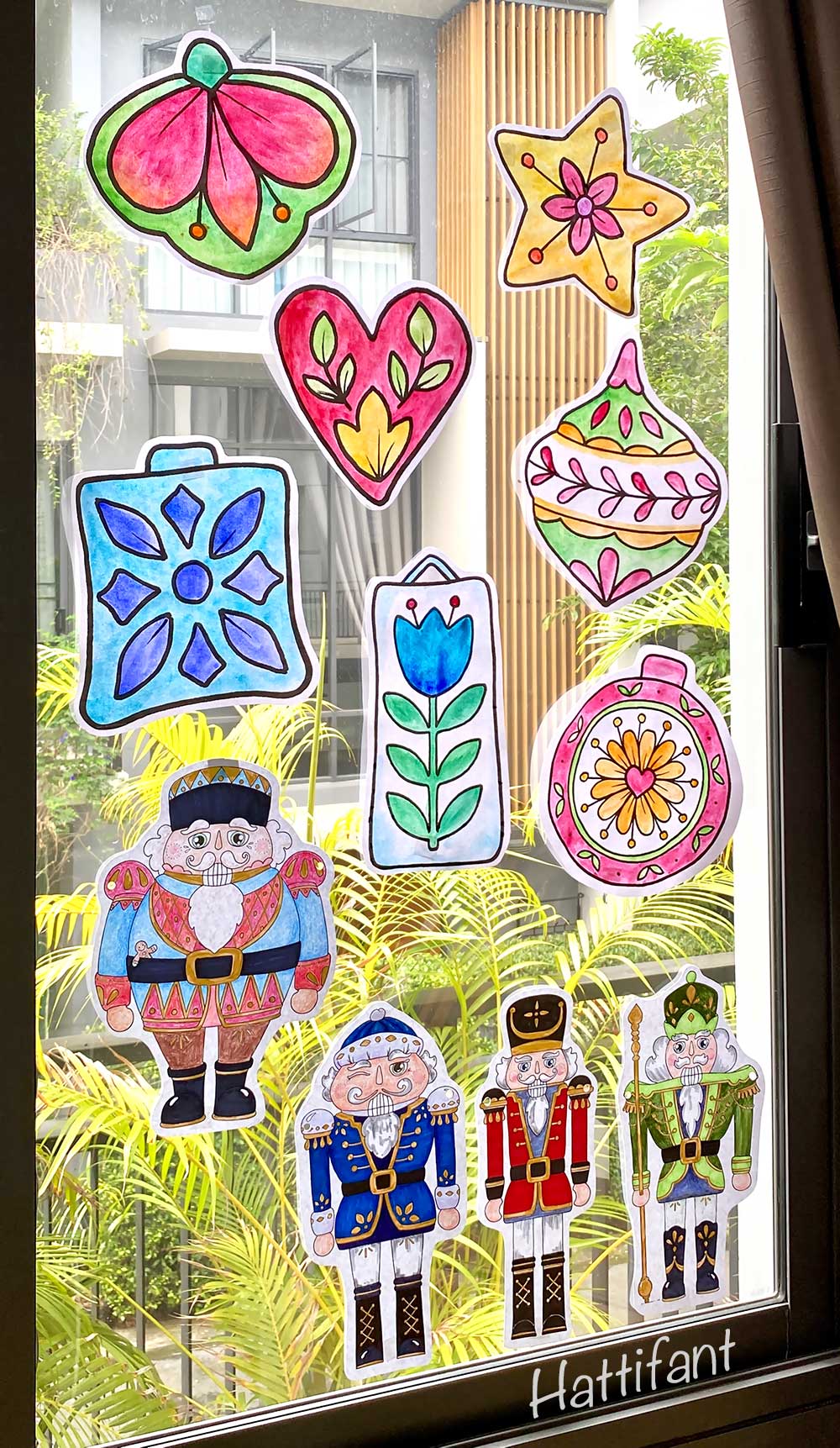 Due to the size of these ornaments, water color paints are perfect! The sun also shines through nicely. Wait until dry and then cut generously around the colorful shape, add holes for a garland or tape if you want to use the ornament as Sun Catcher.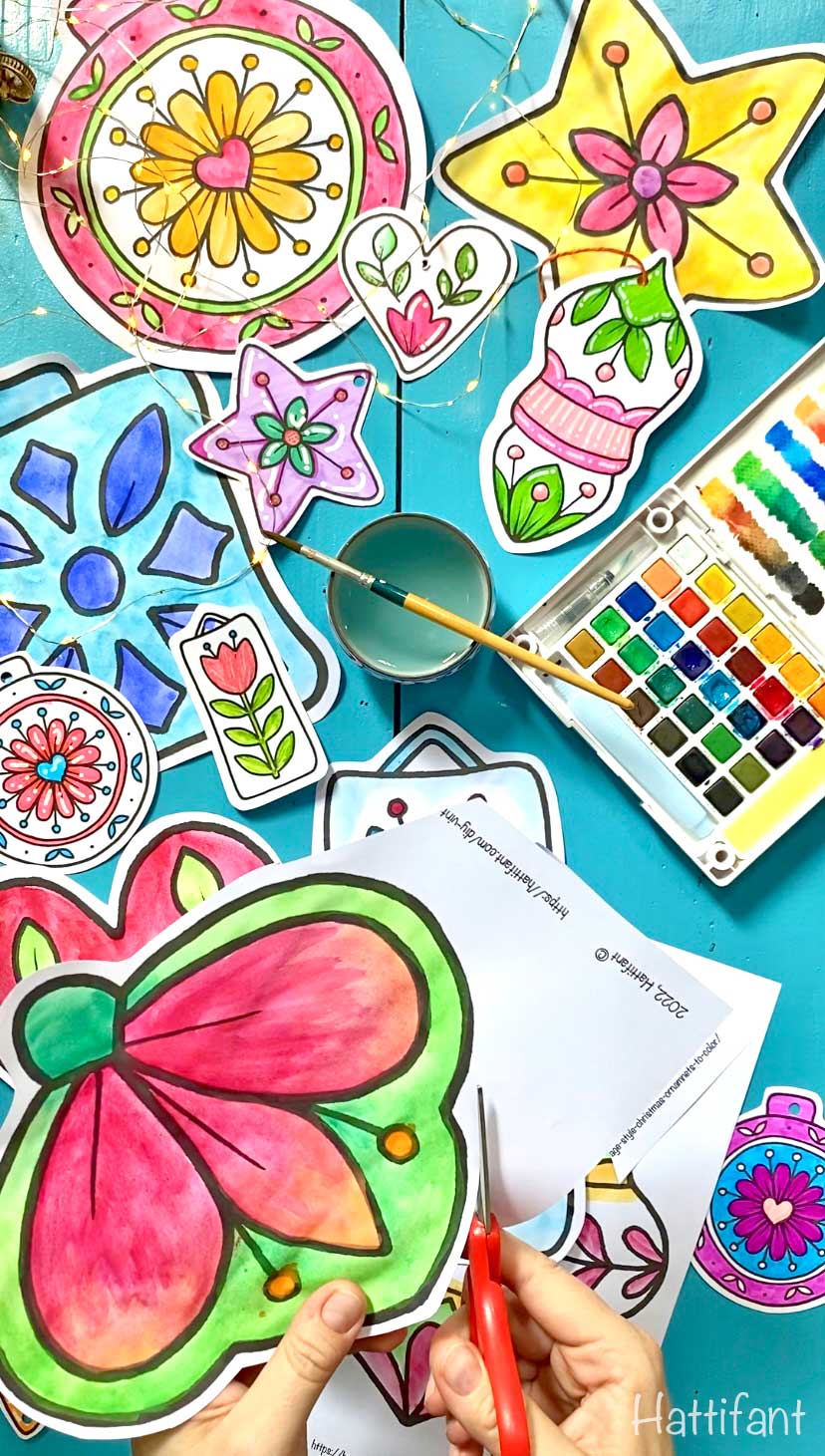 Advent Calendar Option
Yes!!! We can use these Vintage Style Christmas Ornaments as an Advent Calendar! Woohoo! I still need to run out to the shops and get some small goodies to fill the little pouches with. But also thinking to add jokes (written on a piece of paper) and affirmations and such. Ooh and pictures of our favorite adventures throughout the year!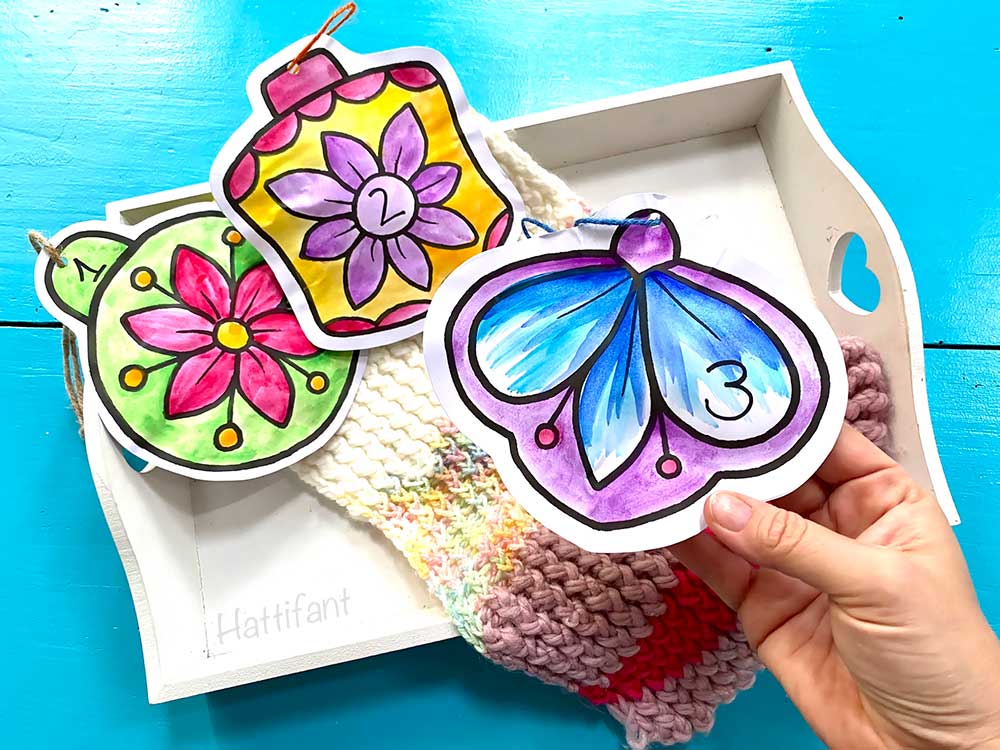 Print out the templates and color in the designs. Fold the paper in half along the dotted line and while folded cut out the ornamnt. Add your little surprises on to the paper inside and add glue to the rim of the ornament. Glue shut the pouch. Gently press down along the sides.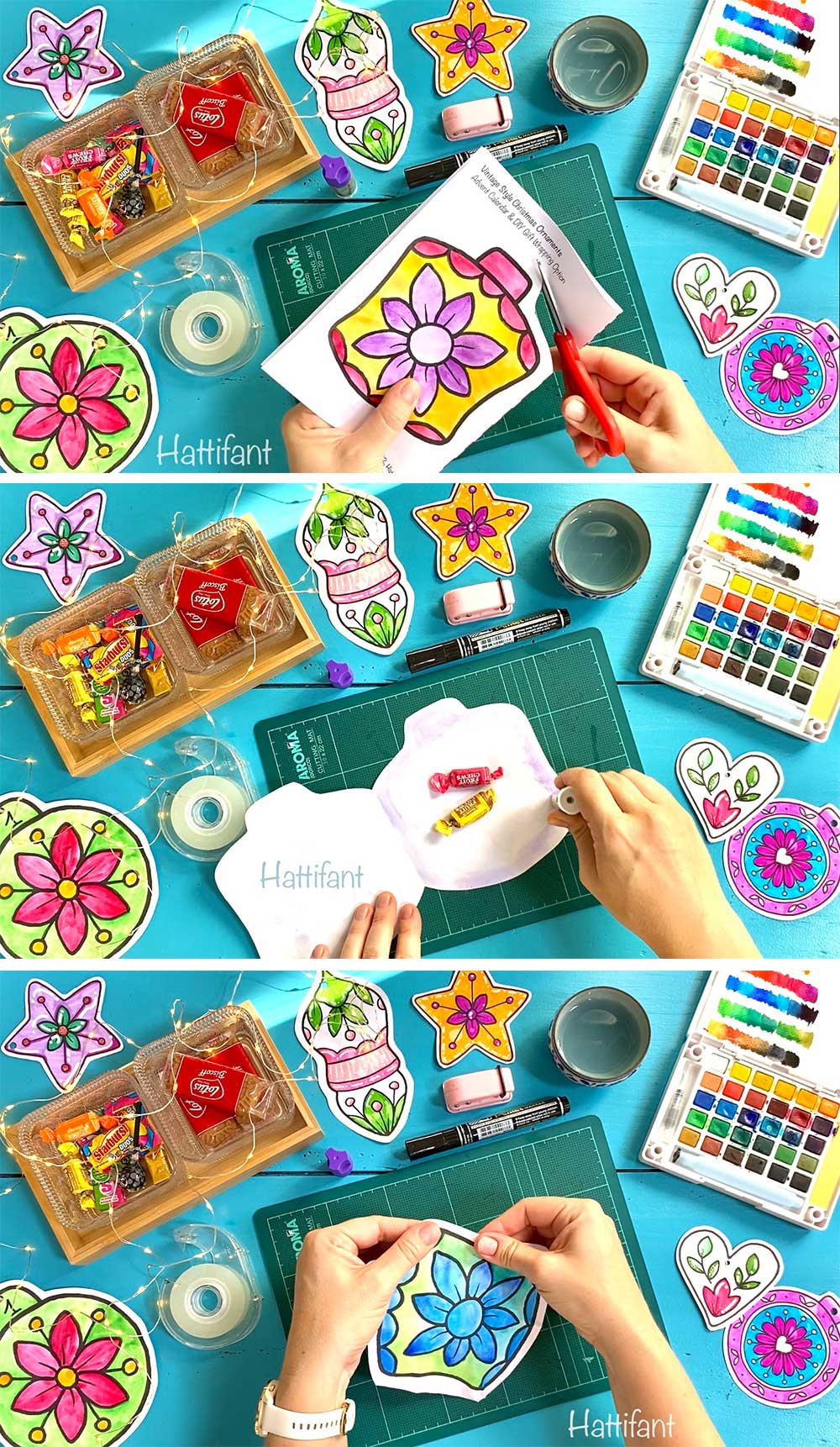 Wait until the glue is dry to punch a hole to the top and add thread. Then write the respective number of which day you would like to have the pouch opened on to the ornament.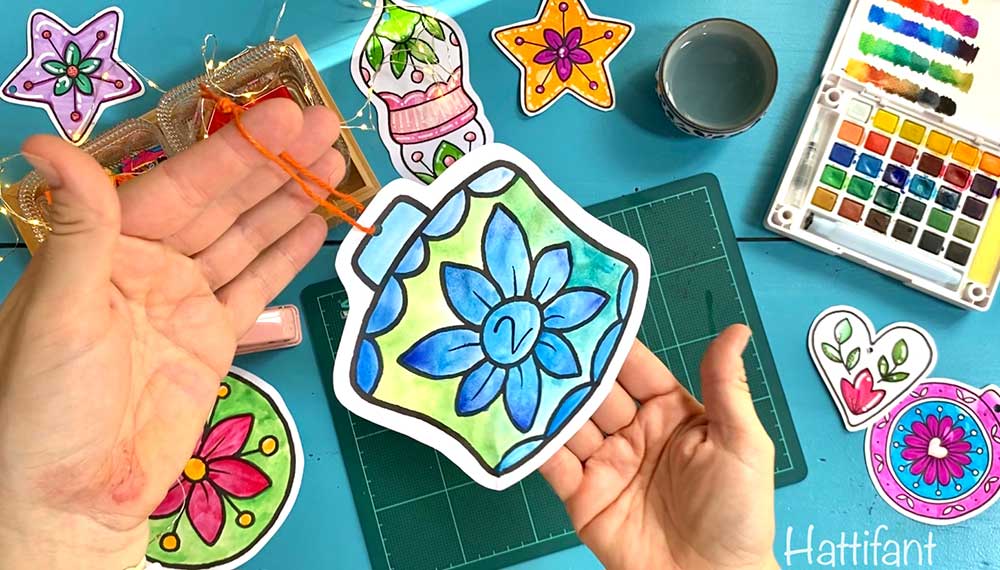 And done! We have stairs in our house. So I will come back here and share a picture soon. I am planning on hanging them along the stair railing.
PRINTABLES
You will receive in PDF format:
PDF file with Templates (25 different designs) for Christmas Ornaments & Instructions
PDF file with Templates with BIG ornaments for Garlands & Sun Catchers & Tips
PDF file with Templates for Advent Calendar version & Instructions
Bonus
Please do scroll through all the PDF files. Each PDF file has got more than one page. If you print on US Letter size paper then please adjust your printer settings to "Fit to page".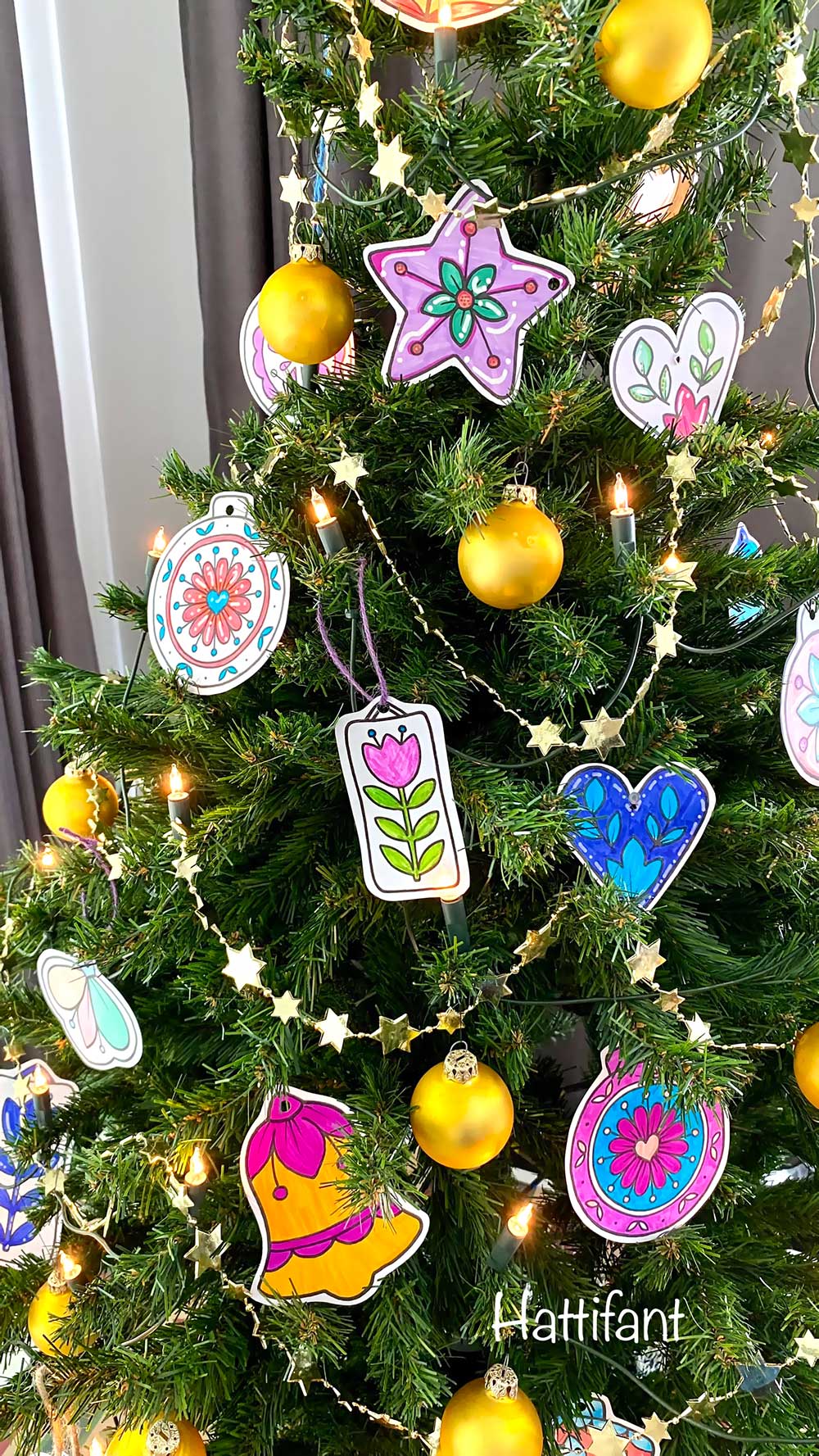 Wishing you a Merry Christmas & a Happy New Year!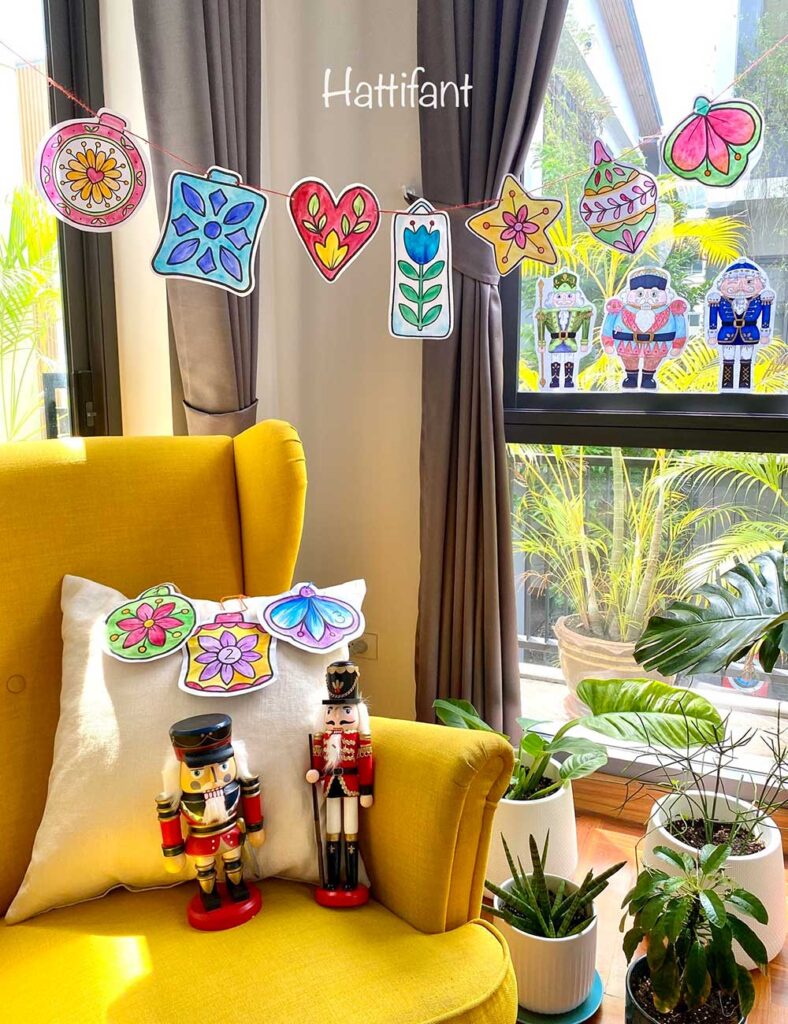 More Christmas Crafts: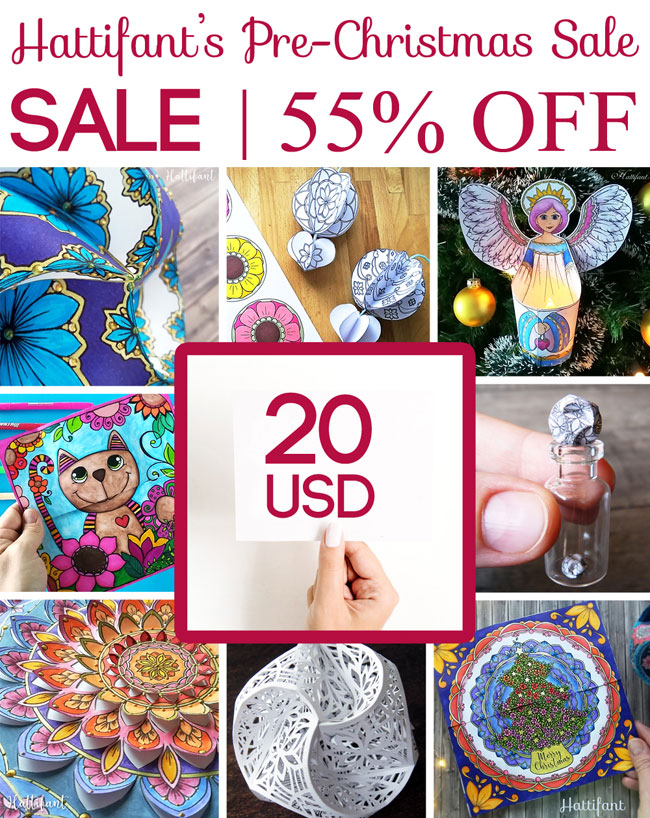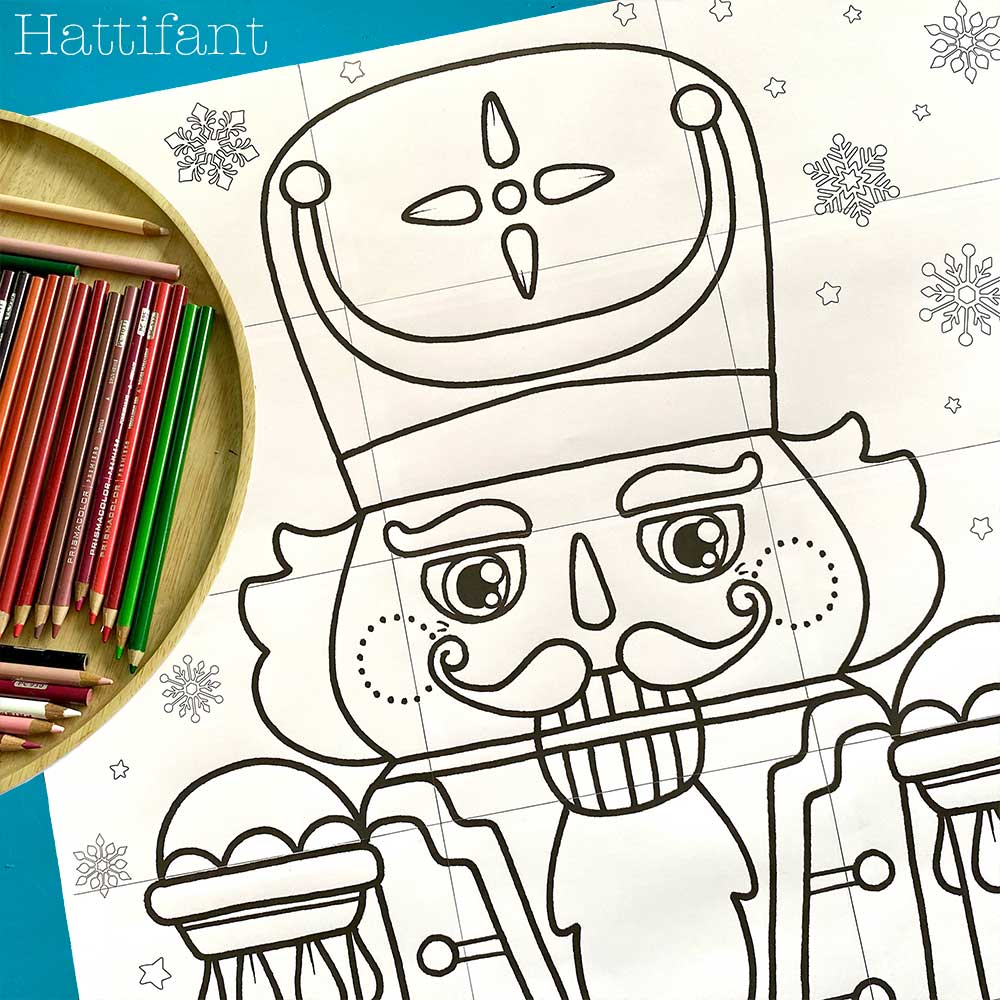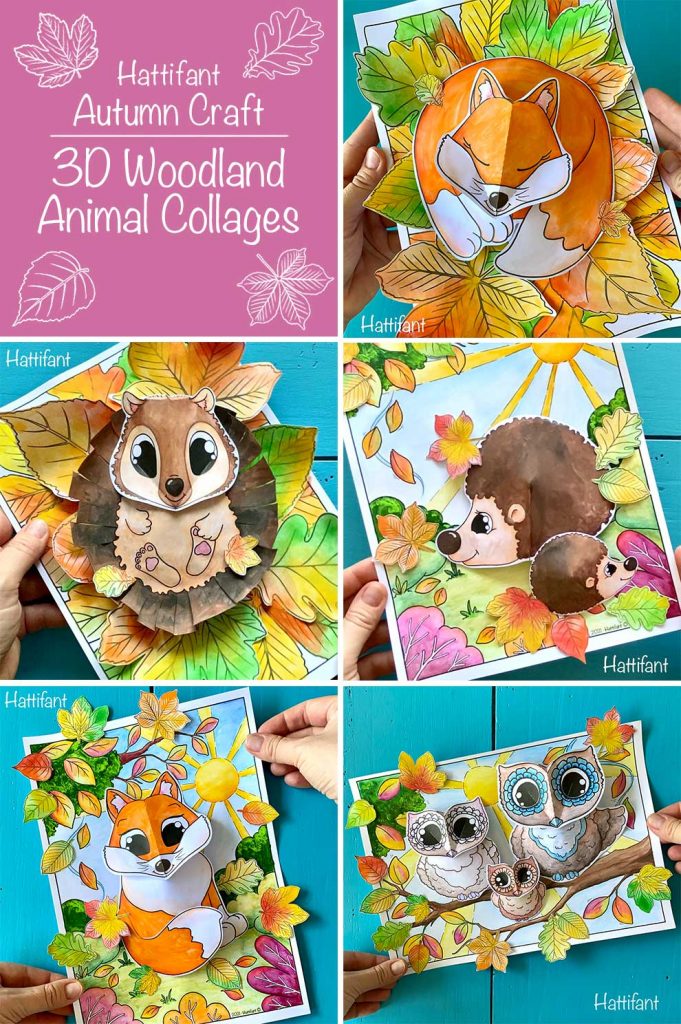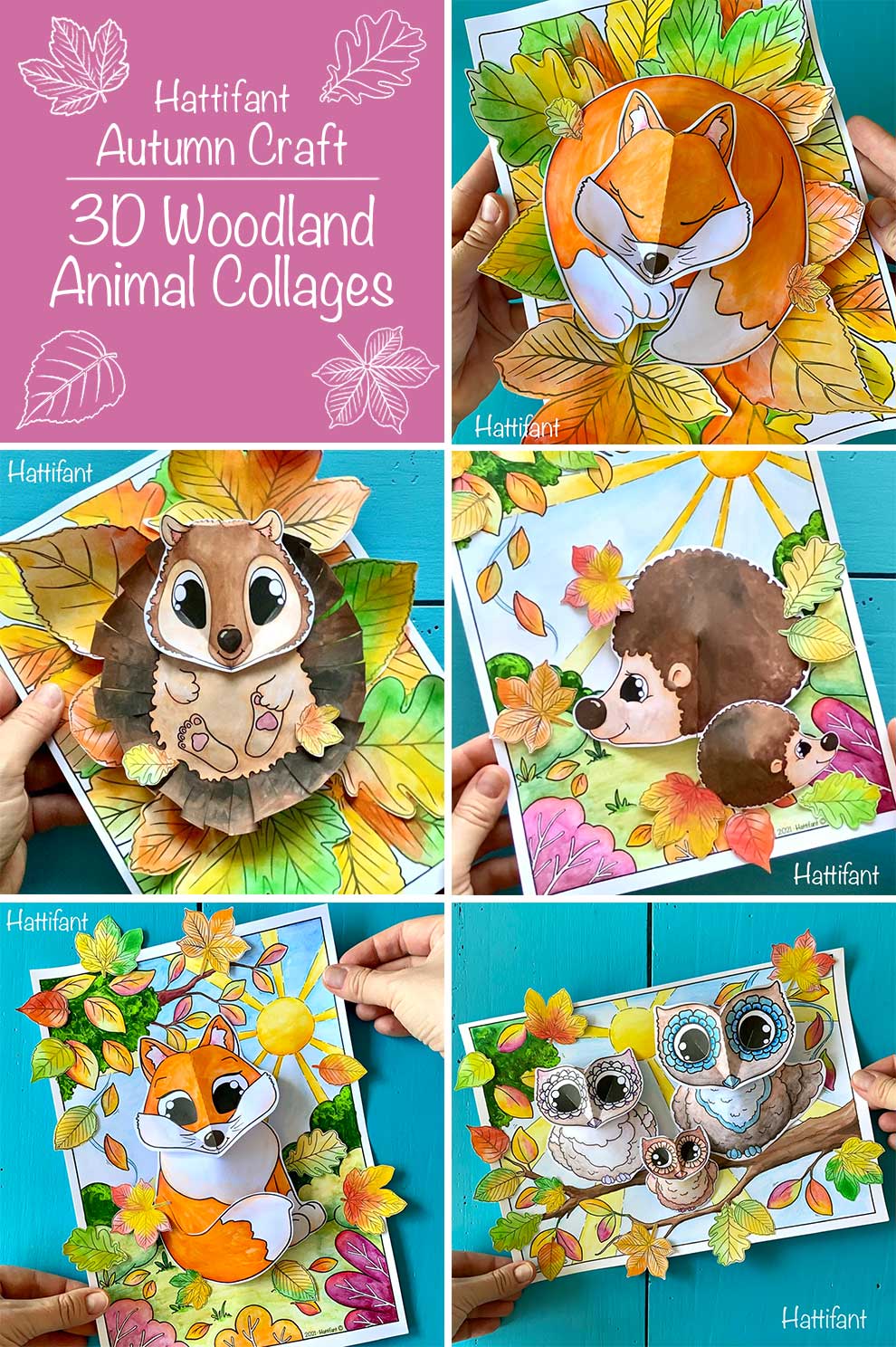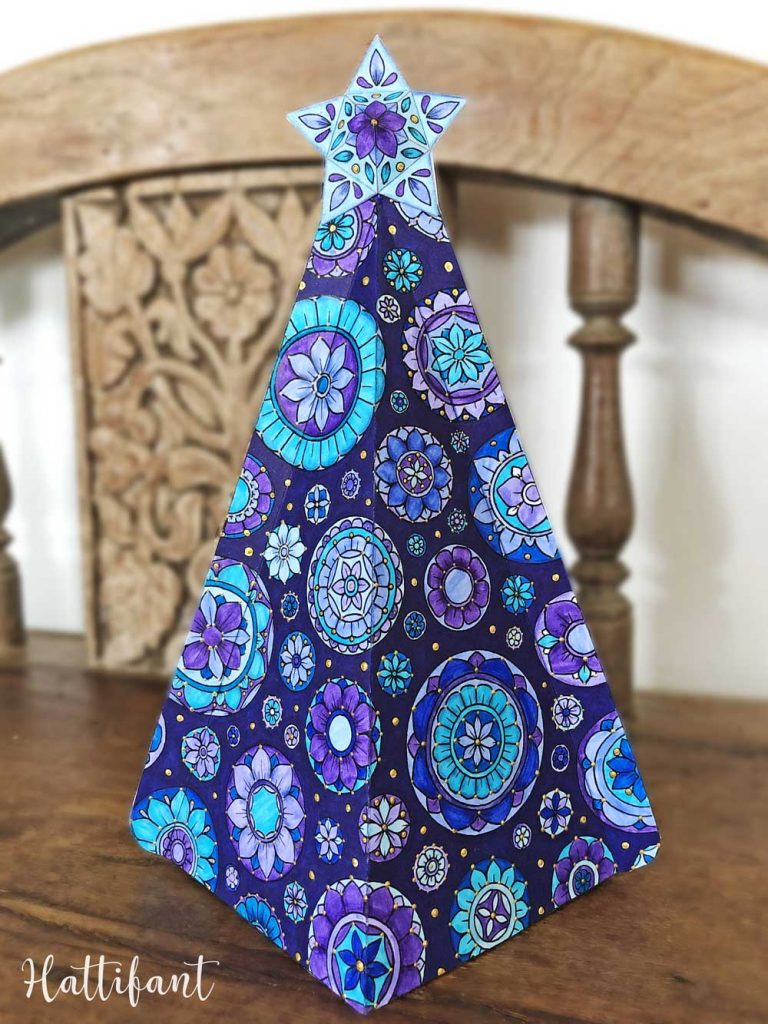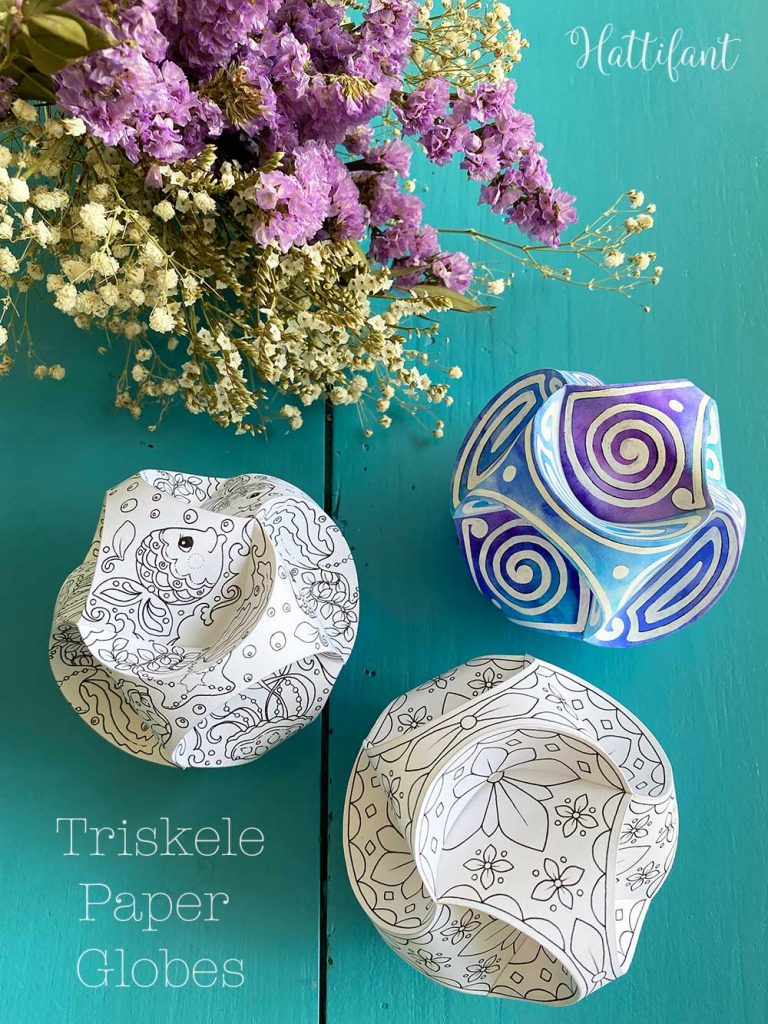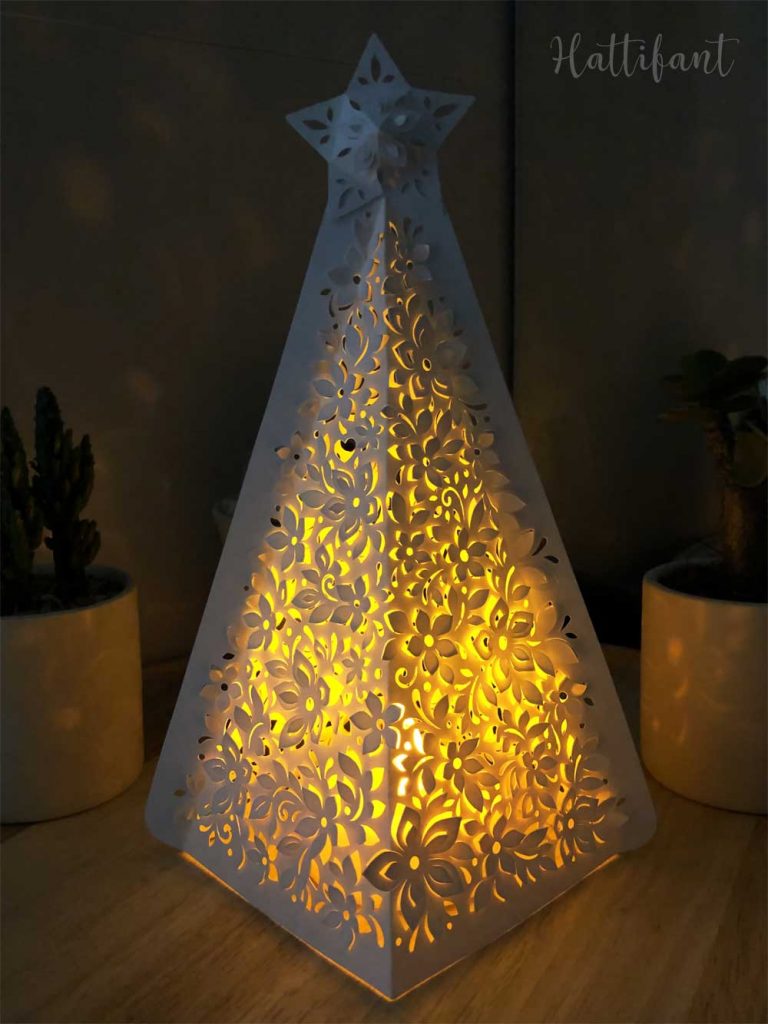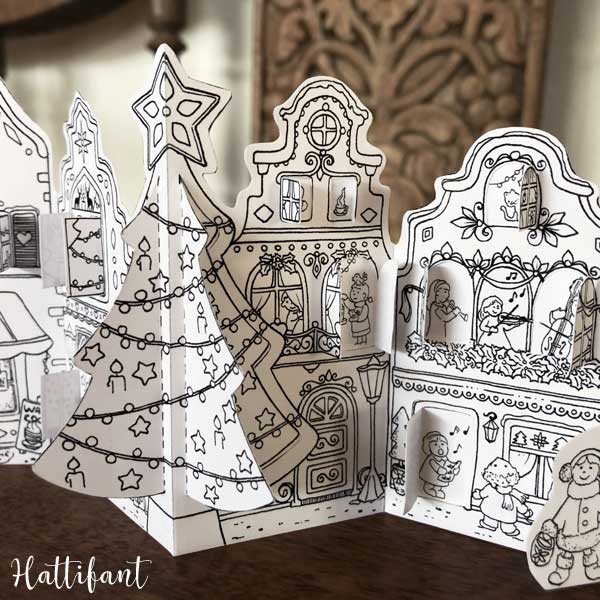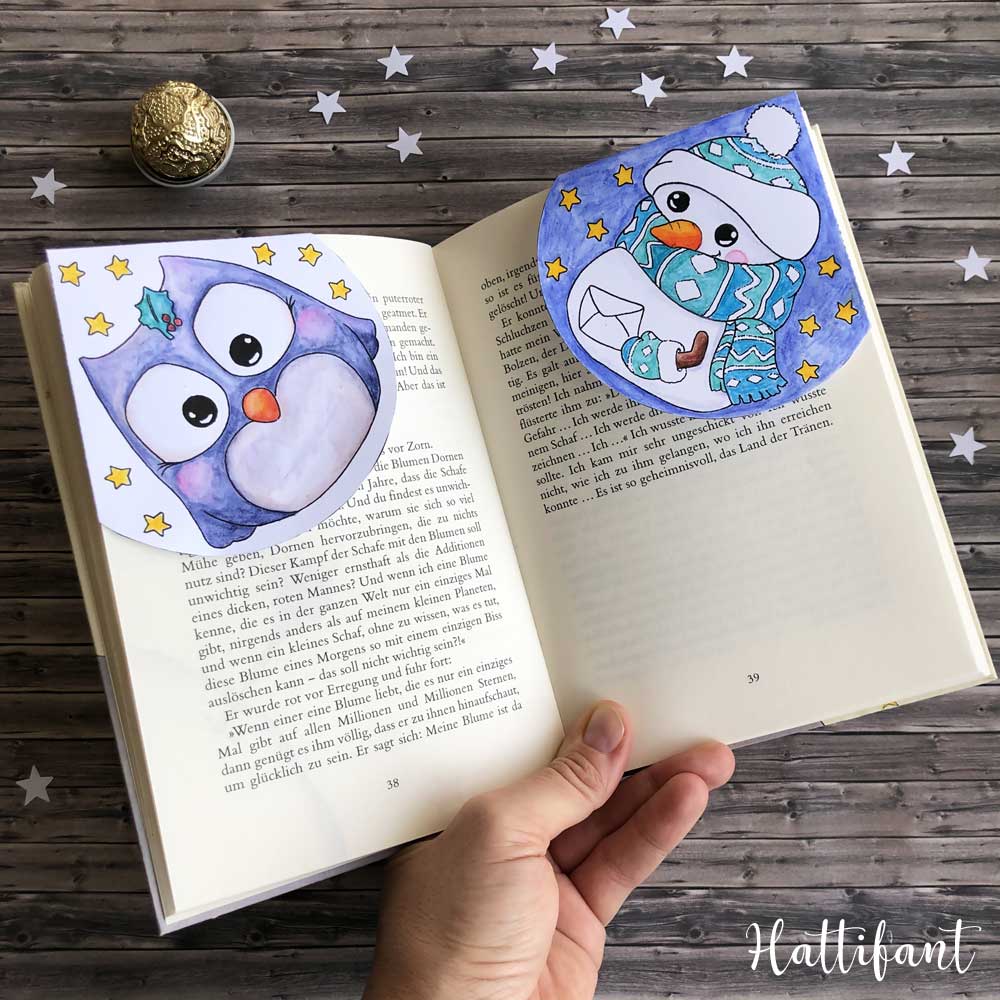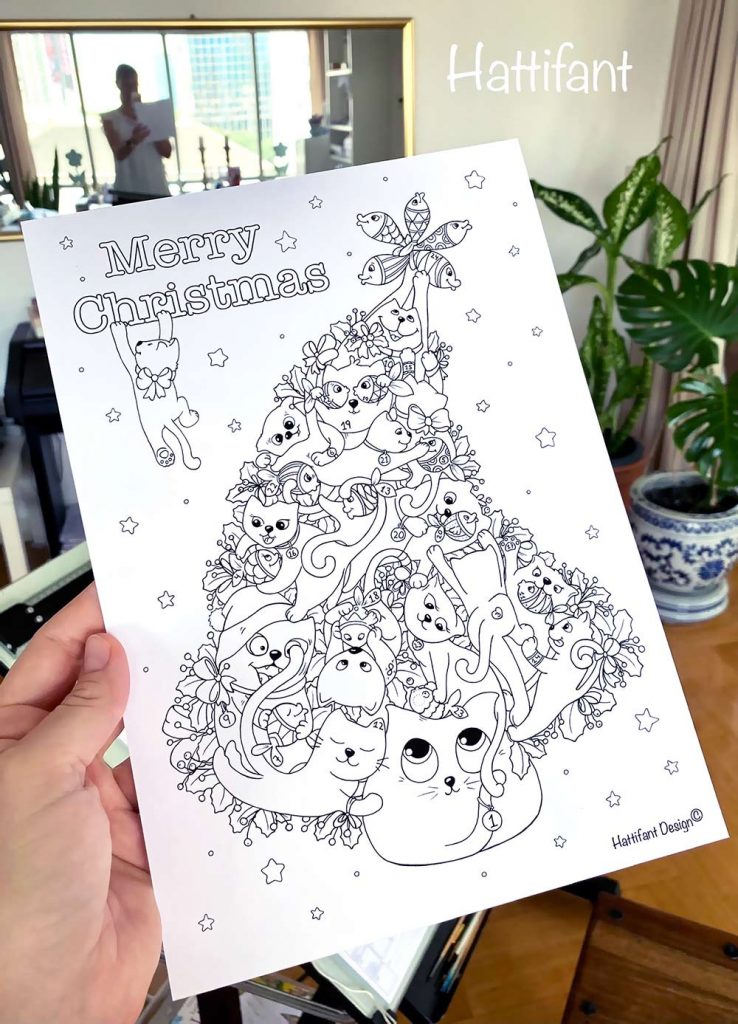 You like Hattifant's designs, toys & décor? Why not FOLLOW Hattifant on Facebook or Instagram and always be up-to-date with Hattifant's latest adventures…
PERSONAL AND NON-COMMERCIAL USE LIMITATION
NO DIRECT LINKS TO PRINTABLES ALLOWED! Please kindly note that the use of the Hattifant Site and its services (e.g. downloads) offered, are for your personal and non-commercial use only. You may not publish, license or create derivative works (for commercial use) from, transfer, or sell any information, products, downloads or services obtained from the Services. Hattifant is the sole owner of all content on the Hattifant Site, unless stated otherwise. You may borrow pictures but always name the source and link to the Hattifant Site, please. It would be lovely if you sent an email to manja(at)hattifant(dot)com in this case. Thank you!