Triskele Paper Globes | Stunning handmade 3D Ornaments
If you are looking for a Paper Craft with the wow factor then you have come to the right place: Triskele Paper Globes are in my absolute Top 5 list of Paper Craft Projects! And *wink soon to be in yours, too!
So what are Triskele Paper Globes?
Plain and simple: they are stunning and look fabulous. With its beautiful shape and elegant design, Triskele Paper Globes appear to be really tricky to make. But let me tell you: they are not!
This paper-folding design consists of three strips of paper that when interlocked turn into a 3D paper ball shape. Of course, I will show you how to make them! Here is a little introductory video for you to enjoy…
(This video is a little introduction, only. I have created many video tutorials that show you in normal speed and step by step how to make them. You can find these with the individual Triskele Paper Globe Bundles.)
NEW this month…
NEW: Easter, Spring & Summer Triskele Paper Globe Bundle
I first came across this design when I stumbled upon Mariët's blog post in which she decorates such paper ball with Zentangle patterns. I was intrigued by the 3D paper ball shape and knew I had to give it a try. I fell in love and started decorating the first few and knew many of you would love to color and craft these just as much as me. Today, you can choose from many Triskele Paper Globe Bundles. Find your favorite bundle(s) further below.
The naming of Triskele Paper Globes?
I started searching the internet for more information and in particular looked for a name for these beauties but came up with nada (nothing). I was surprised. I felt though such gorgeous shape and elegant design deserved a better name than just 'Paper Ball, Ornament or Bauble'. So I shared my find with the Hattifant Facebook community and asked them for help. There was much excitement. And TRISKELE PAPER GLOBES sounded perfect to many!
Throughout the years I also discovered them under the name of 'Click Balls or Ornaments' and 'Plop Plop Balls'.
But 'Triskele' means what exactly?!
A triskele describes a triple spiral motif: three symmetrical swirls emanate from a single point. The name itself comes from the Greek words 'tri' and 'skelos' meaning 'three legs'.
The designs' origin dates back far into history and has been found across the globe with the oldest in Malta (4400-3600 BC) but also carved in stones for example at New Grange, Ireland, ancient Greece, Italy, Korea, and Japan. In fact, it is believed to be among the oldest spiritual symbols created by humans altogether.
'3' being a sacred number in Celtic belief, it doesn't surprise that the 'triskele' has been and still is of high importance in Celtic culture. The symbol has a variety of meanings: past, present and future; life, death and rebirth; earth, water and sky; creation, protection and destruction to name a few.
If you would like to learn more about 'triskeles' then I found this article most interesting.
For Math enthusiasts:
For those interested in exploring 'Triskeles' mathematically, I encourage you to read what 'Loop Space' has to say about 'Triskele Curves'. I would like to thank Paula Beardell Krieg for having initialized this direction of conversation.
I hope you enjoyed finding out more about Triskele Paper Globes. Read on to learn how to make your own in a Video Tutorial I created for you. Further below you will find a list of all currently available Triskele Paper Globe Bundles. Follow the individual links to learn more about your favorite Triskele Paper Globe Bundle.
HOW TO make your own:
For the Triskele Paper Globe Craft you will need:
template
paper (120-150gsm/32-40lb)
scoring tool & safety mat
scissors
double sided tape and glue
coloring pens
Enjoy the video and give it a like on YouTube as well. Have subscribed to my YouTube Channel, yet?! :)))
As you can see in the video, the globe looks really tricky to make but as soon as you know how it's done it is a pretty straight forward craft. Now, I know you will want to try it yourself! I have prepared a free blank template for you that you can download in the next section where I introduce all Triskele Paper Globe Bundles to you!
Hattifant's Triskele Paper Globe Bundles
There are quite a few Triskele Paper Globe Bundles available for you. Have fun exploring. I am also working on colored versions of these. Please come back again in the near future for those.
FREEBIE Triskele Paper Globe Template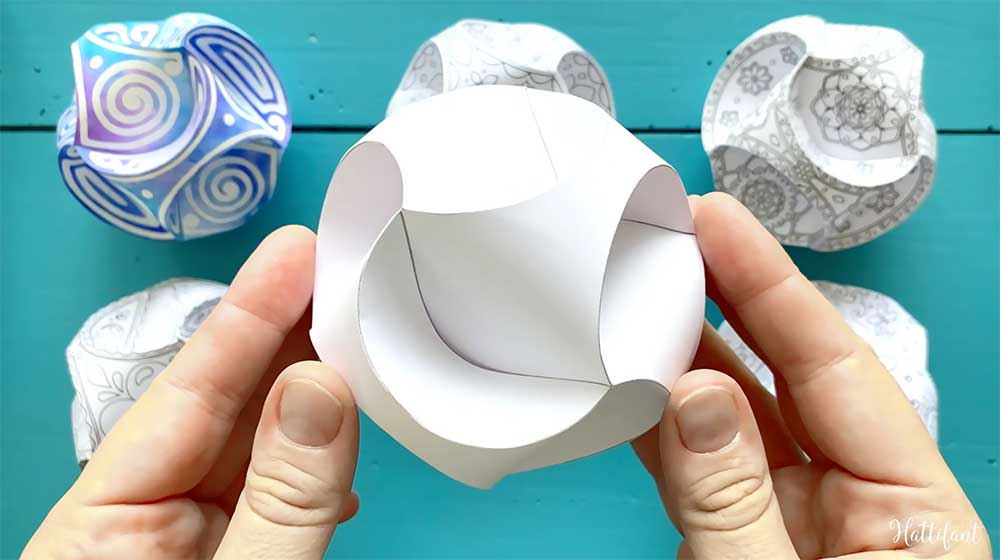 Enjoy this complimentary Triskele Paper Globe template and see if this 3D Paper Craft is for you. 🙂 Click on the image above or here to download the template! Happy crafting!
NEW in 2023: Easter, Spring & Summer Triskele Paper Globe Bundle
This brand new bundle here is fabulous. It took me years to complete and I am sure you will understand why when having a closer look. There are 12 unique globes plus one very special one: this globe carries all 12 designs! Find out more here!
ORIGINAL Triskele Paper Globe Bundle
In this bundle you will find 10 unique designs exploring various topics from flowers to fish, Mandalas, hearts and patterns for you to color and craft. I recommend the ORIGINAL Triskele Paper Globe Bundle to everyone as the perfect introduction to Triskele Paper Globes.
HOLIDAY themed Triskele Paper Globes
Here is a collection of available Holiday related Triskele Paper Globe Bundles for you to choose from!
SEASONS themed Triskele Paper Globes
There are currently two Spring inspired Triskele Paper Globe Bundles available to color and craft.
SPECIAL OCCASION themed Triskele Paper Globe Bundles
We start off this category with some cute Birthday Party Invitations.
Triskele Paper Globes PAPER CUTS
Triskele Paper Globe PUPPETS
I also have some fun Triskele Paper Globe creations for our little ones: Triskele Paper Globe Puppets!
I hope you enjoyed this excursion into Triskele Paper Globe Wonderland! 🙂 I will of course create more bundles for this superduper awesome 3D Paper Craft! So come back soon to find something new.
And if you have read up to here and are still looking for the FREEBIE Triskele Paper Globe and Tutorial then please visit here!
What do others say about Triskele Paper Globes:
Below find a selection of reviews made by happy crafters on Etsy…