PAPER TOY | Flower Kaleidocycles
Oh bliss… Spring is back and with it birds chirping and flowers appearing! Time to share with you a new Hattifant Paper Craft which is actually a Paper Toy: Flower Kaleidocycles. They are often also called Flextangles. They are a lot of fun – you get to color (if you like or choose the colored templates), craft and play. Enjoy!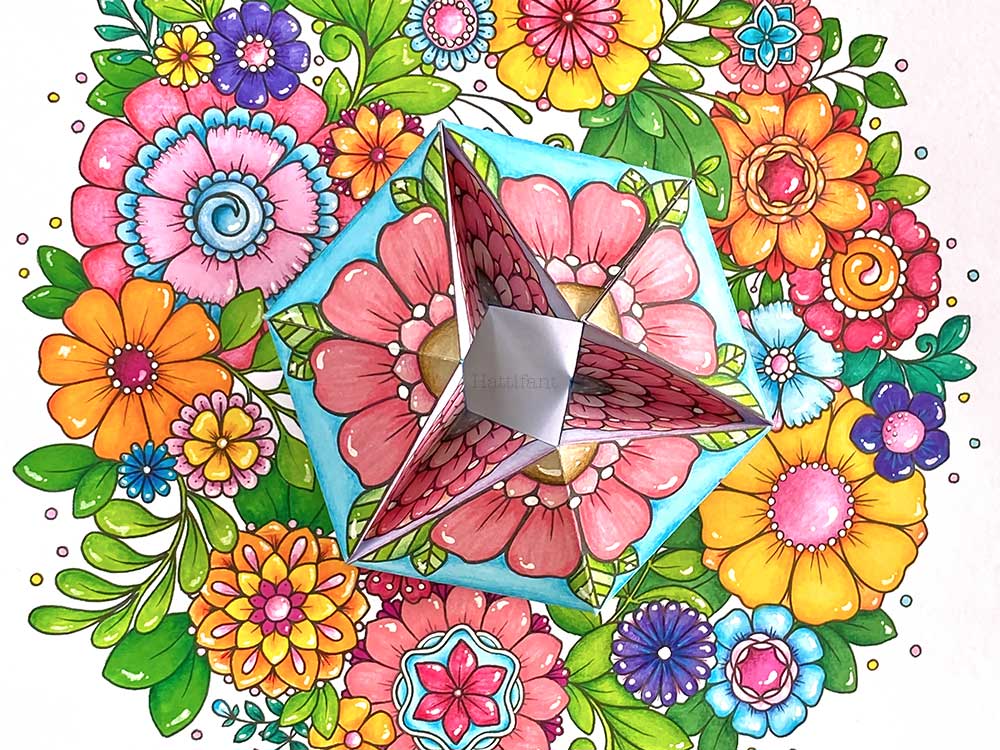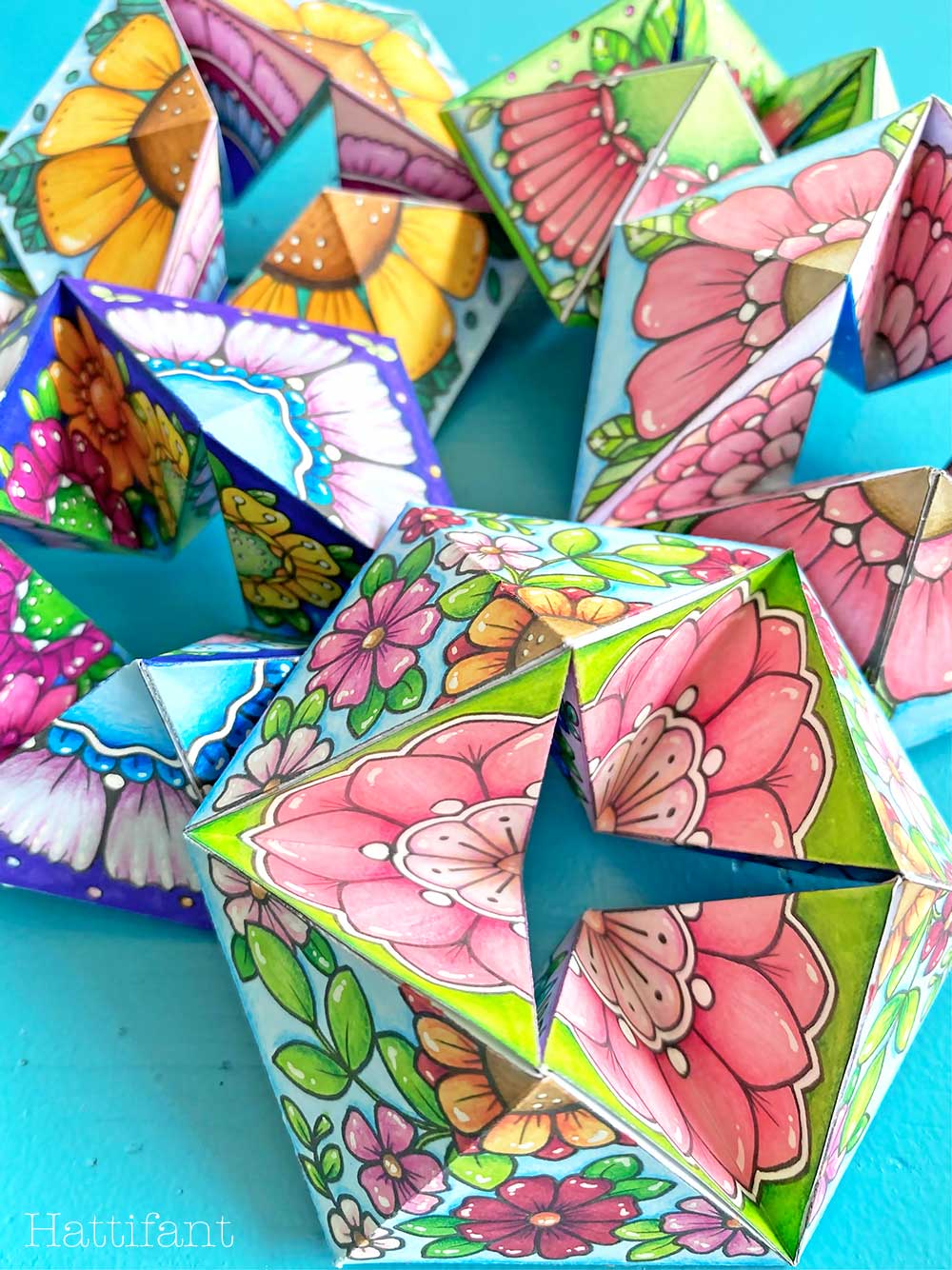 You are still wondering what this 'hexagon like' 3D shaped paper thingy is? It is a 3D paper model for one and it is flexible, too. When constructed you will be able to turn the paper toy from one image to another. When you have 'flipped' through 4 images the first image will reappear with this particular kaleidocycle.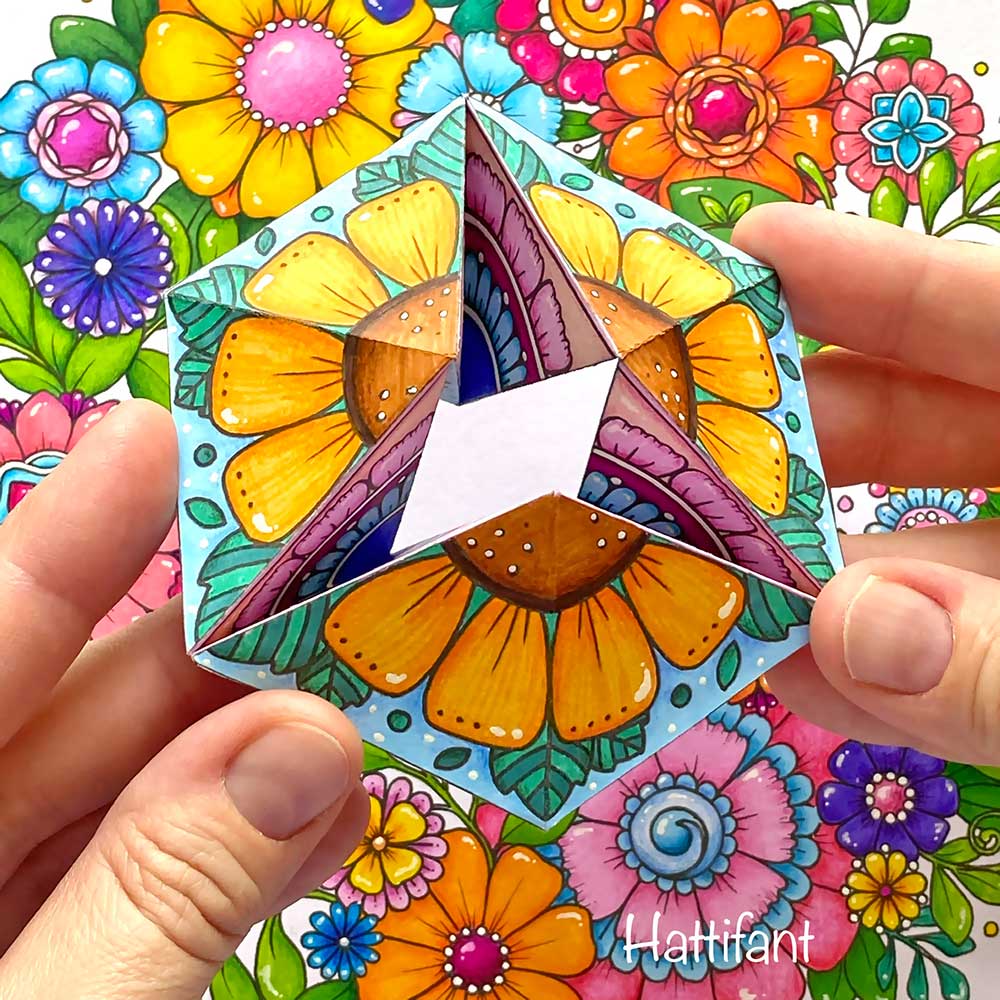 I have created quite a few Kaleidocycles: fun Animal ones to color, a fabulous Pattern series, Christmas and more. Happy exploring! But back to our Flower Kaleidocycles!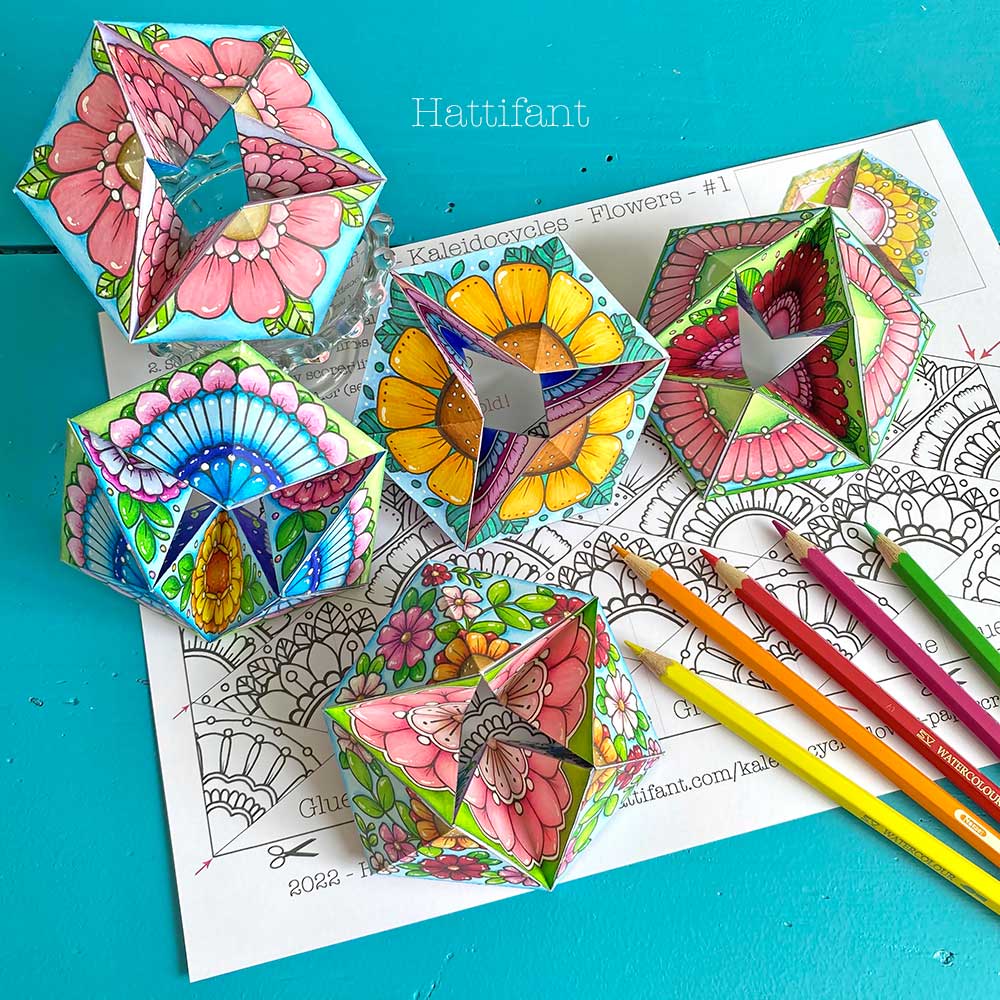 I am very excited about this Flower Kaleidocycle Paper Craft Bundle as I will also offer COLORED templates this time! I know coloring can take up time. So if coloring is not for you when you actually just want to craft and play – well, guess what?! – YOU CAN!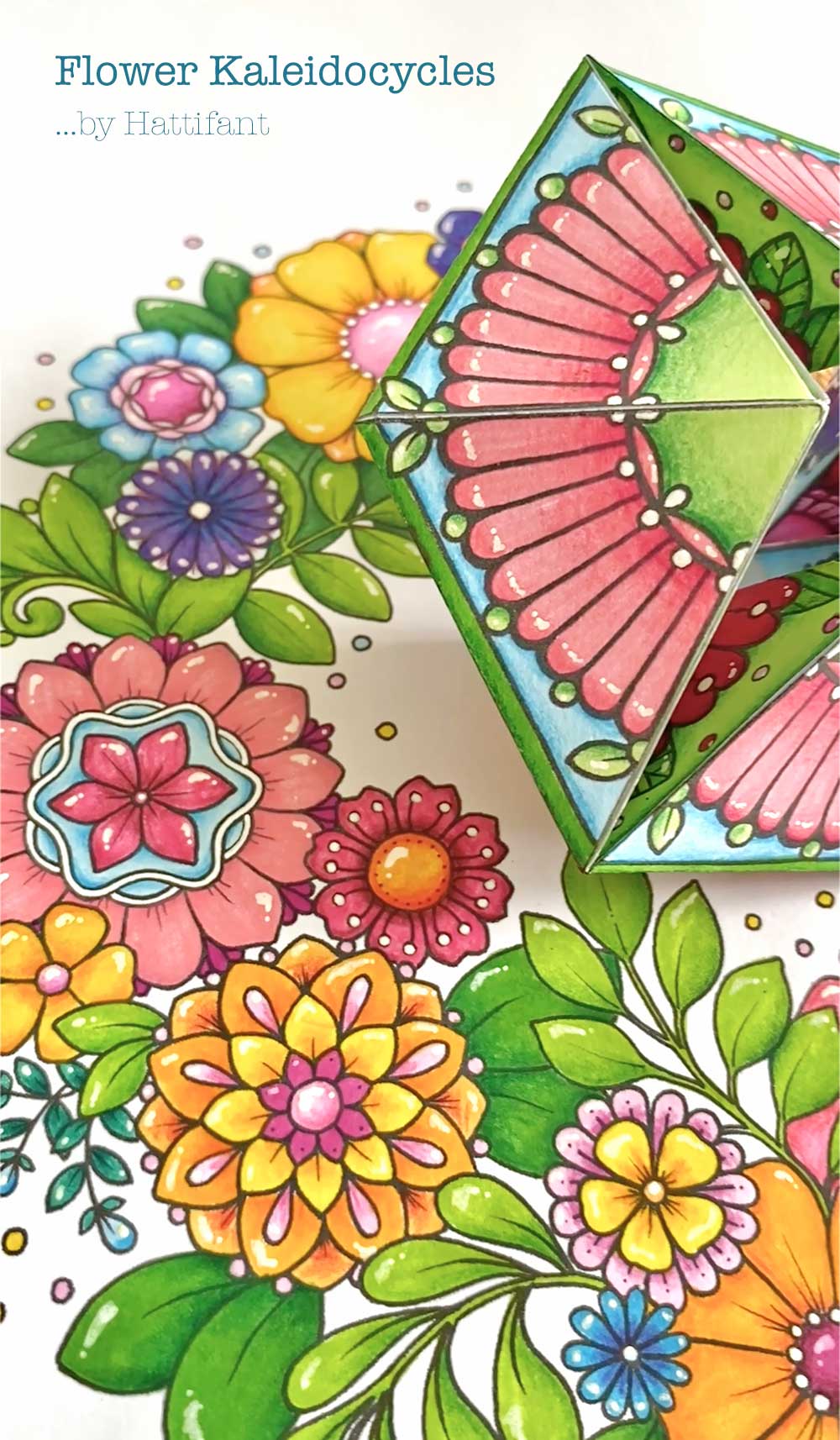 You love coloring Flowers but do not want to make a Kaleidocycle? Then check out these Flower Tangle Coloring Pages instead!
HOW TO MAKE YOUR OWN KALEIDOCYCLE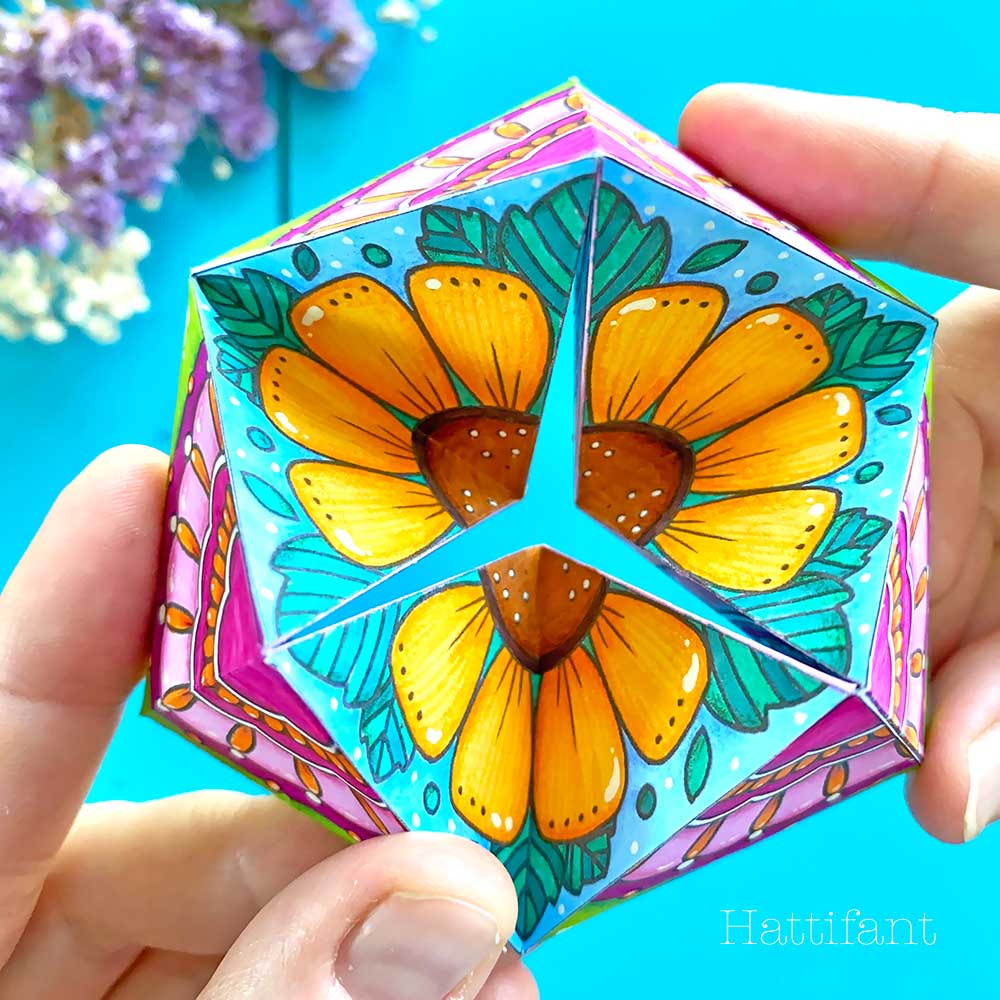 You will need:
printable (find turquoise DOWNLOAD BUTTON further below)
120gsm paper (normal computer paper is about 80gsm)
coloring pens
scoring tool and safety mat
scissors
glue/tape
Enjoy this Video Tutorial or follow the picture tutorial below.
And if you prefer non-moving images… tutorial in pictures for Kaleidocycle #1:
Get your template and enjoy some fun coloring time. You can also opt for the already colored version if you don't feel like coloring or you do not have enough time.
If you choose to download this Flower Kaleidocycle Paper Craft Bundle then you will also receive a detailed digital instruction booklet that explains everything in detail. It will be really easy to follow and make your own.
I tend to score all the lines that I will need to fold. It makes that process super easy and the folds are exactly where I want them to be. After scoring all the lines it is time to actually cut out the template. Then we will fold all vertical and diagonal lines that we scored.
When all lines are folded we can put the model into a 'snake' like form. Then we will add glue where suggested and glue the 'snake' shut.
Wait until dry and then we will connect both ends with each other. Again, we will need to add glue to the outlined area.
The part we added glue we slide into the opposite end of the paper model. So you will not see this part anymore when completed.
Then press gently onto the end so it can dry. If the kaleidocycle opens up again while playing then add some tape.
And done! You made your own Flower Kaleidocycle! Woohoo! Which one next?!
PRINTABLES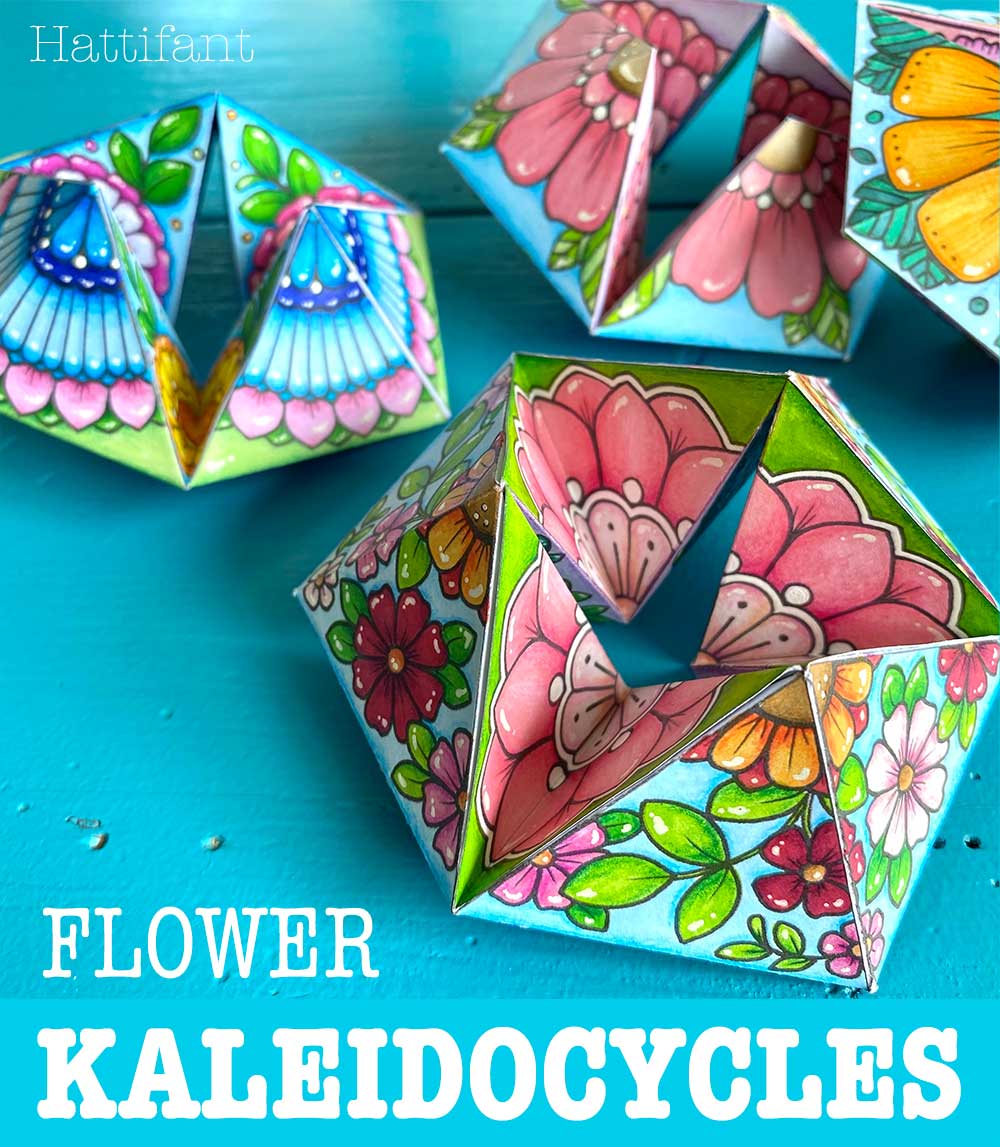 You will receive:
5 unique Flower Kaleidocycle designs to Color In + a blank version (to create your own designs!)
all 5 designs in also IN COLOR!
Instruction Booklet & links to posts & Video Tutorials
a BIG hello and Thank you!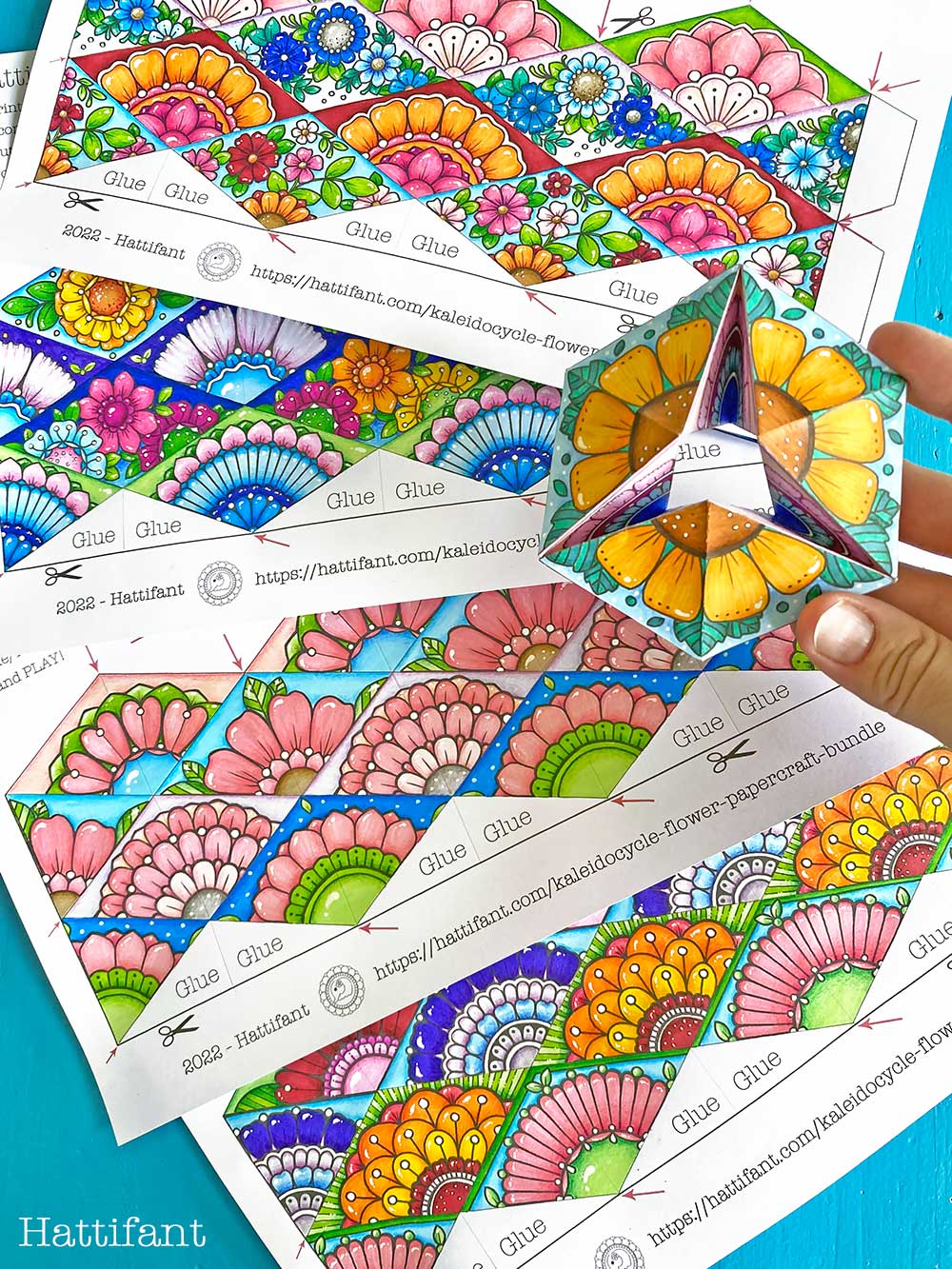 You are not sure and would like to try one Kaleidocycle first?! Then you can find a Freebie Spring Kaleidocycle here.
Wishing you a wonderful time coloring and crafting! Have a lovely Spring and Summer!
MORE from HATTIFANT:
You like Hattifant's designs, toys & décor? Why not FOLLOW Hattifant on Facebook or Instagram and always be up-to-date with Hattifant's latest adventures…
PERSONAL AND NON-COMMERCIAL USE LIMITATION
NO DIRECT LINKS TO PRINTABLES ALLOWED! Please kindly note that the use of the Hattifant Site and its services (e.g. downloads) offered, are for your personal and non-commercial use only. You may not publish, license or create derivative works (for commercial use) from, transfer, or sell any information, products, downloads or services obtained from the Services. Hattifant is the sole owner of all content on the Hattifant Site, unless stated otherwise. You may borrow pictures but always name the source and link to the Hattifant Site, please. It would be lovely if you sent an email to manja(at)hattifant(dot)com in this case. Thank you!