Inspirational 3D Spring Flower & Butterfly Bookmarks
We are slowly waving good bye to Winter and hello to yet another change of season: SPRING! It is the beginning of a new year, the beginning of so many firsts… We reflect the past and set goals anew. I would love to share these Inspirational 3D Spring Flower & Butterfly Bookmarks with you to inspire and encourage you to reach the desired.
Aren't they beautiful? Have a look at them from a different angle!
I created three bookmarks for you: the first – a butterfly on a flower with the inspiring words fly & trust. The second a flower opening up with a little bee. This bookmark carries the words dream & believe. And the third bookmark – a flower that turns butterfly and reads imagine & inspire.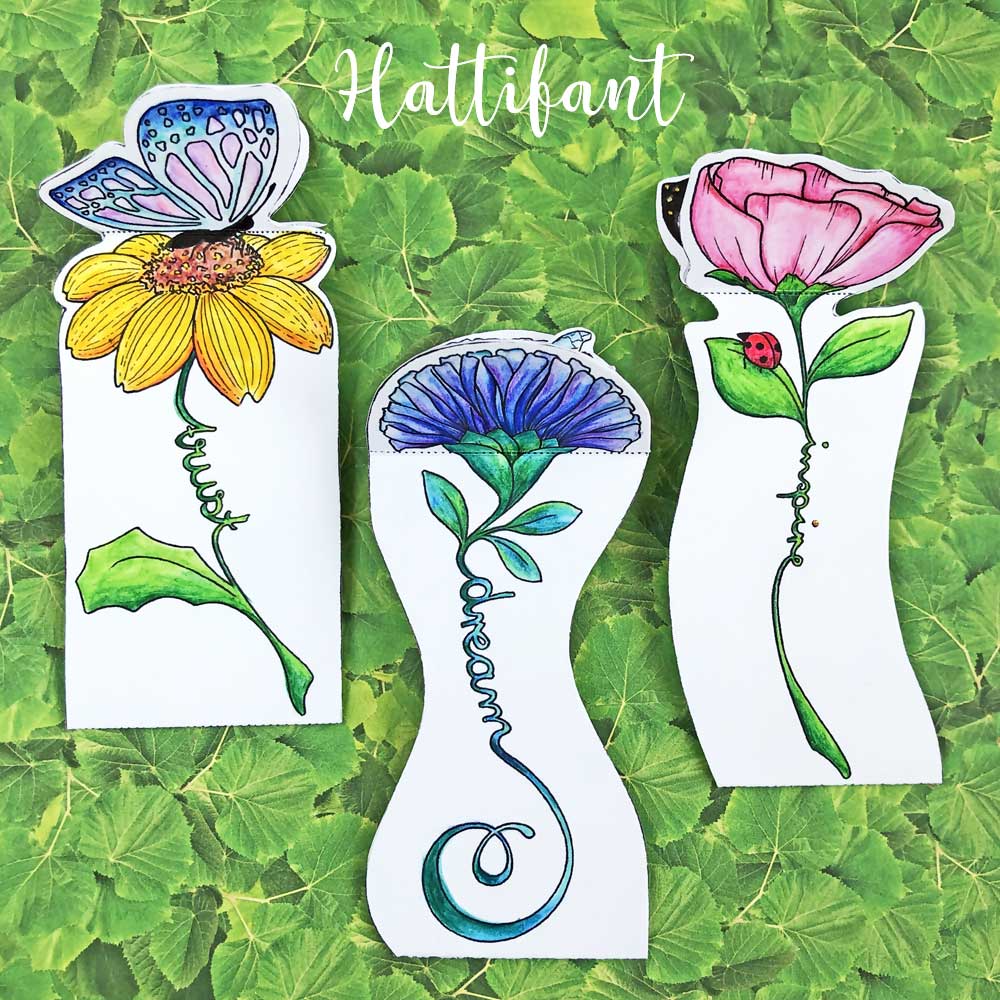 HOW TO:
I designed the template to make it really easy for you to turn a sheet of paper into a 3D bookmark.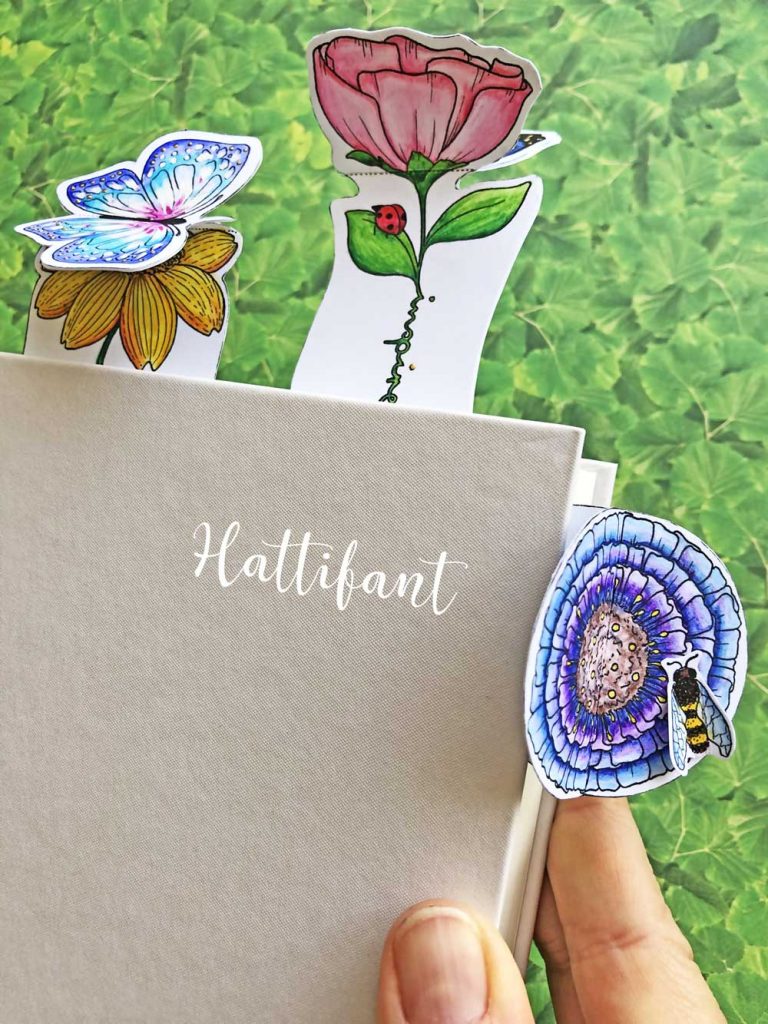 YOU WILL NEED:
template (see link below)
scissors
safety mat
scoring tool
ruler
glue
coloring pens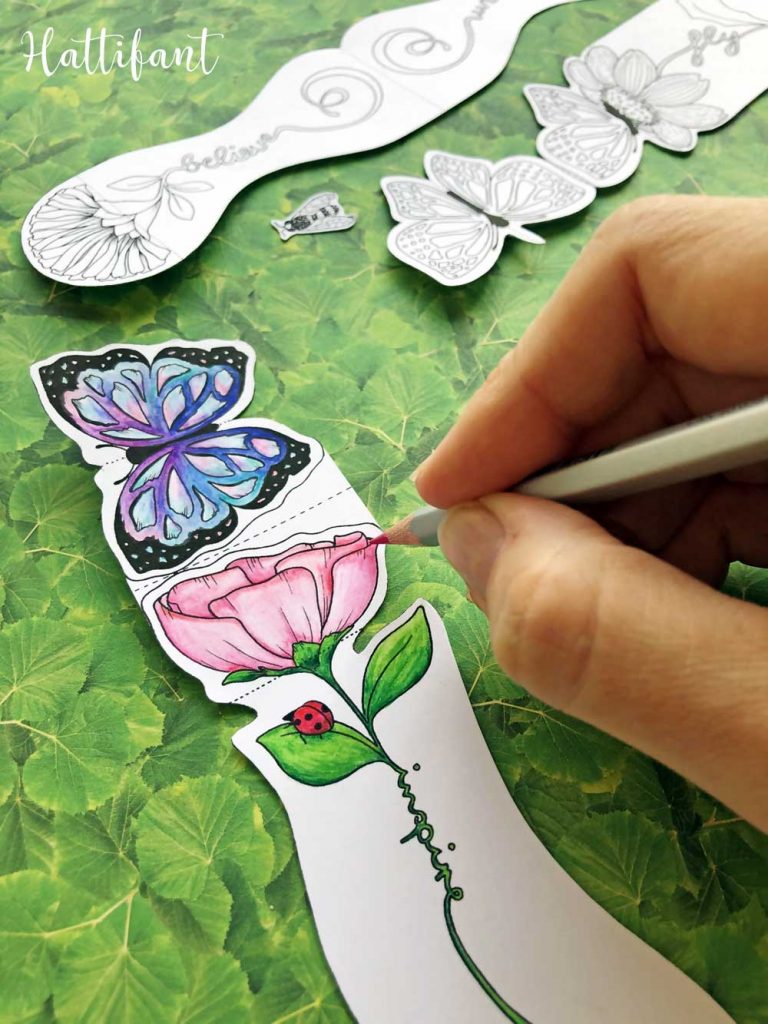 Color and cut out the bookmark. Score all necessary lines and glue the bookmark together. In the instruction included with the purchased printable I explain everything in detail and with many more pictures.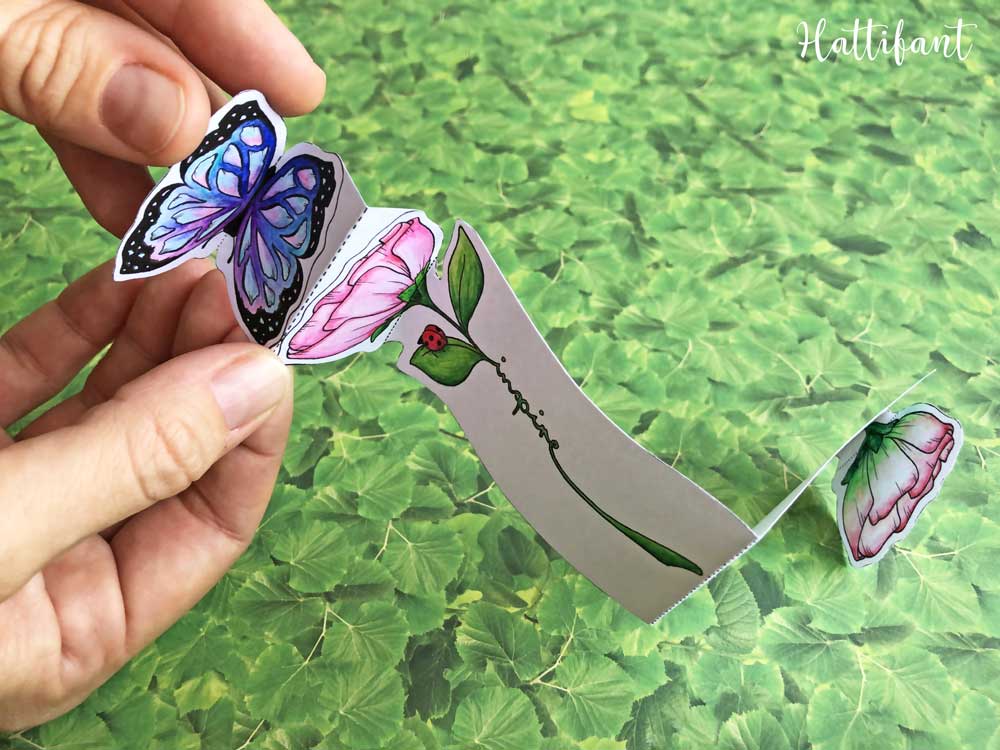 If you craft the bookmark with the flower and bee then also cut out the little bee and bend its wings upward.
Add glue to the main body of the bee and attach to flower.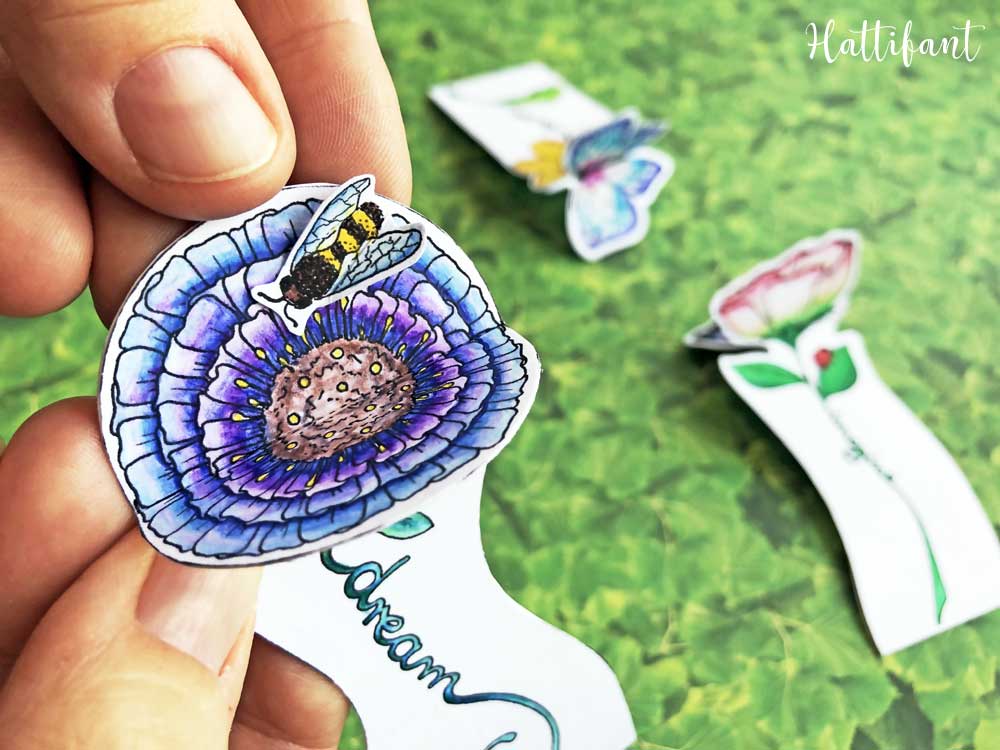 PRINTABLE: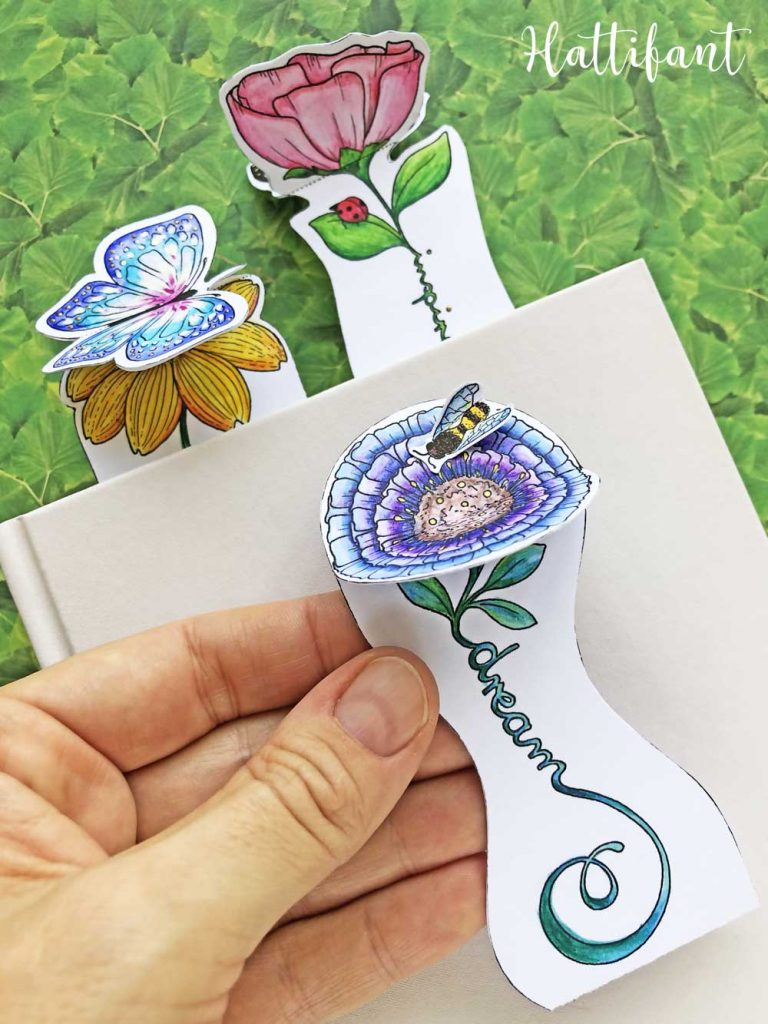 You will receive the template for all three bookmarks in black and white for you to color in plus an instruction PDF file which explains in detail how to create your own Inspirational 3D Spring Flower & Butterfly Bookmarks.
or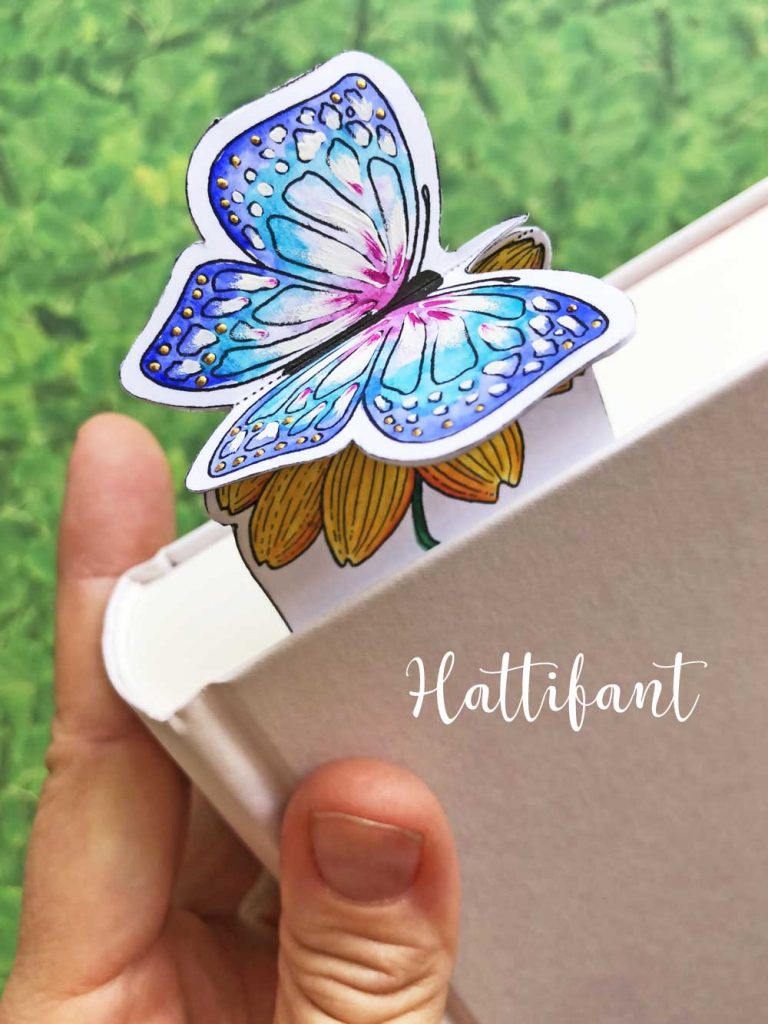 Enjoy this craft and feel free to explore many more of Hattifant's Spring Paper Crafts: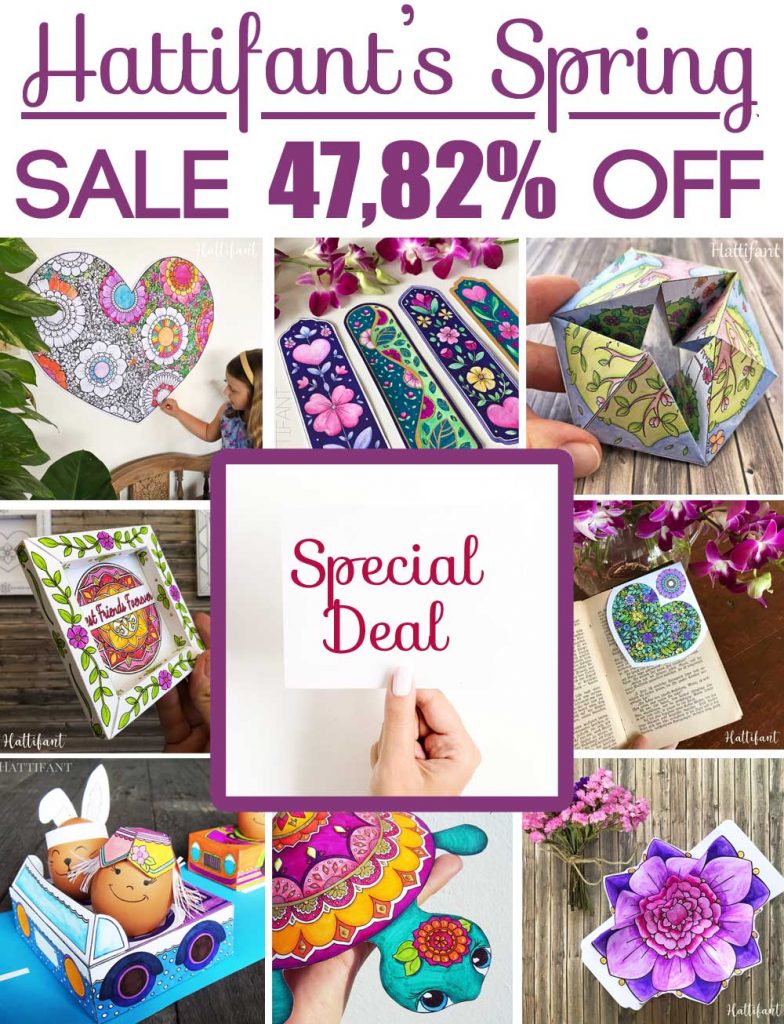 You like Hattifant's designs, toys & décor? Why not LIKE Hattifant on Facebook and always be up-to-date with Hattifant's latest adventures…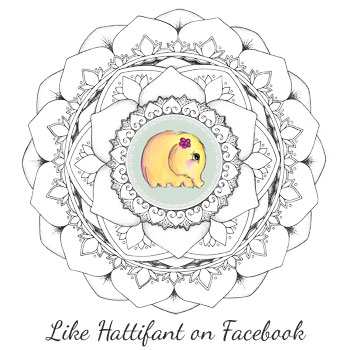 PERSONAL AND NON-COMMERCIAL USE LIMITATION
NO DIRECT LINKS TO PRINTABLES ALLOWED! Please kindly note that the use of the Hattifant Site and its services (e.g. downloads) offered, are for your personal and non-commercial use only. You may not publish, license or create derivative works (for commercial use) from, transfer, or sell any information, products, downloads or services obtained from the Services. Hattifant is the sole owner of all content on the Hattifant Site, unless stated otherwise. You may borrow pictures but always name the source and link to the Hattifant Site, please. It would be lovely if you sent an email to manja(at)hattifant(dot)com in this case. Thank you!