Coloring Pages | Flower Tangles
Hello Spring and hello to all the new leaves, blossoms and flowers out there. Let's celebrate this change of Season with a new Coloring Page Bundle. Here are Hattifant's Flower Tangles Coloring Pages for you!
(This post may include affiliate links, which means if you click on a link and purchase an item, I will receive a small commission at no additional cost to you.)
You might remember sharing a little sketch with you! It has been such a joy creating these pages.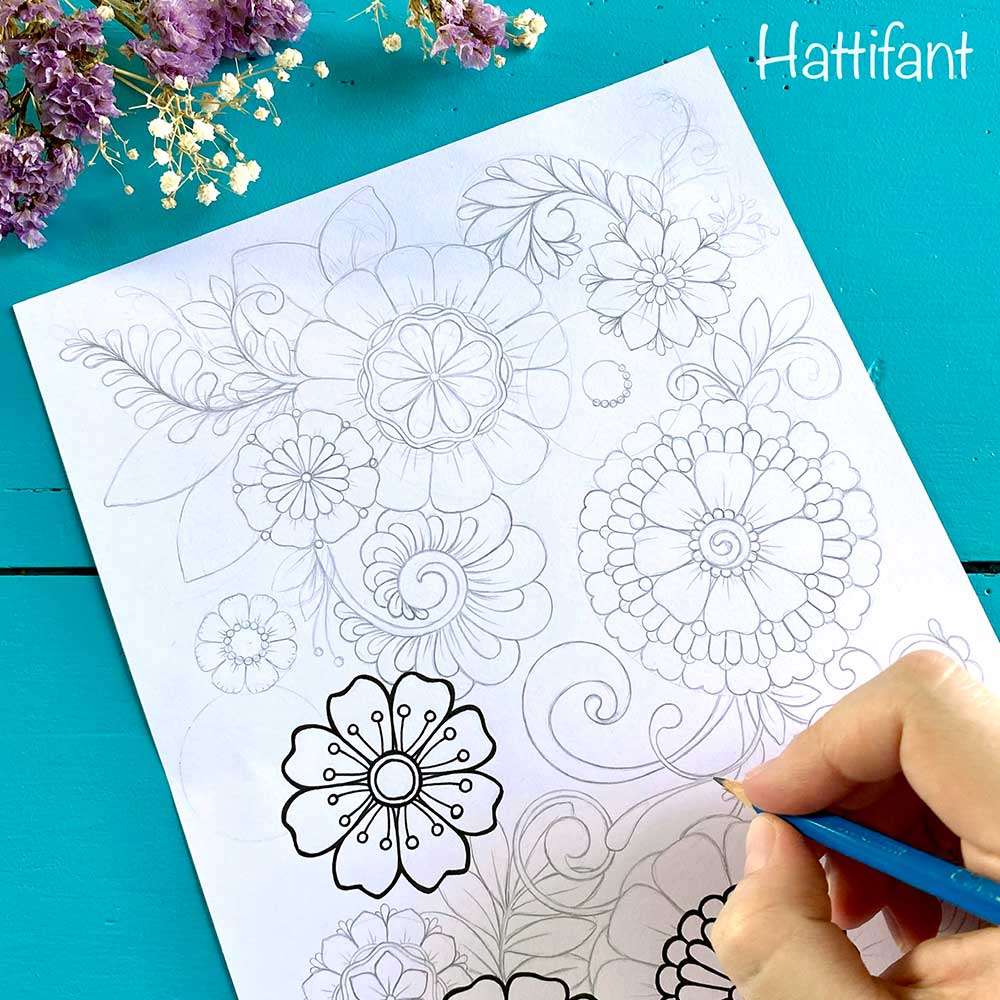 With this Coloring Page Bundle you will receive three unique Flower Coloring Pages that I created for you.
I also created a Flower Wreath, perfect for Spring!
And for the third Flower Coloring Page I chose to draw a Jar filled with Flowers.
Many of you ask what Coloring Pens and Pencils I use! I love to color first with a felt pen. My favorite go to pen for this are Koi Coloring Brush Pens from Sakura. I then shade with Aquarell Pencils. They work like any other coloring pencil. You gently shade and then you can add a little water. It also looks really nice when adding little shimmering marks with a white gel pen!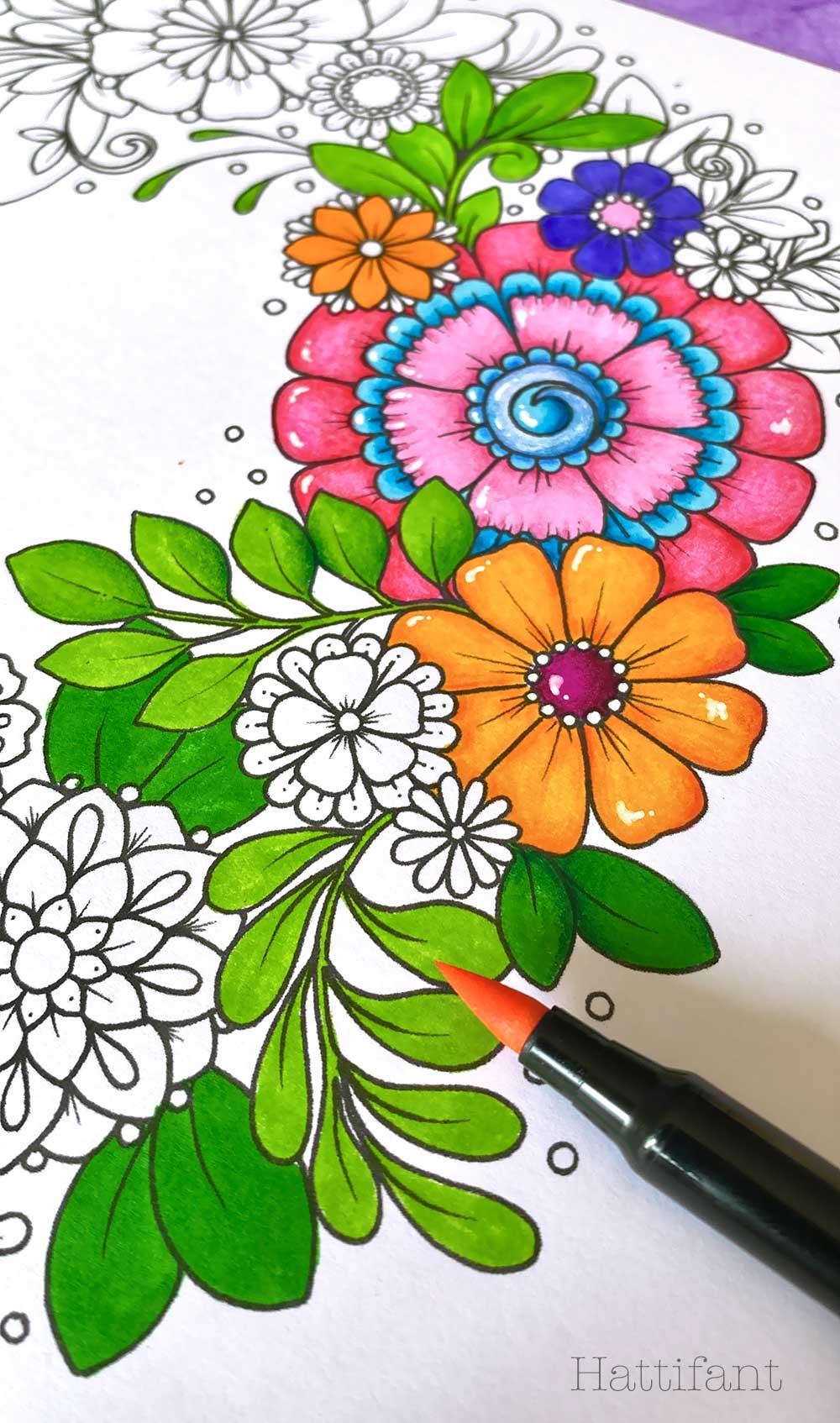 In this Coloring Page Bundle are included:
3 unique Flower Tangled Coloring Pages (Flower Tangles, Wreath and Jar)
These 3 illustrations also as Post Cards for your to send to loved ones.
BONUS: another Flower Tangle Coloring Page as well as Post Card with the wordings

"You are loved!"
"Thank You!"
"Miss You"
"Get better soon!"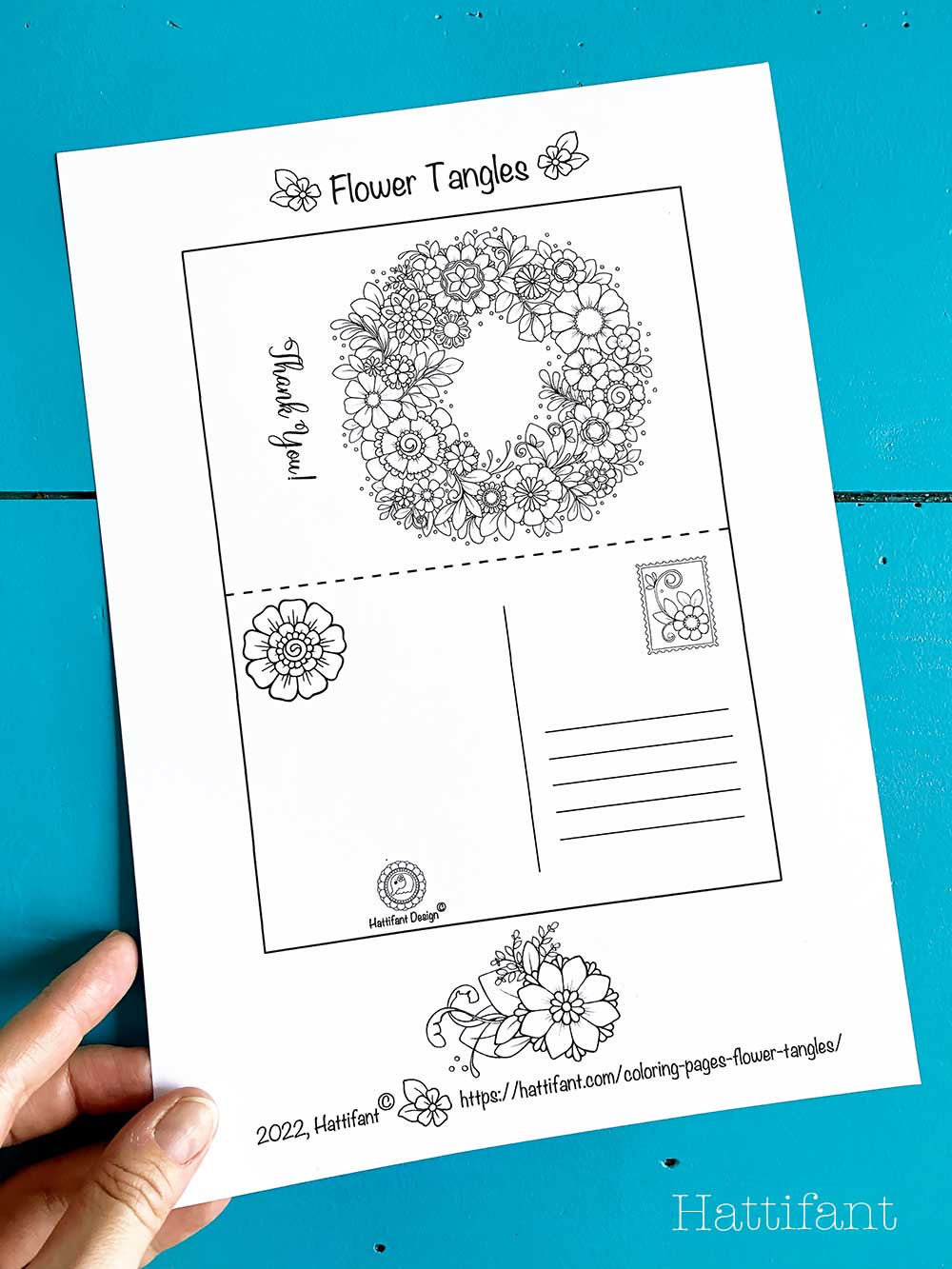 And a quick sneek peak into our Bonus:
Have the most of fun coloring these beautiful pages. Wishing you all a wonderful Spring Season! And remember:
"In a world where you can be anything, be KIND!"
More Flower Crafts:
You like Hattifant's designs, toys & décor? Why not FOLLOW Hattifant on Facebook or Instagram and always be up-to-date with Hattifant's latest adventures…
PERSONAL AND NON-COMMERCIAL USE LIMITATION
NO DIRECT LINKS TO PRINTABLES ALLOWED! Please kindly note that the use of the Hattifant Site and its services (e.g. downloads) offered, are for your personal and non-commercial use only. You may not publish, license or create derivative works (for commercial use) from, transfer, or sell any information, products, downloads or services obtained from the Services. Hattifant is the sole owner of all content on the Hattifant Site, unless stated otherwise. You may borrow pictures but always name the source and link to the Hattifant Site, please. It would be lovely if you sent an email to manja(at)hattifant(dot)com in this case. Thank you!