Flowers & Heart Explosion Cards to Color
Squeak… Spring is dear and Valentine's Day near! Teehee, yeap I know I am not famous for my rhymes. Apologies… but how excited am I to show you my new Pop Up Card Paper Craft: Flowers and Heart EXPLOSION CARDS!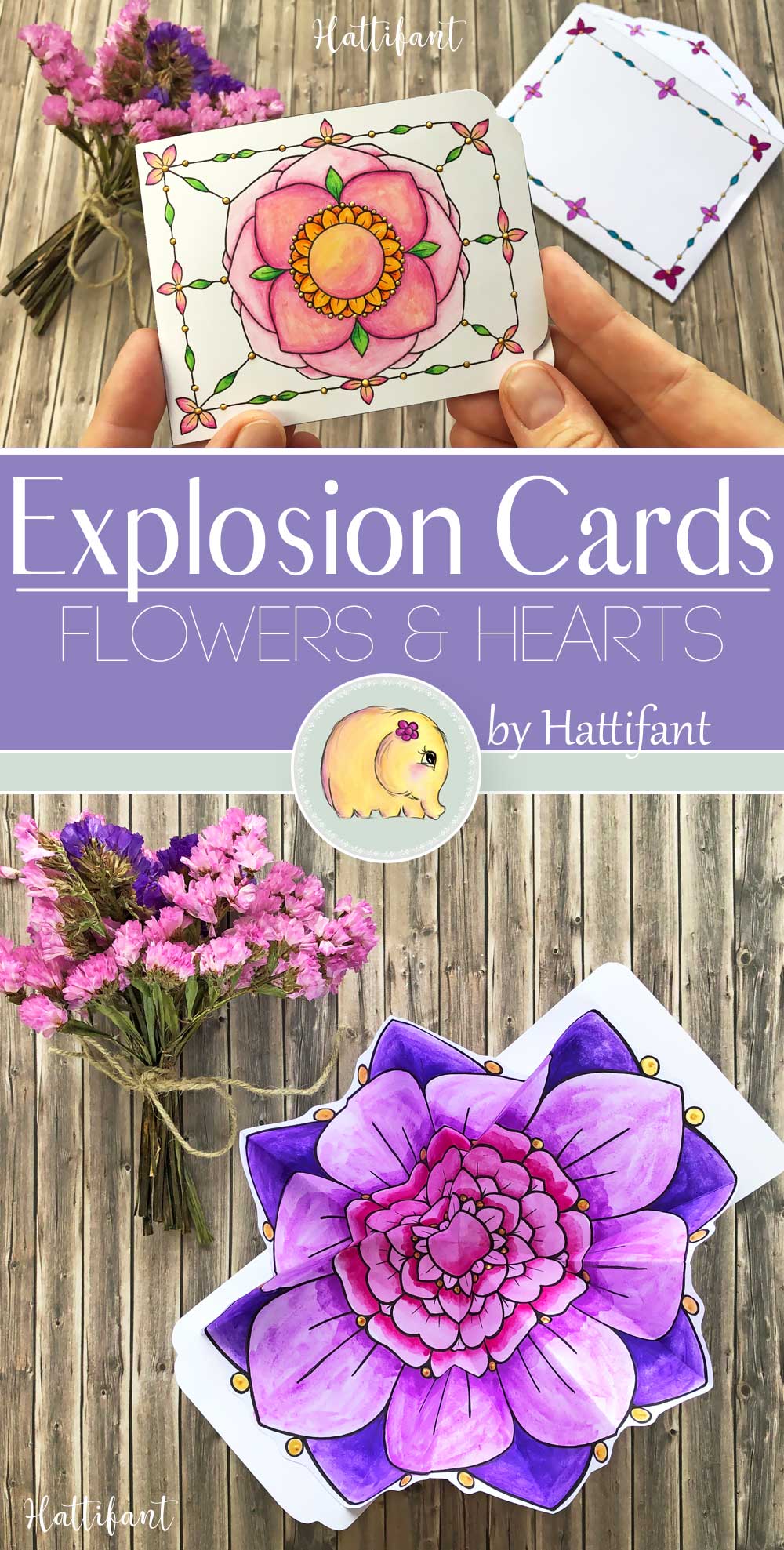 These are cards for you to color and then put together. I created four flower ones and a heart one. If you scroll down you can also see the cards in action! I have created video tutorials for you to easily follow along as we make a card together!
NEW: Now also available – EASTER Explosion Cards! Find out more HERE!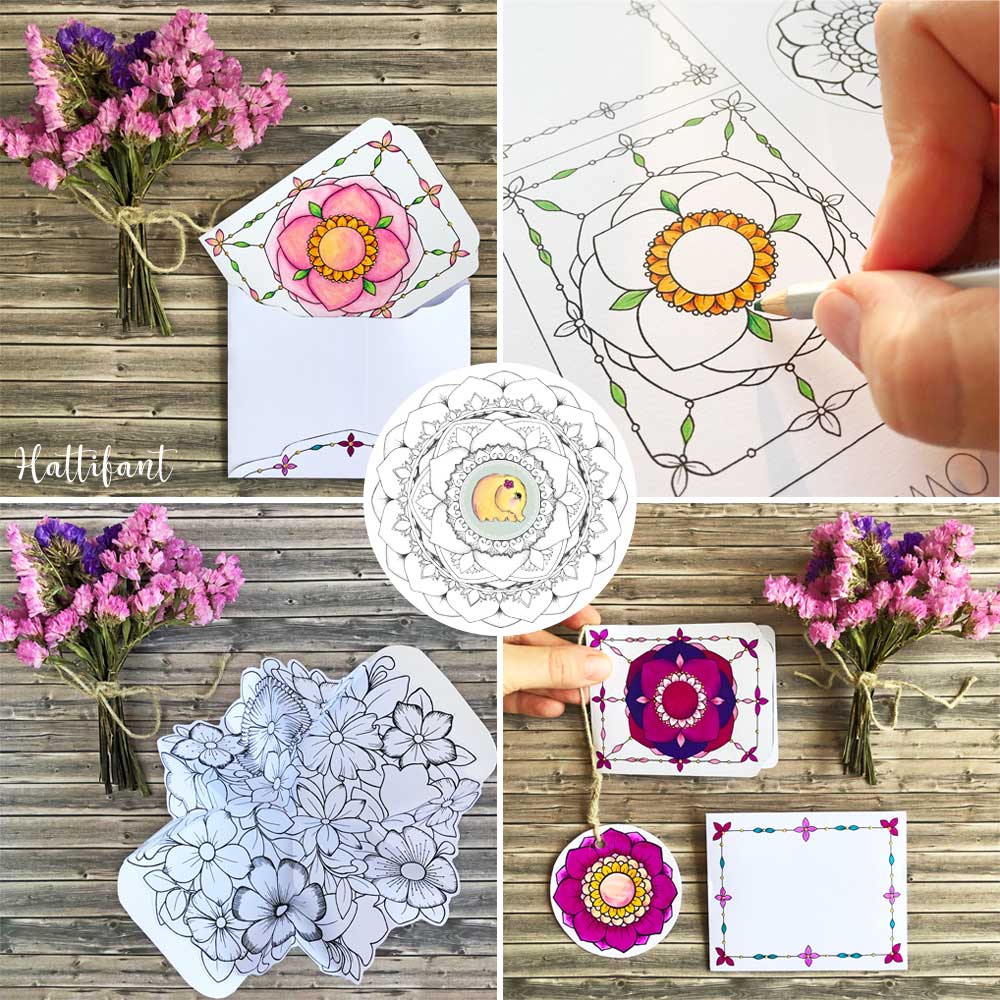 Of course, I also created a gorgeous card, envelope and gift tag for this Flowers and Heart Explosion Card bundle! The gift tag I used in two different ways – one as gift tag to add to the ribbon when the card is in the envelope. And 2nd hanging off the card itself which I really quite like.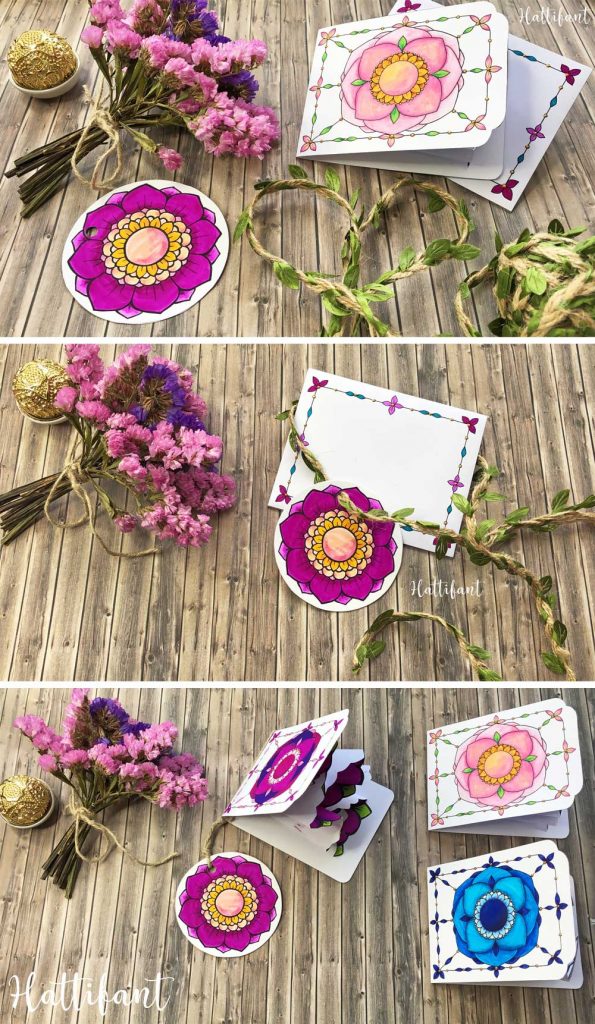 There is plenty to color and once again to experiment with different media – I tried out my Aquarell water color pencils, gel pens as well as Koy Coloring Brush Pens.
Let me show you what the card looks from the outside in full: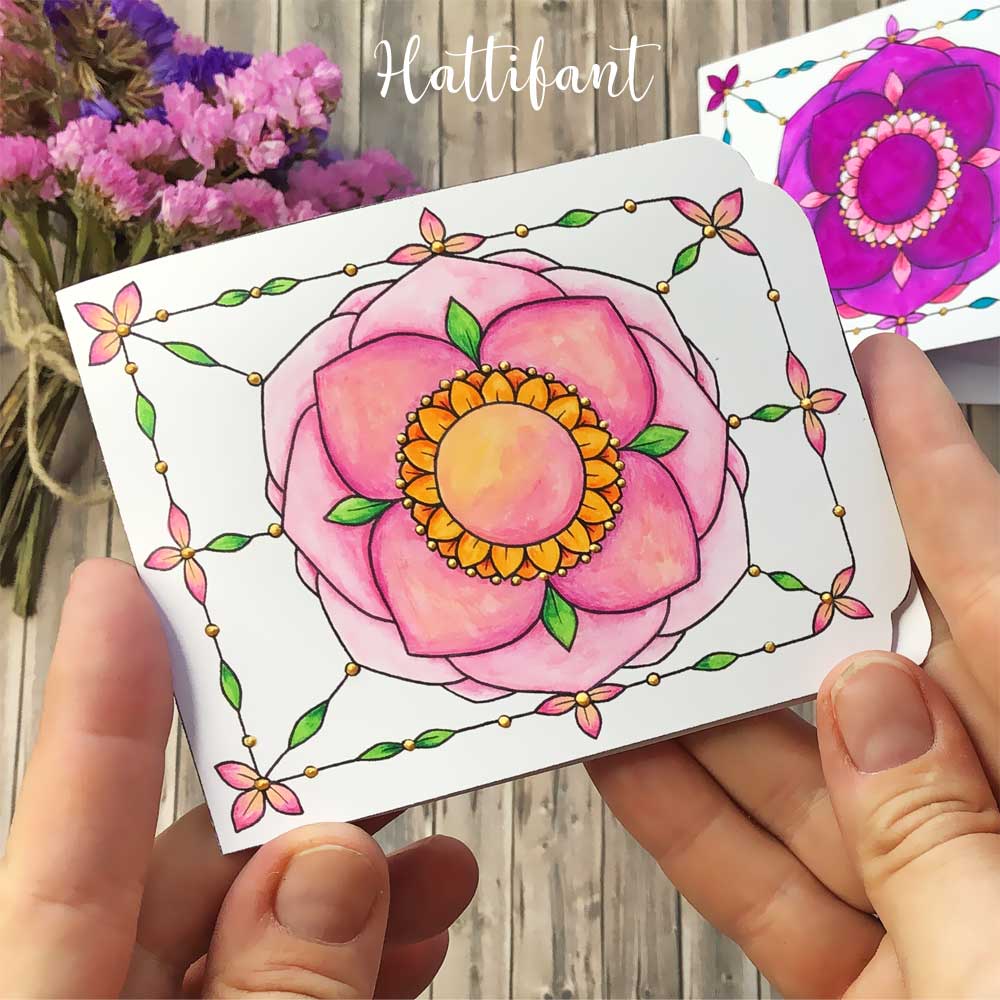 On the back of the card is space to add your personal message!

I created 3 different Mandala Flowers and one bunch of flowers for you. The Heart version is available with:
Happy Valentine's Day
Happy Birthday
Happy Mother's Day
I love you
Love you
and without words
HOW TO | Video Tutorial
Paper choice: I printed the inner part (e.g. flower or heart) on normal computer paper (80gsm), the envelope on a bit stronger paper (120gsm) and the card itself & gift tag on heavier paper (180gsm).
But let me show you the cards of this Flowers and Heart Explosion Card Bundle in action and how to make them.
For the Heart and Flower Bouquet Explosion Cards please watch this Tutorial:
More videos for these Flowers and Heart Explosion Cards are available on YouTube.
PRINTABLES
You can choose either Gumroad or Etsy to download the Flower & Heart Explosion Card Paper Craft Bundle from! Find the links just below this picture!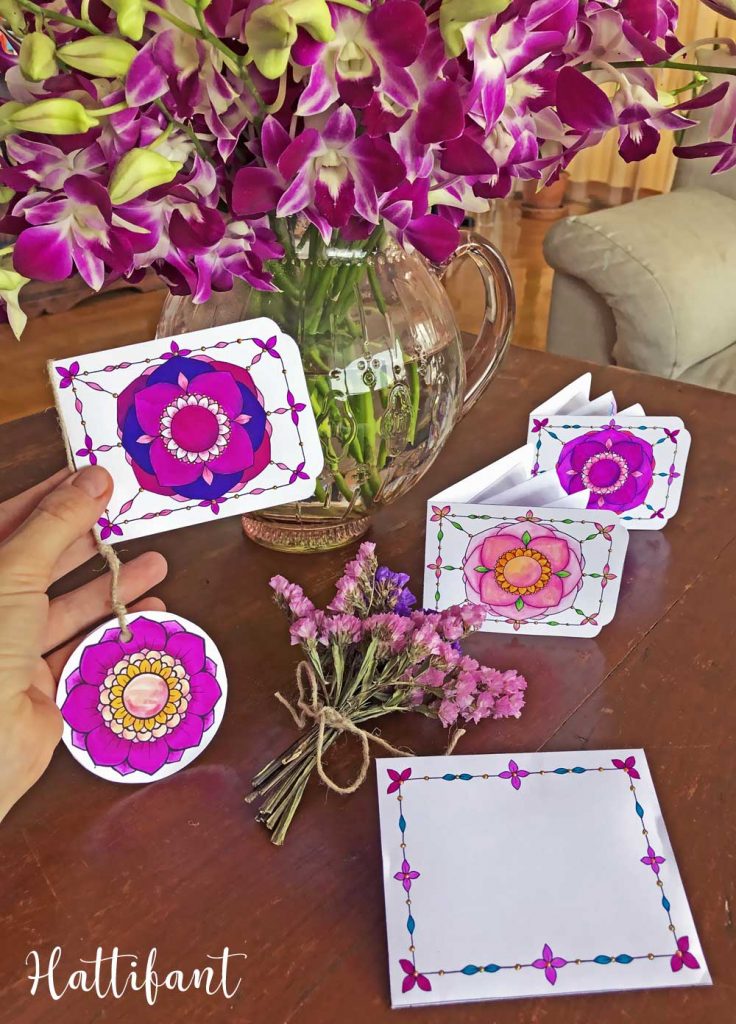 You will receive:
4 Flower templates
6 Heart templates (same heart but different wording – see above)
Card & gift tag template
Envelope template
Instruction Booklet (Picture Tutorial) as well as Video Tutorials
I am wishing you an amazing time coloring and crafting and even more so gifting these cards to loved ones!
MORE Hattifant Crafts:
GIANT Flower Filled Heart Poster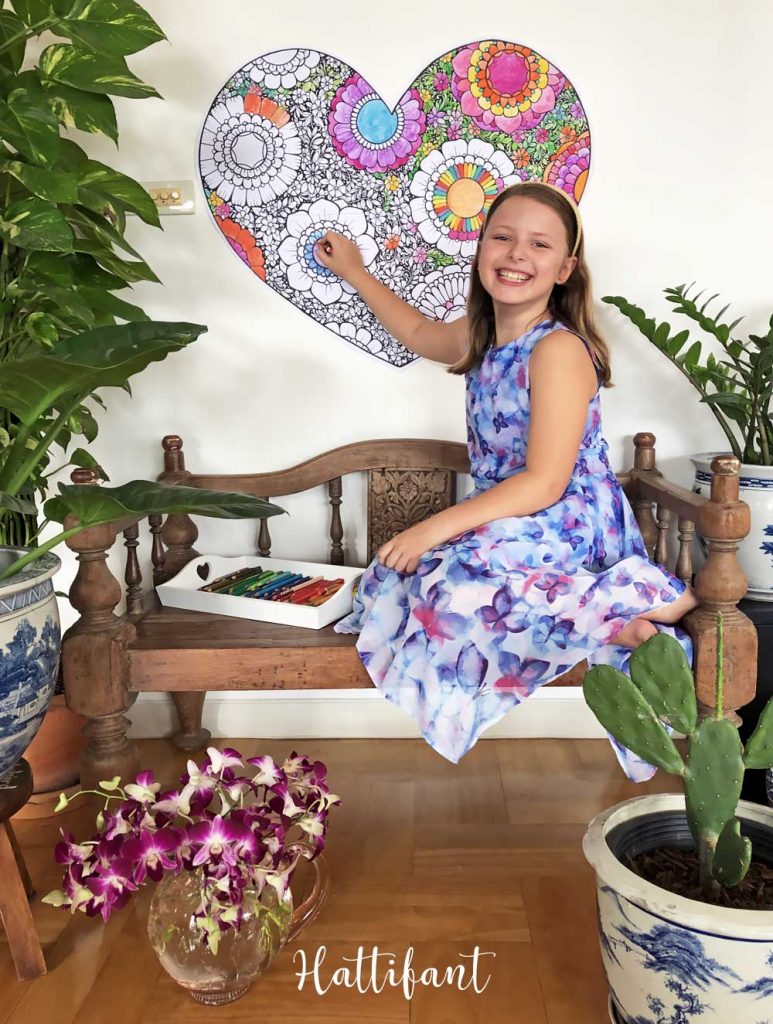 4 Seasons Paper Craft Bundle
3D Frame Set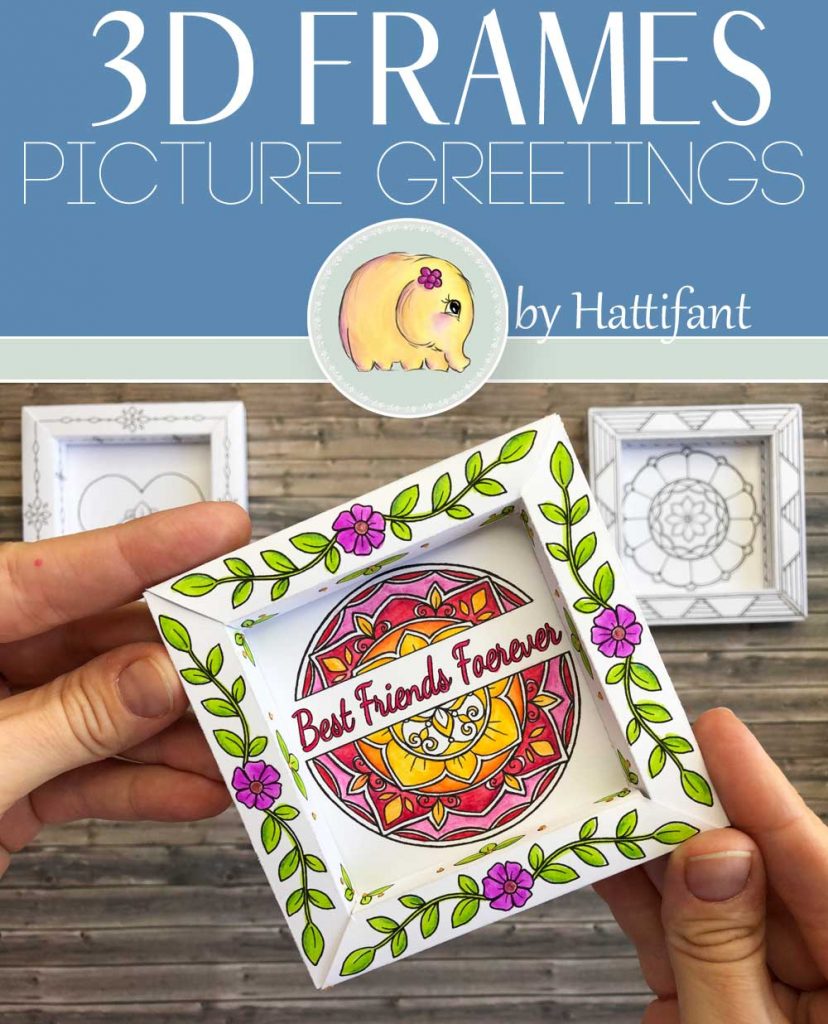 You like Hattifant's designs, toys & décor? Why not LIKE Hattifant on Facebook and always be up-to-date with Hattifant's latest adventures…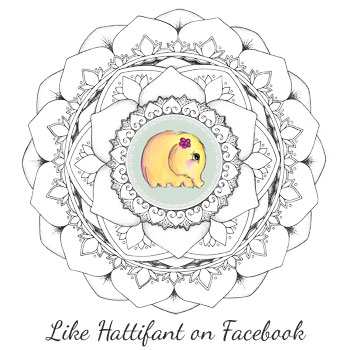 PERSONAL AND NON-COMMERCIAL USE LIMITATION
NO DIRECT LINKS TO PRINTABLES ALLOWED! Please kindly note that the use of the Hattifant Site and its services (e.g. downloads) offered, are for your personal and non-commercial use only. You may not publish, license or create derivative works (for commercial use) from, transfer, or sell any information, products, downloads or services obtained from the Services. Hattifant is the sole owner of all content on the Hattifant Site, unless stated otherwise. You may borrow pictures but always name the source and link to the Hattifant Site, please. It would be lovely if you sent an email to manja(at)hattifant(dot)com in this case. Thank you!