GIANT Poster | 'Mandalas' to Color
We had so much fun coloring the Giant Nativity Christmas Tree Poster and Nutcrackers during the colder months that I couldn't resist looking for a more evergreen theme like Hattifant's beloved Mandalas! Join me in this new coloring adventure with my latest Giant Poster 'Mandalas'.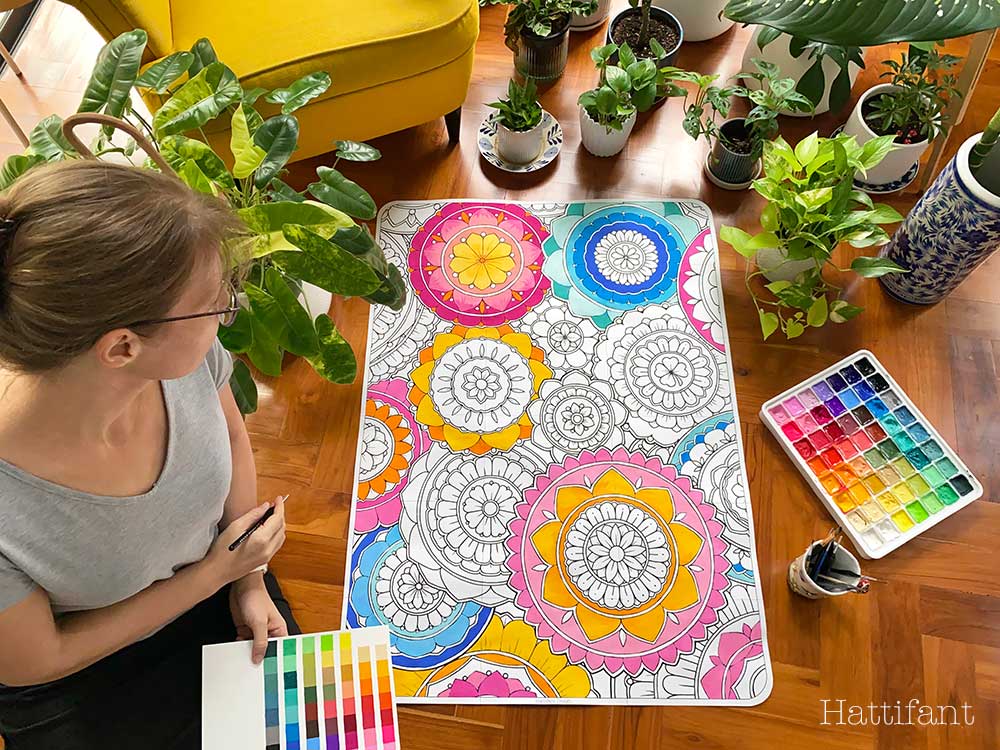 (This post may include affiliate links, which means if you click on a link and purchase an item, I will receive a small commission at no additional cost to you.)
Many of you follow either my Facebook or Instagram posts. (Please do subscribe if you haven't yet.) When I shared a picture of the half way colored poster you loved it and were asking to color it, too. I stopped painting realizing it would be so much more fun to color together with you and sharing each other's progress. So in order for you to do so let me explain how Hattifant's beloved GIANT Posters work and how you can easily print them at home!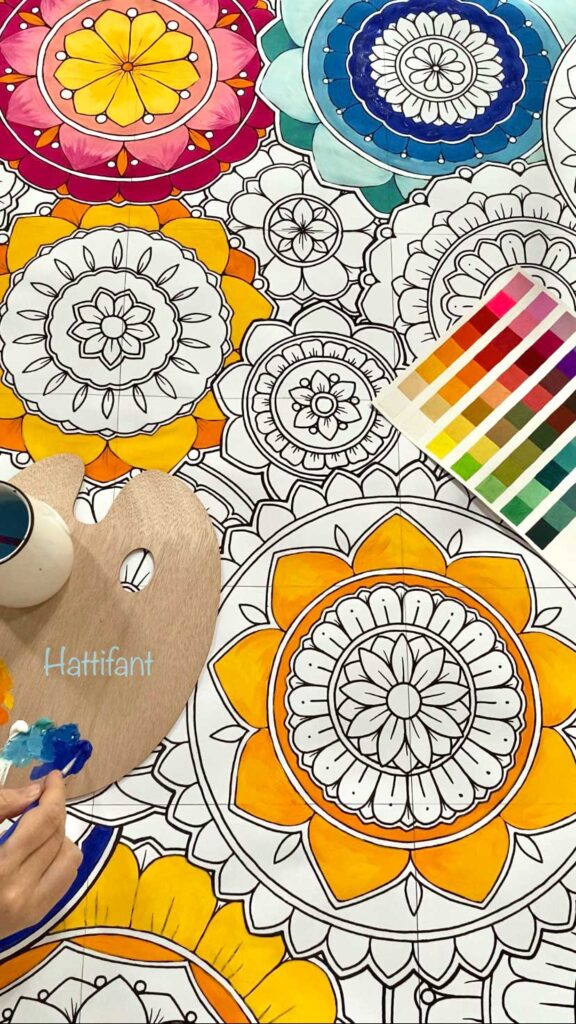 For those who know it all already and you simply want to go ahead and download to get started please follow the links here to your preferred online shop:
HOW TO MAKE
The Giant Poster will measure appr. 78x108cm (30x42in). And it is 18 pages big! So how to make your own Giant Poster 'Mandalas' that you can then color? Without stress and worries! Hattifant's Giant Posters are really easy to put together! You can print them with your home printer or at school. You will be downloading 18 pages for this Giant Mandala Poster, print them, cut out the templates and then glue them together. It is really all very easy and no puzzle exercise. Every single page will tell you exactly who it wants to be neighbor with.
First step to take: Head over to Gumroad or Etsy and get your own Giant Poster 'Mandalas' Paper Craft Bundle. Download the PDF files and print Part 1 and 2 which includes all 18 pages that make up the poster. Then get your scissors ready because we have to trim the pages a little to be able to glue them together.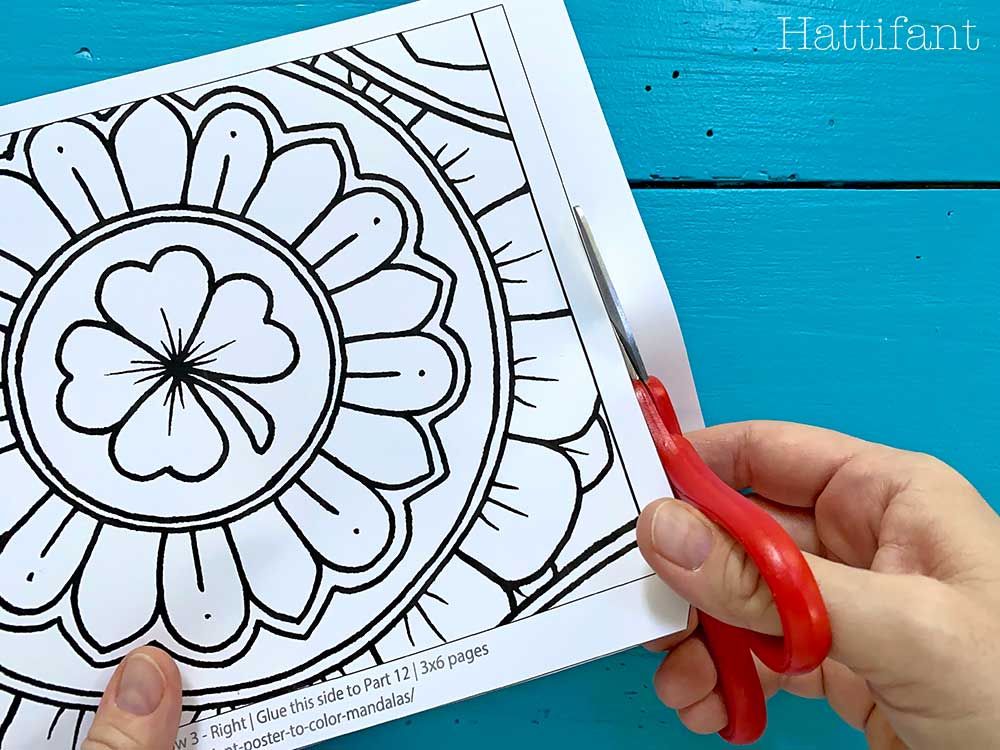 Find yourself a bigger surface (e.g. dining table, floor) and lay out the individual pages that will make up the poster. Make sure they are all in the right order and that none is missing either. You never know… maybe your printer got hungry or just didn't want to spit out one of the pages.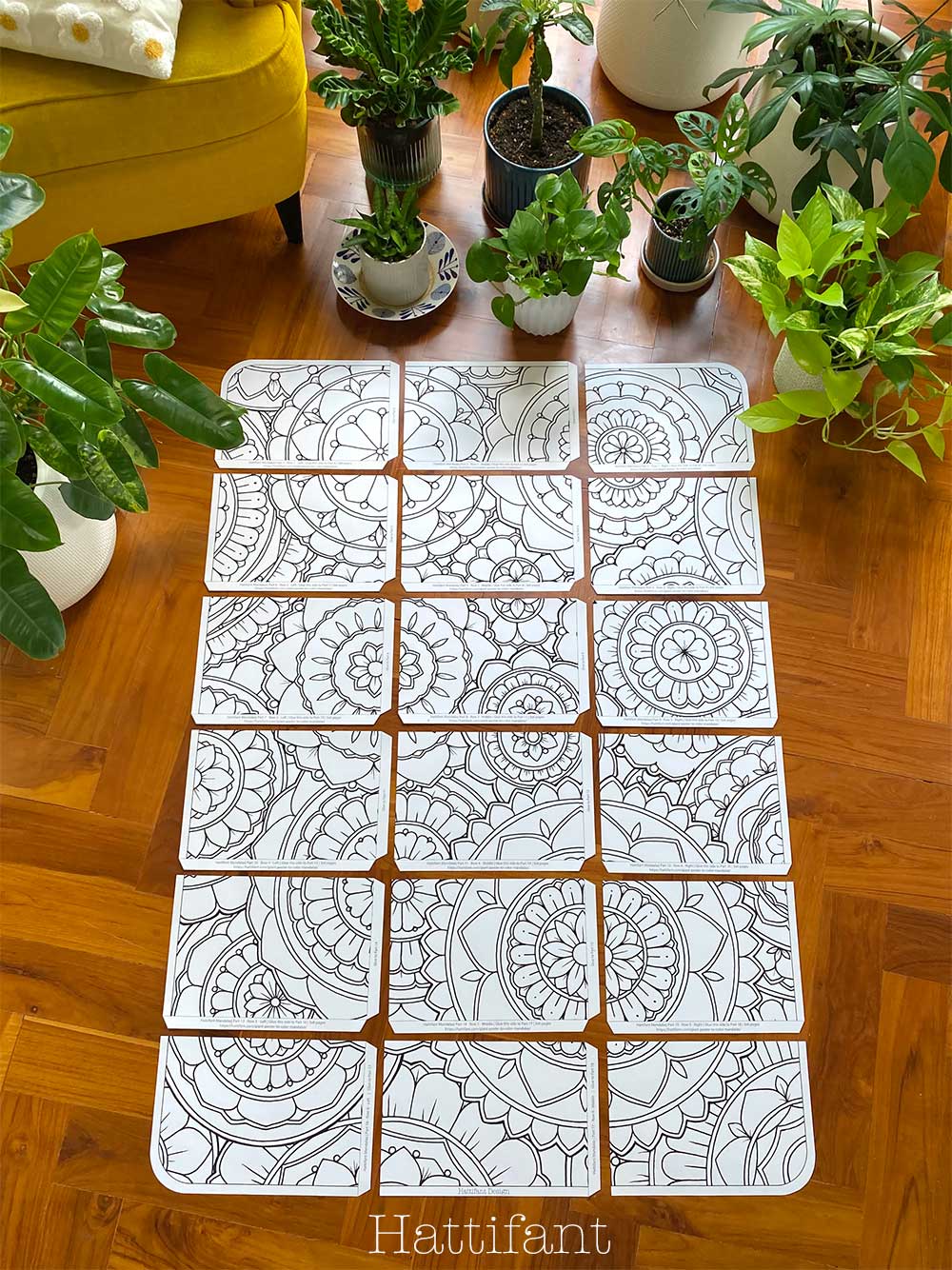 Almost done! All that is left now is to glue the pages together. Start off in the upper left hand corner and work your way down from page 1 to page 18.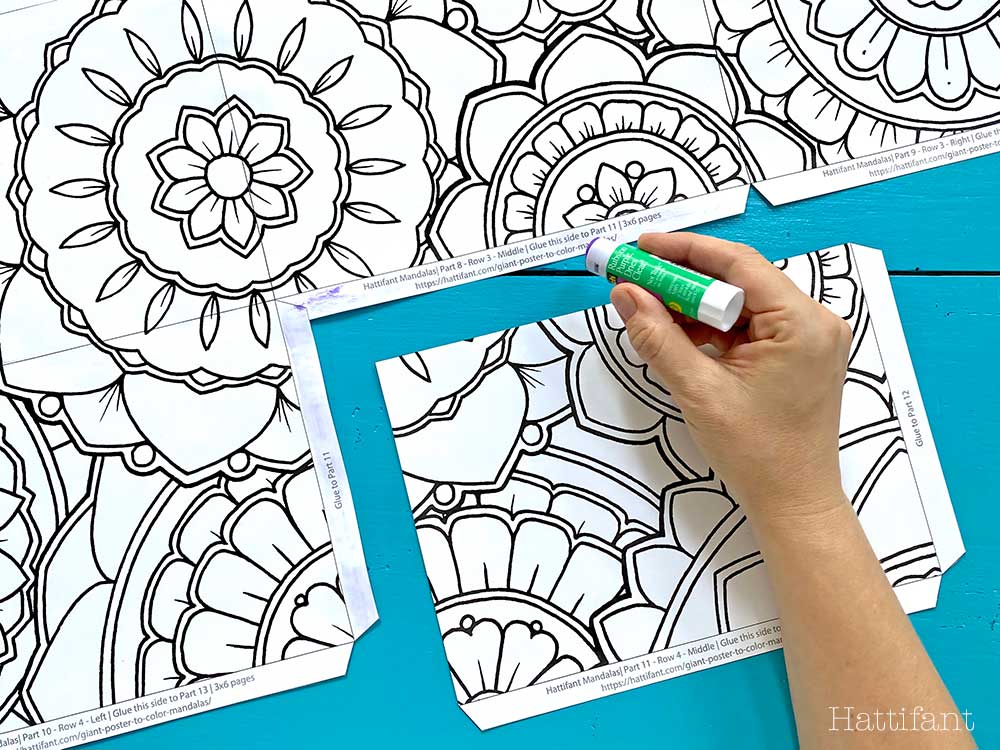 Finished! Woohoo!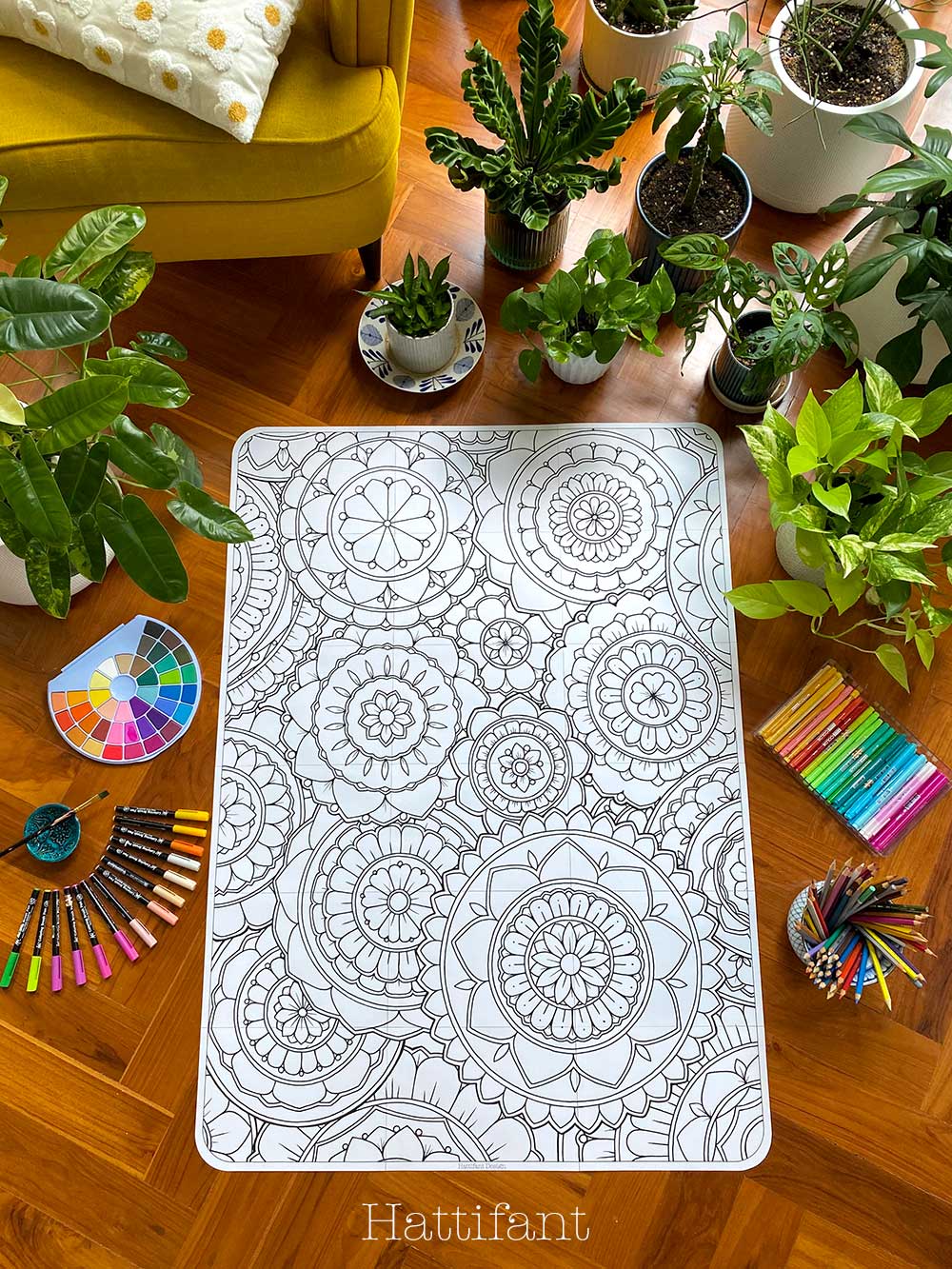 Time to get all your paints, pens & pencils and possibly acrylic paint markers out! I wish you the most of fun coloring this Giant Poster 'Mandalas' together with your friends and family! I cannot wait to see the first pictures coming in and see how you painted it!!!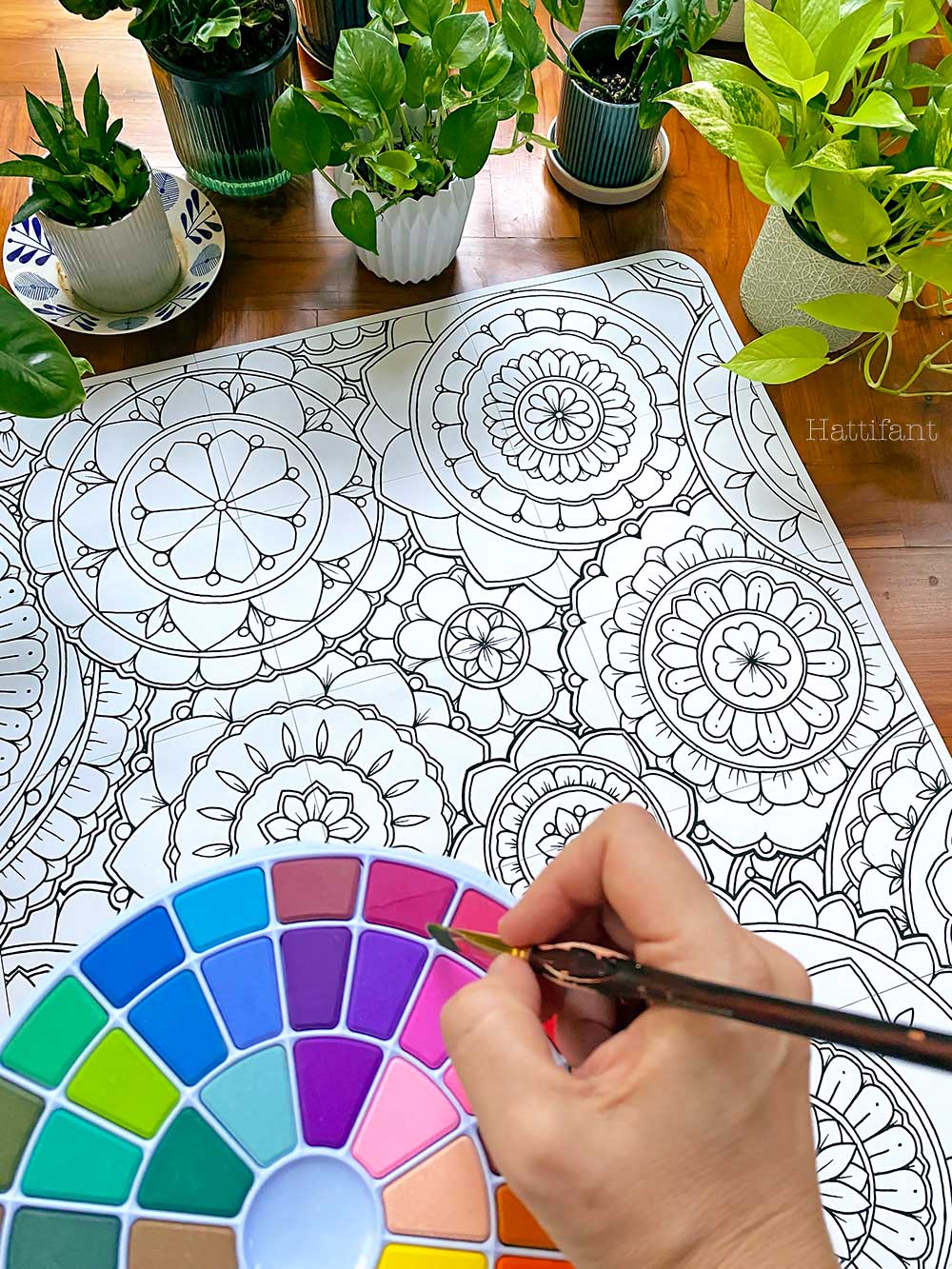 Here are some moving images to support the above 🙂
HOW TO in short:
download the Giant Poster 'Mandalas',
print out PDF files on 120-180 gsm paper,
cut out individual pages,
glue pages together to one big GIANT Poster,
COLOR!
I started coloring my poster already and used Gouache paints this time and must say I LOVE gouache paints! It is very likely that these paints are slowly turning into my favorite medium for coloring larger surfaces.
I usually head straight for my most favorite media: Koi Coloring Brush Pens from Sakura (I am not affiliated with Sakura. Just absolutely love their brand). Then I always love to add more 3D effects and shade with Aquarell Pencils. They work like any other coloring pencil. You gently shade and then you can add a little water. With the poster here normal coloring pens will do just fine also. The poster is just sooo big! 🙂
Explore some more Fabulous Art Must Haves.
PRINTABLES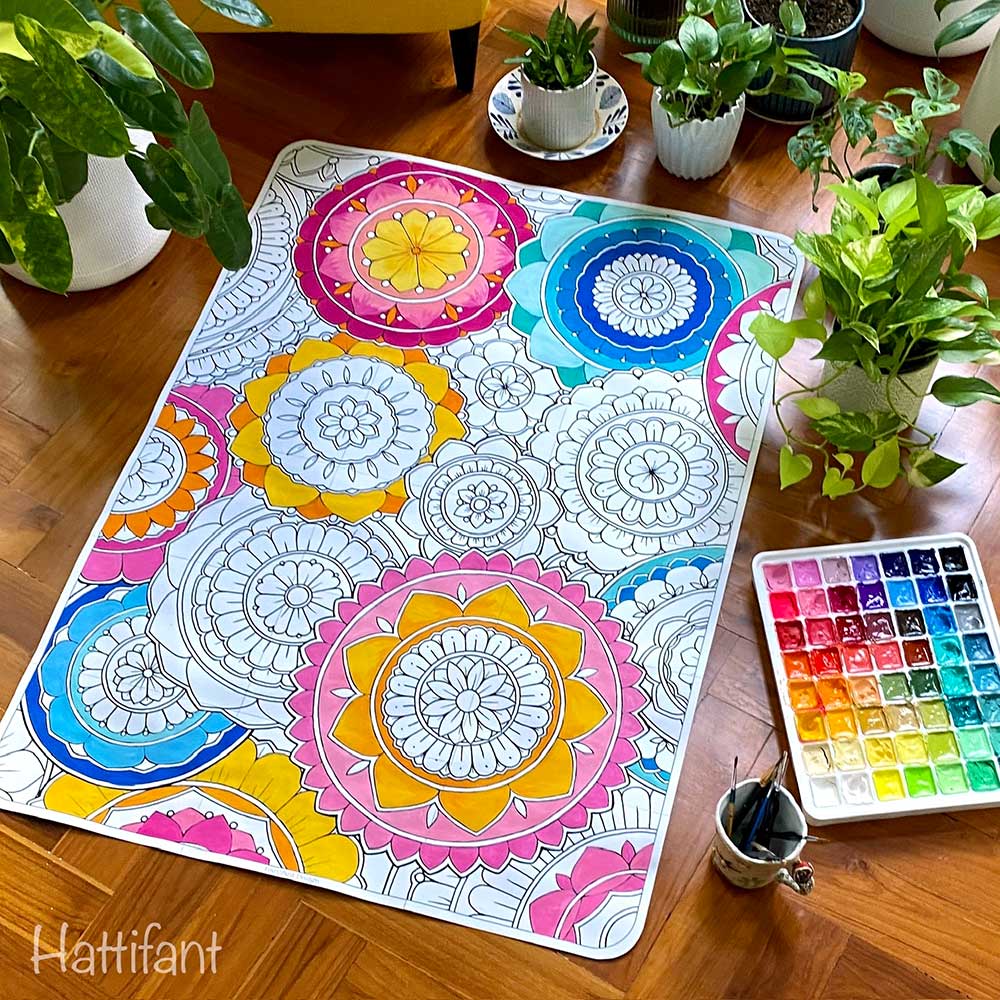 You will receive in PDF format:
A Welcome Note & Thank You
Instructions
Poster: 18 A4 pages in 2 PDF files (please scroll through the PDF to find all. If you print on US Letter size paper then please adjust your printer settings to "Fit to page")
Bonus: The 'Mandalas' Illustration as Coloring Page, Post Card & Double sided Greetings Card
Have the most of fun coloring all the mandalas. Wishing you all a wonderful Spring, Summer, Autumn or Winter! And remember:
"In a world where you can be anything, be KIND!"
MORE from HATTIFANT: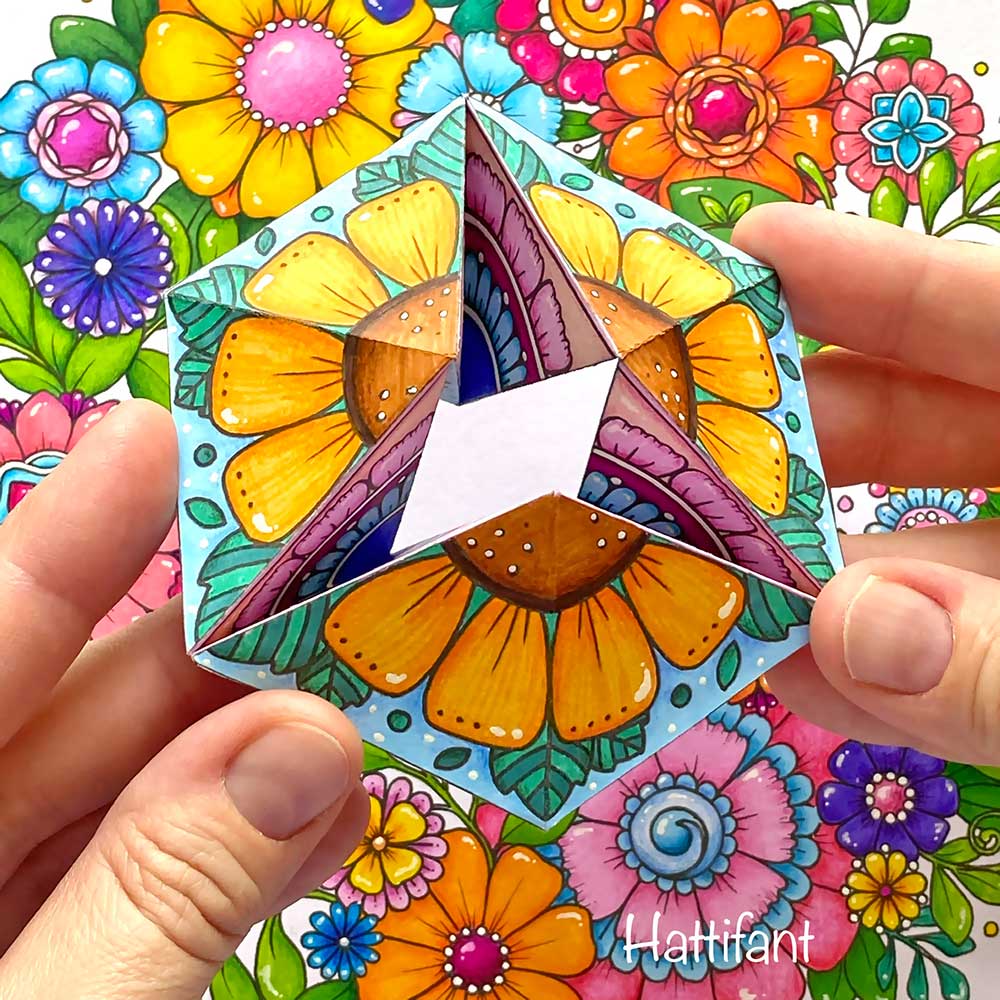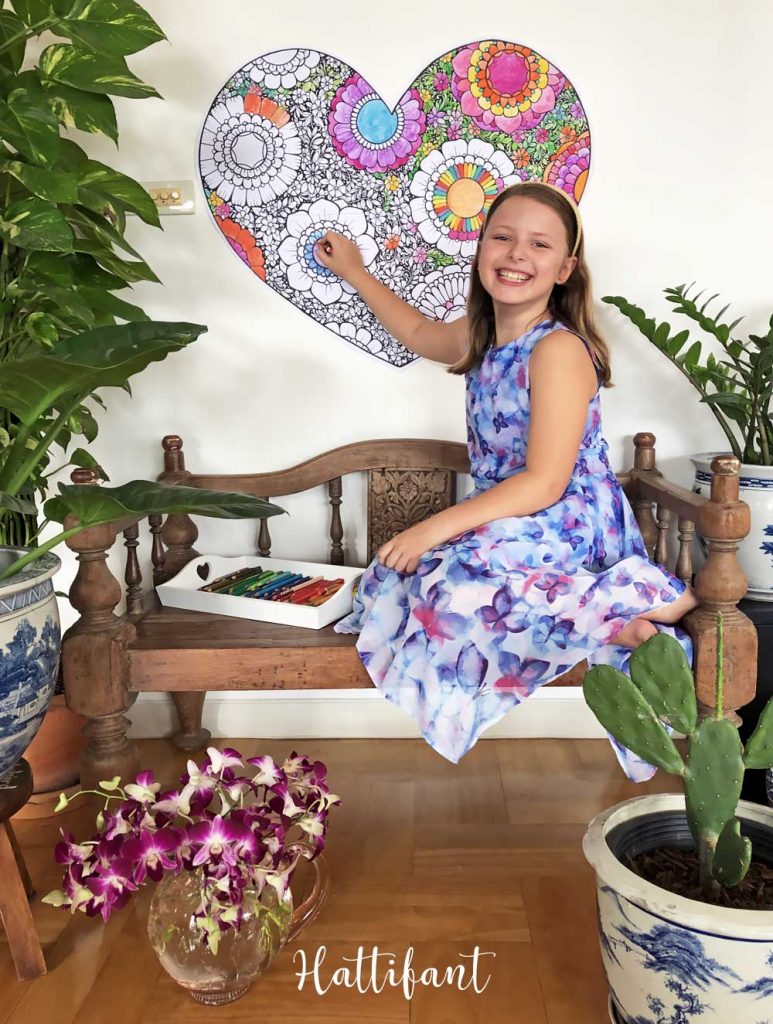 You like Hattifant's designs, toys & décor? Why not FOLLOW Hattifant on Facebook or Instagram and always be up-to-date with Hattifant's latest adventures…
PERSONAL AND NON-COMMERCIAL USE LIMITATION
NO DIRECT LINKS TO PRINTABLES ALLOWED! Please kindly note that the use of the Hattifant Site and its services (e.g. downloads) offered, are for your personal and non-commercial use only. You may not publish, license or create derivative works (for commercial use) from, transfer, or sell any information, products, downloads or services obtained from the Services. Hattifant is the sole owner of all content on the Hattifant Site, unless stated otherwise. You may borrow pictures but always name the source and link to the Hattifant Site, please. It would be lovely if you sent an email to manja(at)hattifant(dot)com in this case. Thank you!