CORNER BOOKMARKS | Hearts & Flowers
I couldn't resist and create another beautiful Valentine's Day or maybe Mother's Day gift for you to color and give to a beloved bookworm! Or of course for yourself so you know what page you are on in your current book. Aren't they beautiful! Let me show you these Hearts & Flowers Corner Bookmarks up close!

You would like to download straight away?!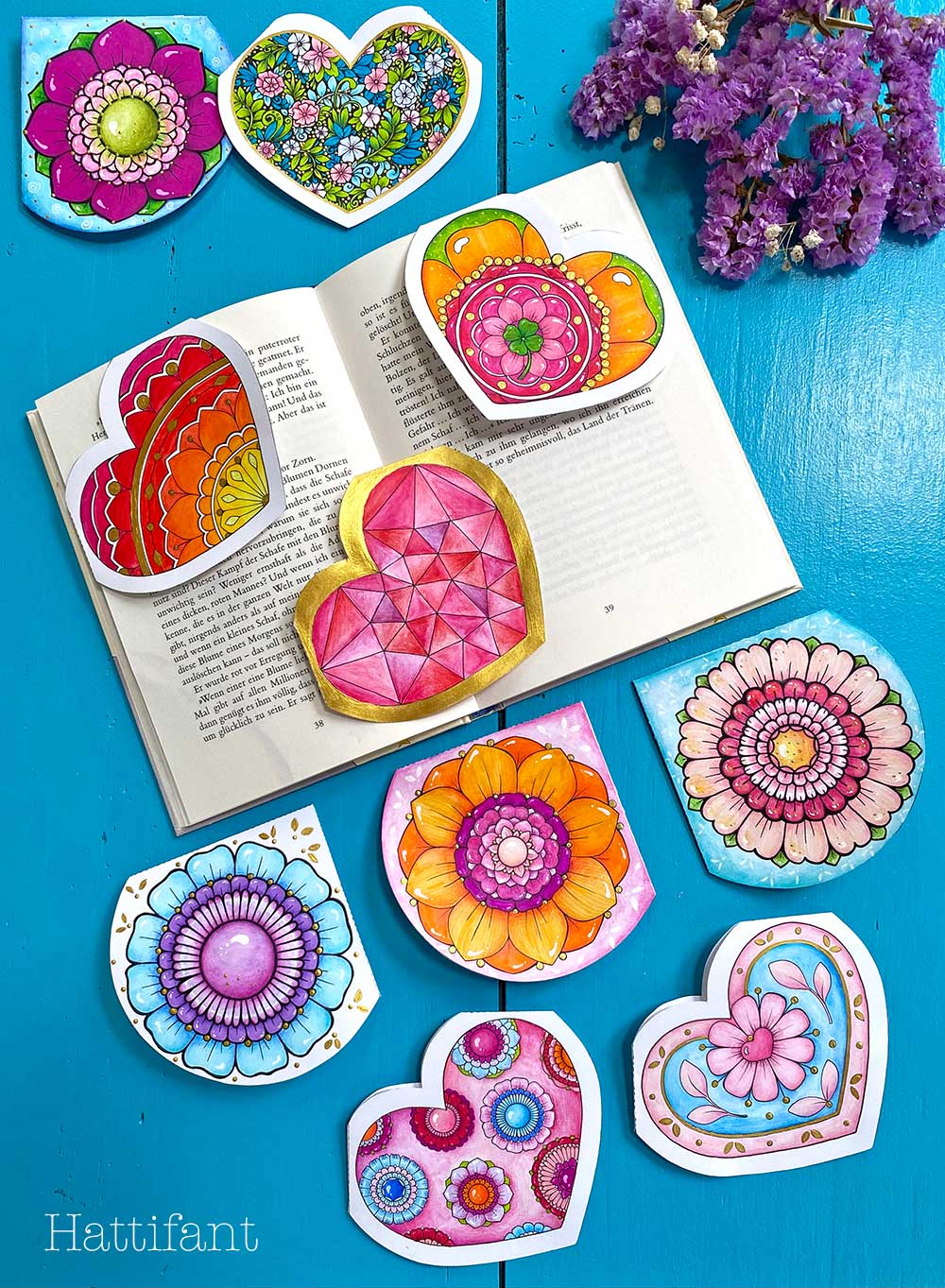 (I have updated this post from 2019. It is now prettier and so much better.)
I very much like this version of a bookmark – Corner Bookmarks – as they don't easily fall out. You slide the bookmark right over the page you are currently reading and that's you sorted!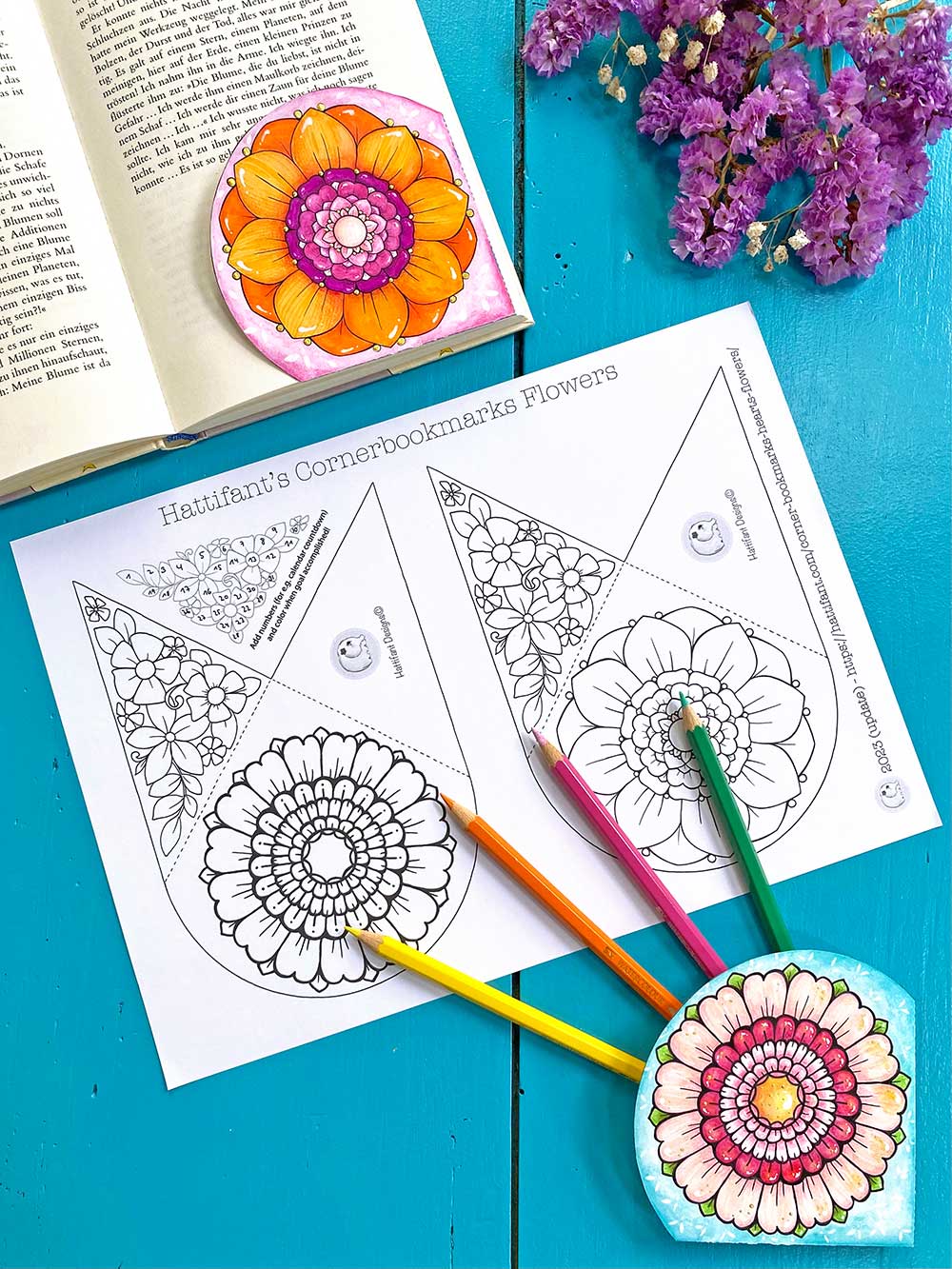 HOW TO MAKE YOUR OWN CORNER BOOKMARK
Corner Bookmarks are really easy to make. And with this Hearts & Flowers Corner Bookmark Paper Craft Bundle I make it even easier for you! You will get gorgeous flower and heart themed templates and instructions. All you need to do is download your bundle, print your favorite choice of Corner Bookmark and grab your beloved coloring supplies and start coloring.
You will need:
printable (find turquoise DOWNLOAD BUTTON further below)
paper (90 -180gsm/24 – 48lb)
(Scoring tool & safety mat) -> not necessary but helps to fold the craft later exactly where it needs folding!
scissors
glue
coloring pens & pencils, paint, gel pens
Enjoy this Video Tutorial or follow the picture tutorial below.
Do you agree?! Easy, right?! After you colored to your heart's desire all you need to do is cut out the template, fold twice and glue two parts together so a little pocket appears. That's it!
1.) Color!
2.) Cut out the Corner Bookmark.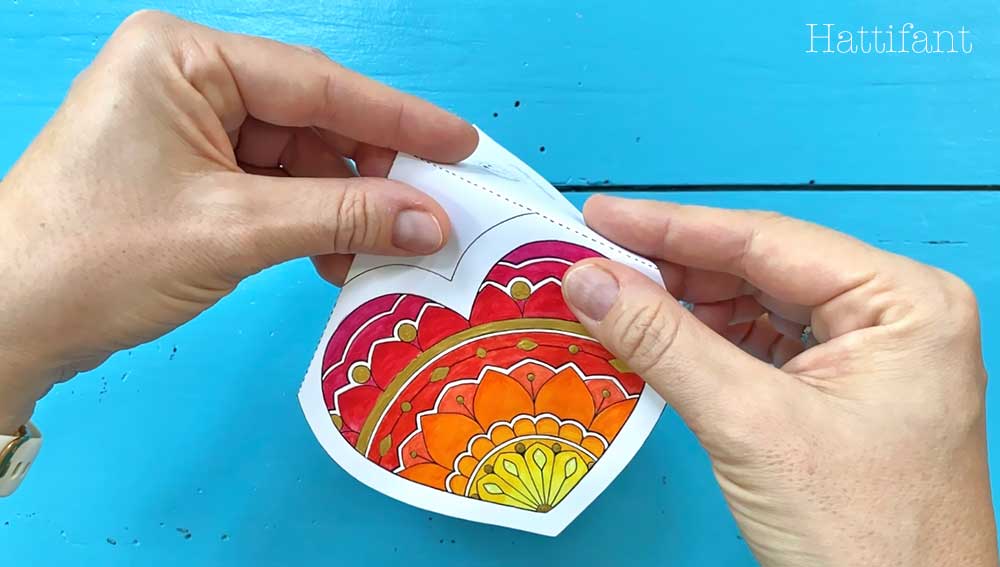 3.) Fold both triangle parts backwards behind flower or heart design.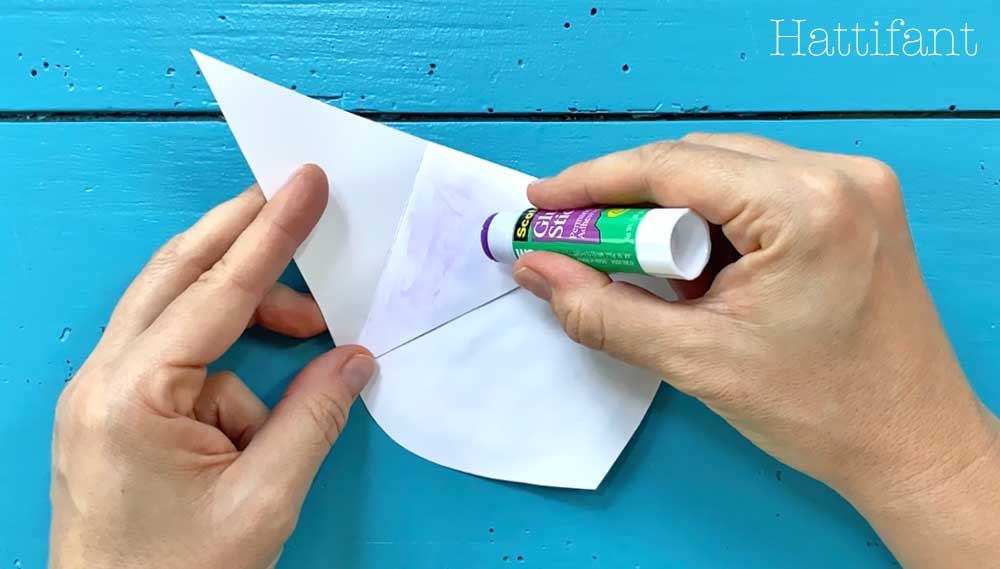 4.) Glue the Corner Bookmark shut. Finished!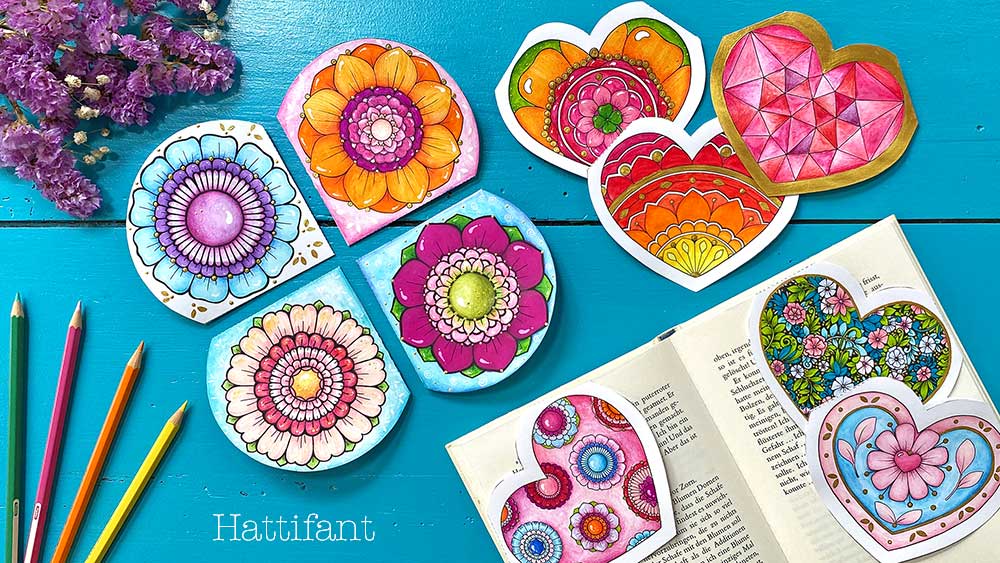 There is more! I am adding a blank Heart Corner Bookmark so you can decorate and design your very own heart. And… I have prepared a (sort of) blank Flower Corner Bookmark as well and have included lines that will aid to draw a beautiful symmetrical mandala like flower!
I am chatting away though, therefore here are finally the nitty gritty details:
PRINTABLES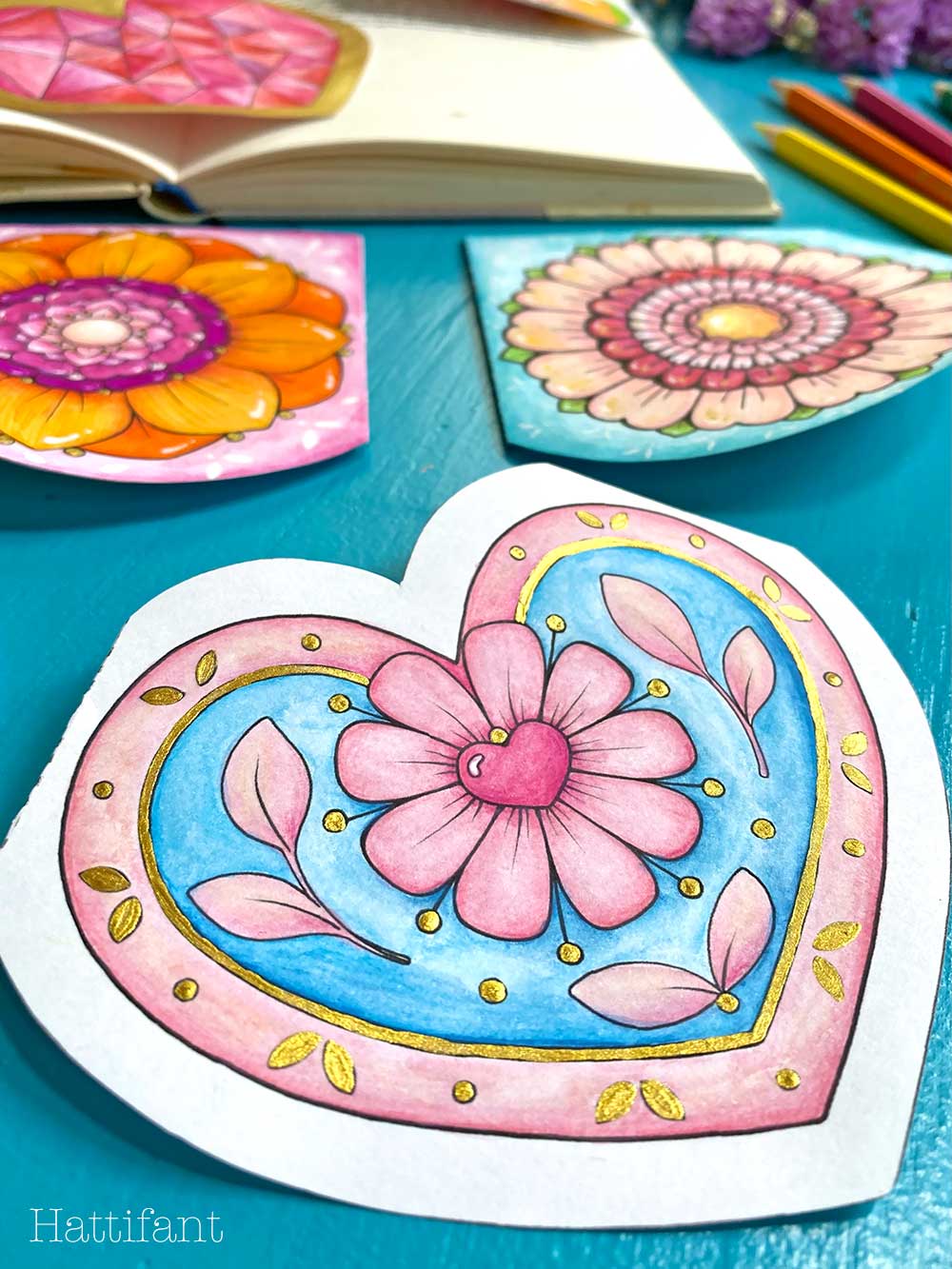 What is actually included in this Hearts & Flowers Corner Bookmark Paper Craft Bundle?
You will receive:
4 unique Flower Corner Bookmark designs to Color In + a blank version with line aids (to create your own designs!)
6 unique Hearts Corner Bookmark designs to Color In + a blank version
digital Instruction Booklet & links to posts & Video Tutorial
a BIG hello and Thank You!
Interested? Then please choose your preferred online shop to download and click on the turquoise links below.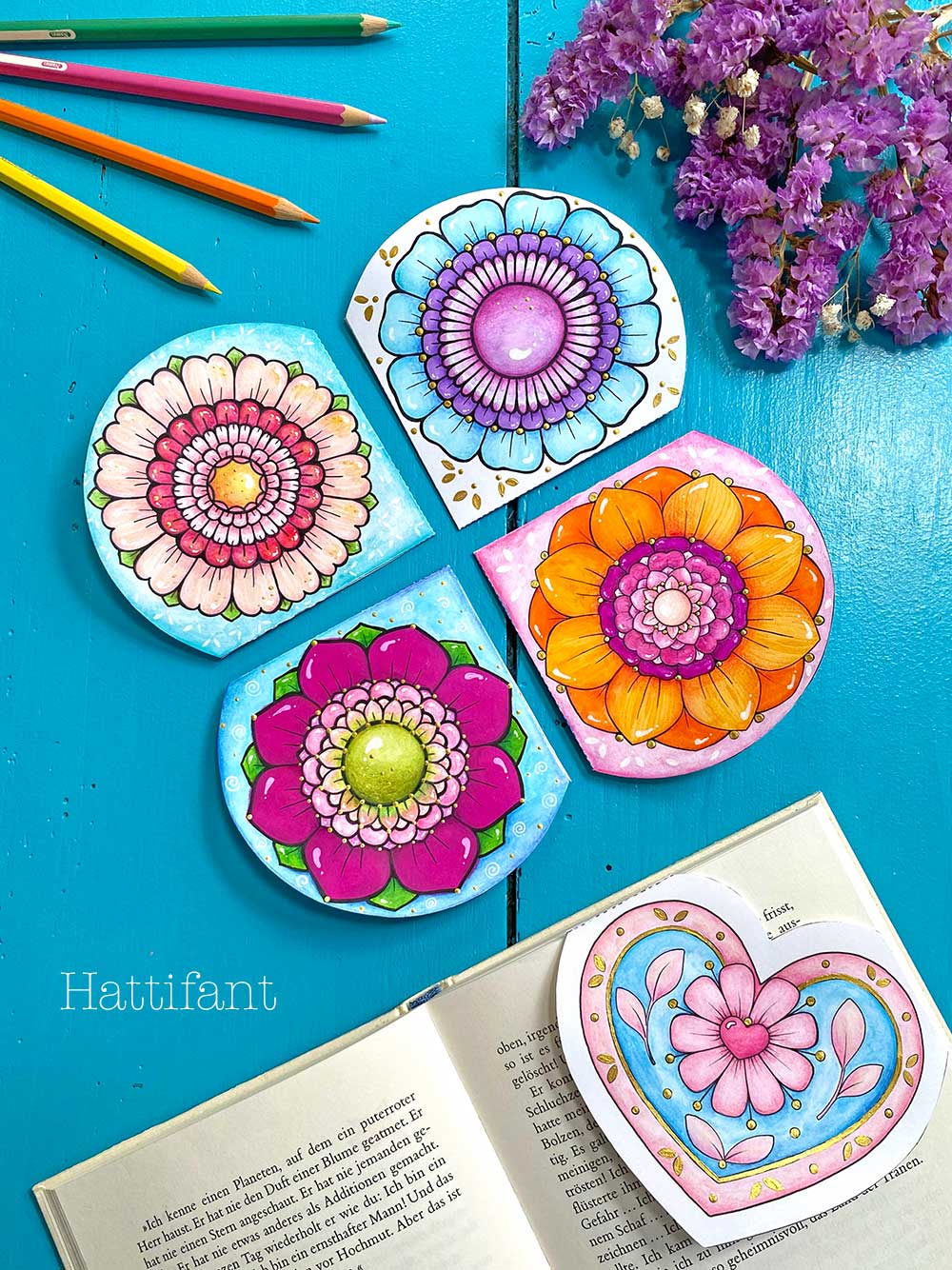 Wishing you a most fabulous time coloring and crafting these gorgeous Hearts & Flowers Corner Bookmarks! I hope you can relax and find some 'me-time' or spend some amazing hours with friends and family!
MORE from HATTIFANT:
You like Hattifant's designs, toys & décor? Why not FOLLOW Hattifant on Facebook or Instagram and always be up-to-date with Hattifant's latest adventures…
PERSONAL AND NON-COMMERCIAL USE LIMITATION
NO DIRECT LINKS TO PRINTABLES ALLOWED! Please kindly note that the use of the Hattifant Site and its services (e.g. downloads) offered, are for your personal and non-commercial use only. You may not publish, license or create derivative works (for commercial use) from, transfer, or sell any information, products, downloads or services obtained from the Services. Hattifant is the sole owner of all content on the Hattifant Site, unless stated otherwise. You may borrow pictures but always name the source and link to the Hattifant Site, please. It would be lovely if you sent an email to manja(at)hattifant(dot)com in this case. Thank you!