Beautiful Mandala Corner Bookmarks To Color And Craft
Here are some more handmade Corner Bookmarks for our Mandala lovers. They are really easy to make: fold half a Mandala in half, add glue to the available flap and glue it shut. It makes a beautiful little gift and on top is most useful by keeping you on the right page. Also, you get to color and embellish these Half-Mandala Corner Bookmarks however much you like!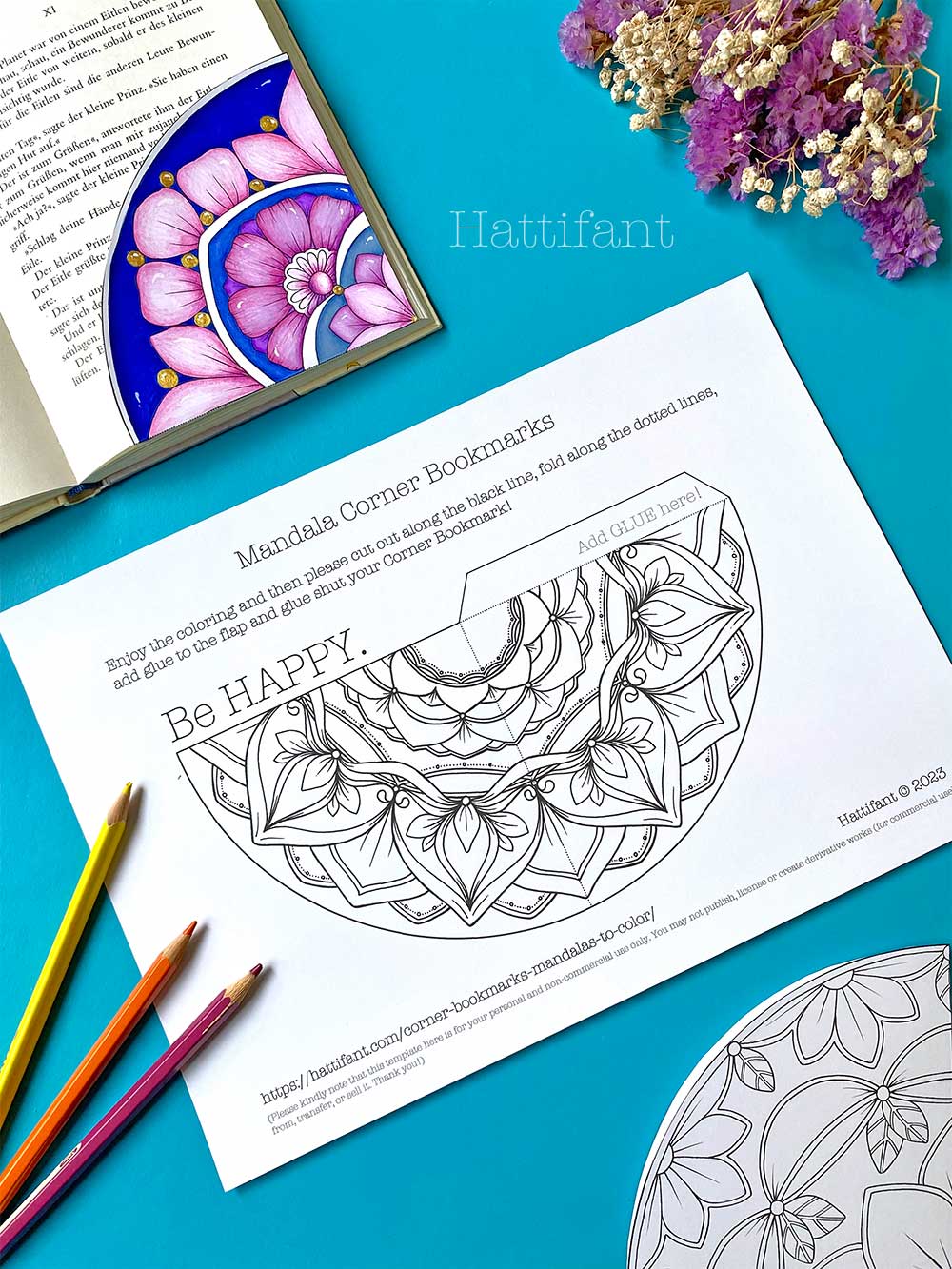 You love Corner Bookmarks as well? They are fabulous, right?! I always appreciate a bookmark NOT easily falling out. A Corner Bookmark you simply slide over the page you are currently reading. That's it. And it stays. Sorted! You might also like to explore my Hearts & Flower Cornerbookmarks! Perfect for Mother's Day or Valentine's Day!
You want to download these Half-Mandala Corner Bookmarks straight away?! Here you go:
(When downloading with Gumroad make sure to enter 0 (zero) into the given number field and then click "I want this." It does look as if there is an amount stated already but Gumroad loves to give you a choice here.)
Watch the little video to see all available Mandala Designs in this bundle!
HOW TO MAKE YOUR OWN Mandala CORNER BOOKMARK
These bookmarks really are so easy to put together that you can focus mostly on your coloring. Making color choices is hard enough, right?! 🙂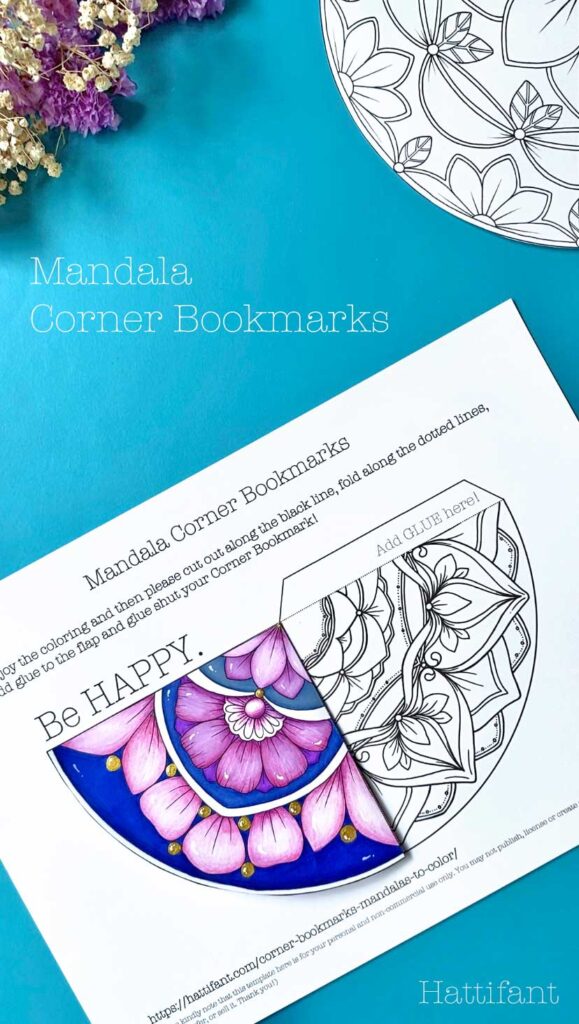 Materials needed:
For these Half-Mandala Corner Bookmarks you will need:
templates
paper (180gsm/48lb works great)
any coloring media you love (e.g. coloring pens, watercolor paints, gel pens, coloring pencils)
scissors
glue or double sided tape
a book 😉
How to make:
We start with coloring! Take your time. Enjoy the process. Experiment with your available media, with colors, explore some shading… Have FUN! Have you spotted the inspirational quotes yet? I have added quotes to the printables. I love affirmations and I feel it is nice to look at the quotes while coloring. I am adding templates without as well though in case you are not a fan!
2. When you are happy with how you colored your Corner Bookmark it is time to cut it out.
3. Then fold the flap that we will add glue or double sided tape to and also fold the half-Mandala along the given dotted line in half.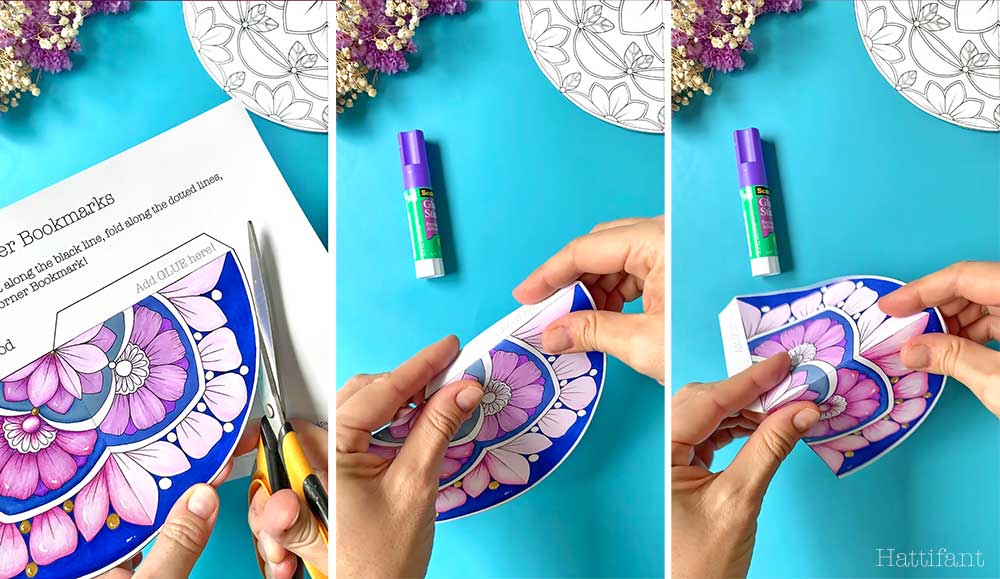 4. Add glue to the flap and
5. fold the half-Mandala shut so the flap attaches to the other opposite side of the half-Mandala. This will glue shut the Corner Bookmark.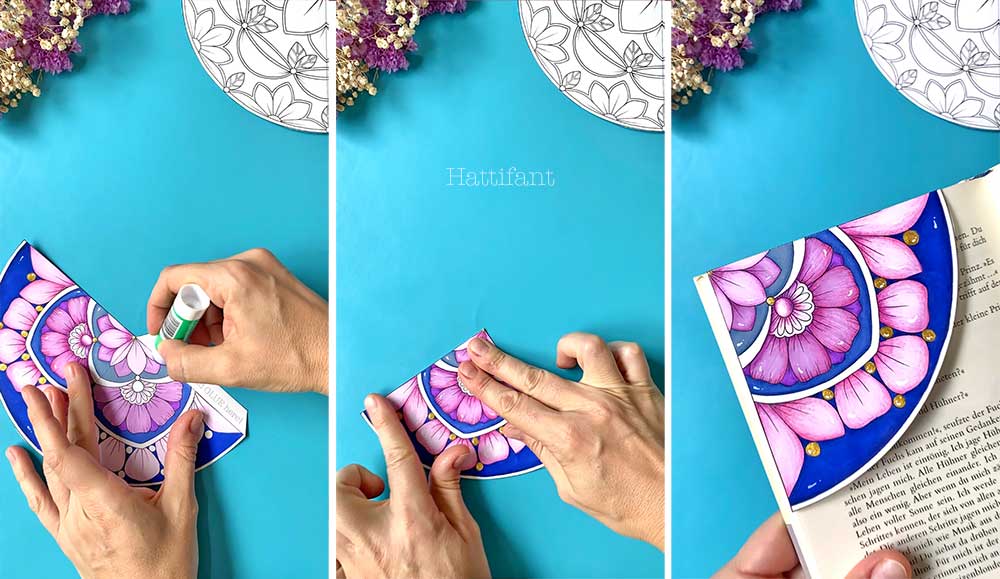 Last but not least: grab your book and test your Mandala Corner Bookmark BUT wait until it is dried!!!
PRINTABLES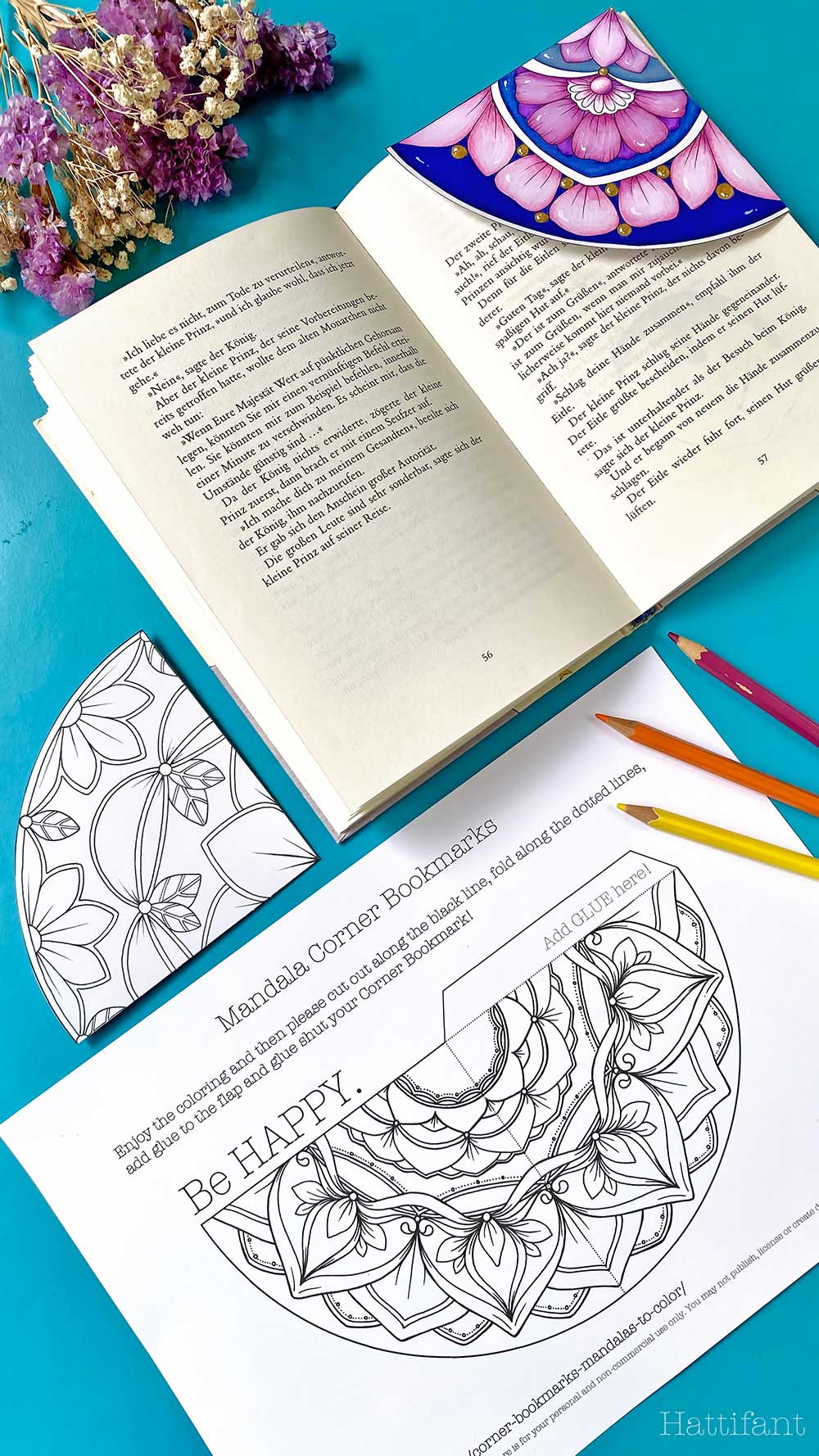 What is actually included in this Mandala Corner Bookmark Paper Craft Bundle?
You will receive:
10 unique Mandala Corner Bookmark designs to Color In with Inspirational Quotes and also the option without the quotes.
a little hello & welcome and Thank You!
Interested? Great news! Please choose your preferred online shop to download and click on the turquoise links below.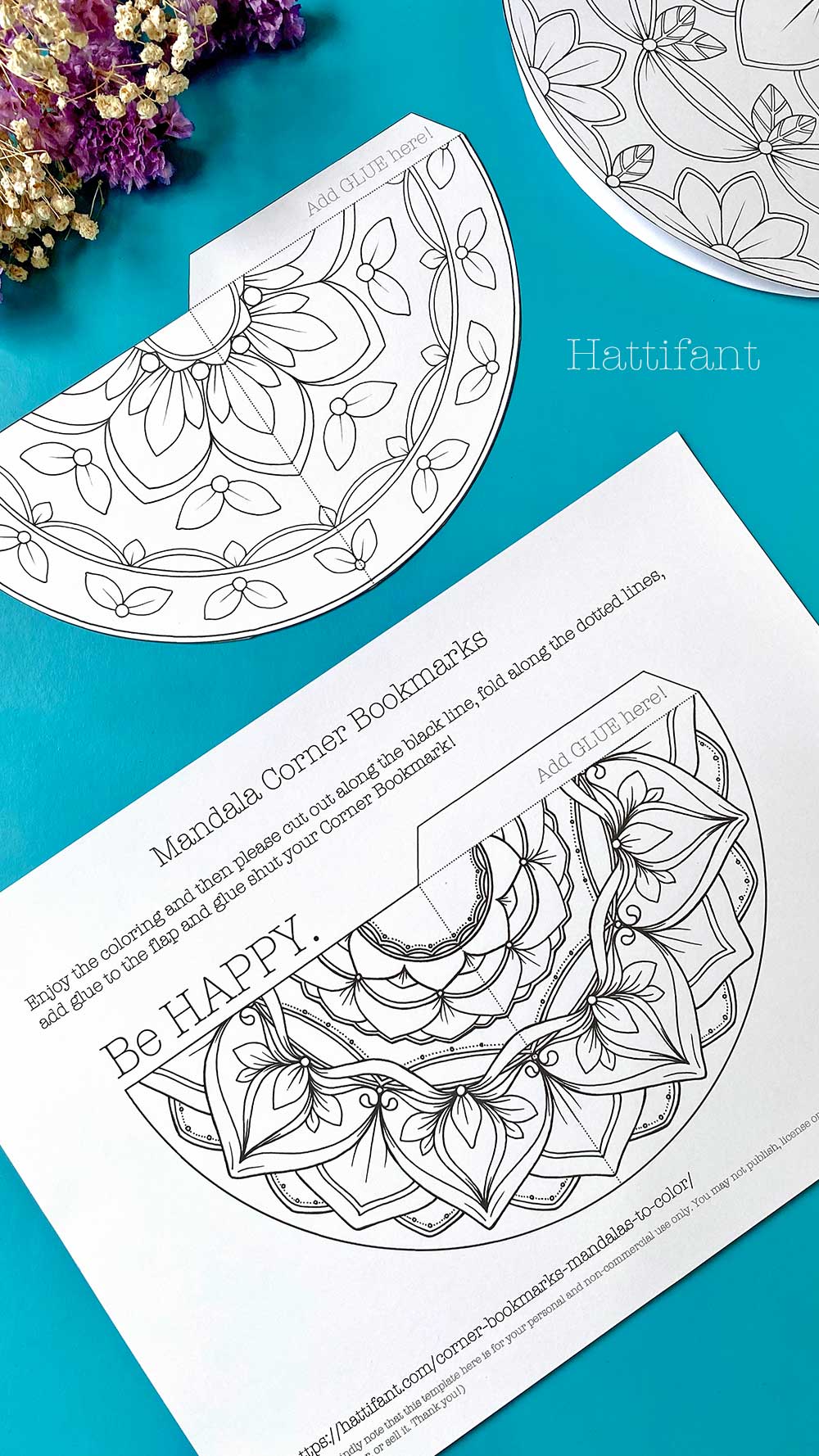 Wishing you a most fabulous time coloring and crafting these gorgeous Mandala Corner Bookmarks! I hope you can relax and find some 'me-time' or spend some amazing hours with friends and family!
MORE from HATTIFANT: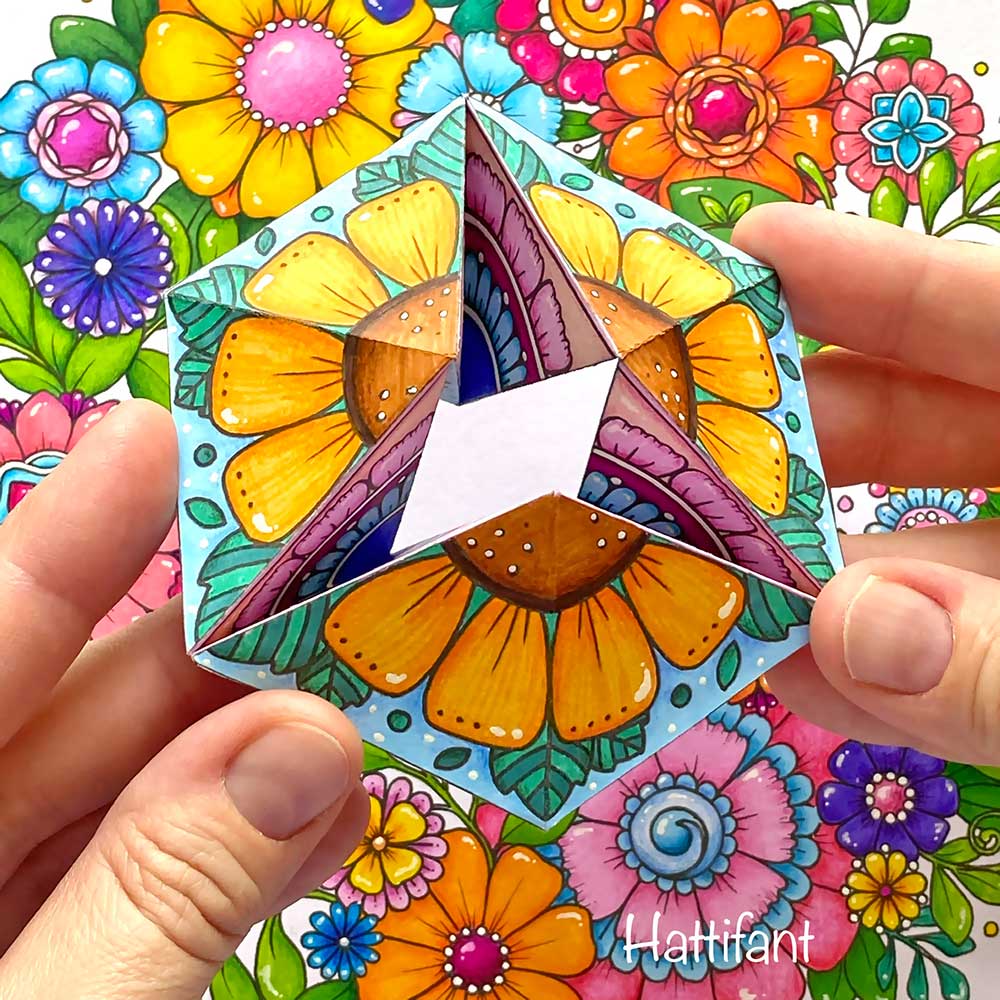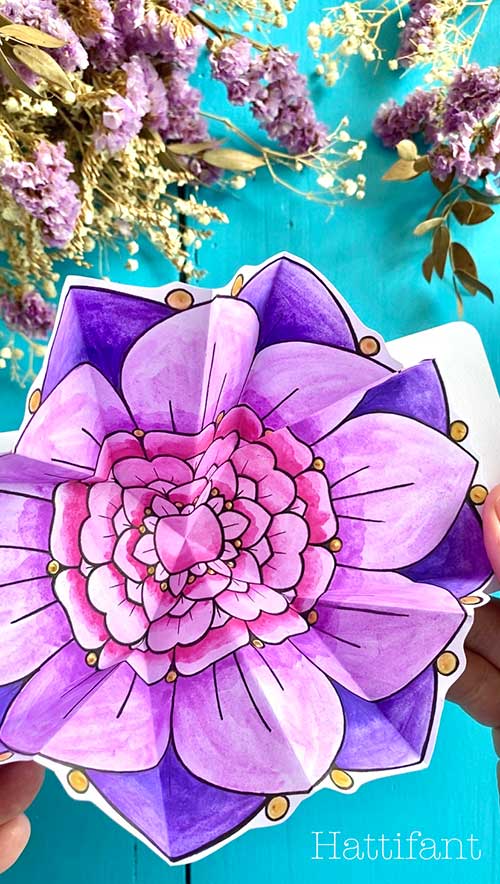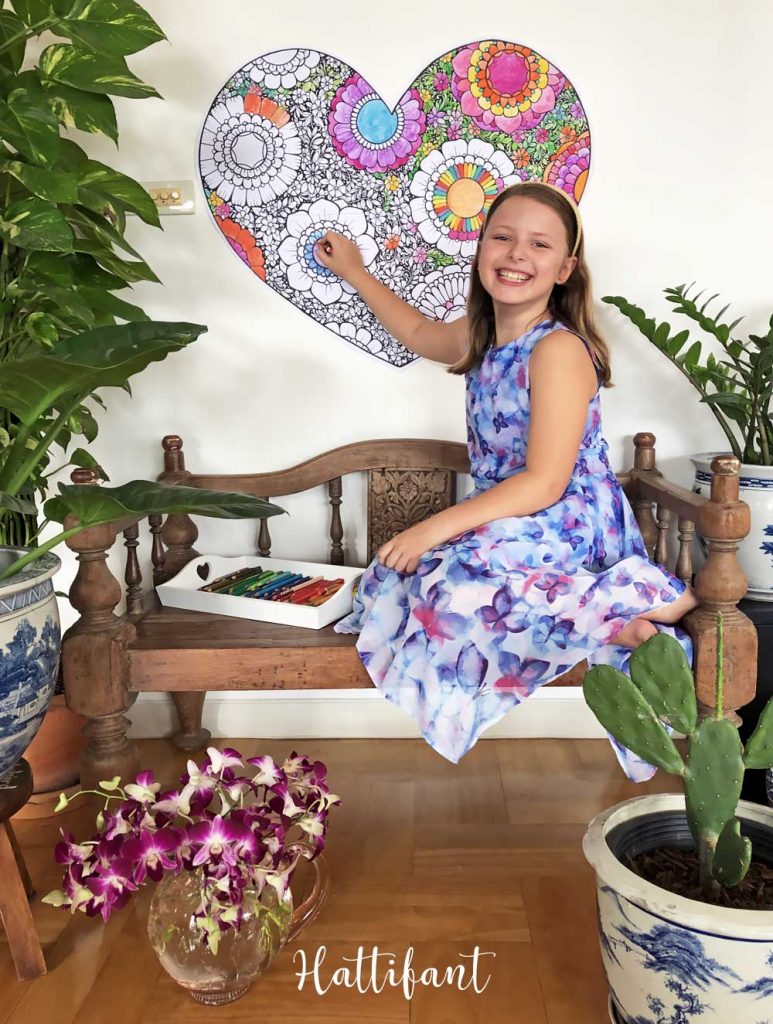 You like Hattifant's designs, toys & décor? Why not FOLLOW Hattifant on Facebook or Instagram and always be up-to-date with Hattifant's latest adventures…
PERSONAL AND NON-COMMERCIAL USE LIMITATION
NO DIRECT LINKS TO PRINTABLES ALLOWED! Please kindly note that the use of the Hattifant Site and its services (e.g. downloads) offered, are for your personal and non-commercial use only. You may not publish, license or create derivative works (for commercial use) from, transfer, or sell any information, products, downloads or services obtained from the Services. Hattifant is the sole owner of all content on the Hattifant Site, unless stated otherwise. You may borrow pictures but always name the source and link to the Hattifant Site, please. It would be lovely if you sent an email to manja(at)hattifant(dot)com in this case. Thank you!