Can you draw a CIRCLE with STRAIGHT lines?
Here is a little dare for you! Can you draw a circle with just straight lines? Well, yes, of course you can. It's not really a dare nor tricky as you can see from the pictures. It is in fact a very relaxing activity: it will calm your mind and your breath while focusing on each individual line you draw.
This activity here is part of a little series of mine which I am hoping to grow with time. If you head over to the main Maple Leaf Pattern Series blog post then you will not only be able to find a blank template of this Maple Leaf but also other patterns to try. I cannot wait to have a collection of gorgeously patterned Maple Leaves. How about you?
(*Disclosure: I only recommend products I would use myself and all opinions expressed here are my own. This post may contain affiliate links that at no additional cost to you, I may earn a small commission from. Thank you!) 
PRINTABLES
So, if you want to doodle and draw this pattern with me then click on the link below and get your FREE template.
(Please make sure to enter 0 (zero or any other number you wish to "donate") into the number field. It does look as if there is already a number. When entered the number please click "I want this" and go from there.)
In the PDF file you will find several options to work with depending on how much support you prefer. In the picture below I am showing two of those options: one with light grey circles and the other with a middle line in each circle. If you only want to draw lines in order to relax without having to do any thinking then this will be the right one for you. The line shows you the direction of the lines you will draw in each circle. And it has proven best to start in the middle and fill half a circle, then turn the page and fill the other half with lines.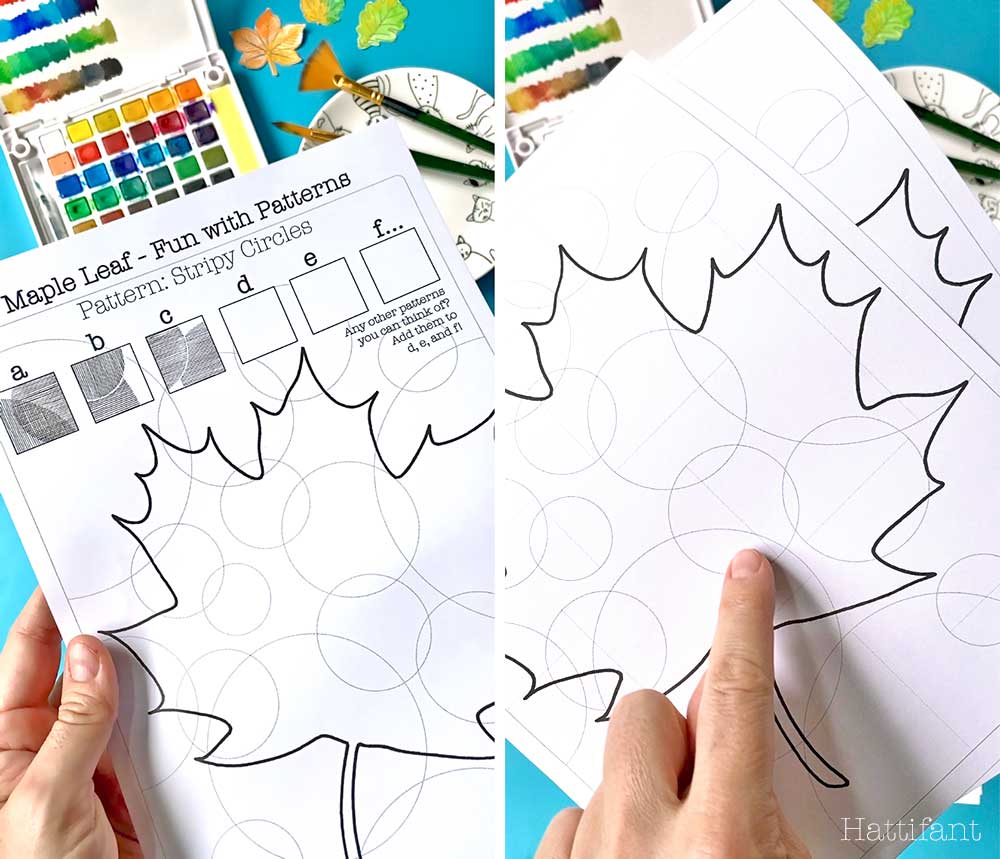 Choose your preferred option and watch the video and doodle together with me!
All in all we really are "just" drawing lines. Find yourself a comfortable sitting position and good light so you can see your drawing well. For drawing black lines/inking I use Pigma Micron Fineliners. For the lines here I used a 005 and 01 Fineliner.
Choose a circle to begin with and start by drawing a line in the middle of the circle. Then add your next line right next to it towards to right and so on until the first half of the circle is complete. Then turn your page and repeat until the whole circle is filled with lines.
Choose as your second circle one that is neighbors with your first circle and decide how those two will interact with each other. In the picture above you can see that the circles can overlap and appear transparent. You can also choose for the lines of the individual circles not to touch and make the circles appear opaque.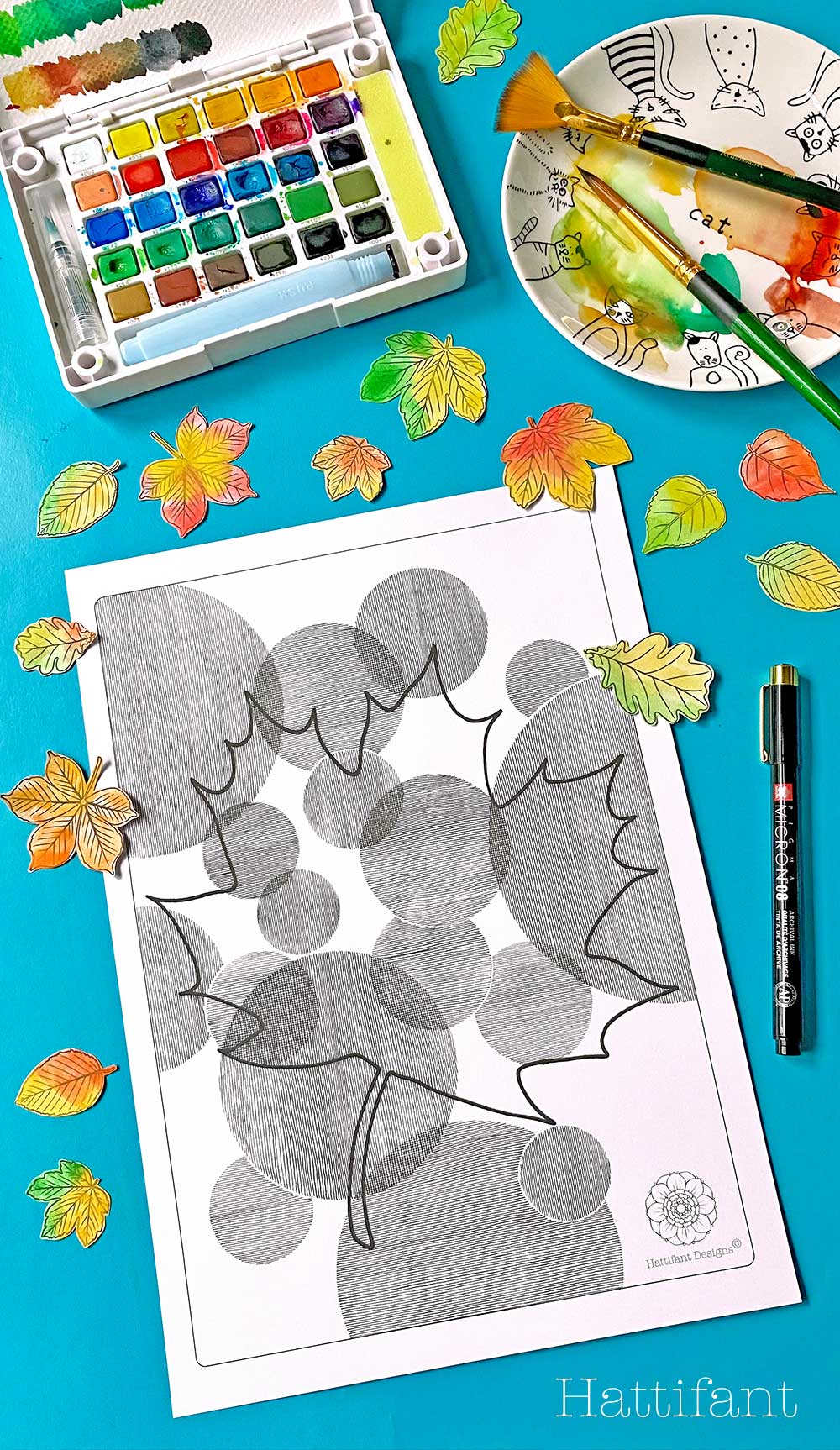 Your Maple Leaf Coloring Page will then look similar to this. I couldn't resist and add color. Autumn is about colors right?! I used watercolor paint and just added it to the leaf with a lot of water. I felt it was still too boring so sprinkled paint on it, too. The hardest then was to wait until the page was dry again. I knew I wasn't done yet. Something was still missing. I wasn't happy yet. It didn't feel finished.
I fell back into my "old" habits and drew a Mandala pattern on top. Teehee. I used a white acrylic paint marker for this.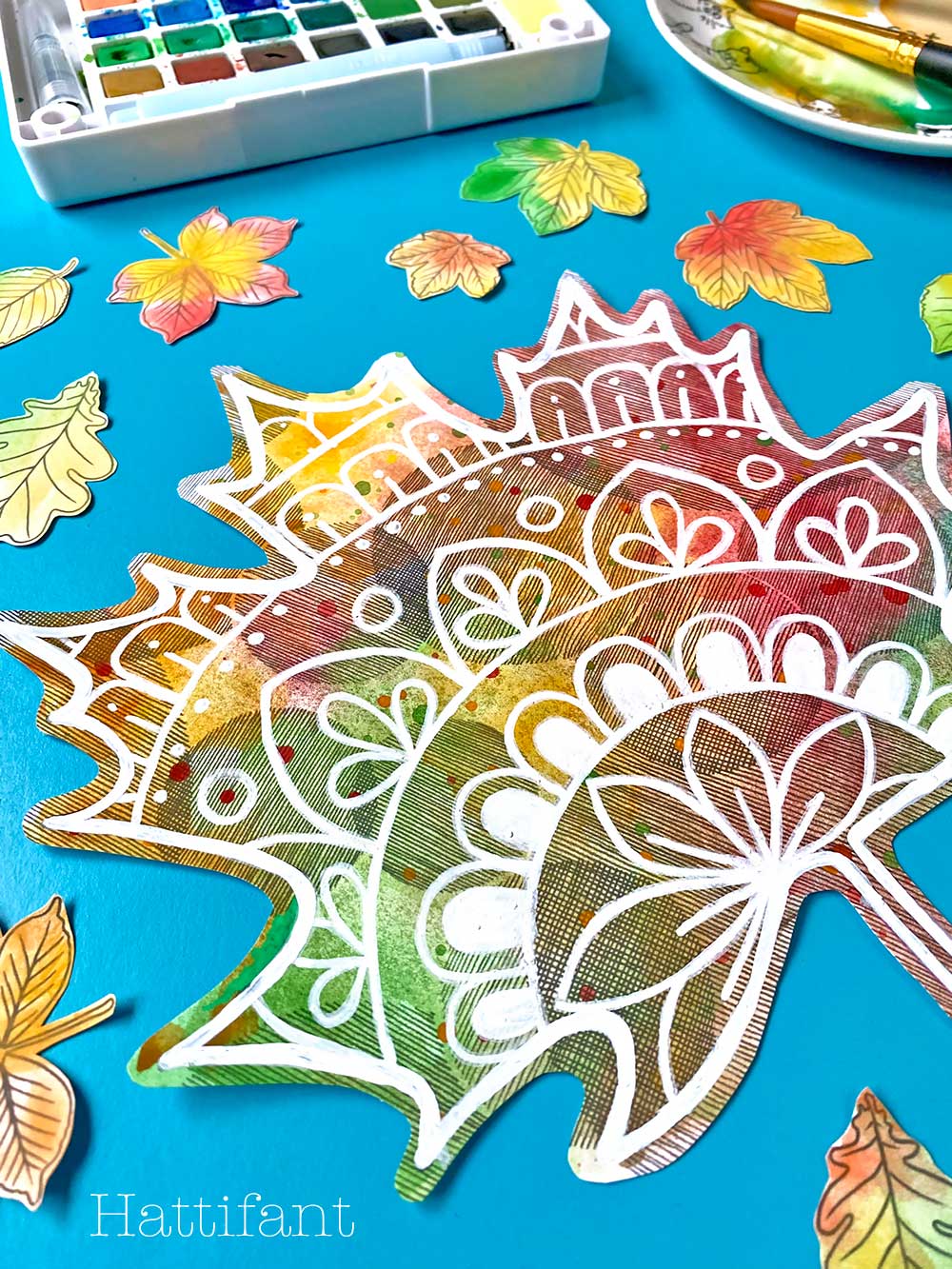 And yes, NOW I was happy! 🙂 How did yours turn out? Did you add anything else? Do share! We can even add a little gallery below here and share all our creations! You can send me a picture to manja(at)hattifant.com.
Hope you had a fabulous time trying out this pattern and experimenting. Do check out some of my other crafts available. Happy exploring!
MORE HATTIFANT CRAFTS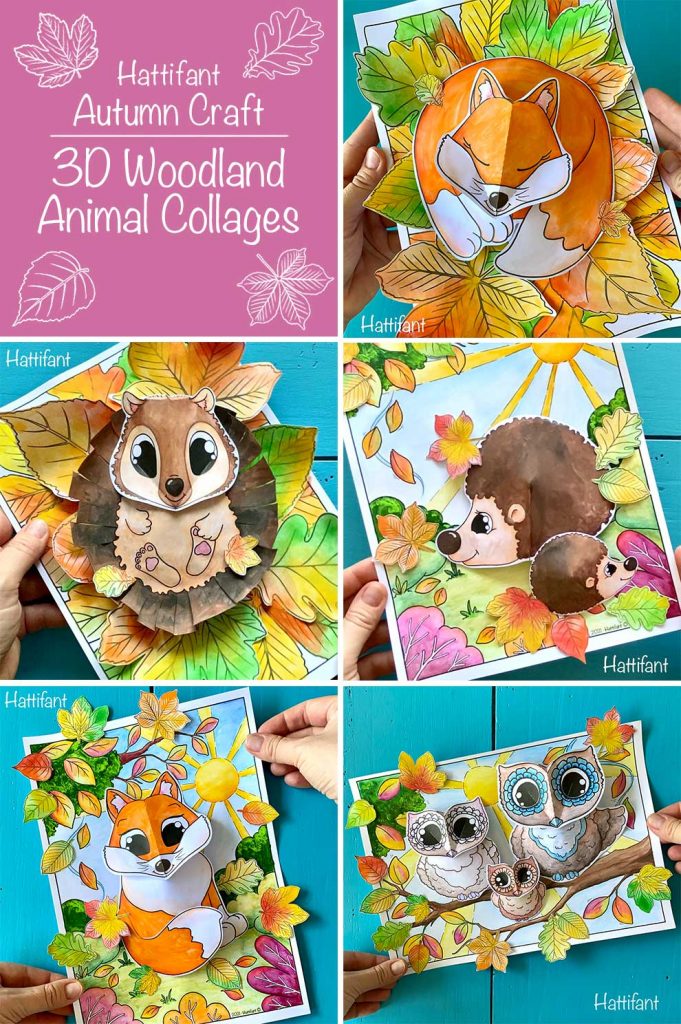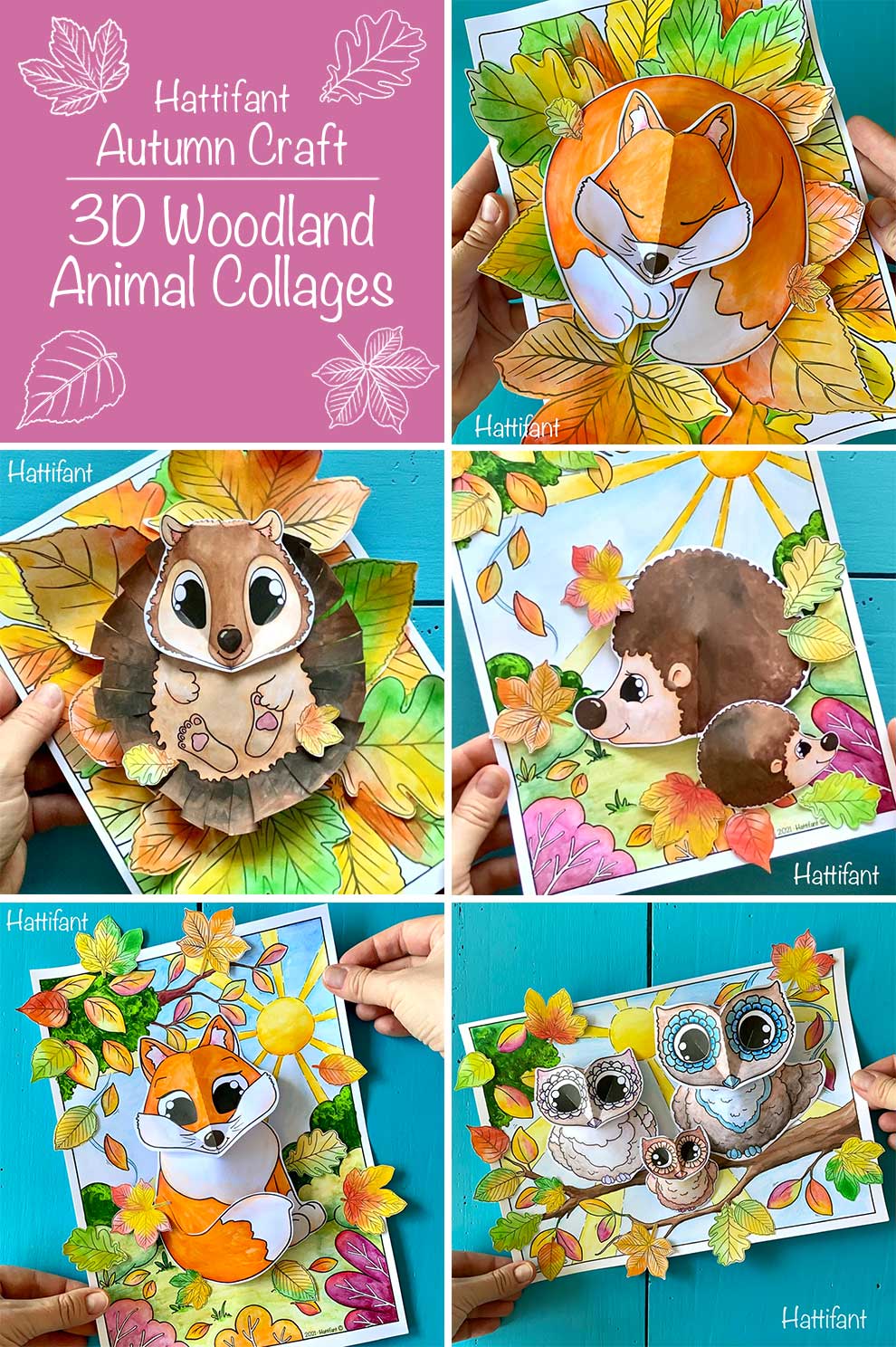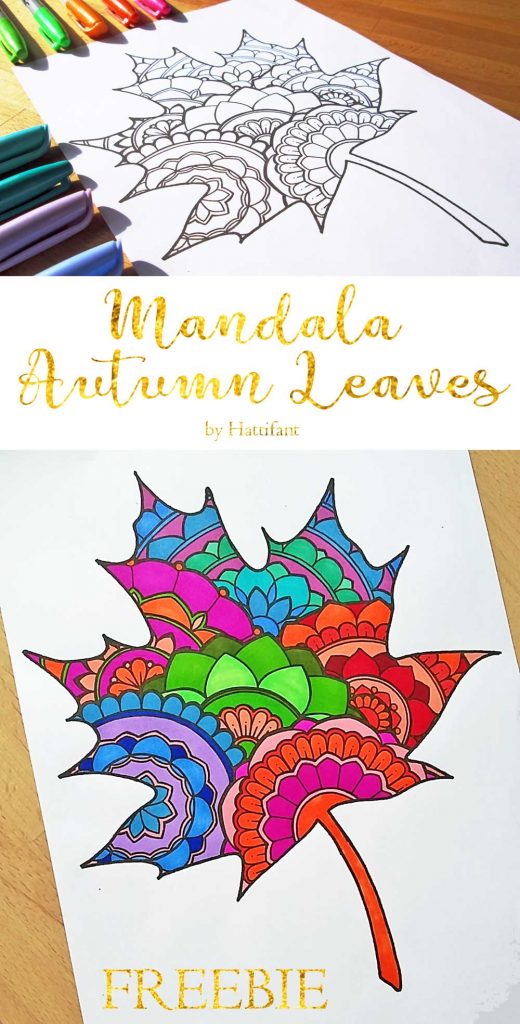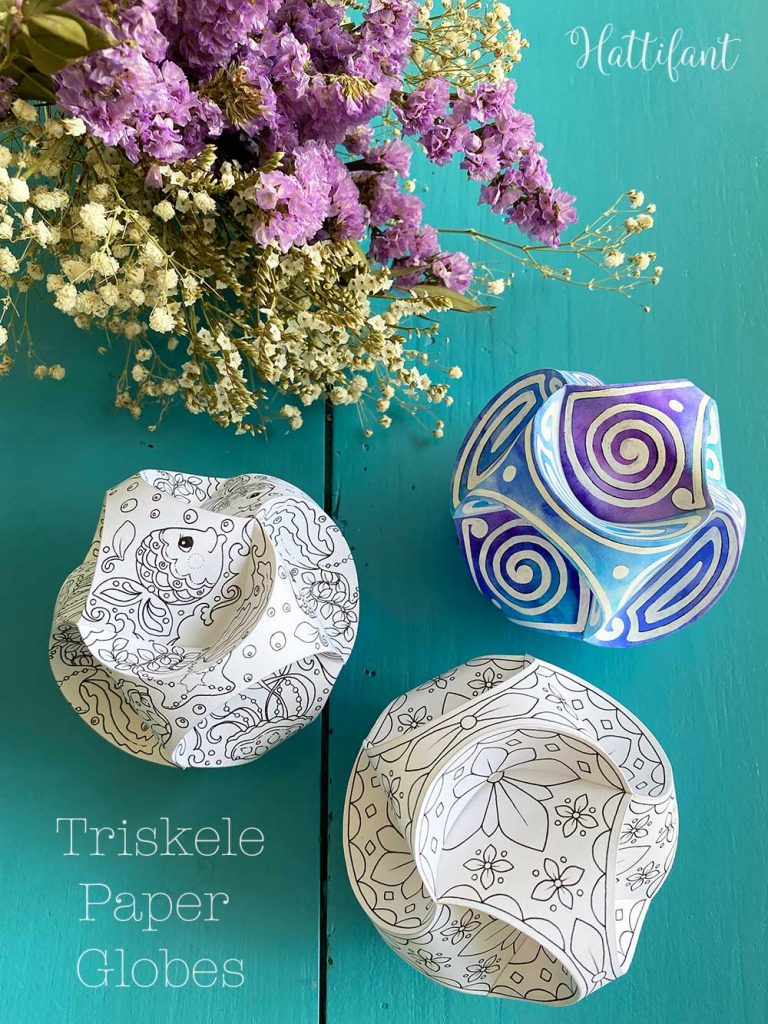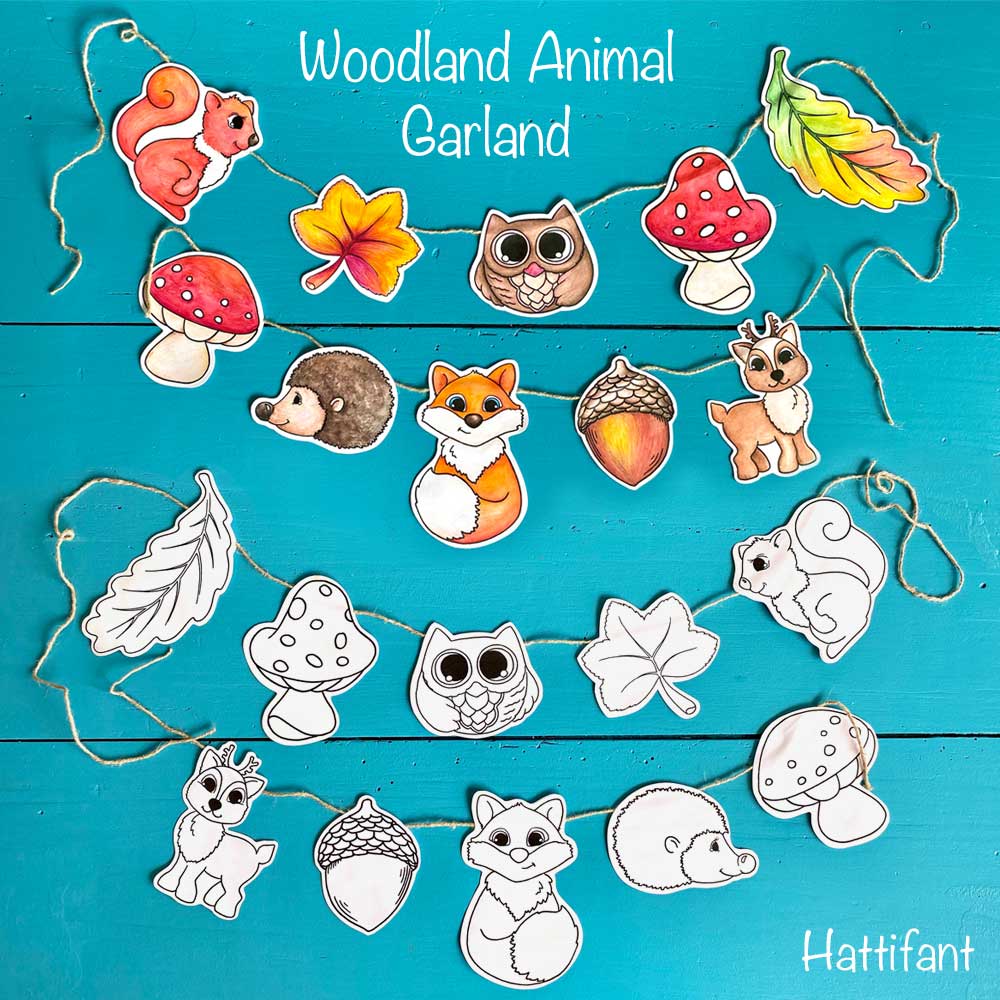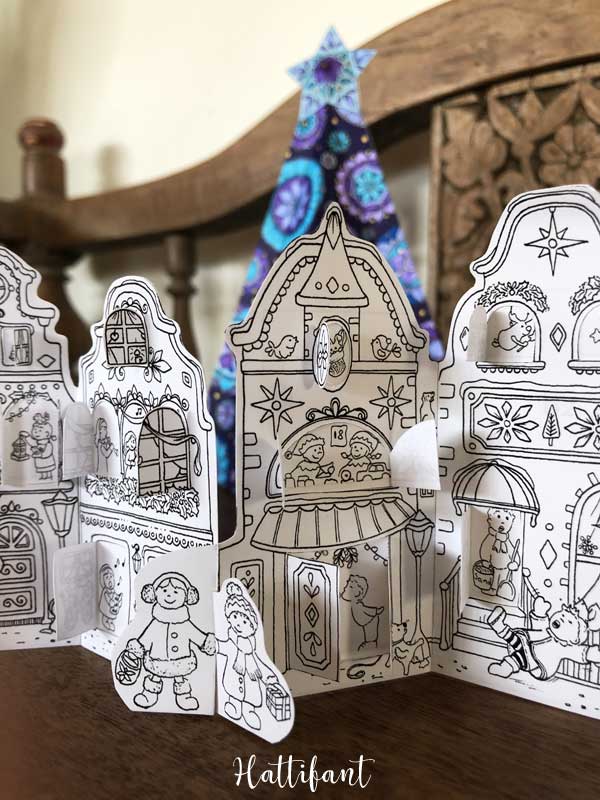 You like Hattifant's designs, toys & décor? Why not FOLLOW Hattifant on Facebook or Instagram and always be up-to-date with Hattifant's latest adventures…
PERSONAL AND NON-COMMERCIAL USE LIMITATION
NO DIRECT LINKS TO PRINTABLES ALLOWED! Please kindly note that the use of the Hattifant Site and its services (e.g. downloads) offered, are for your personal and non-commercial use only. You may not publish, license or create derivative works (for commercial use) from, transfer, or sell any information, products, downloads or services obtained from the Services. Hattifant is the sole owner of all content on the Hattifant Site, unless stated otherwise. You may borrow pictures but always name the source and link to the Hattifant Site, please. It would be lovely if you sent an email to manja(at)hattifant(dot)com in this case. Thank you!