GIANT Poster | 'A Kitty on the Plant Shelf'
How do you feel when your kitty is climbing shelves for pleasure and is getting too close to those green chlorophyll wonders of yours?! 🙂 I hope you will enjoy this 'Kitty on the Plant Shelf' illustration as Coloring Page and/or Giant Poster!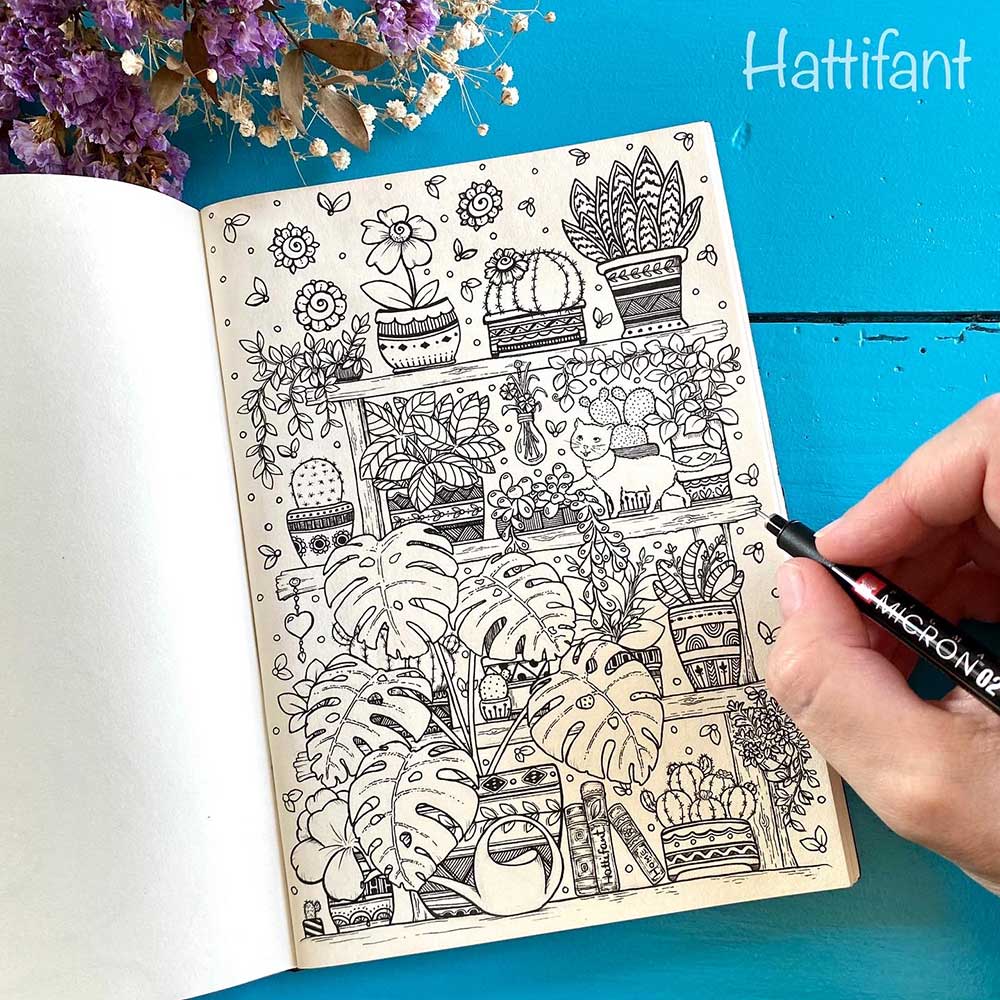 (This post may include affiliate links, which means if you click on a link and purchase an item, I will receive a small commission at no additional cost to you.)
Many of you follow either my Facebook or Instagram posts. When I shared this cute illustration filled with plants and one cheeky kitty, you loved it and were asking to color it. Of course, I was happy to do just that! I created not only a Coloring Page but also our beloved GIANT Posters that you can easily print at home!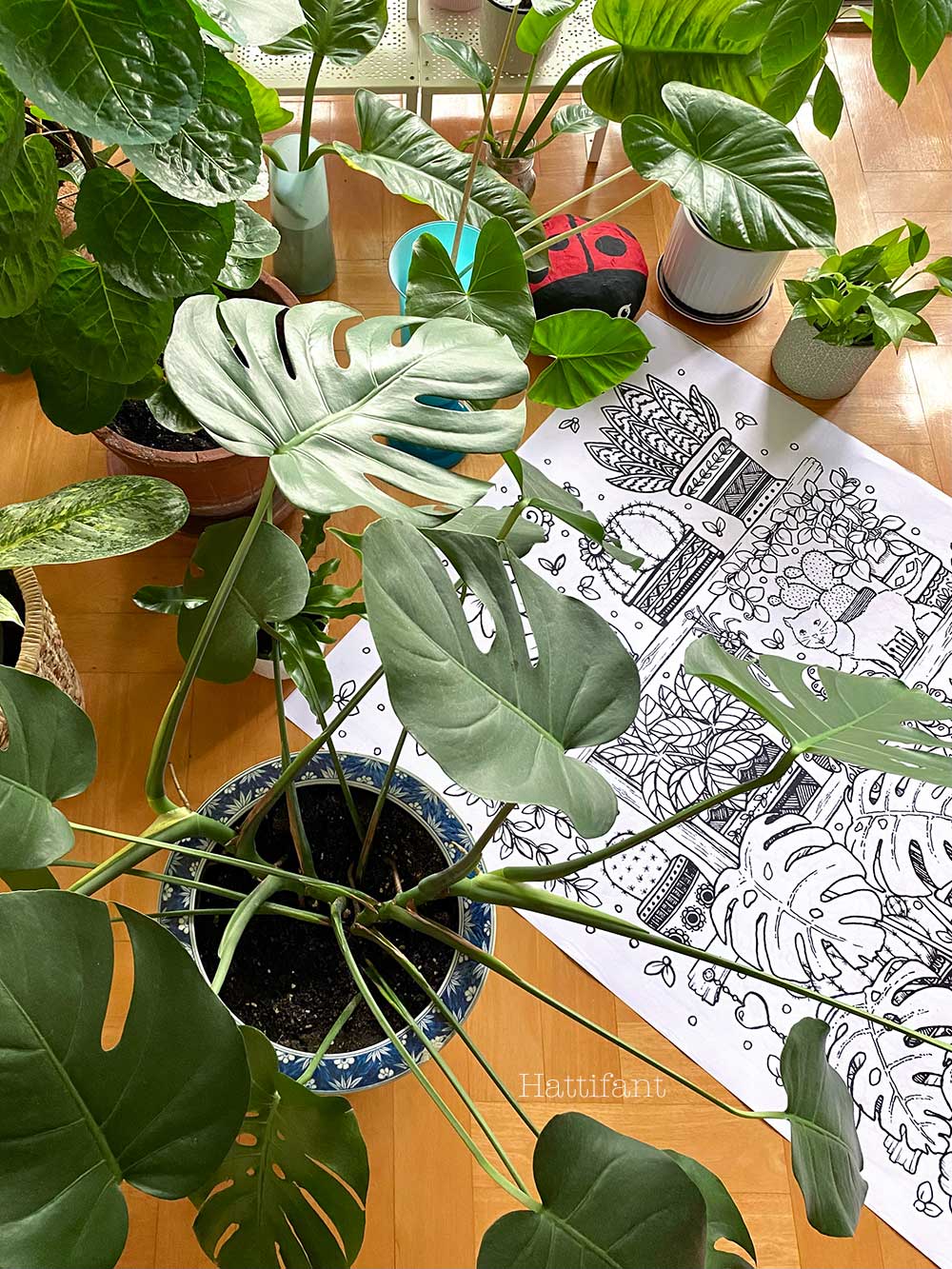 Didn't the poster turn out gorgeous?! What?! Oh… yes sorry… here is a better angle… My little tropical forest got in the way… 🙂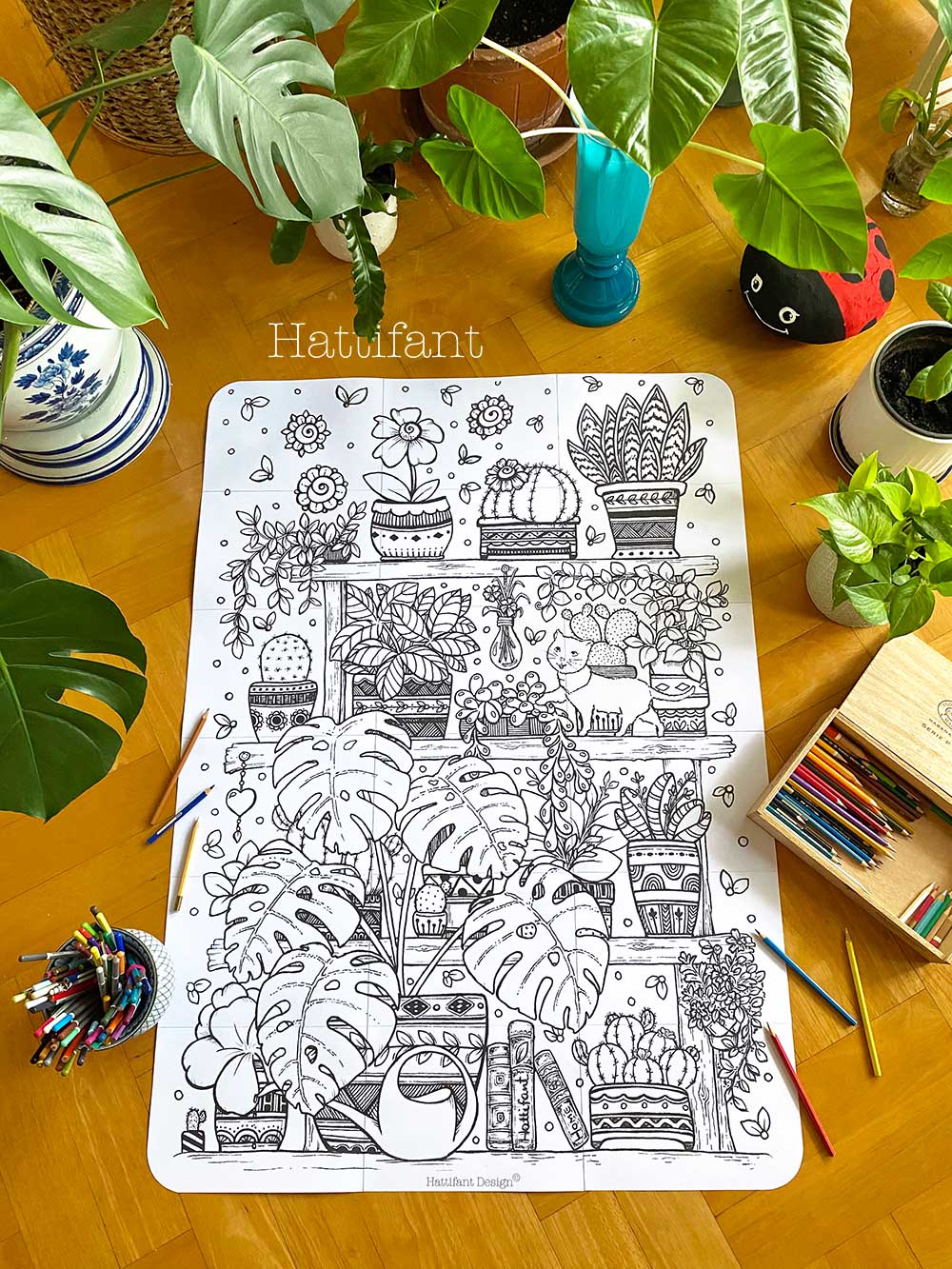 I have created two downloading options for you! You get to choose the bundle either with or without the Giant Poster. If you want to color the poster, then of course you buy the actual Giant Poster bundle. But maybe just maybe you prefer coloring the usual format of a coloring page. If you would like to proceed and order straight away please just scroll further down now.
HOW TO MAKE
I do want to take the moment and show you how easy it is to make your own GIANT 'A Kitty on the Plant Shelf' Poster without having to leave the comfort of your home.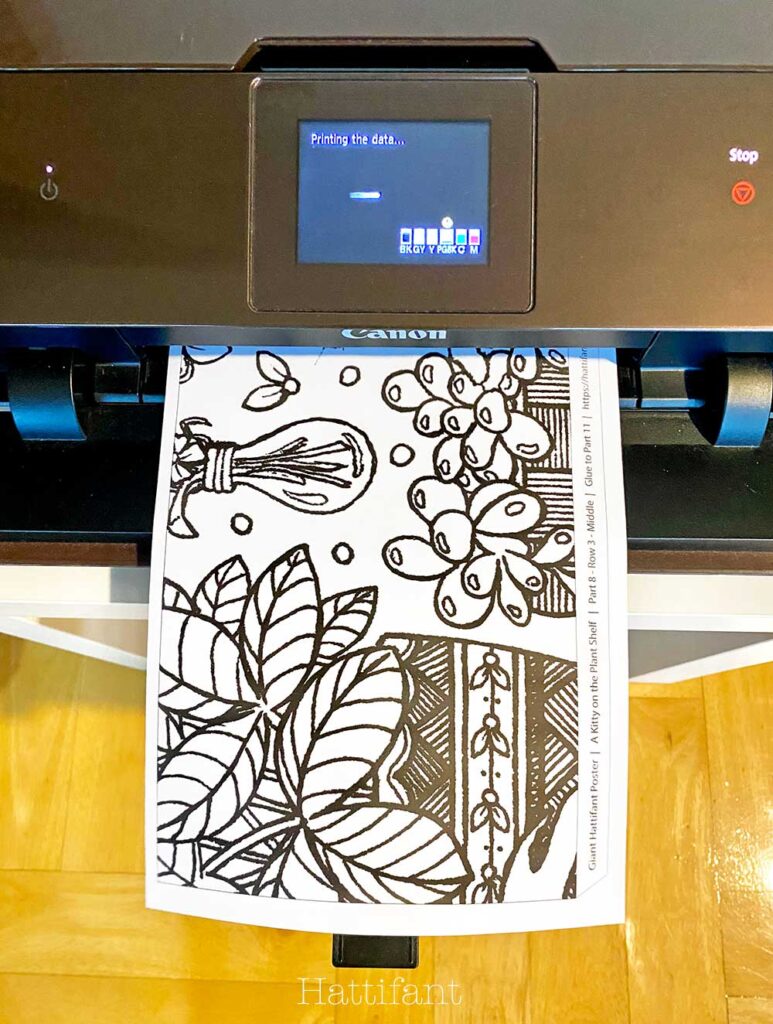 The Giant Poster will measure appr. 78x108cm (30x42in). And it is 18 pages big! After you have downloaded your PDF files, you print them off on your home printer.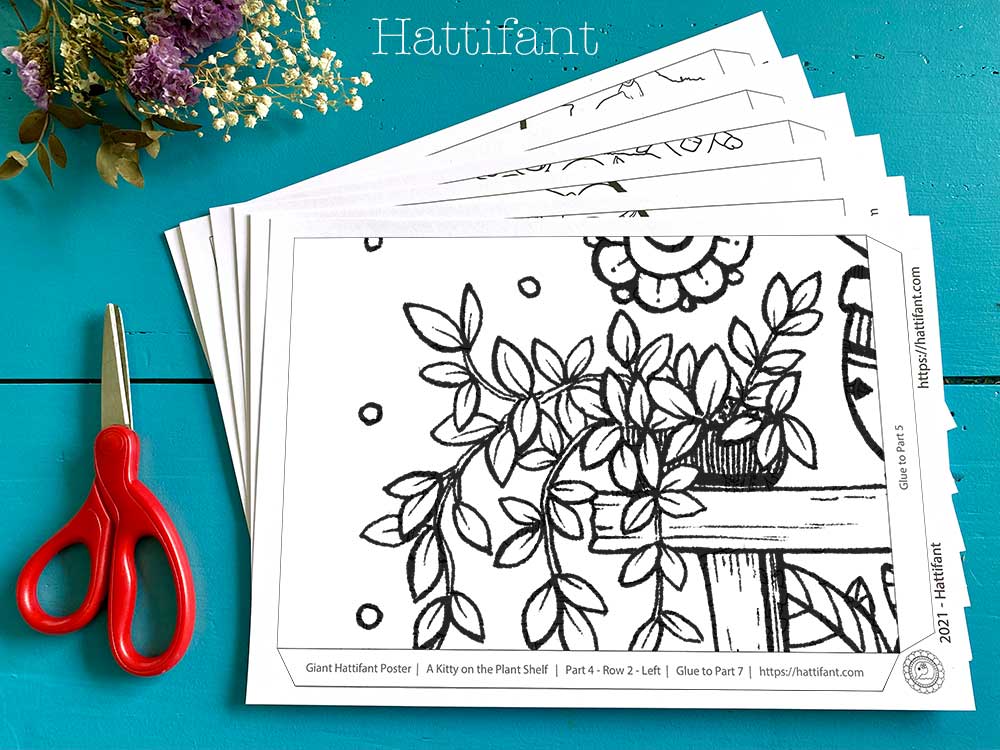 Collect all your 18 printed pages and start cutting out the individual poster pages.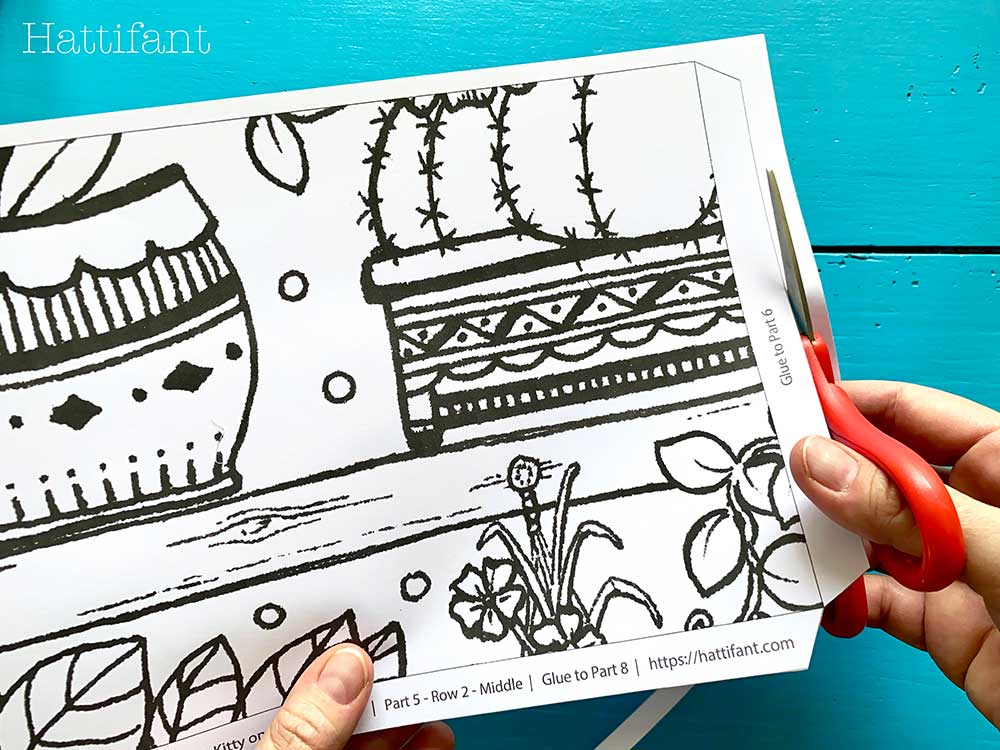 Place them in order on the floor or table (if you have one big enough). You really don't have to worry about messing up the order. Every page tells you where it wants to be and with which other page it wants to be neighbours with. 🙂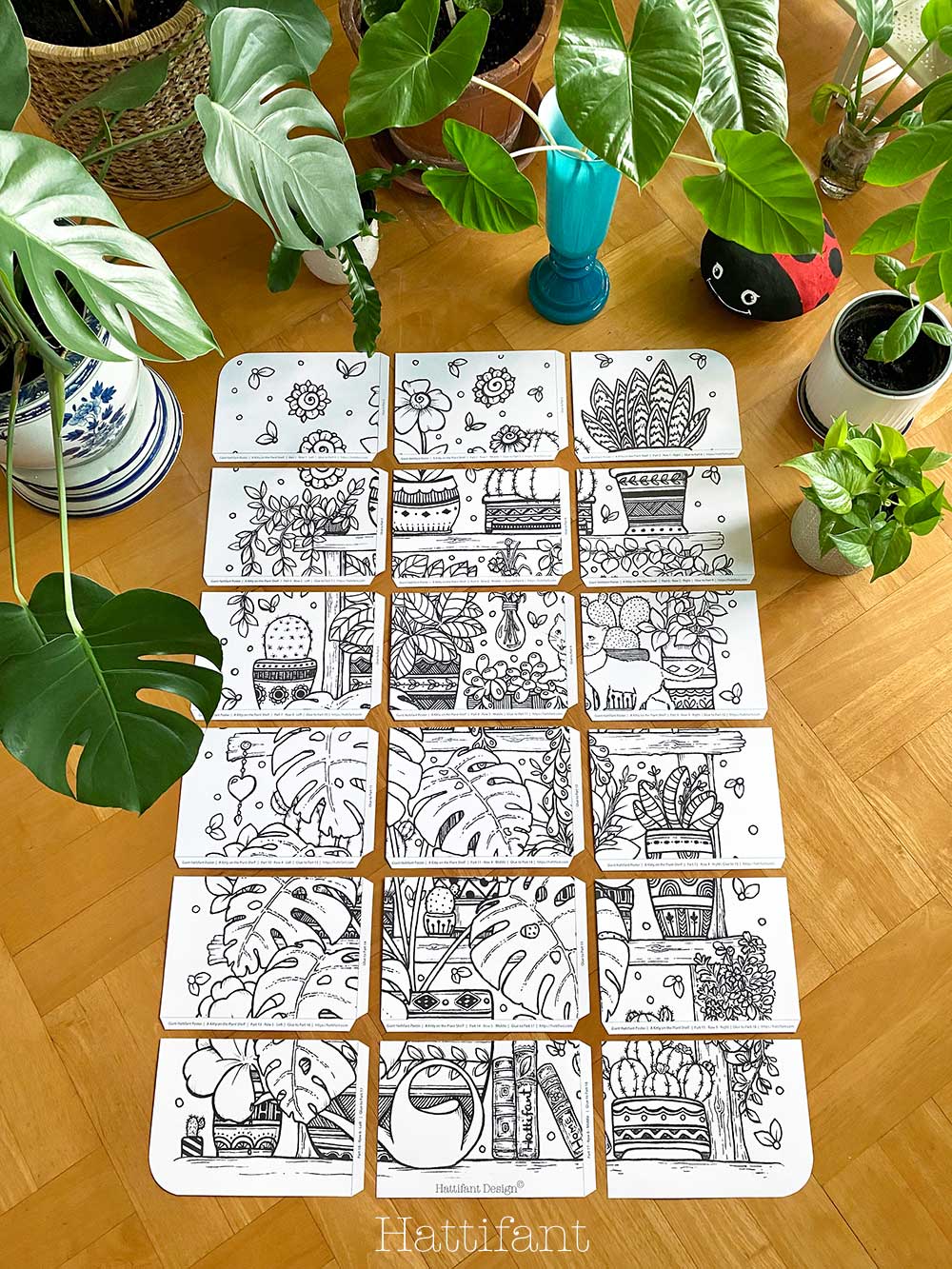 Then all that is left is to glue the pages together. Start off in the upper left hand corner and work your way down from page 1 to page 18.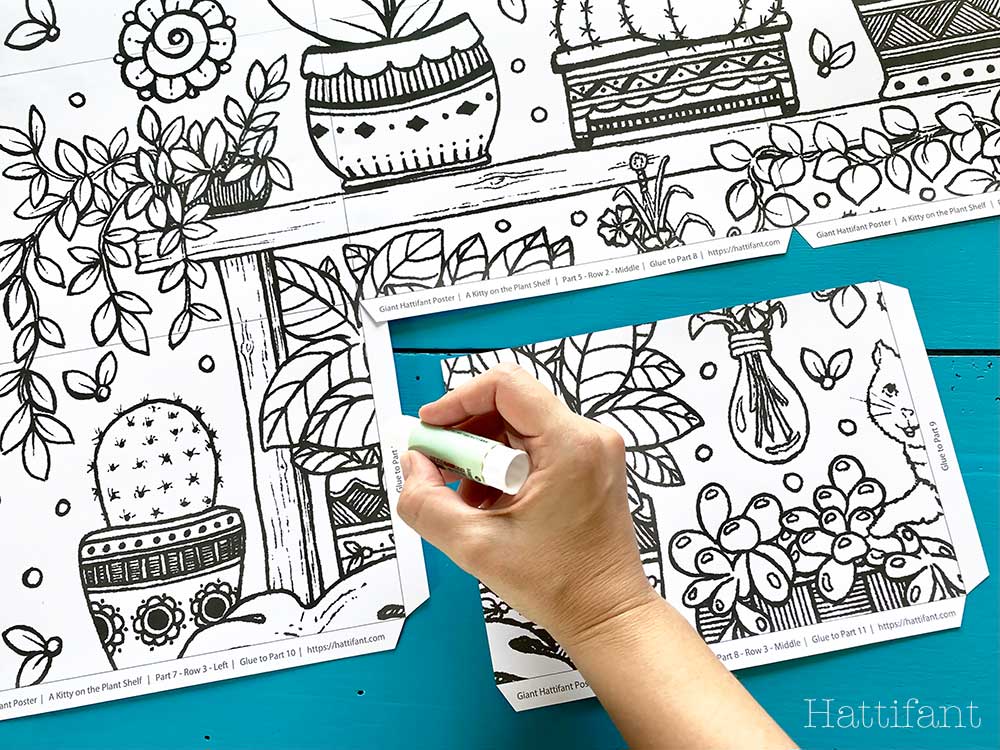 Time to collect all your colouring supplies! Woohoo!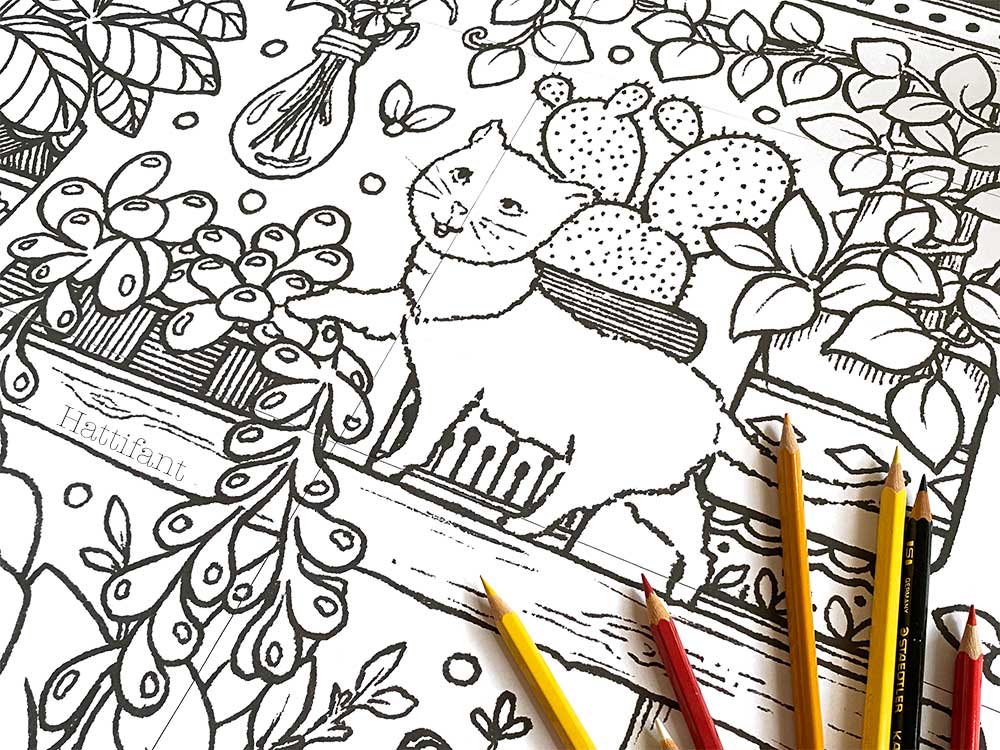 I started coloring my poster already, of course and used water color paints and then also my favorite felt pens: Koi Coloring Brush Pens from Sakura. Then I always love to add more 3D effects and shade with Aquarell Pencils. They work like any other coloring pencil. You gently shade and then you can add a little water. With the poster here normal coloring pens will do just fine also. The poster is just sooo big! 🙂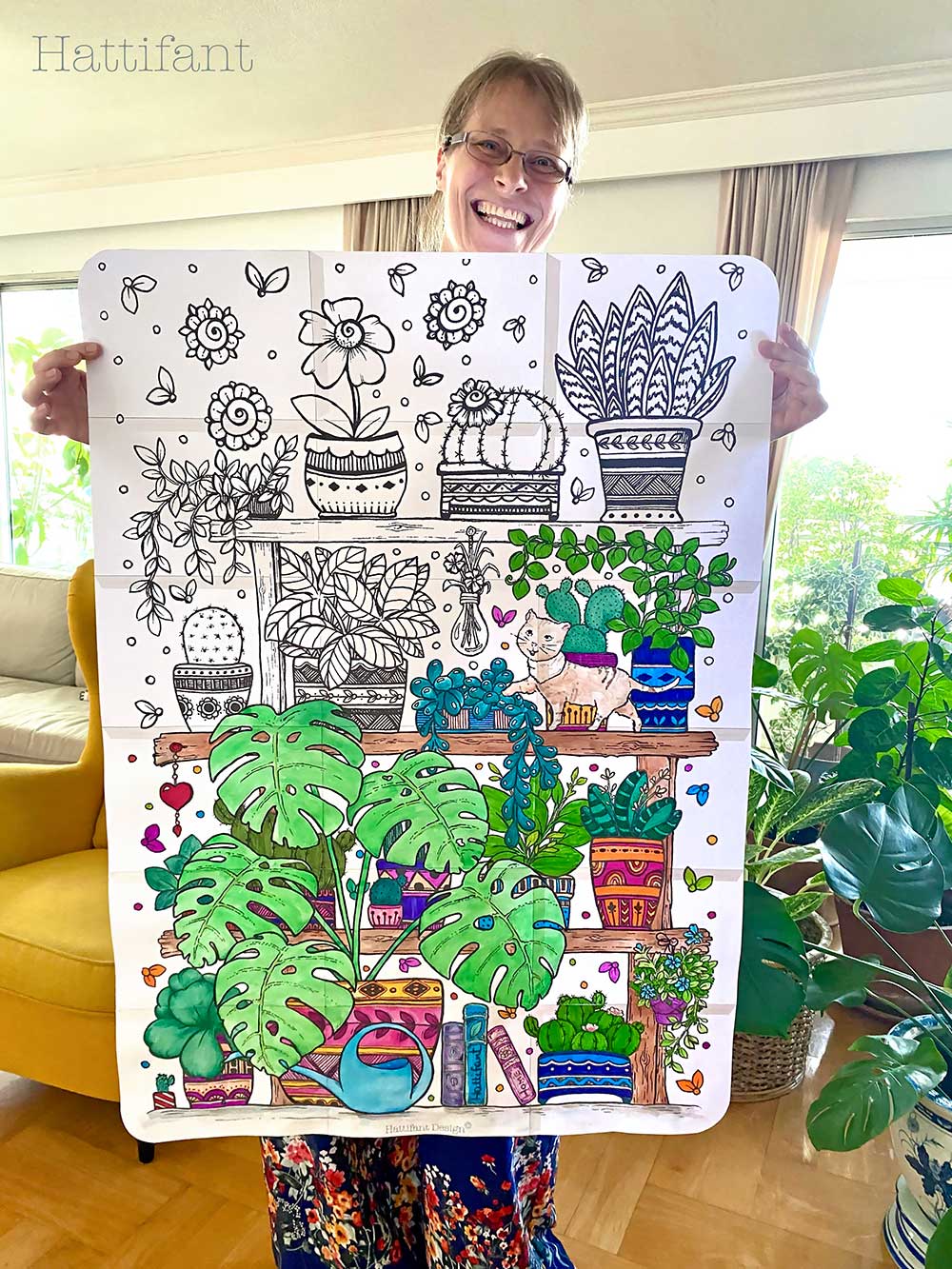 HOW TO in short:
download the Giant Poster,
print out PDF files on 120-180 gsm paper,
cut out individual pages,
glue pages together to one big GIANT Poster,
COLOR!
PRINTABLES
You can choose between two 'A Kitty on the Plant Shelf' bundles:
GIANT Poster Bundle
You will receive:
Giant poster in 2 PDF files
A4 Coloring Page 'A Kitty in the Plant Shelf'
Post Card
Double Sided Greeting Card
Instructions
a little extra Thank You!
Coloring Page Bundle
You will receive:
A4 Coloring Page 'A Kitty in the Plant Shelf'
Post Card
Double Sided Greeting Card
a little extra Thank You!
(For the 18 x A4 pages in 2 PDF files please scroll through the PDF to find all. If you print on US Letter size paper then please adjust your printer settings to "Fit to page")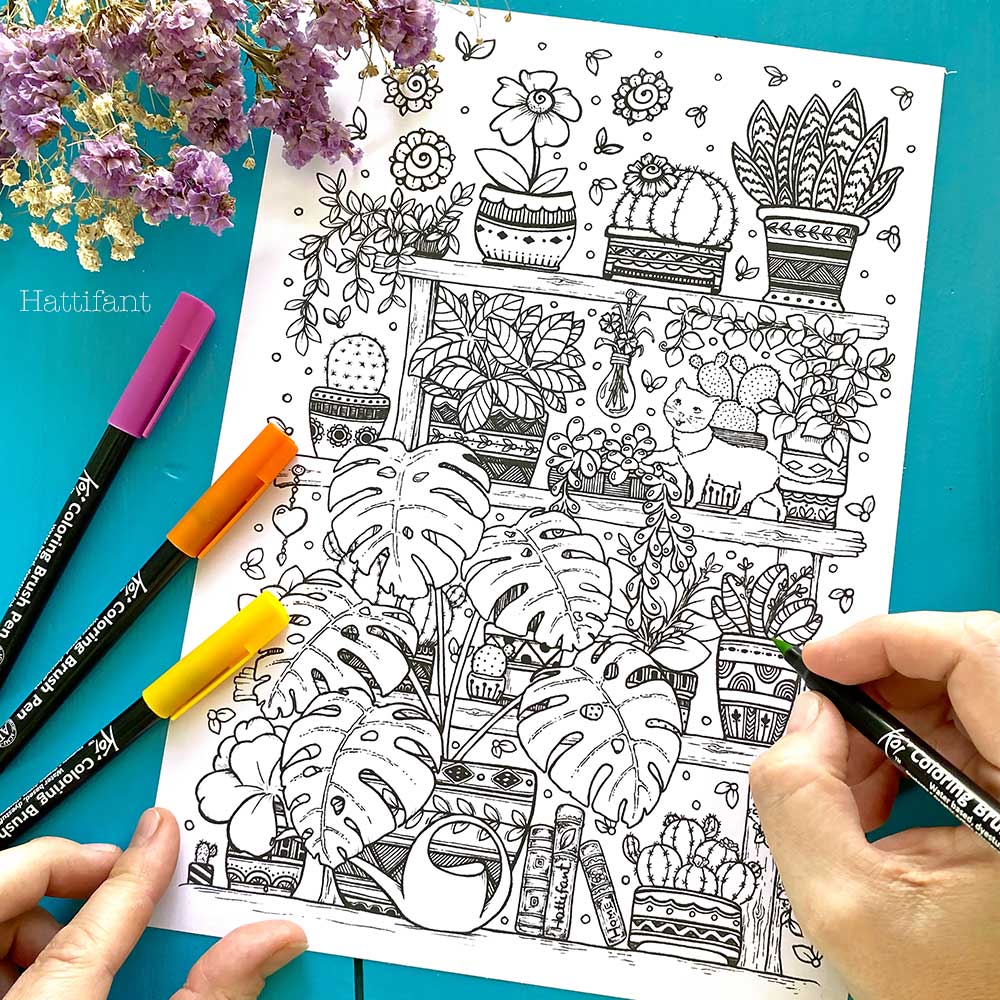 Have the most of fun coloring all the plants and the little kitty cat. Wishing you all a wonderful Spring, Summer, Autumn or Winter! And remember:
"In a world where you can be anything, be KIND!"
More Flower Crafts:
You like Hattifant's designs, toys & décor? Why not FOLLOW Hattifant on Facebook or Instagram and always be up-to-date with Hattifant's latest adventures…
PERSONAL AND NON-COMMERCIAL USE LIMITATION
NO DIRECT LINKS TO PRINTABLES ALLOWED! Please kindly note that the use of the Hattifant Site and its services (e.g. downloads) offered, are for your personal and non-commercial use only. You may not publish, license or create derivative works (for commercial use) from, transfer, or sell any information, products, downloads or services obtained from the Services. Hattifant is the sole owner of all content on the Hattifant Site, unless stated otherwise. You may borrow pictures but always name the source and link to the Hattifant Site, please. It would be lovely if you sent an email to manja(at)hattifant(dot)com in this case. Thank you!