Lets make a Mobile: Rainbows and Unicorns
This craft is all about rainbows…! They are just sooo pretty and I never realized Hattifant didn't have a rainbow craft yet!
Unbelievable! So here it goes! 🙂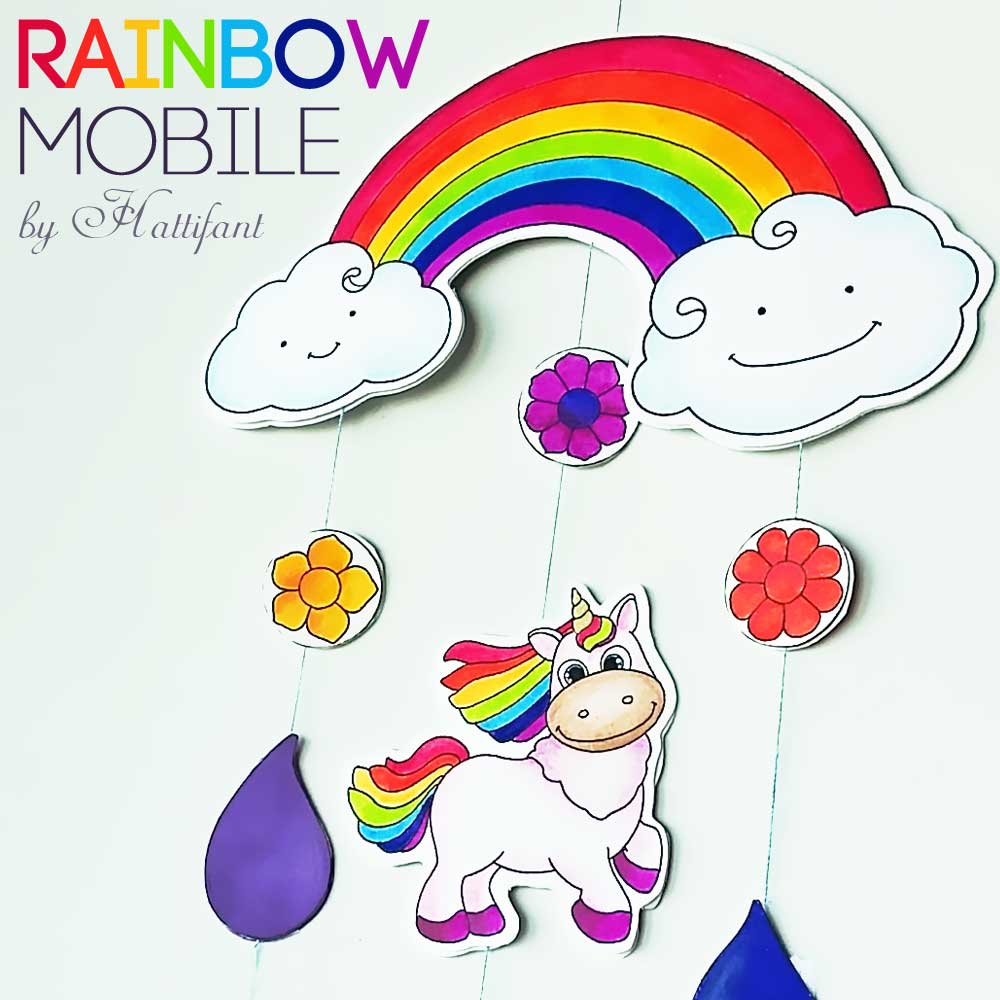 So cute! As you can see we do not only have a rainbow but a RAINBOW UNICORN on top! And you can decide on how you color your flowers and raindrops. It's all up to you! I am looking forward to seeing your creations! 🙂
Rainbow and Unicorn Mobile
As always I have createda video that will show you in detail on how to make your own:
Ready to make your own?! Lets go!
WHAT YOU'LL NEED
printables
scissors
lightweight cardstock
coloring pens
glue or double sided tape
Printables
There are two options!
FREE to DOWNLOAD is the smaller version that you can color in and craft to your liking!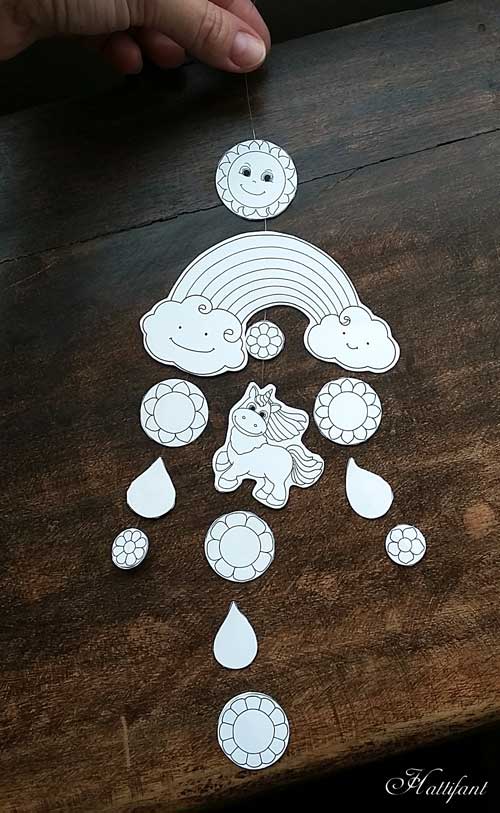 You may also be interested in the Premium Bundle!
The premium Bundle consists of this mobilé in two different sizes.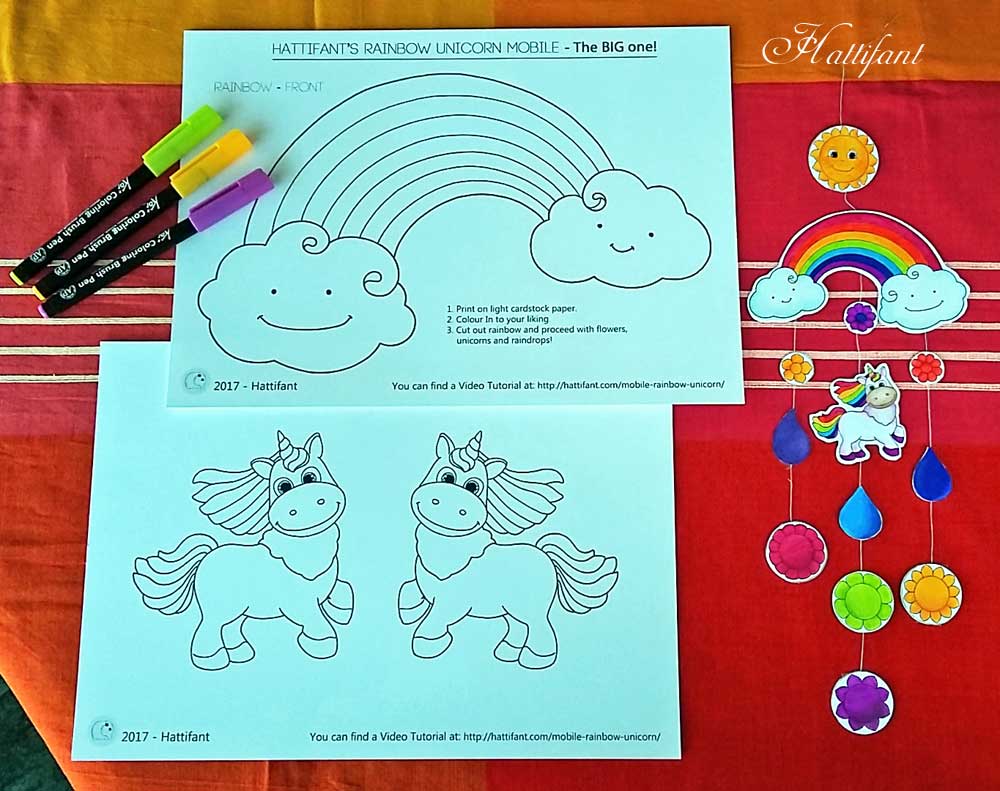 A smaller version with the rainbow measuring appr. 4.5 inches (~12cm) in width and a much bigger version that will look amazing in any nursery room with 10.5 inches (27cm) in width.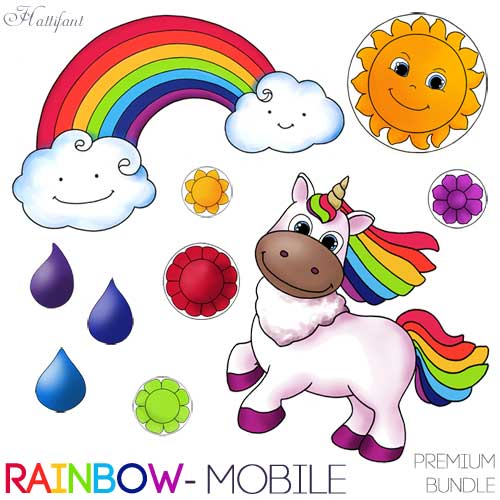 The Premium Bundle also offers you both sizes in color! So you can decide wether you want to color it yourself or simply skip that step and start crafting it straight away.
So…
2 different sizes
to COLOR IN and IN COLOR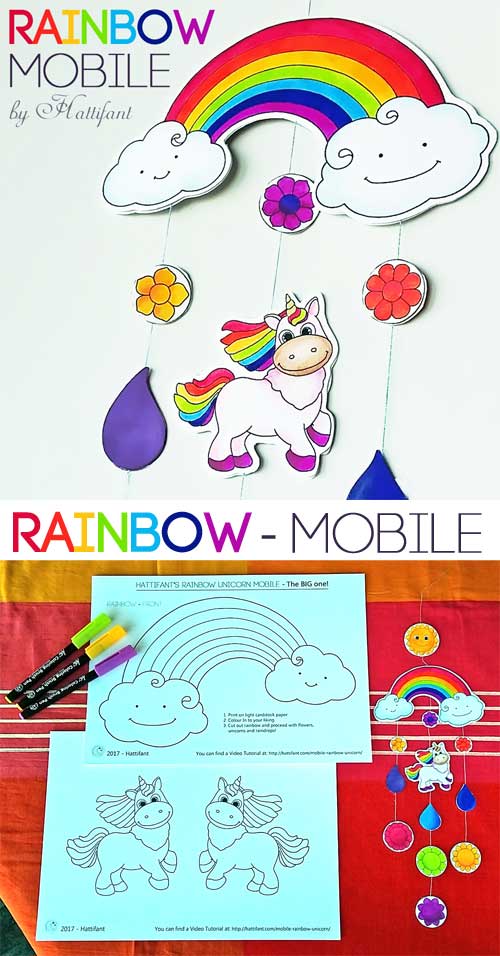 MORE from HATTIFANT
My NEW Coloring Book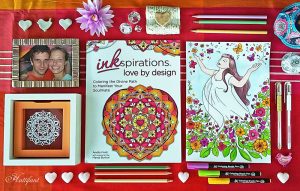 Kaleidocycles to Color

Angel Luminaries Papercraft

---
You like Hattifant's designs, toys & décor? Why not LIKE Hattifant on Facebook and always be up-to-date with Hattifant's latest adventures…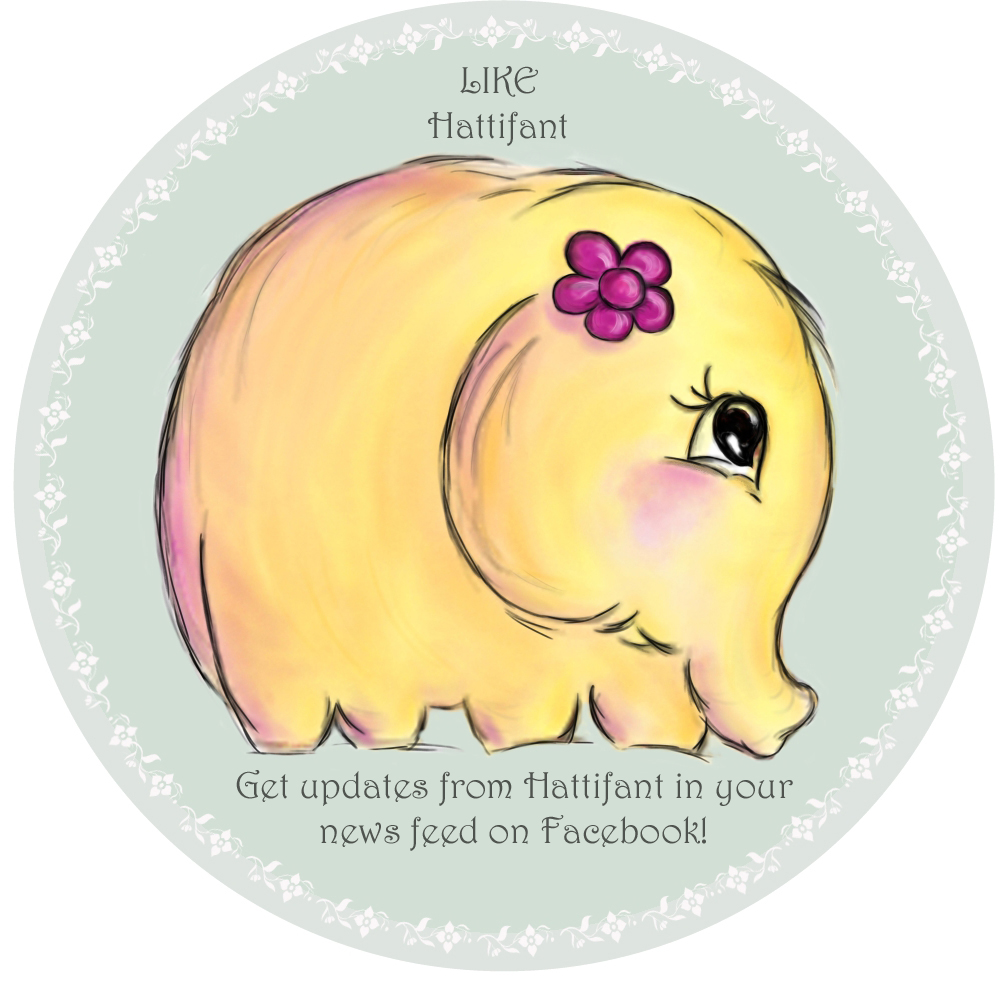 PERSONAL AND NON-COMMERCIAL USE LIMITATION
NO DIRECT LINKING OR HOT-LINKING ALLOWED!
Please kindly note that the use of the Hattifant Site and its services (e.g. downloads) offered, are for your personal and non-commercial use only. You may not publish, license or create derivative works (for commercial use) from, transfer, or sell any information, products, downloads or services obtained from the Services. Hattifant is the sole owner of all content on the Hattifant Site, unless stated otherwise. You may borrow pictures but always name the source and link to the Hattifant Site, please. It would be lovely if you sent an email to manja(at)hattifant(dot)com in this case.
Thank you!
Merken
Merken
Merken
Merken