GIANT Spring Board Game to Color & Play
Sorry but SQUEEEEEEEEEEK! We had soo much fun this weekend and finally I got the little ones in bed to share this refreshing & uplifting Giant Spring Board Game to Color & Play with you!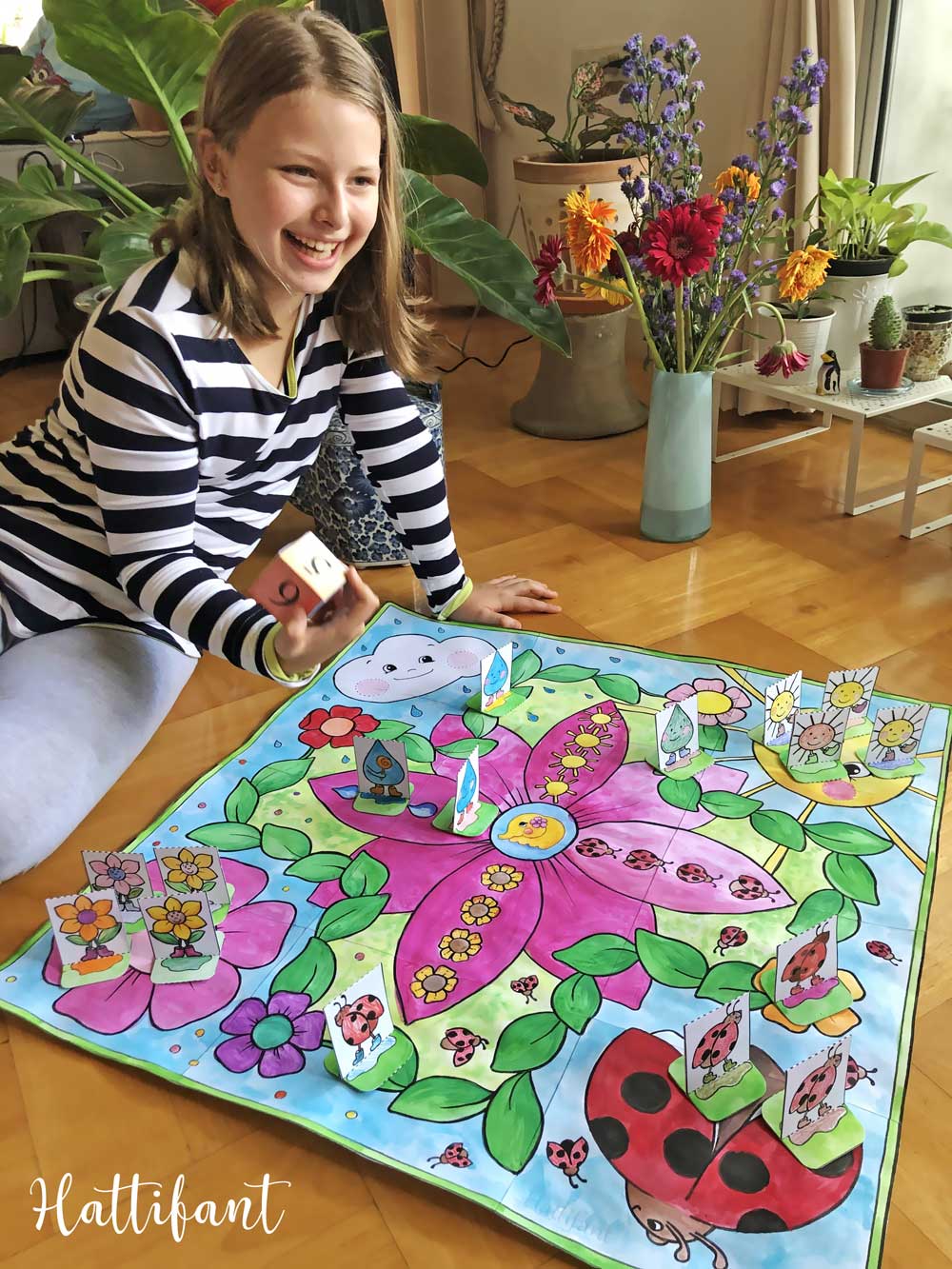 We love board games as many of you do as well. So we got inspired during our last Ludo (Parcheesi) session. You see the result here: a Ludo inspired Giant Spring Board Game. What makes this one special?! You get to make it! And you get to play with your very own creation of a board game!
HOW TO MAKE YOUR OWN
Let me show you how you can make your very own Ludo & Parcheesi inspired Giant Spring Board Game!
You will need:
the templates (see link further below)
180gsm paper / light cardstock
scissors
scoring tool (if you are like me and score before folding)
glue
coloring pens & paints
Step 1 | The making of the main board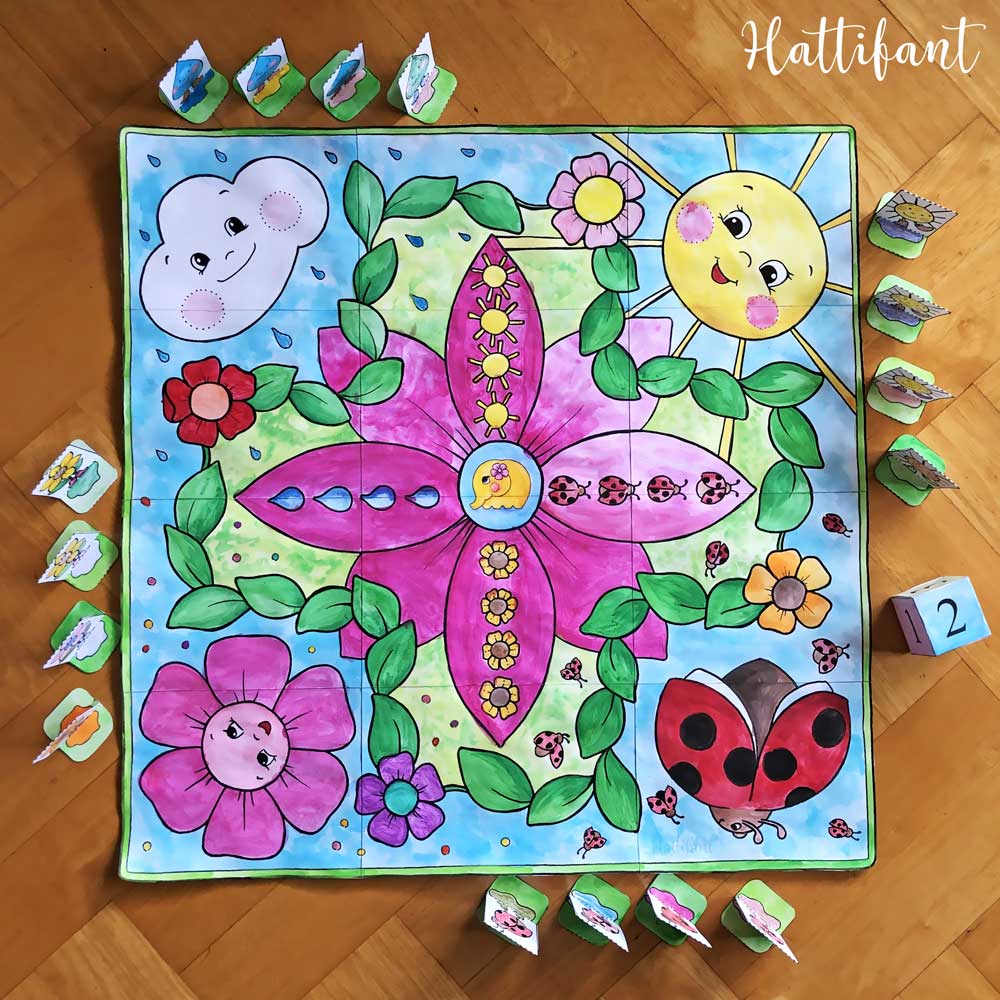 Sigh… doesn't it look lovely! It really brightened up our weekend! Here it goes… Print out your templates and start by cutting out the Giant board parts. There are 12 pages altogether for the board game.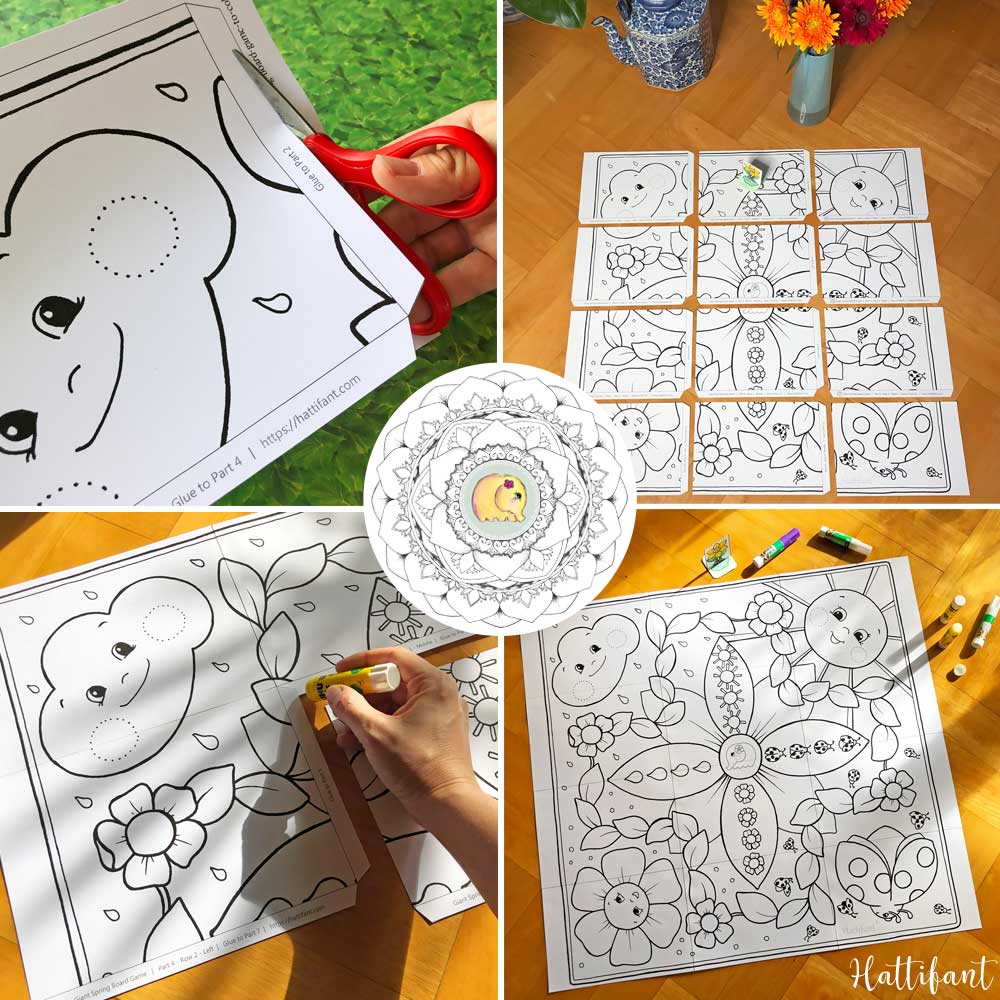 Then I find it easier to set up the pieces like a puzzle so I know where each part of the board goes. Each part tells you to what other page it needs to be attached to. Really easy! Time to glue! Try and be as accurate here as possible. When all glued together you can cut off the rim and you will be left with a giant square board.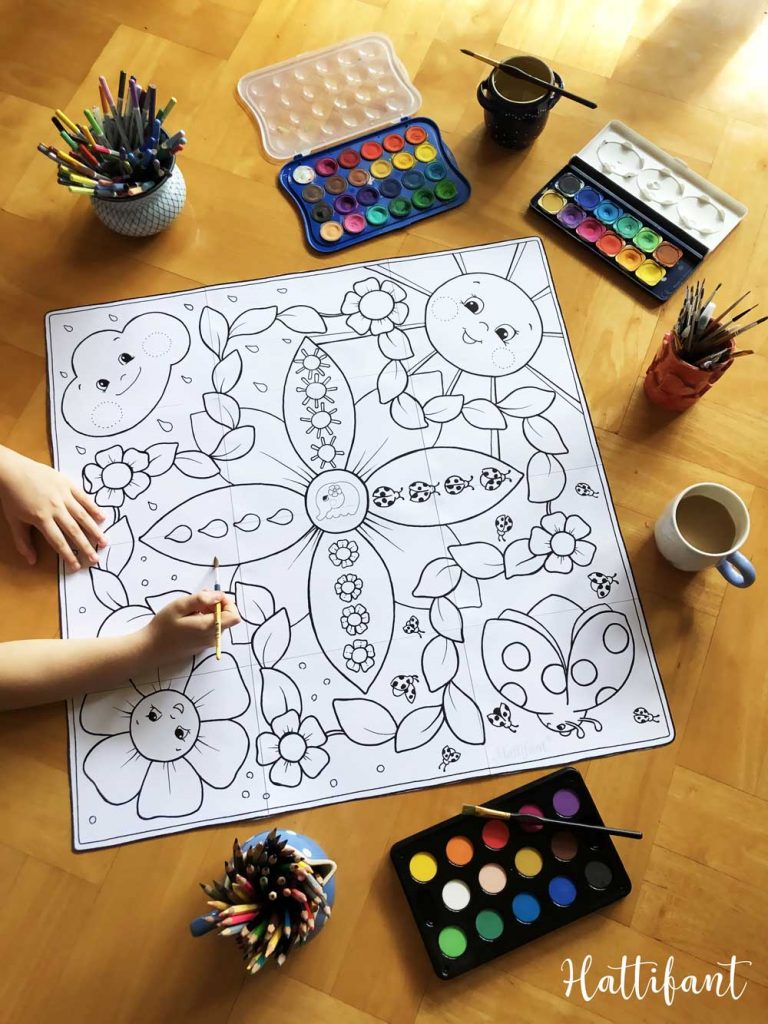 Guess what we will be doing next?! YES!!! We will color the GIANT thing of a Spring Board Game!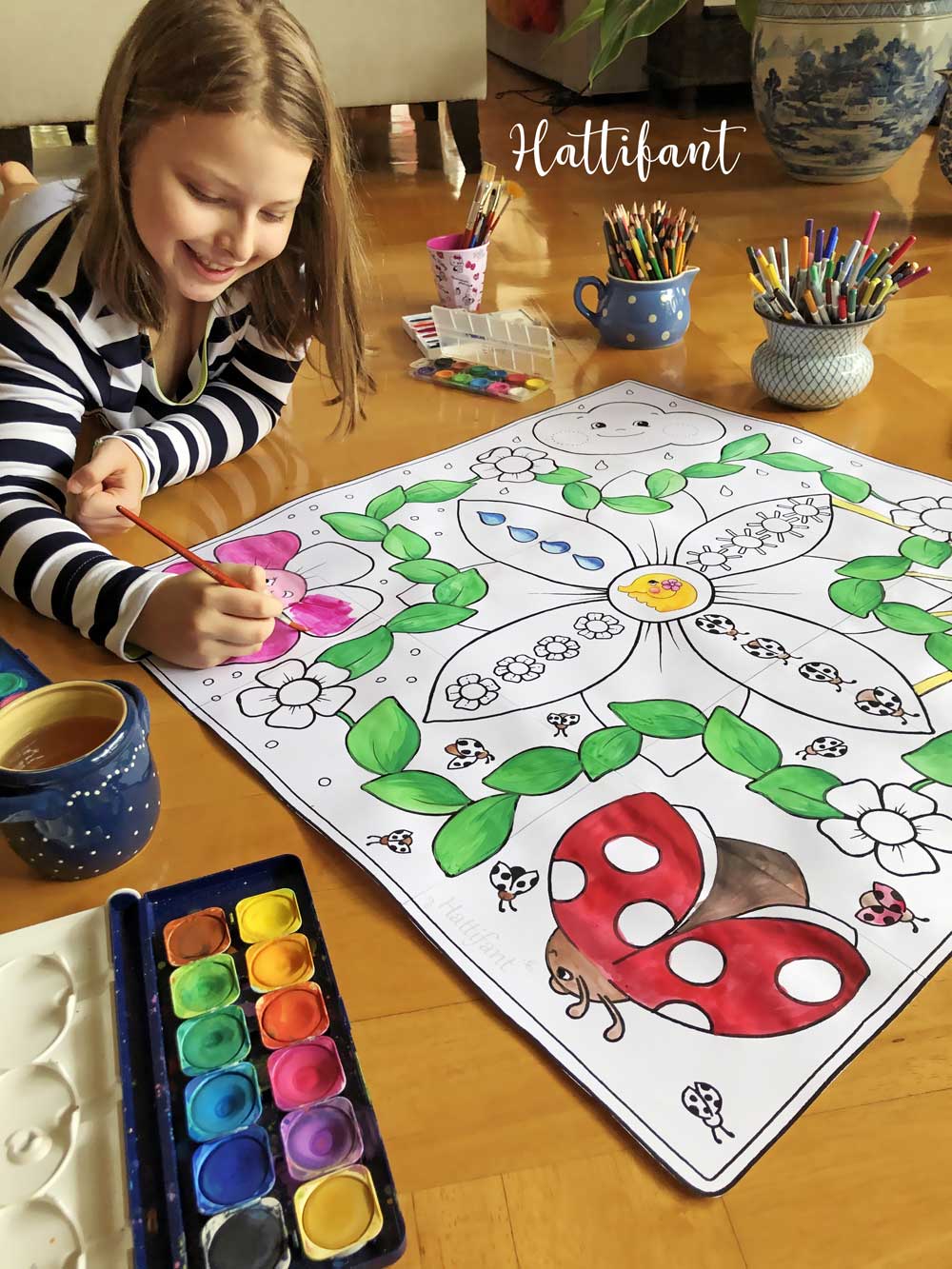 If you can get your whole family involved!!! So much more fun and believe me the pride later when playing with this board game that the whole family created together is HUGE!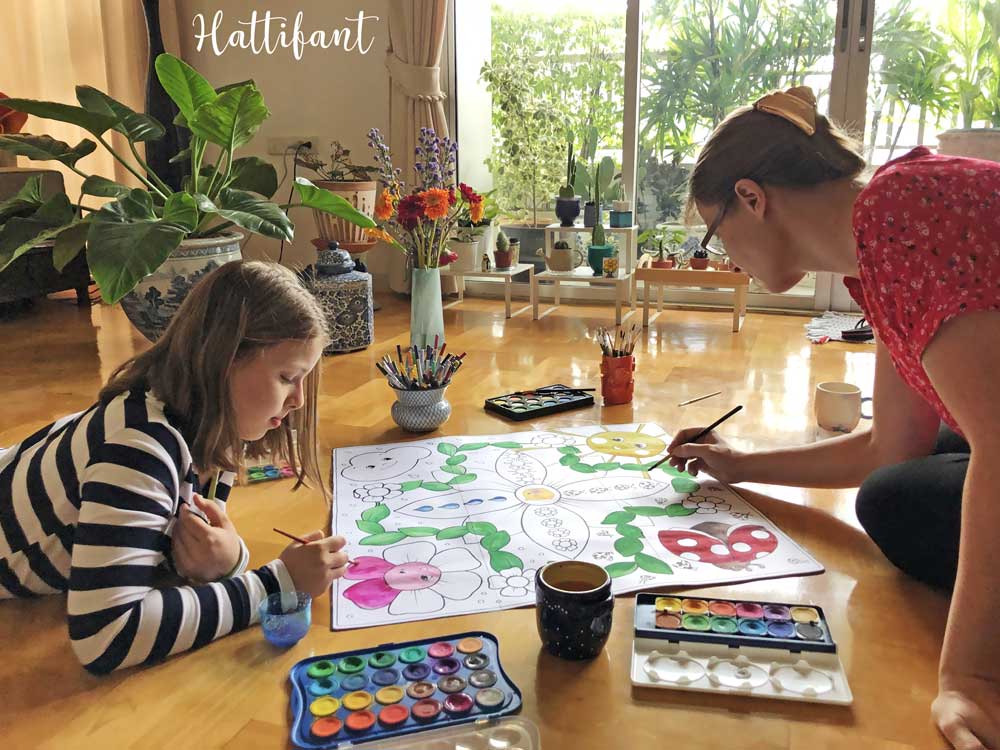 Lets have MORE people!!!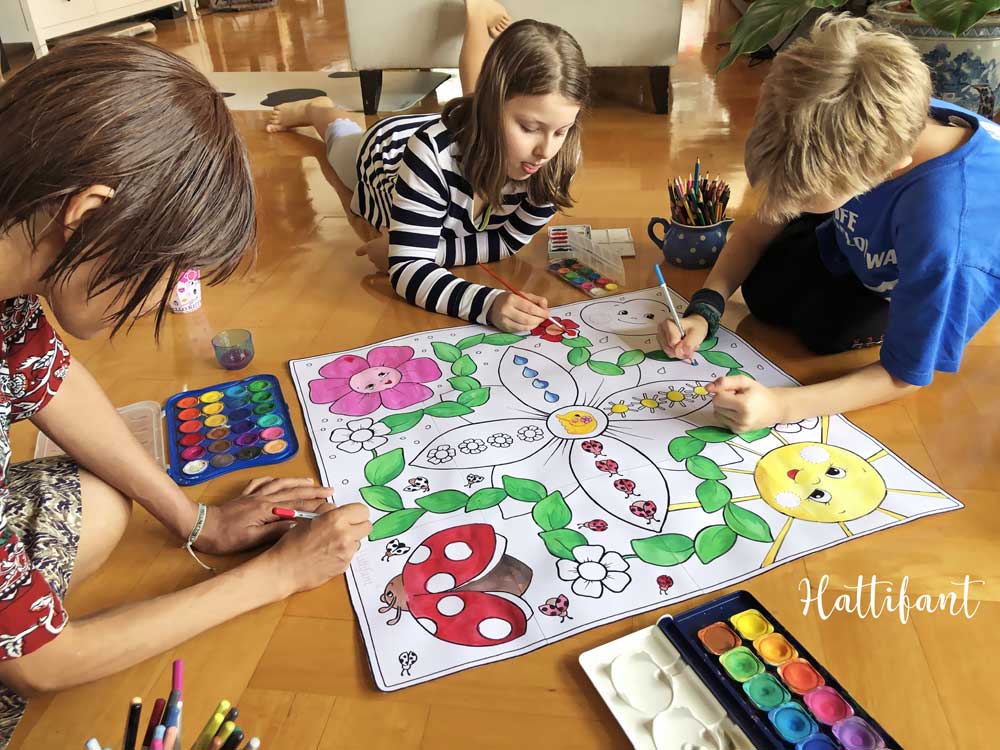 YES! That's it! One day I will convince hubby to color along… one day! 😉
Step 2 | The making of the counters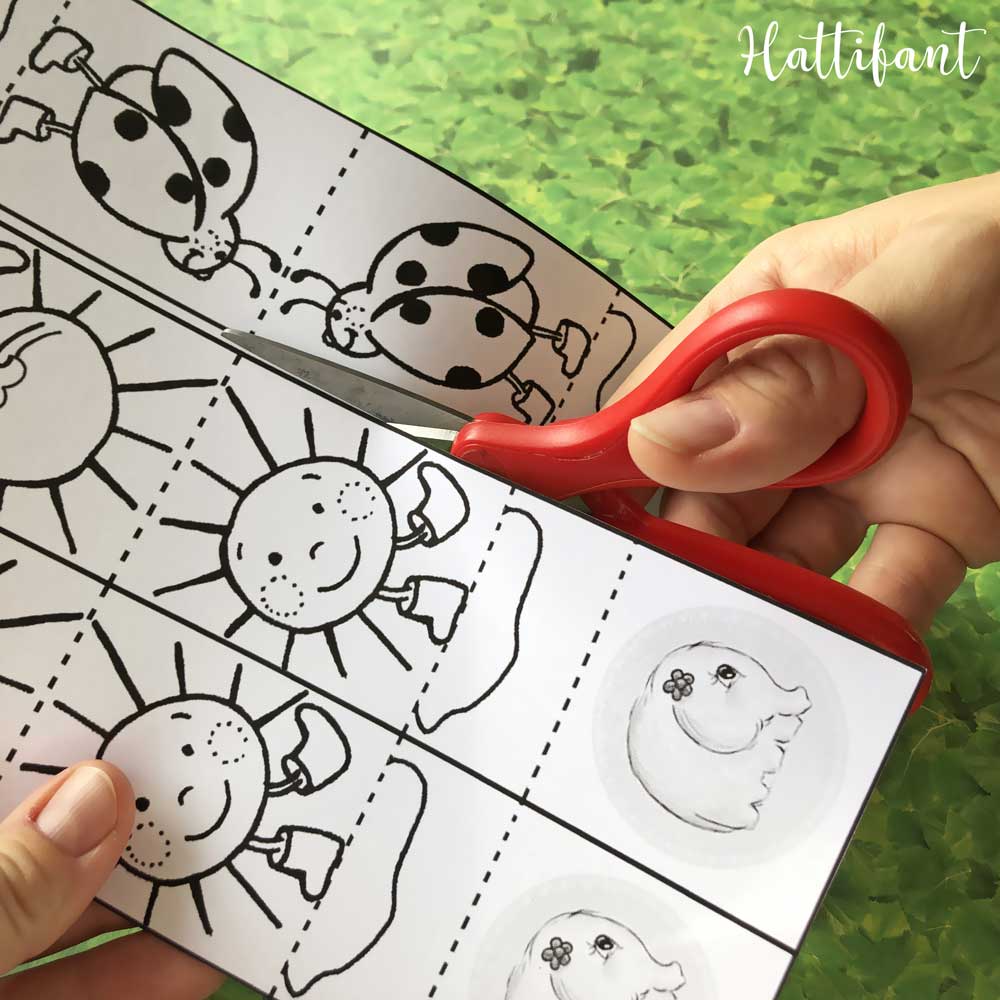 Cut out the counters! There are 4 flowers, 4 ladybirds, 4 suns and 4 raindrops.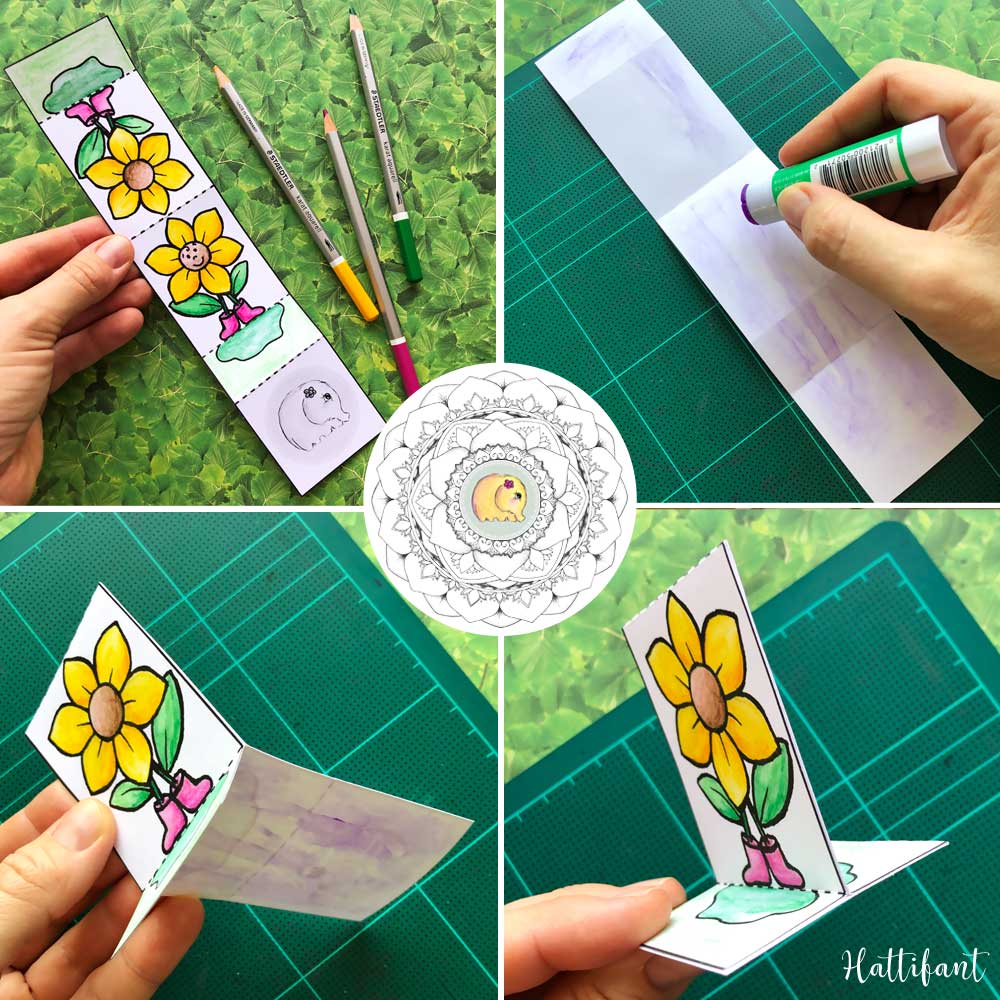 Color in the images, add glue to two thirds of the stripe and then glue the counter together as shown in the images above!
If you like you can cut round edges. What is left? Ah yes… the dice!!!
Step 3 | The making of the dice
My little one wanted to do this one all alone… So here is her description of what to do: Color, cut out the template, fold, glue together. Any more questions?! 🙂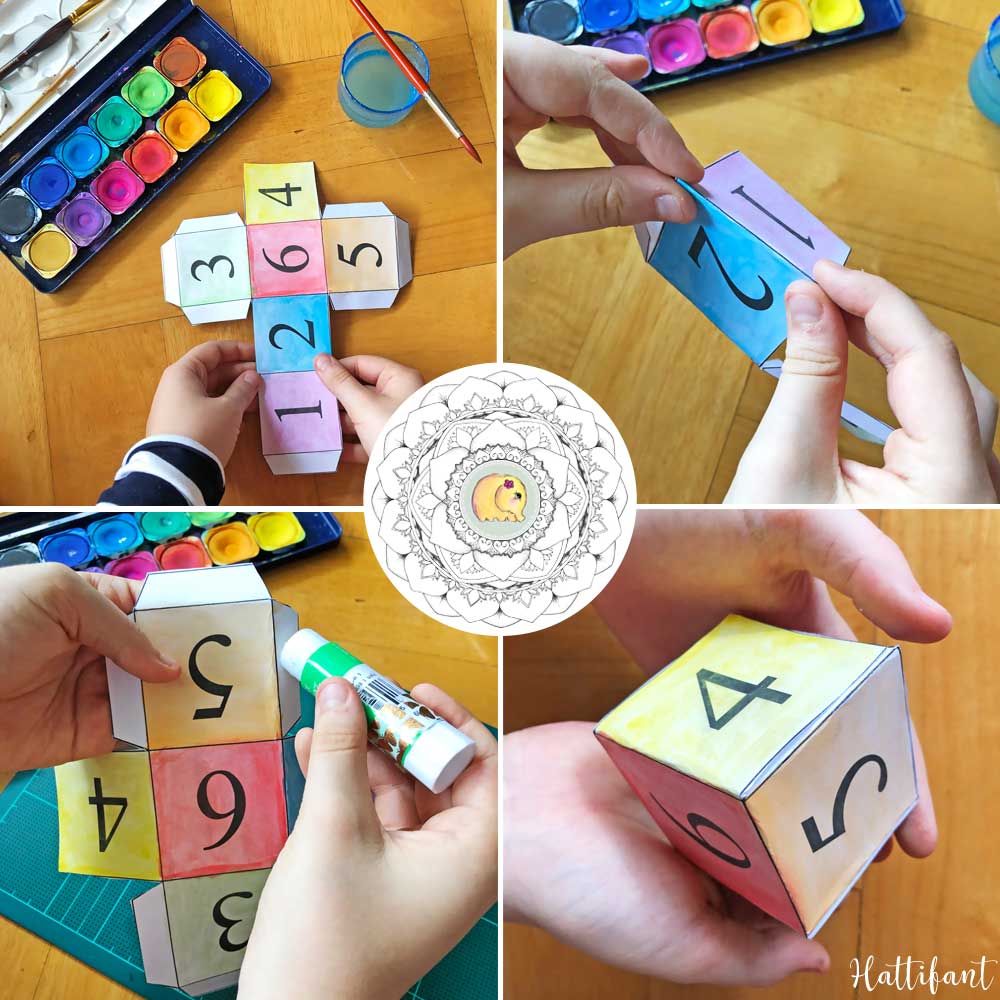 That's it!!! It really is an easy one to make – all of it from board to counters to dice!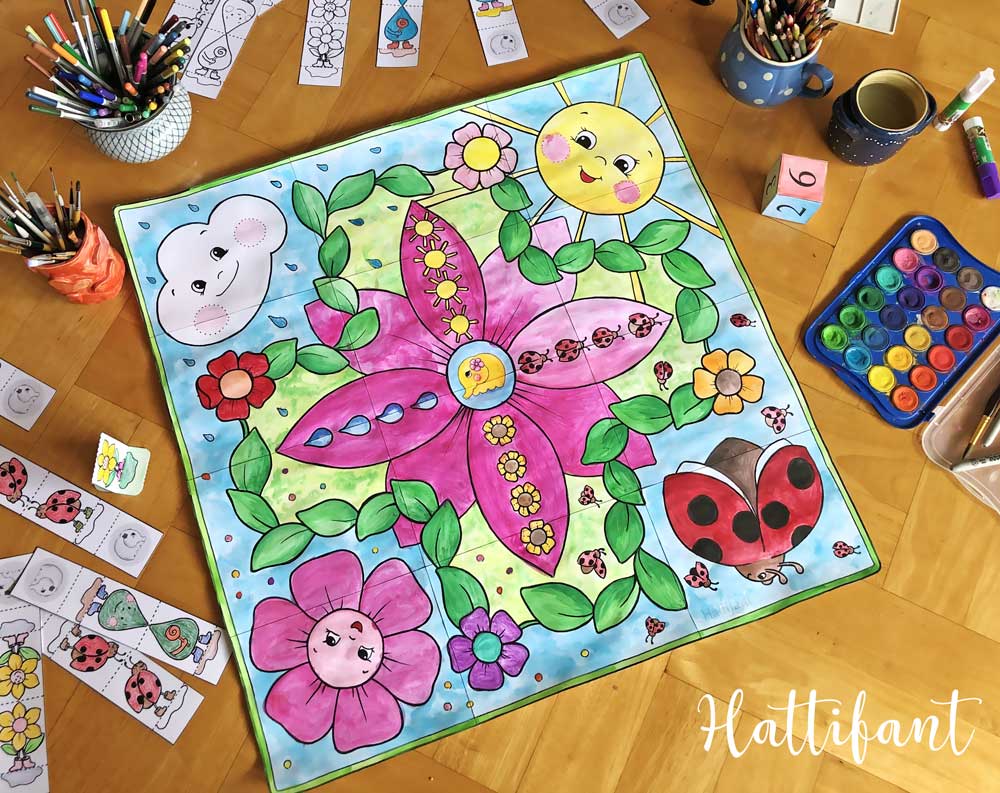 Step 4 | Get your family and PLAY!
Make sure to discuss all the rules before starting the game. If you do not remember exactly how to play Ludo/Parcheesi then quickly check online.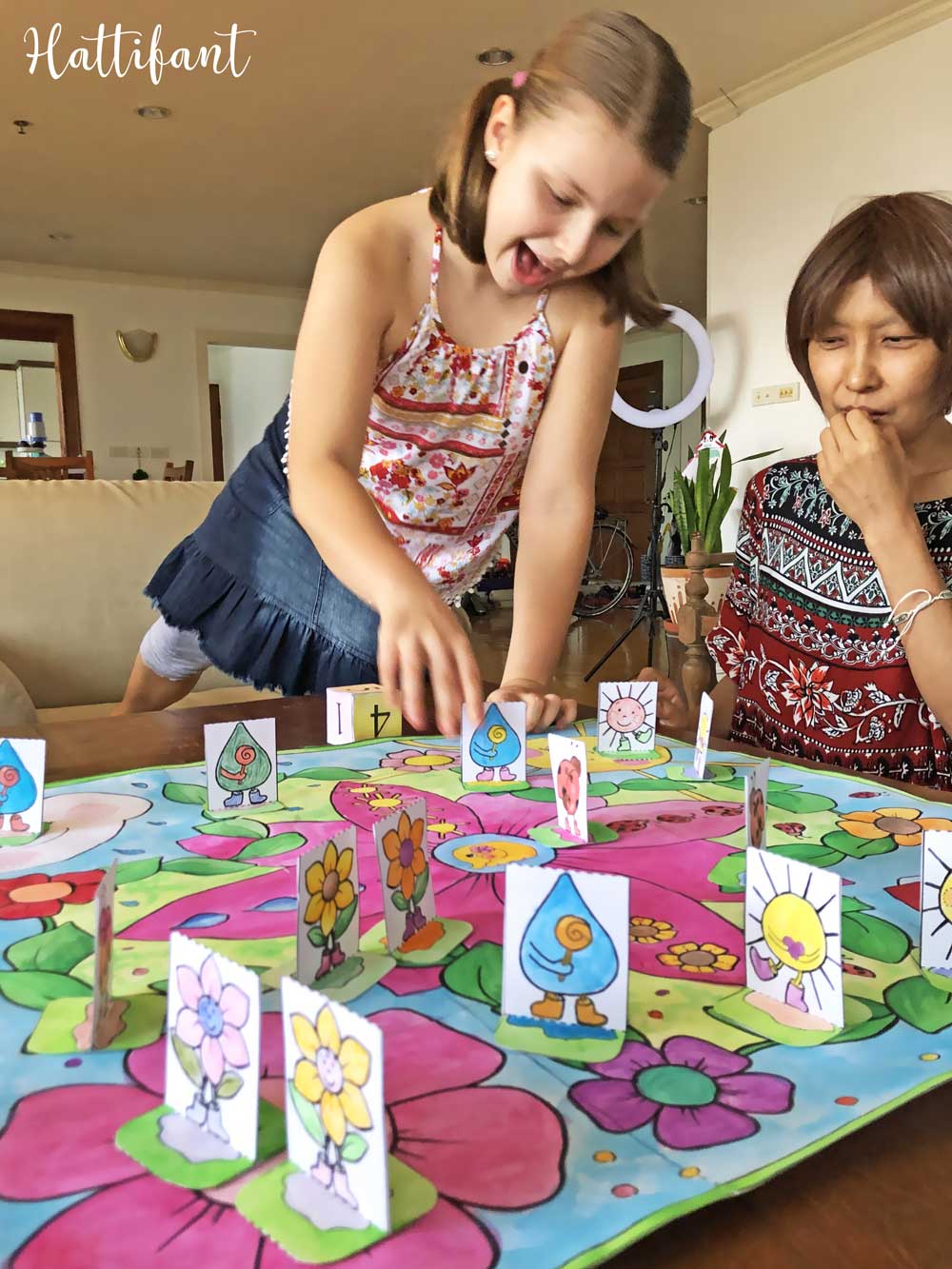 You cannot make such a big version but would love to have a travel size (normal A4 paper size)? No problem, we got you covered also!
Cute right?!
PRINTABLES
I created a whole bundle filled with crafting & coloring fun. In this Giant Spring Board Game bundle you will find:
GIANT Board à 12 pages (1 PDF file)
GIANT Counters (4×4 = 16 altogther) & Dice à 7 pages (1 PDF file)
Travel size Spring Board Game incl. counters & dice (2 pages in 1 PDF file)
Instructions in PDF format
or choose to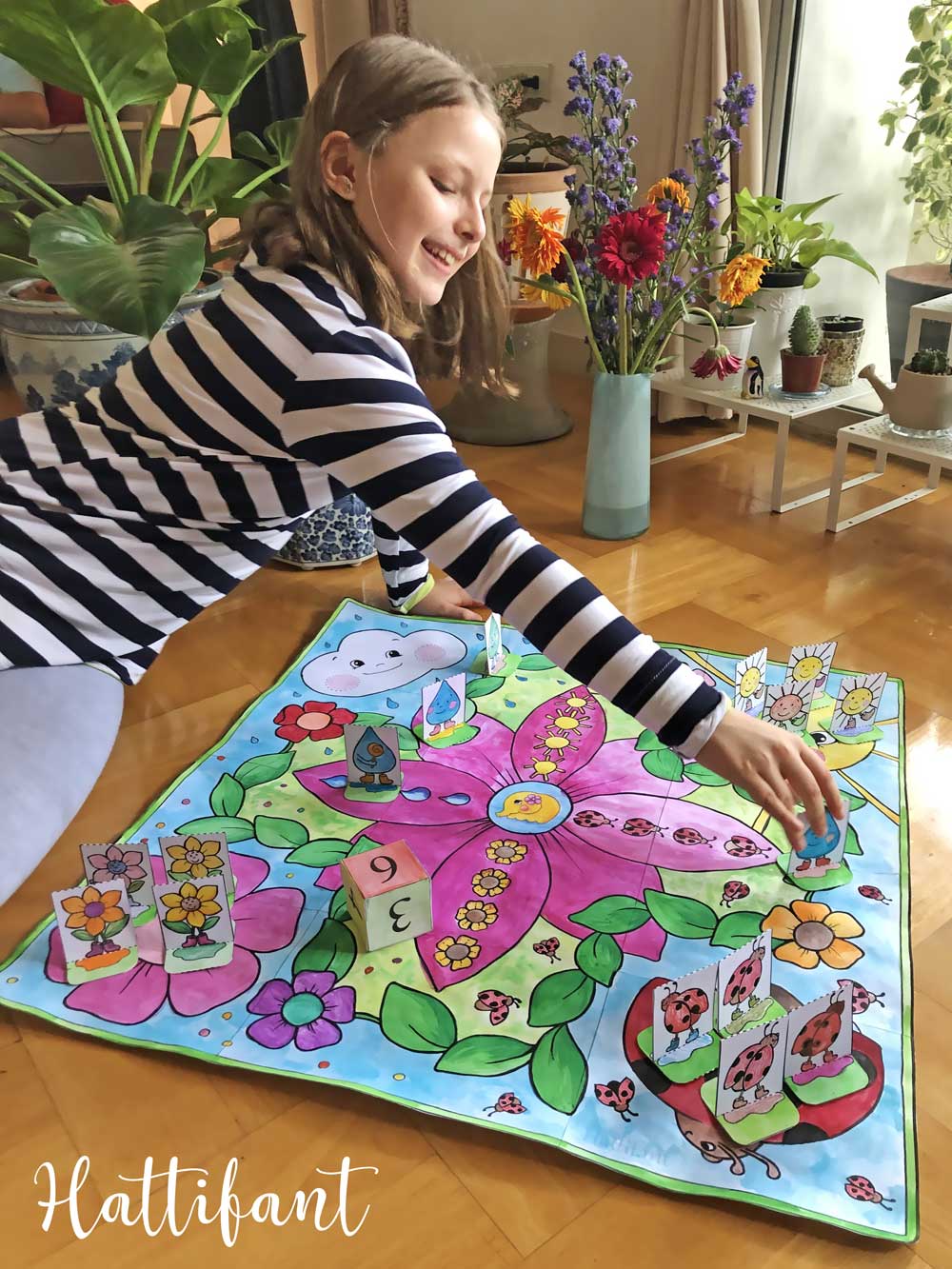 Wishing you a fantastic time coloring, crafting and playing with your whole family!!!
MORE Hattifant Paper Crafts: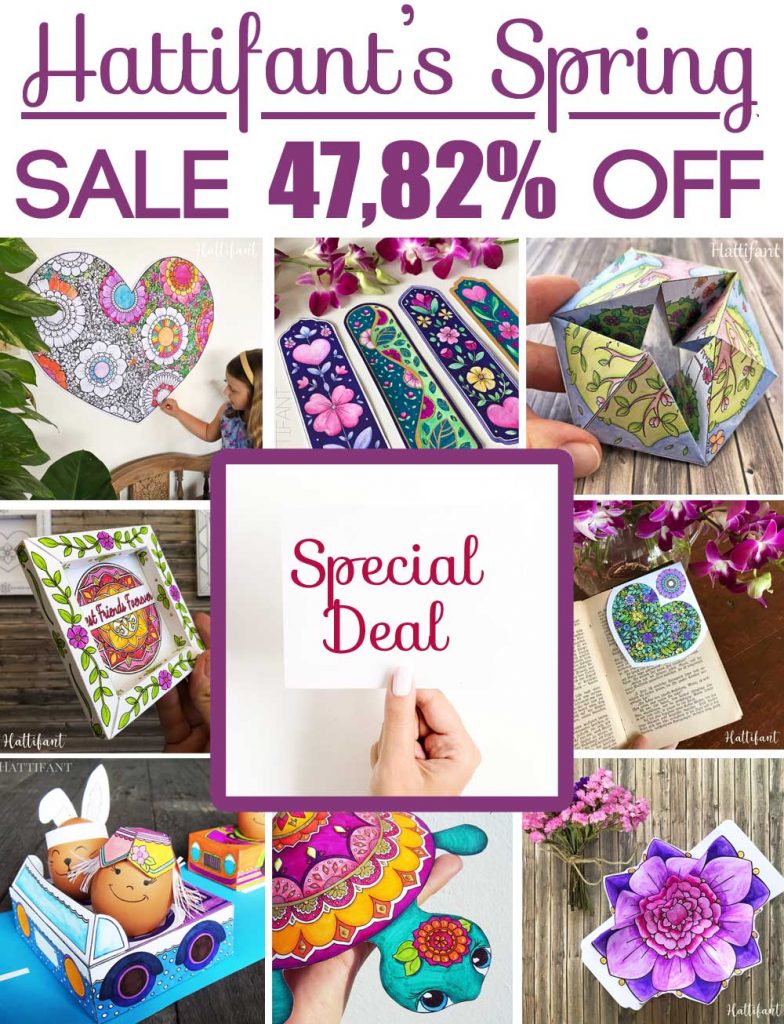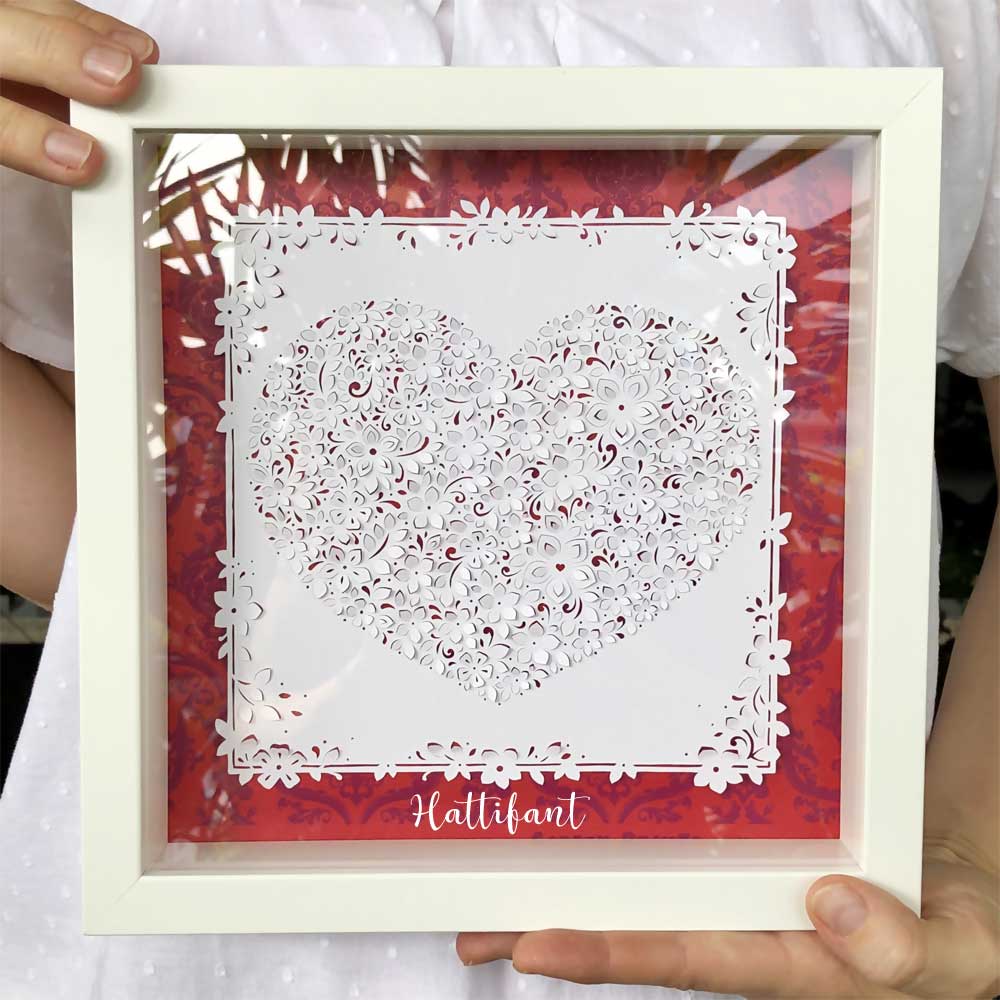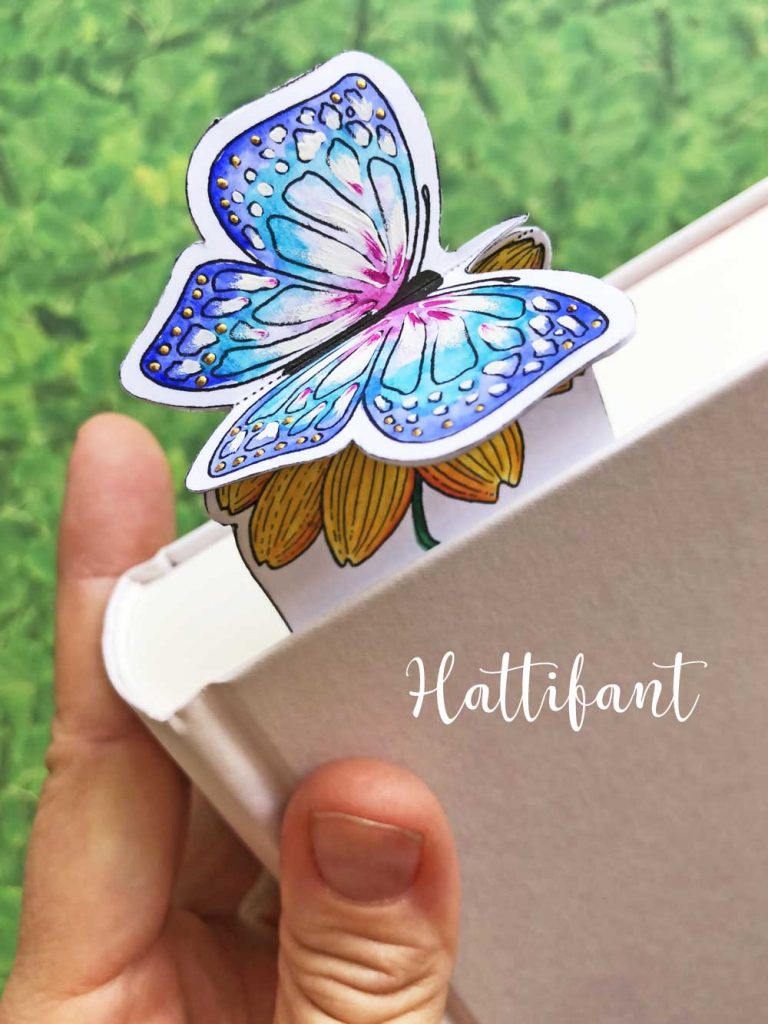 You like Hattifant's designs, toys & décor? Why not LIKE Hattifant on Facebook and always be up-to-date with Hattifant's latest adventures…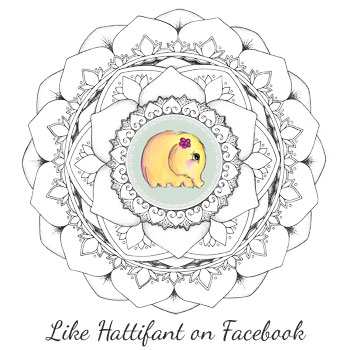 PERSONAL AND NON-COMMERCIAL USE LIMITATION
NO DIRECT LINKS TO PRINTABLES ALLOWED! Please kindly note that the use of the Hattifant Site and its services (e.g. downloads) offered, are for your personal and non-commercial use only. You may not publish, license or create derivative works (for commercial use) from, transfer, or sell any information, products, downloads or services obtained from the Services. Hattifant is the sole owner of all content on the Hattifant Site, unless stated otherwise. You may borrow pictures but always name the source and link to the Hattifant Site, please. It would be lovely if you sent an email to manja(at)hattifant(dot)com in this case. Thank you!