ENDLESS CARD | Valentine's Day Endless Card Bundle
I am very excited about this very bundle here! For one, I LOVE Endless Cards! You all know that! And also I promised myself I will be better in sending out greetings to loved ones. May it be Valentine's Day or not. But I am in general not so good in remembering Birthdays and such. So this year all this will change! *shesayslol
Endless Cards are best "described" in action. So keep on reading and you will find a video tutorial that will show you how an Endless Card works and how to make one yourself!

As you can see in the above picture, you can fold this Endless Card from one picture to the next. After the 4th image you start all over again which gives it is name. You can – if you want – fold this card endlessly.
Now isn't this exciting?! I know, right?!
You will need:
printables
scissors
glue
coloring pencils, pens, water colors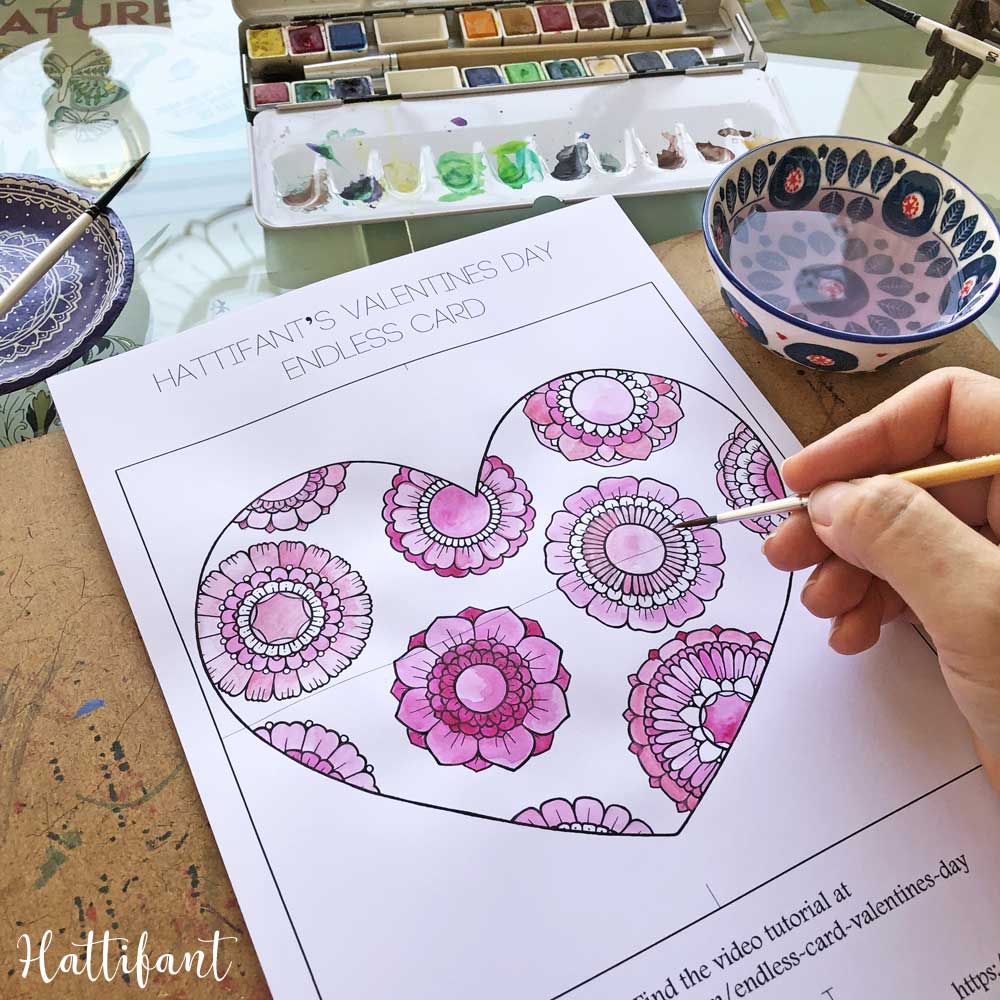 Print off the templates and start coloring. Follow me along in the video tutorial above and create this card together with me! It is such fun!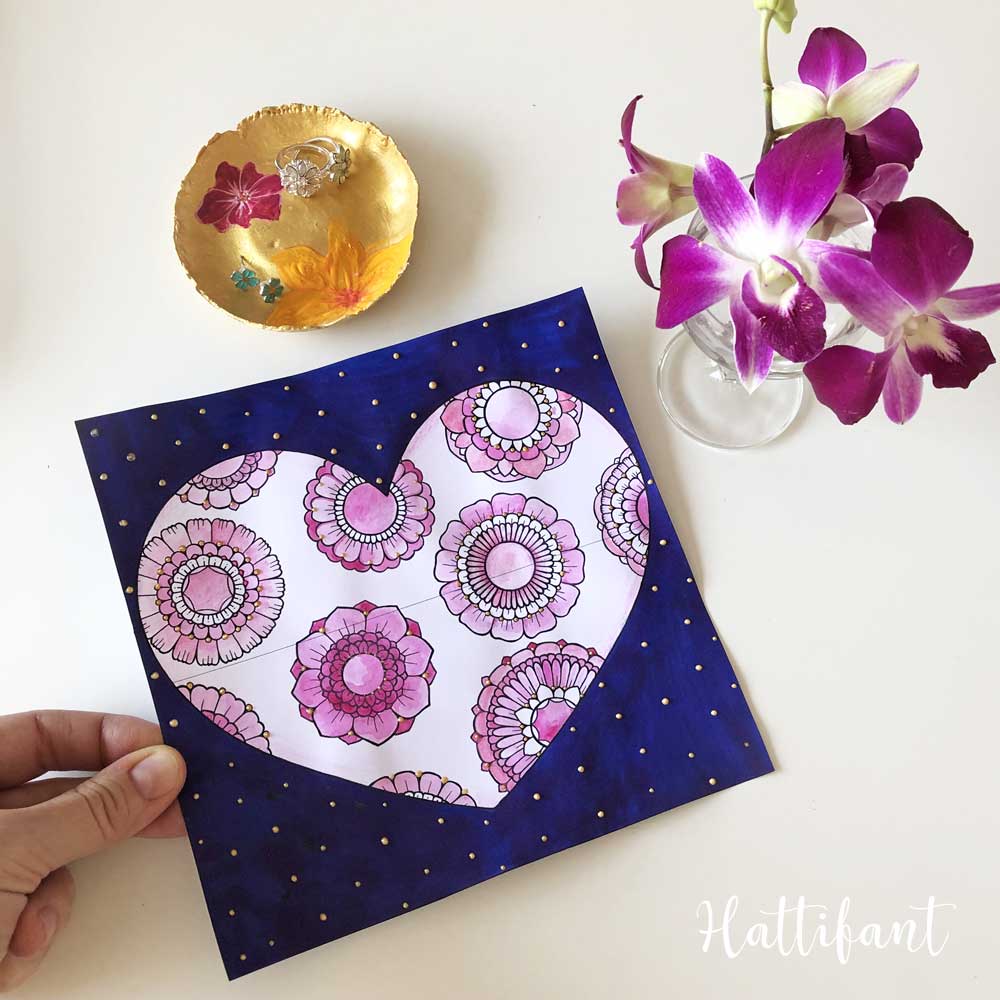 I colored mine with water colors, aquarell coloring pencils, a dark blue permanent marker and a golden Kirarina Cute Pen from Sakura. I don't seem to get away from the dark blue background at the moment. Just love it.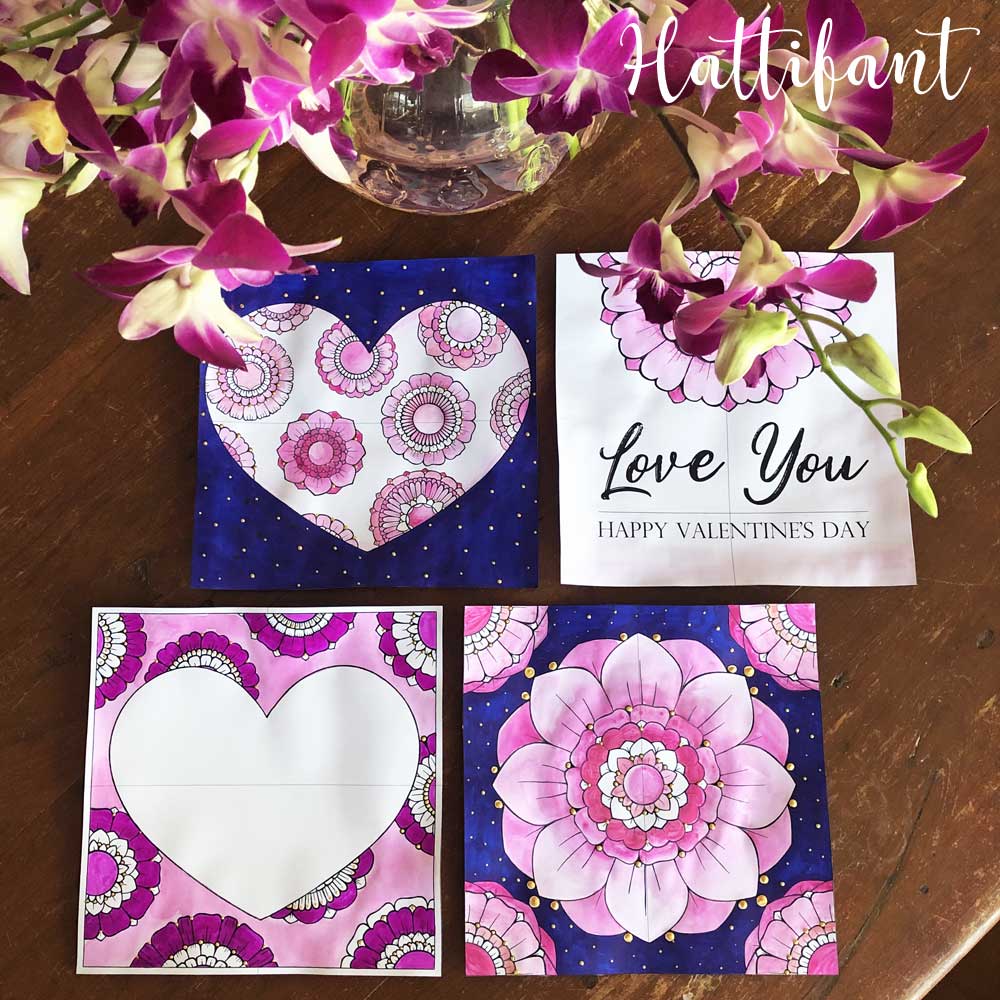 Printables
You can also click on the image below to get to the download section!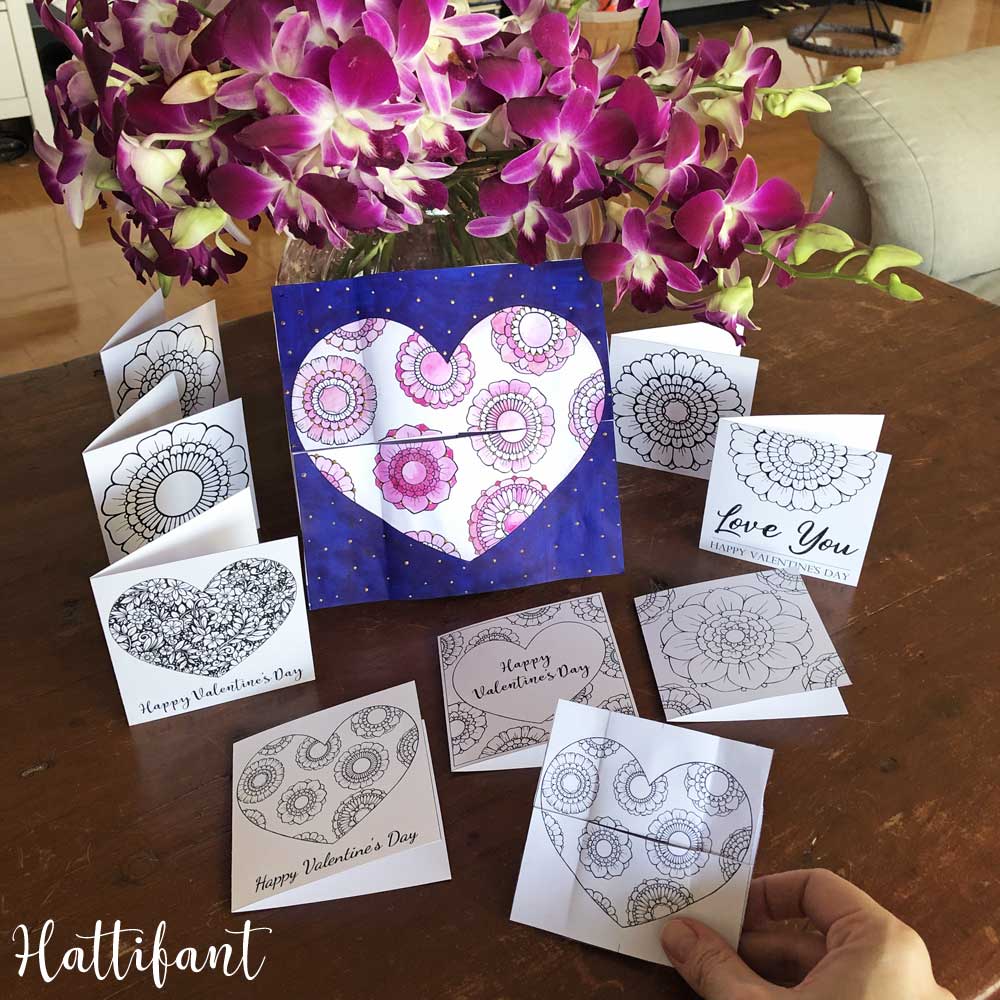 With this Valentine's Day Endless Card Bundle you will receive:
BIG Endless Card Coloring Pages
Small Endless Card Coloring Pages WITH Envelope
Standard Cards (8 in total) Coloring Pages
Heart & Flowers Coloring Page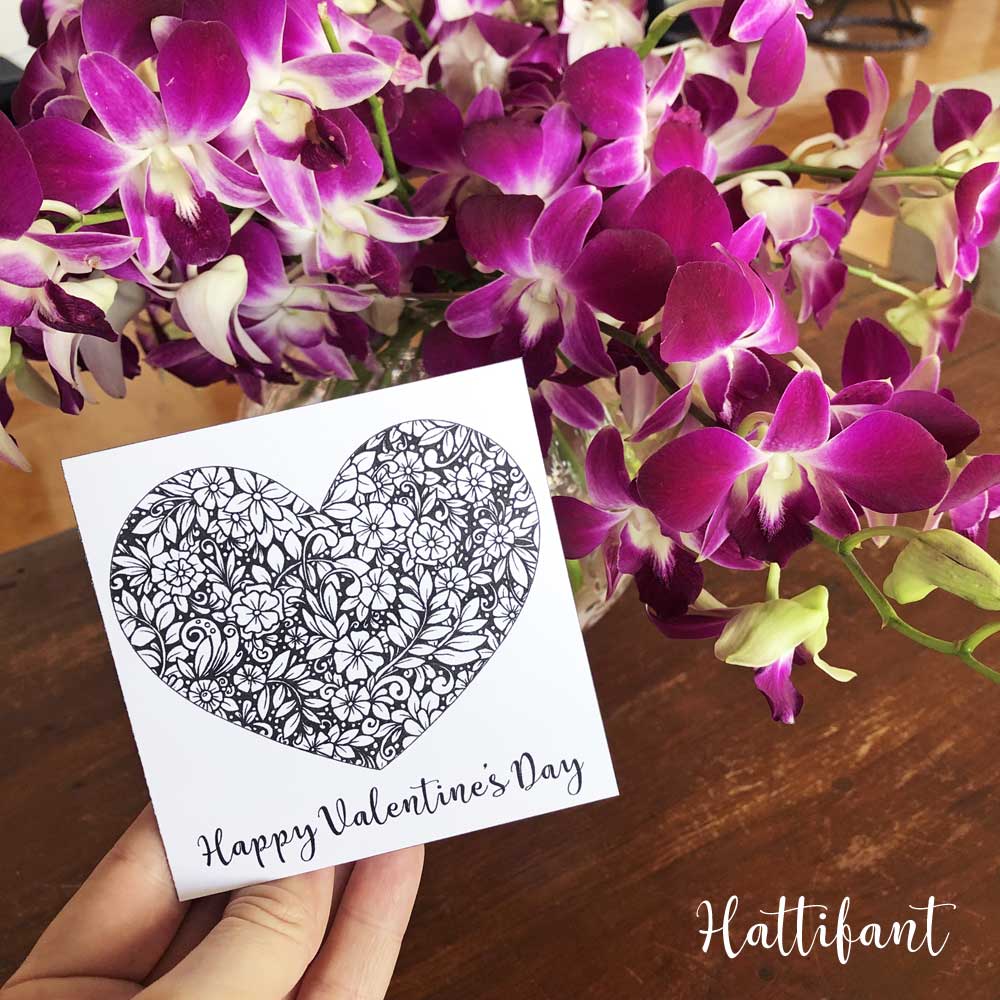 The Standard Cards carry Heart and Flower illustrations drawn by me.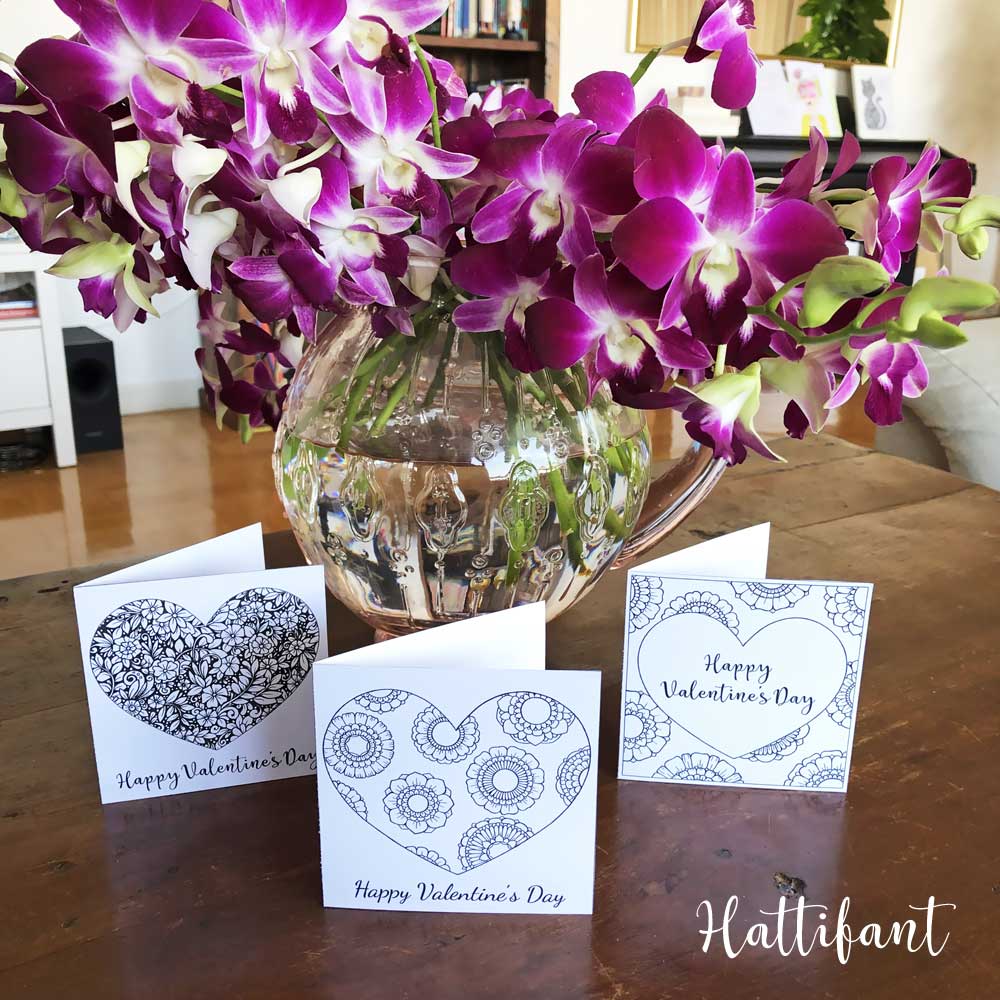 And the gorgeous Heart & Flower Coloring Page… Click on the image to learn more about this coloring page.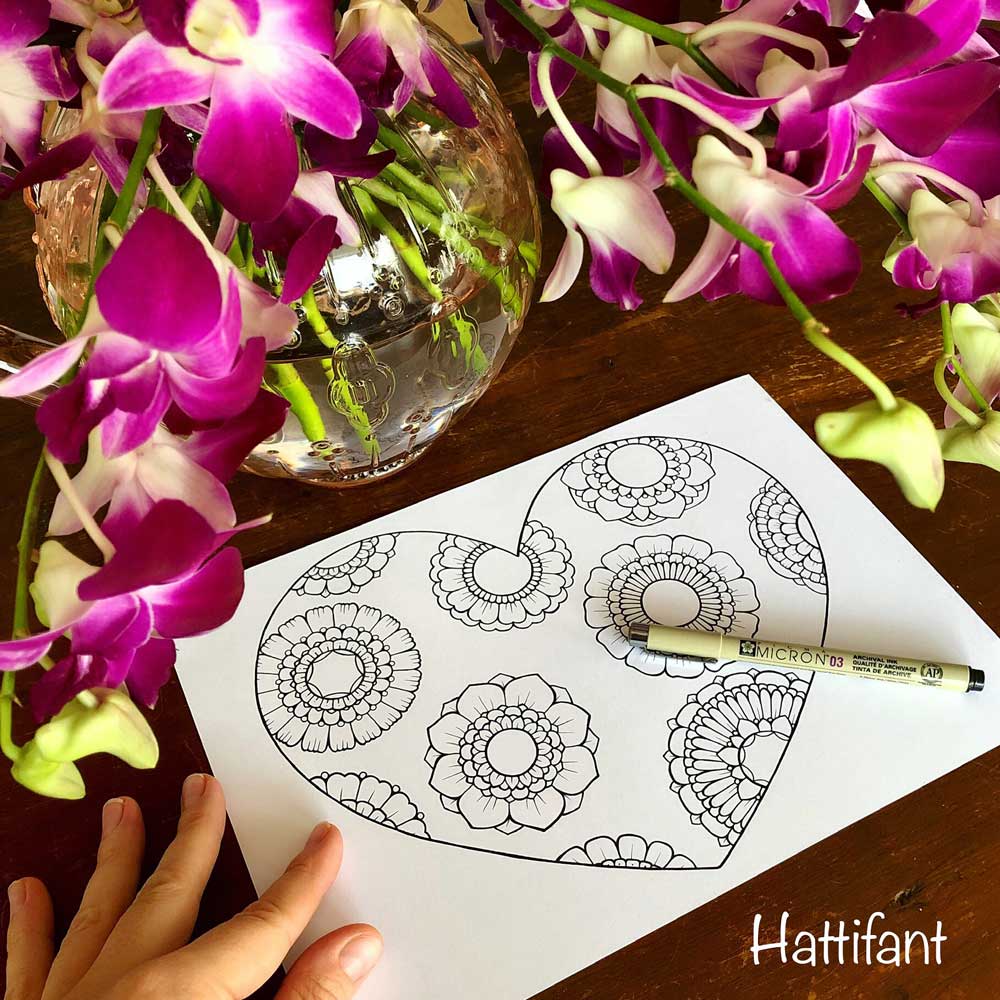 MORE Hattifant Crafts and Coloring Pages
Hearts & Flower Corner Bookmarks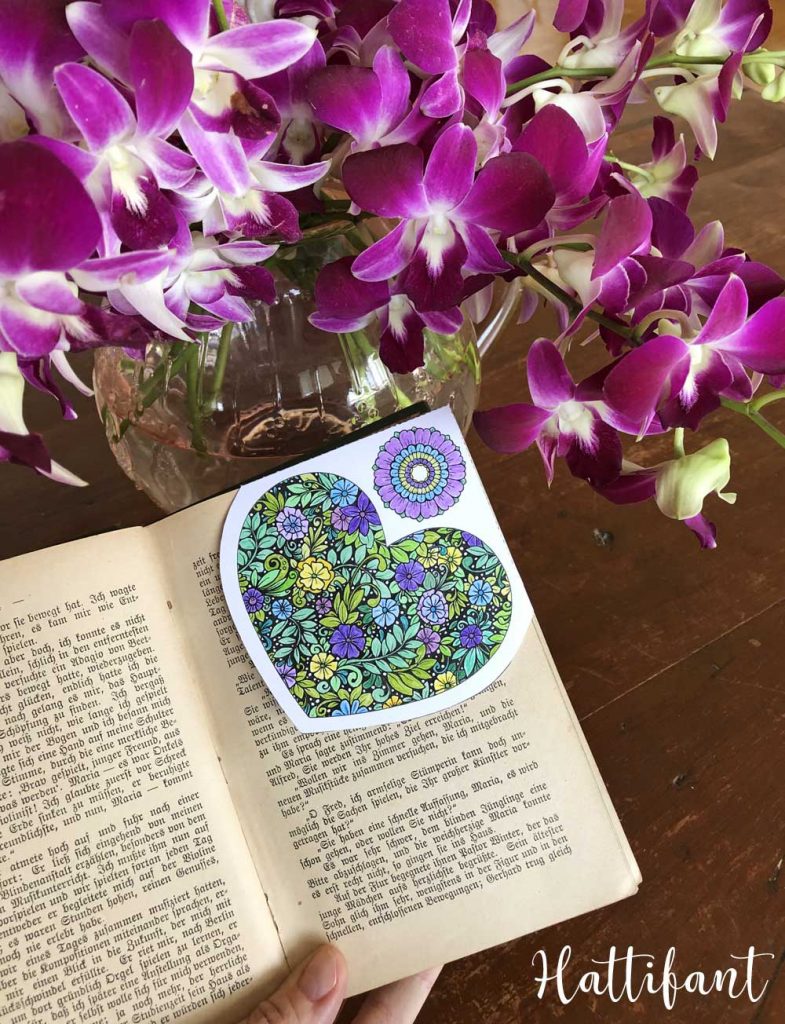 Flower & Hearts Bookmarks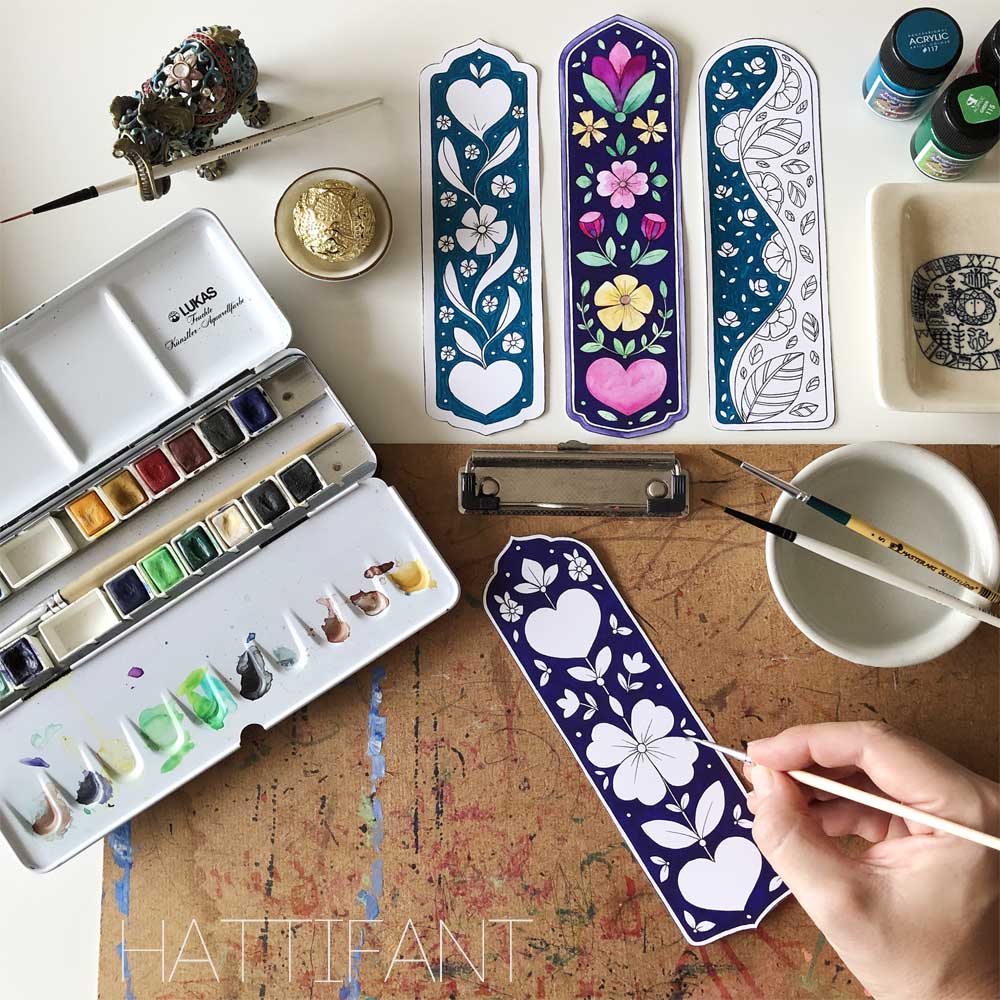 The best present for your loved ones who are crazy about coloring and Mandalas: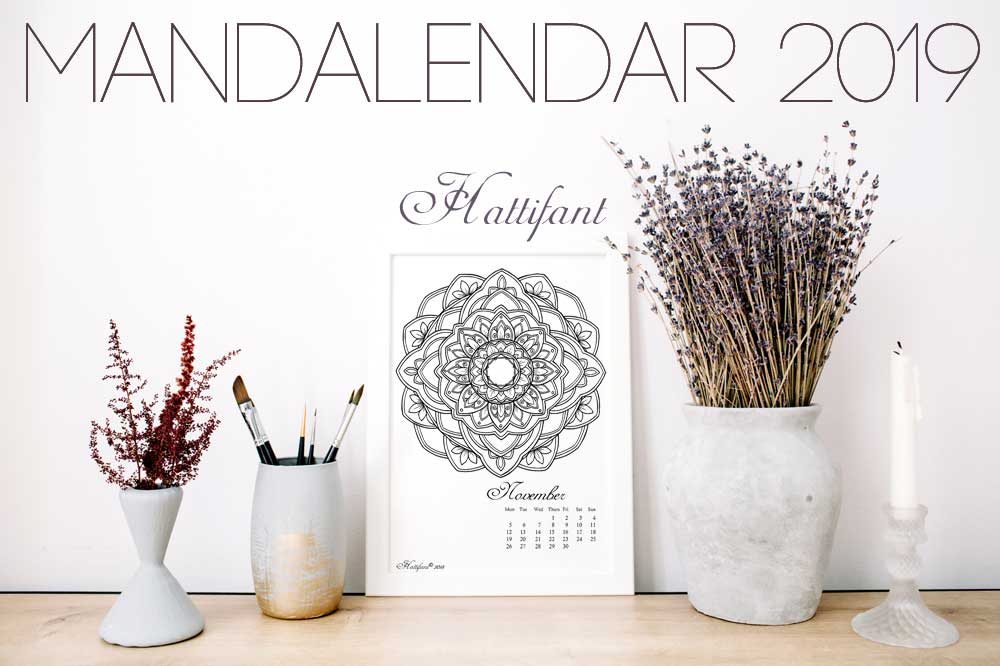 Cute Unicorn Bookmarks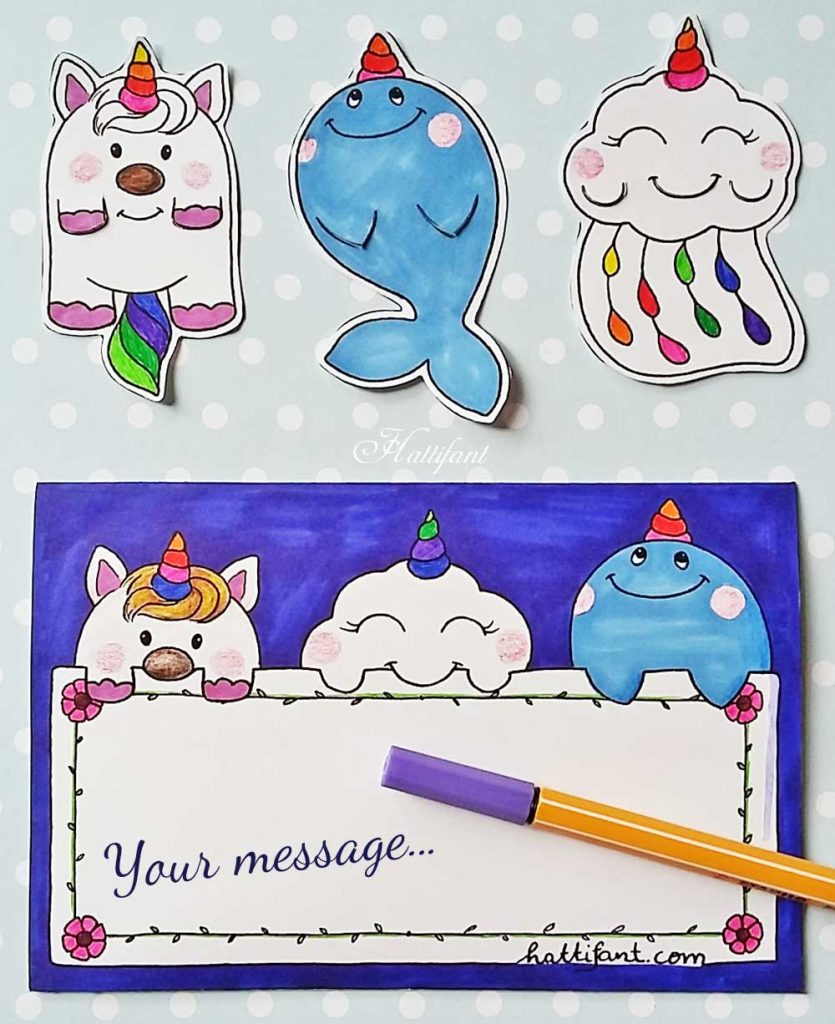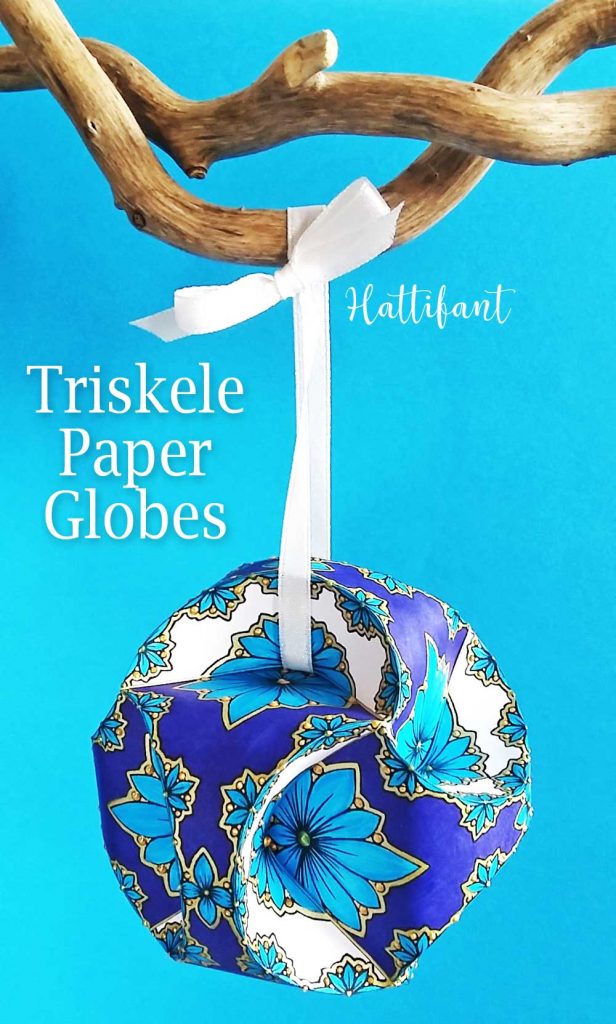 ---
You like Hattifant's designs, toys & décor? Why not LIKE Hattifant on Facebook and always be up-to-date with Hattifant's latest adventures…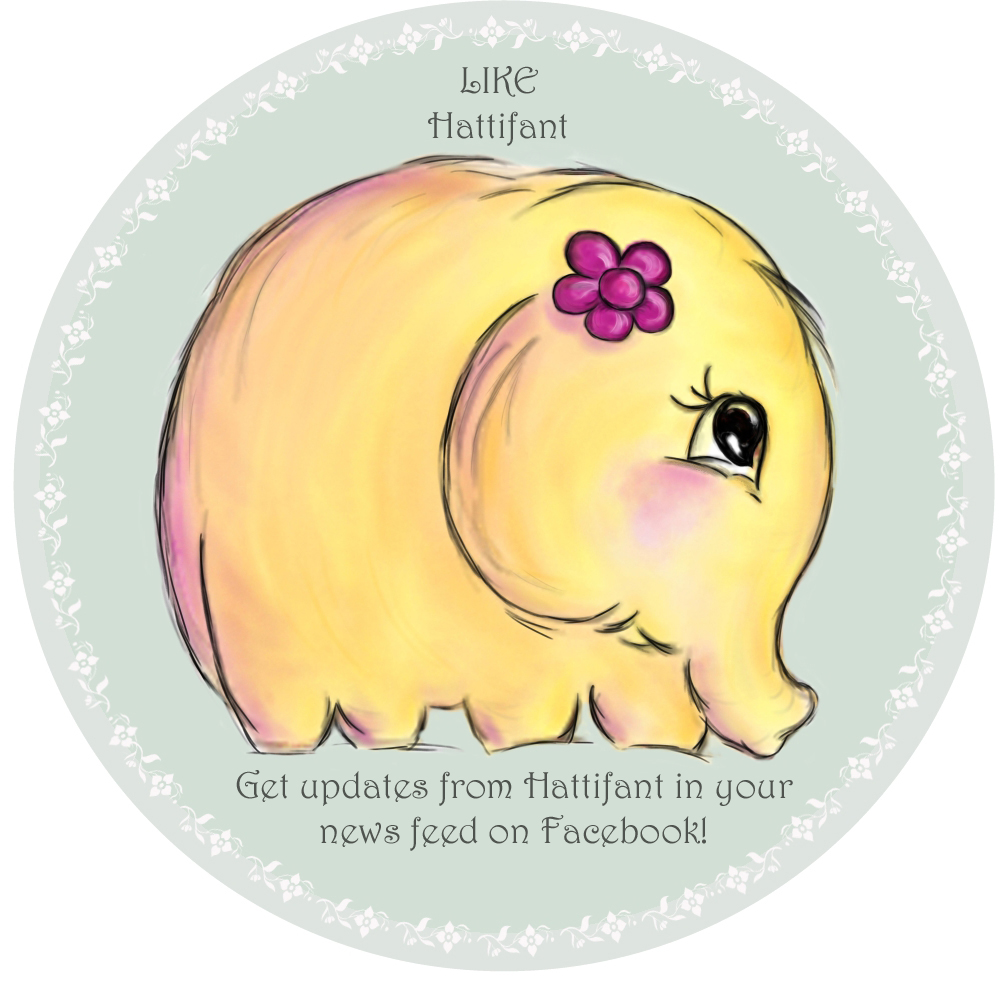 PERSONAL AND NON-COMMERCIAL USE LIMITATION
NO DIRECT LINKS TO PRINTABLES ALLOWED!
Please kindly note that the use of the Hattifant Site and its services (e.g. downloads) offered, are for your personal and non-commercial use only. You may not publish, license or create derivative works (for commercial use) from, transfer, or sell any information, products, downloads or services obtained from the Services. Hattifant is the sole owner of all content on the Hattifant Site, unless stated otherwise. You may borrow pictures but always name the source and link to the Hattifant Site, please. It would be lovely if you sent an email to manja(at)hattifant(dot)com in this case.
Thank you!