Sandwich Box & Milk Bottle Plastic BUNK BED
Hiya all,
we are celebrating Makha Bucha today, a National Holiday in Thailand. With the kids at home, crafting is a must or at least somehow we always end up crafting something.
Today, the little ones were happily playing with their houses and little figures (a whole consortium of little ponies, little people and I don't know what. Well I do but it would take too long to go into detail here…) when my daughter came over distressed showing me that one of the beds broke under the heavy weight of Rainbow Dash! 😉
Looking at their army of figures we decided it was time to actually make a bunk bed and I believe there are more to follow. I can see us eating more ready made sandwiches out of plastic boxes again!!! 😉 Ooof…
You might also be thinking…wow, she can just jump up and away from whatever she'd been doing…Hmmm, it's not THAT simple. It just means I will be working late again tonight which is not really anything my family is not familiar with. A lot of you will giggle at the illustration below for sure and recognize themselves in it!
But you know, we are all trying to be there for our children…so do I…and hey everybody else is having a Public Holiday (here)!!! 🙂
Anyway…
Hattifant's Re-cycle Bunk Bed
Back to our bunk bed! I do keep a couple of things (to the joy of my husband for sure!!!) such as empty milk bottles, boxes, things that could just come handy one day! Just like today!
We chose a former sandwich box, cut it in half and used the upper and lower part as sleeping areas for the bed.
Then I cut out 2 rectangular shapes for the bed sides so that upper and lower bed could be attached to eachother. I simply used double sided and regular tape to fix them all together. No more. The ladder was the trickiest part of all and made it alone as I used a craft knife. (My kids are obviously not allowed to use those yet.)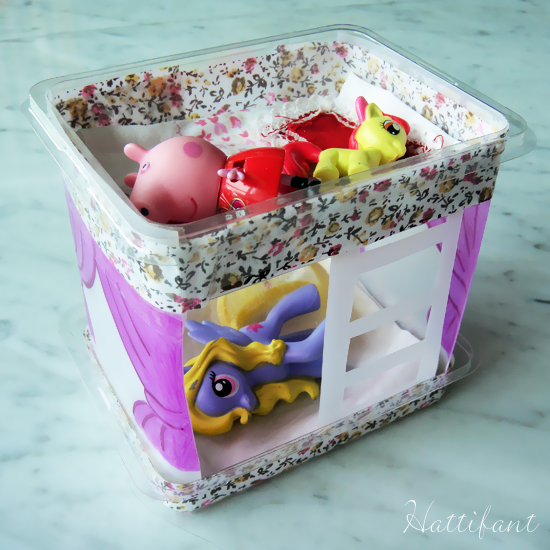 And then we decorated…We used fabric tape around the sleeping areas. (There are some good priced versions at the dollar stores. Here at least.)
And we drew with permanent marker the curtains on to the milk bottle plastic (the sides of the bed).
You might want to really concentrate on your little one here which of course I didn't. My son started drawing on other sheets of milk plastic which I really don't mind but he didn't stay on the plastic and marker ended up on the wooden floor. (Yes, quite often we craft on the floor. lol) I did squeek I can tell you upon realization but could get it off again with dish wash and sponge. Phuiiiiiii….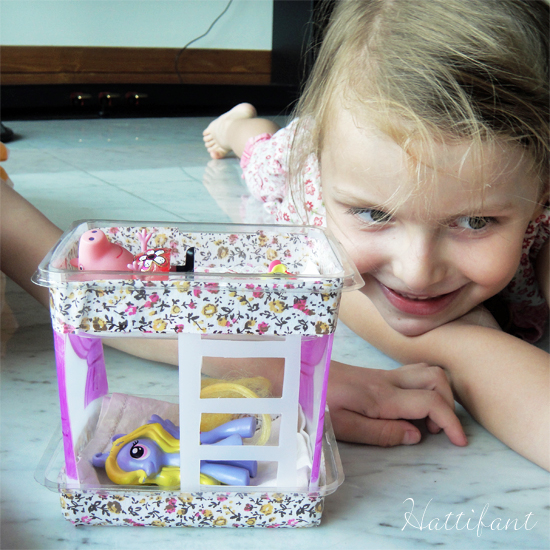 Enjoy and have fun making your own!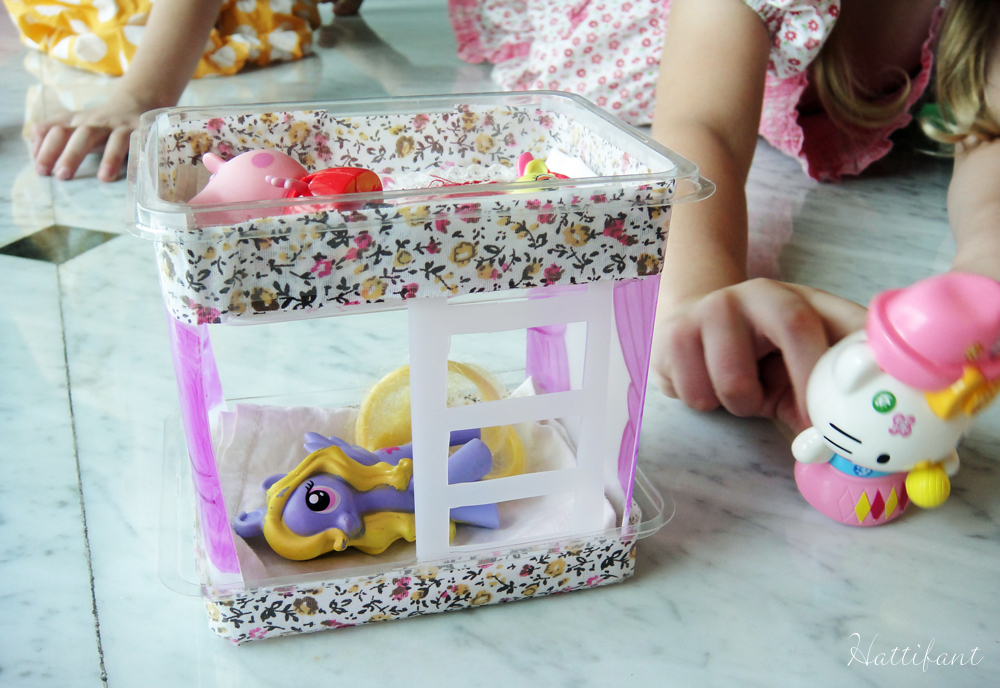 ---
You like Hattifant's designs, toys & décor? Why not LIKE Hattifant on Facebook and always be up-to-date with Hattifant's latest adventures…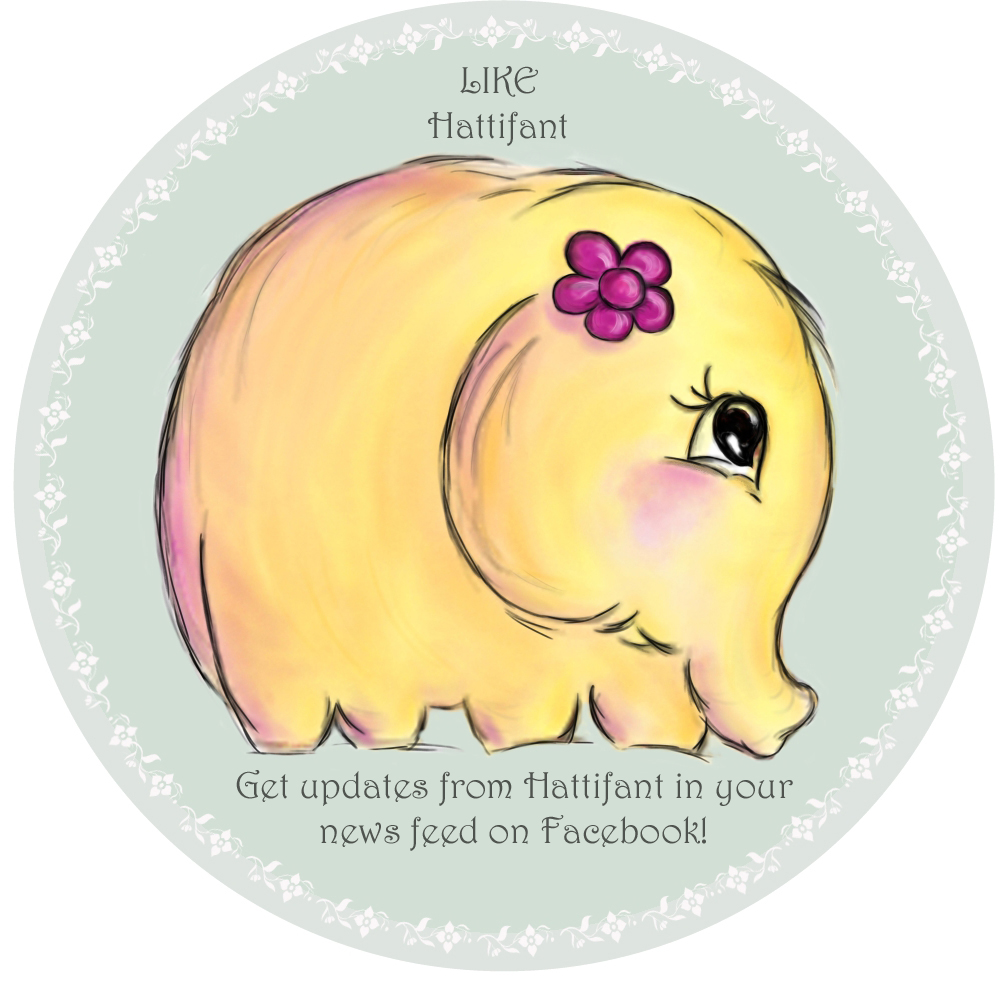 PERSONAL AND NON-COMMERCIAL USE LIMITATION
Please kindly note that the use of the Hattifant Site and its services (e.g. downloads) offered, are for your personal and non-commercial use only. You may not publish, license or create derivative works (for commercial use) from, transfer, or sell any information, products, downloads or services obtained from the Services. Hattifant is the sole owner of all content on the Hattifant Site, unless stated otherwise. You may borrow pictures but always name the source and link to the Hattifant Site, please. It would be lovely if you sent an email to manja(at)hattifant(dot)com in this case.
Thank you!