How to craft Hattifant's Animal Mobilé
Here I will show you how to craft your own Hattifant Animal Mobilé!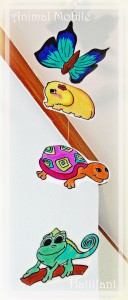 MATERIALS NEEDED:
2 milk bottles (2 ltr bottles)
print out for the animal designs
scissors & cutting knife
sharpies or other colourful permanent markers
thread (we call the see through very resistent one fishing line) or ribbons (depending on how you would like to hang up your mobile)
needle or hole punch (for holes for thread or ribbons)
La Voilà! Colour your mobilé in to your hearts desire! Use permanent markers such as Sharpies or markers from Horse are great, too. There are amazing colours out there one can choose from now-a-days!
Of course you can also simply create the Mobilé using paper instead of milk bottles! What makes the milk bottle material special though is that when the sun light shines on it it looks absolutely beautiful!
Enjoy!