Hattifant Review for Robert Sabuda's "Birthday Cake" Pop Up Card
We had a very good reason to test Robert Sabuda's Pop Up Card! It was L's Birthday and what better than to give an awesome pop up card.
I found Roberts card template with instructions and got going. I had to adjust the given template a little with Photoshop to make it fit the proportions that I had in mind. No problem though.
Then quickly printed off two A4 pages, cut out the pieces, coloured them in to Hattifant's liking and followed to great visual instructions on Robert's website to put the card together.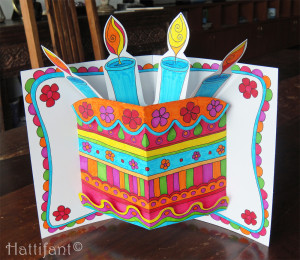 All in all the card turned out beautiful and was shown around to all L's friends with lots of pride. Many, many times the card was opened and closed & opened and closed and of course the candles blown out.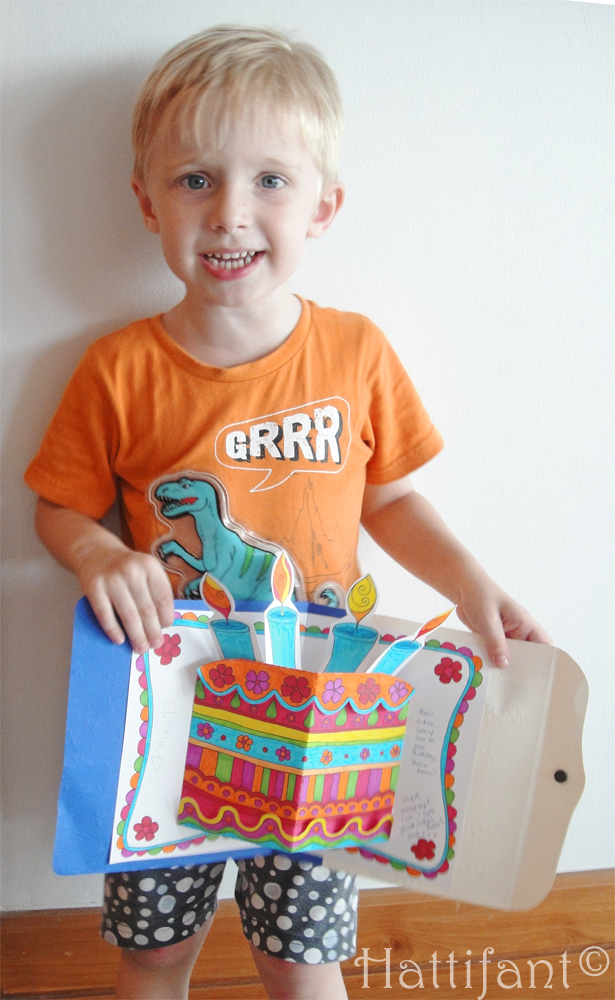 And what Hattifant family member L tests and survives gets an extra star from Hattifant! 😉
Concluding, the pop up card from Robert Sabuda is fantastic. But hey, no-one would have ever doubted that. We loved crafting it and it was definetely a major success with the recipient and his friends!
With this being said, the card will be admitted entry to Hattifant's Pinterest Pinboard! As only the best of the best crafts are shown off there. Quality is the key! 🙂