Anamorphic Easter Bunny Coloring Pages
Oooh… this will be fun! Are you ready?! Here is Hattifant's newest Easter Paper Craft for you to enjoy with your family and friends. Let me introduce to you Hattifant's Anamorphic Easter Bunny Coloring Pages!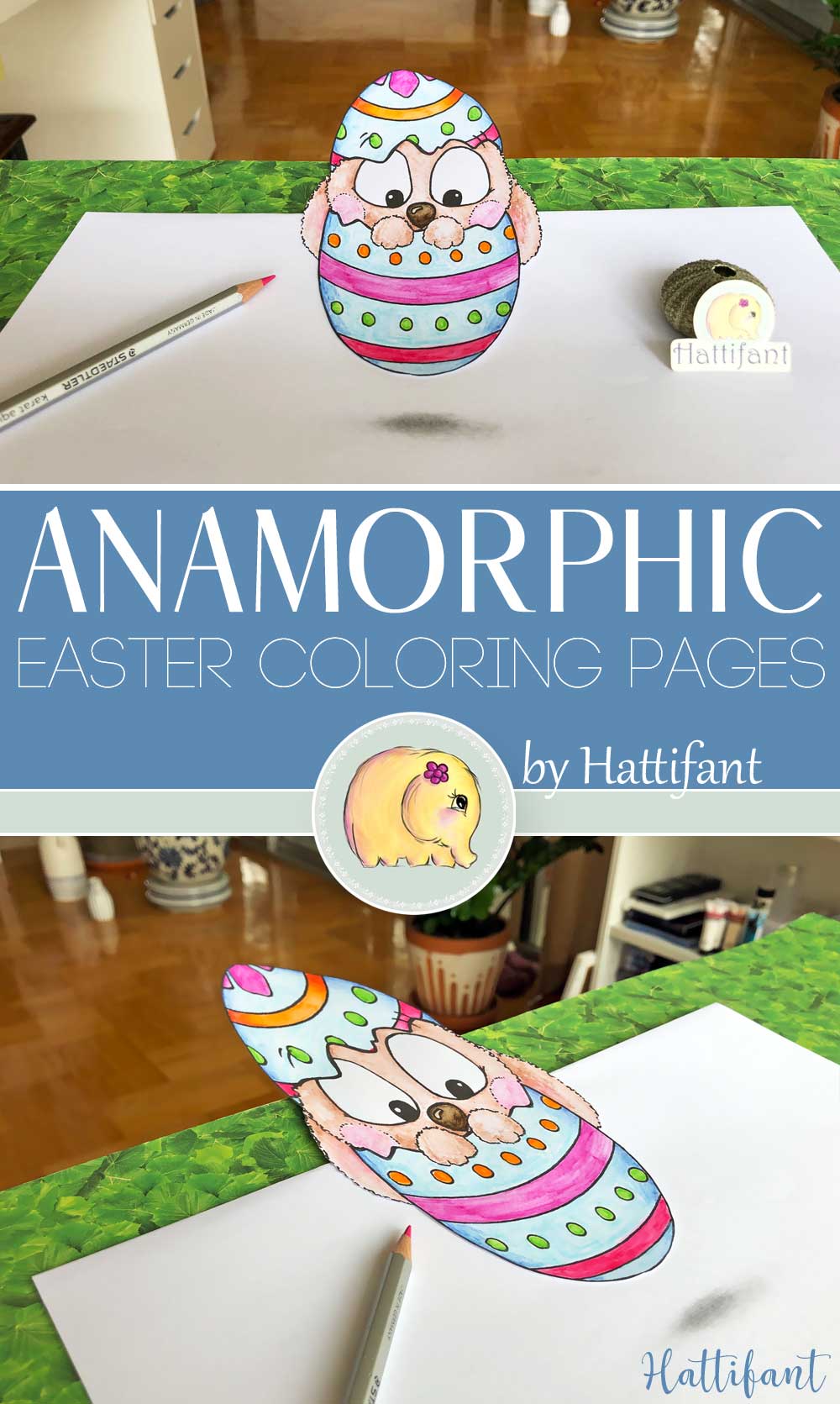 You say "Whaaat?! Is this bunny floating???" 🙂 Want to see more?! I created three bunnies for this Anamorphic Easter Bunny Coloring Pages Set: a pretty shy bunny hiding in an Easter Egg (see image above), a mindful bunny – (obviously since) it is floating while meditating!!! I also drew up a bunny that might look more like a 'mouse wannabe bunny' flying on a carrot cuz why not?! 🙂 So watch the video below to see them all in action! Enjoy!
Fantastic, right?! How can that bunny float in the air like this?! Isn't it just a piece of paper? A Coloring Page to color in?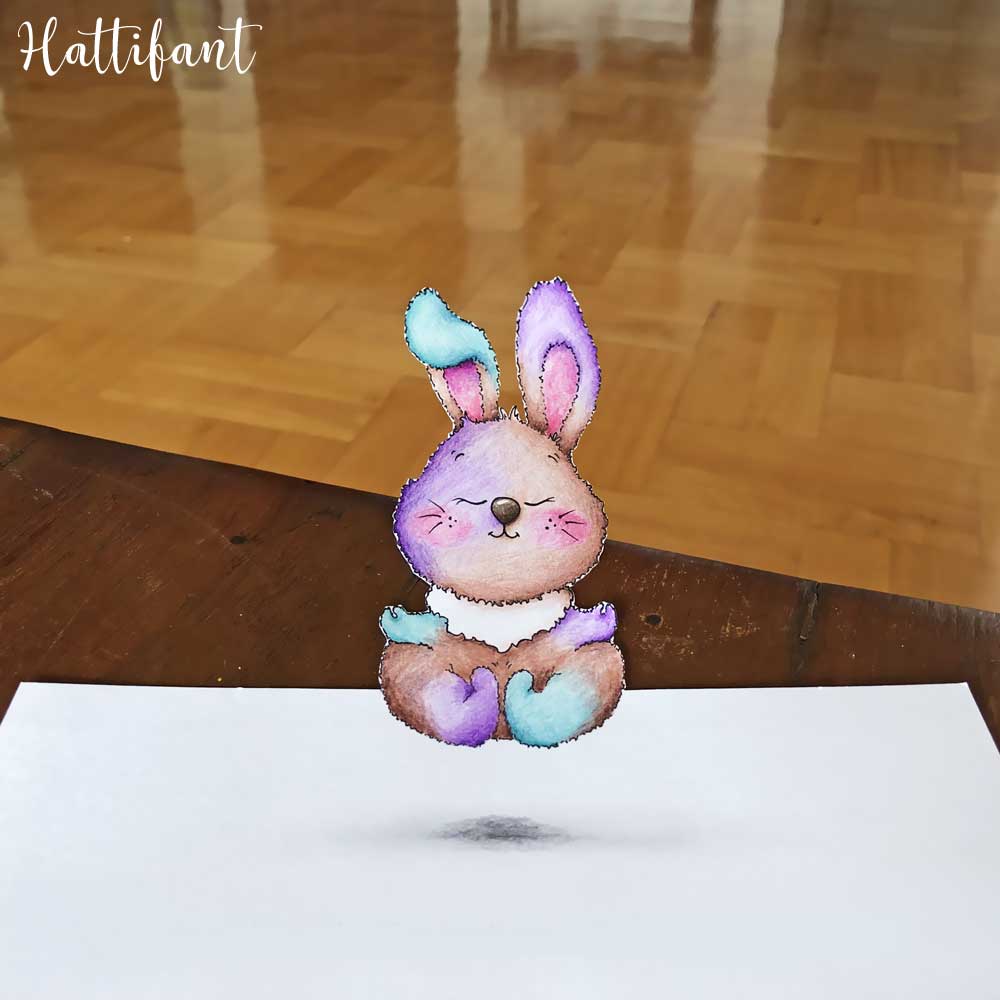 Well,… 'simply' 🙂 by deforming the bunny illustrations I designed for this purpose! I had a little help by LexJet. The illustration then appears in its true shape when viewed through the eye of the camera lens on your phone, iPad and android.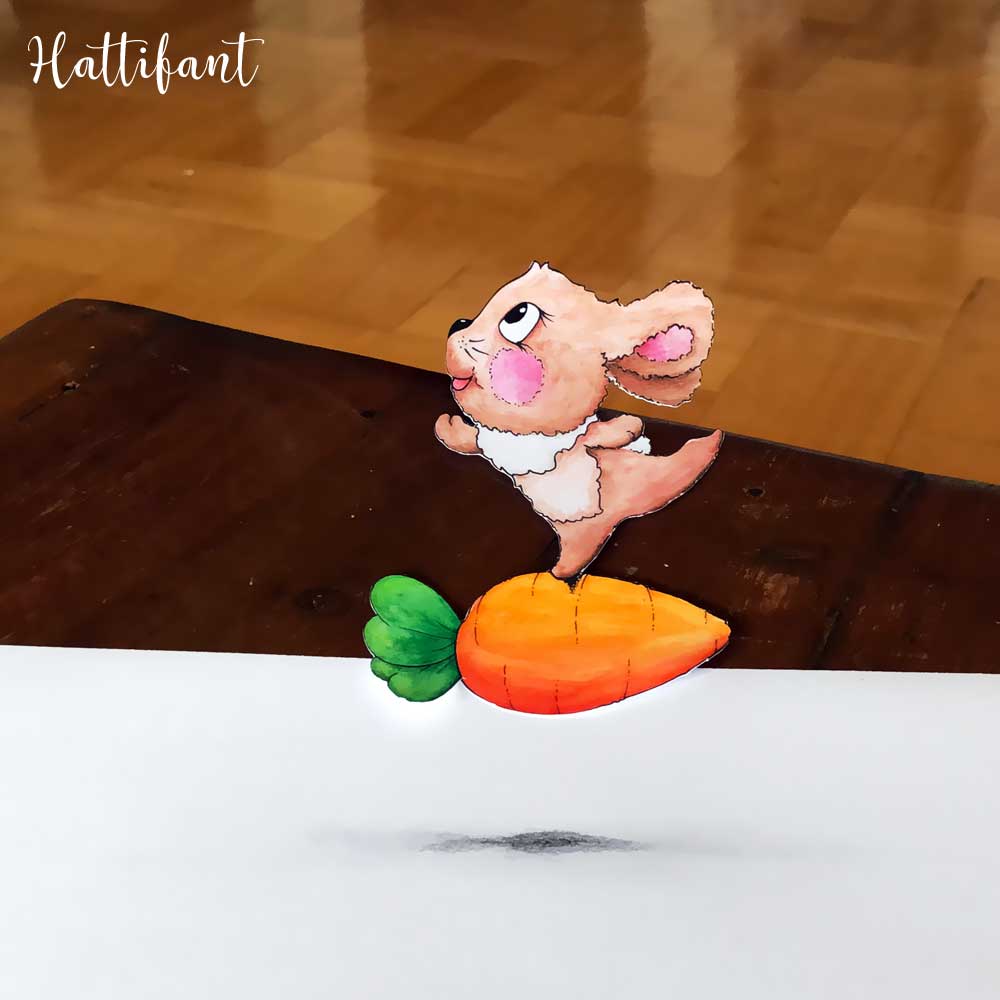 This is serious craft fun for the whole family! And wait for the squeeks of the little ones when they color the 'odd' looking bunny and then watch it float on screen!
YOU WILL NEED:
printables (see link below)
180gsm paper (thin will work as well but thicker gives more options to 'test different flying positions when filming and taking pics)
coloring pencils
scissors
your camera (from your phone, tablet, iPad…)
space on your device to save up all the pics and movies 🙂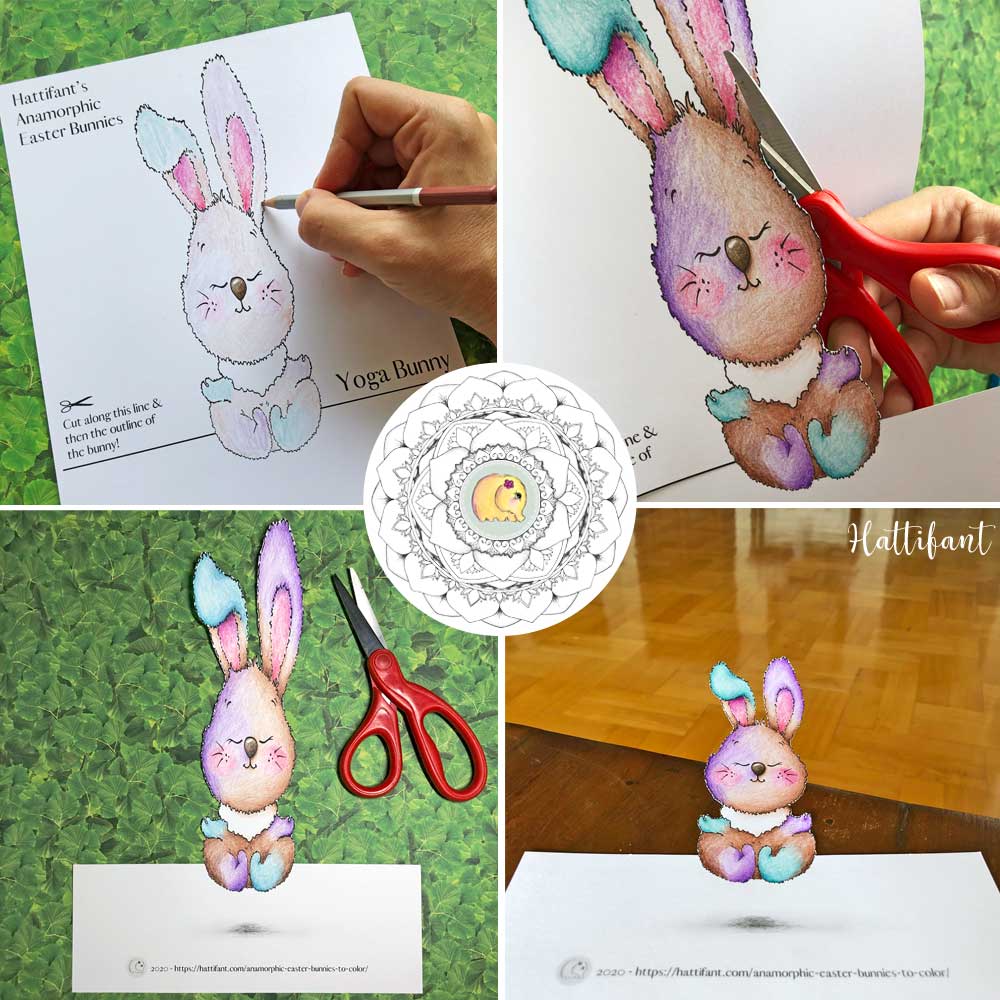 Really not a tricky craft but will be most enjoyed as a family. Our littlest ones can do the coloring and practice their cutting skills. The care taker can help here… All we need to do is coloring in and cutting out the template!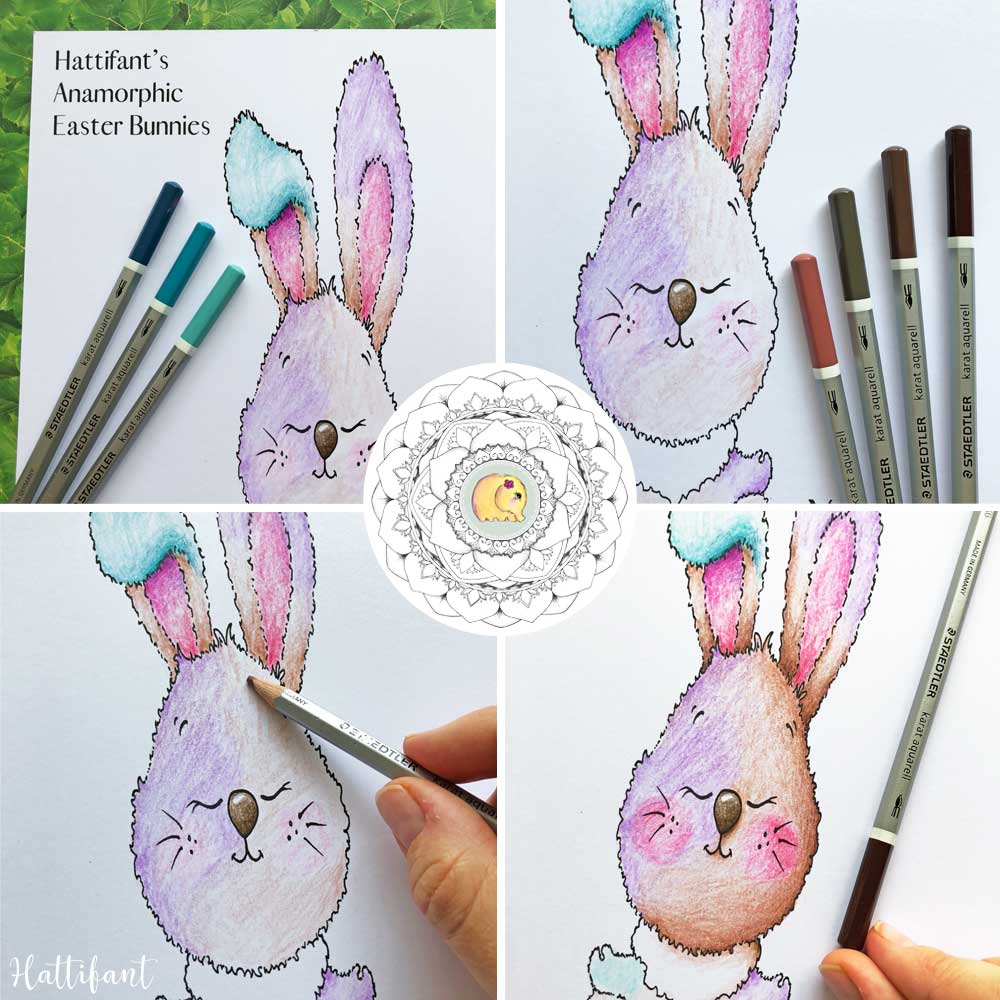 Older kids might want to practice their coloring skills in particular the shading… Tip: Always start off light and then put more pressure on the pen for the shading.
On the actual printable I already added a shadow but… why not try it yourself? What do you think should the shadow look like for each Easter bunny? You can cut out the illustration completely. Meaning do not leave any white paper attached to the bunnies. Take a new white paper and place the bunny on different parts of the paper and see if it changes how the bunny then floats. Add the shadow where you see fit.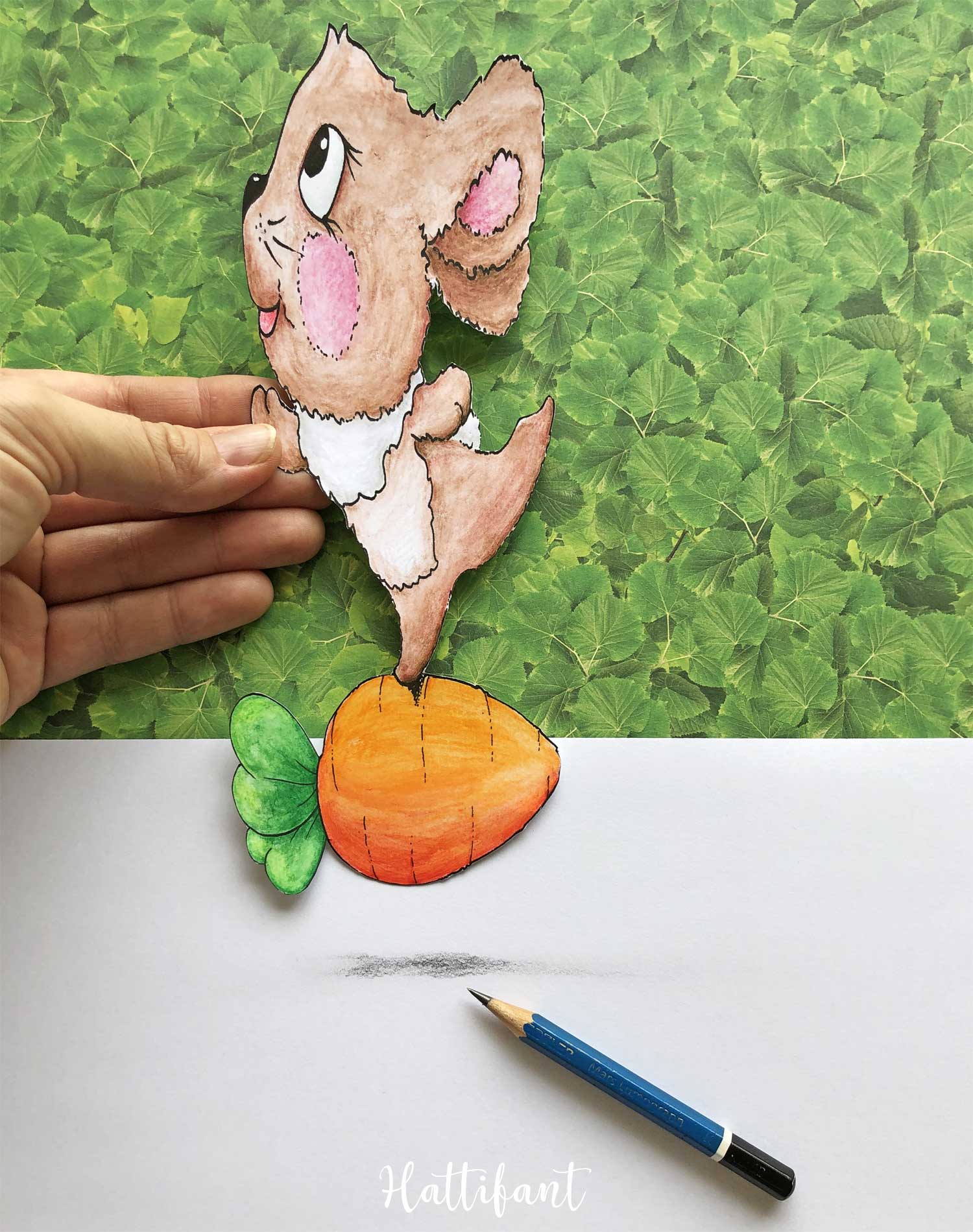 My kids and I started off with the Easter bunny in the egg…
So you see you do not necessarily have to add any shadows to your coloring. It will float non-the-less. We found it looked extra 'real' when placing the coloring page towards the edge of the table and having the coloring page 'lean over' the rim of the table!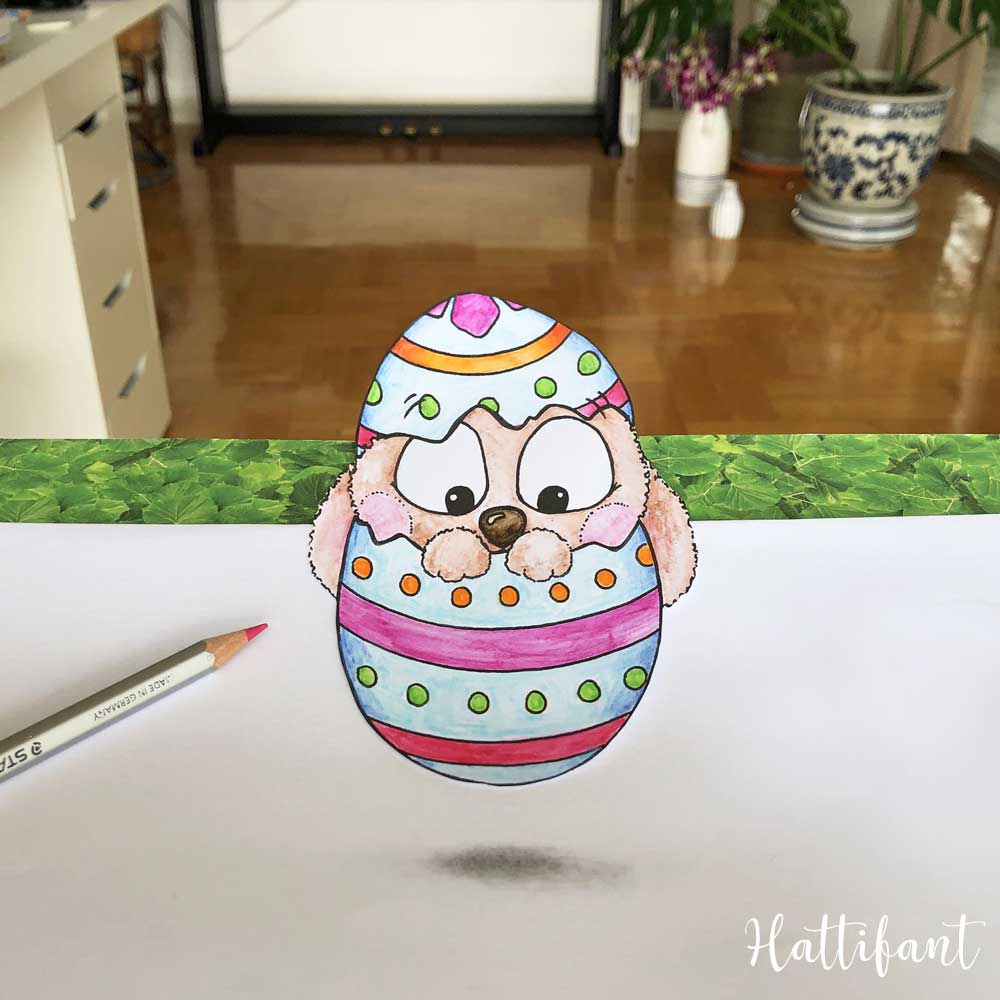 Try it yourself and let me know what worked best for you! So excited to see your images!
PRINTABLES
I created 3 Anamorphic Easter Bunny Coloring Pages for you that you can download here in a little craft bundle.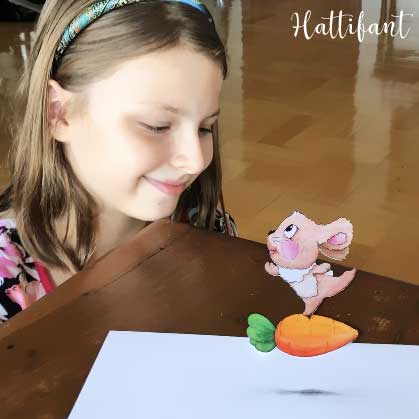 You will receive:
3 different Anamorphic Easter Bunny Coloring Page designs
all 3 bunnies as 'normal' Coloring Pages (not distorted)
Instructions as a PDF file.
or
Enjoy!
MORE HATTIFANT CRAFTS: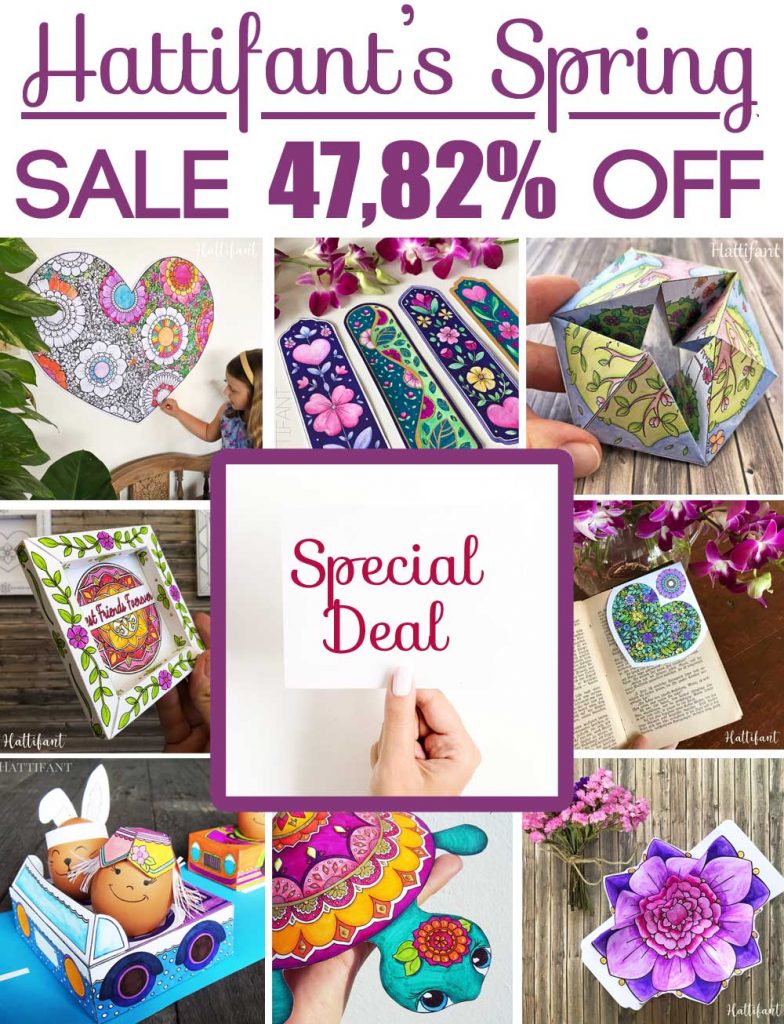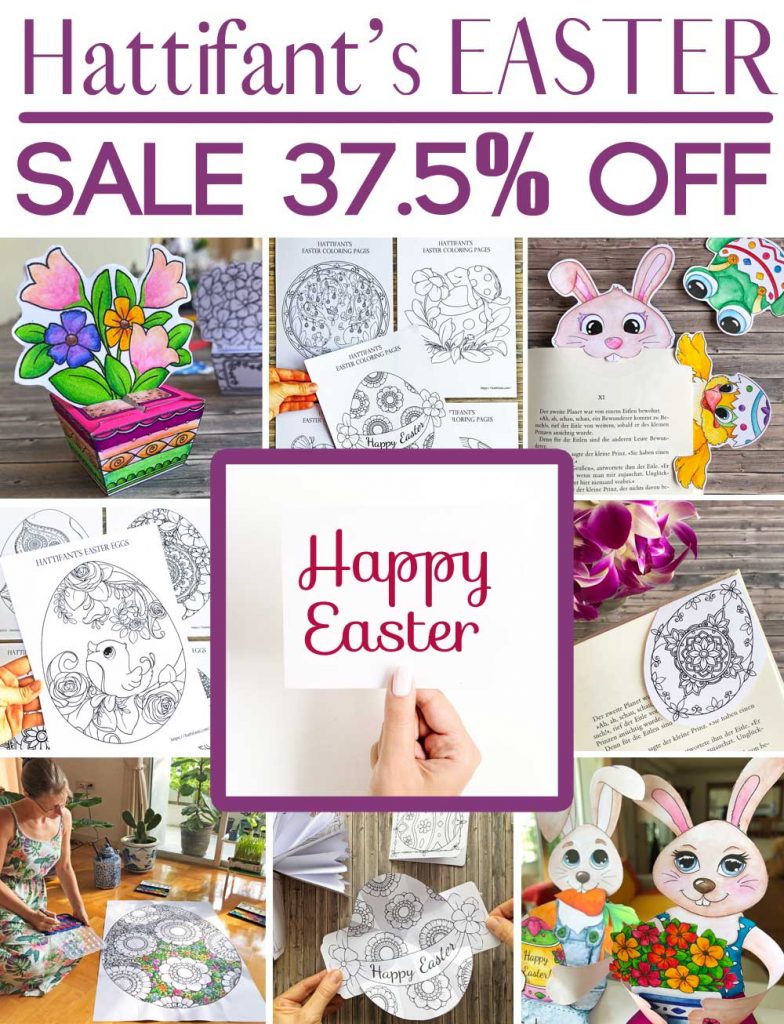 You like Hattifant's designs, toys & décor? Why not LIKE Hattifant on Facebook and always be up-to-date with Hattifant's latest adventures…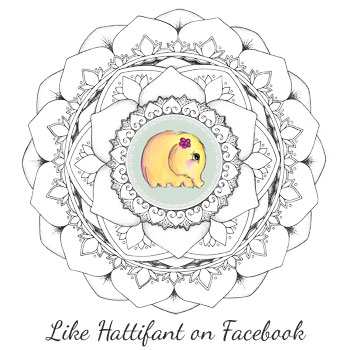 PERSONAL AND NON-COMMERCIAL USE LIMITATION
NO DIRECT LINKS TO PRINTABLES ALLOWED!
Please kindly note that the use of the Hattifant Site and its services (e.g. downloads) offered, are for your personal and non-commercial use only. You may not publish, license or create derivative works (for commercial use) from, transfer, or sell any information, products, downloads or services obtained from the Services. Hattifant is the sole owner of all content on the Hattifant Site, unless stated otherwise. You may borrow pictures but always name the source and link to the Hattifant Site, please. It would be lovely if you sent an email to manja(at)hattifant(dot)com in this case.
Thank you!